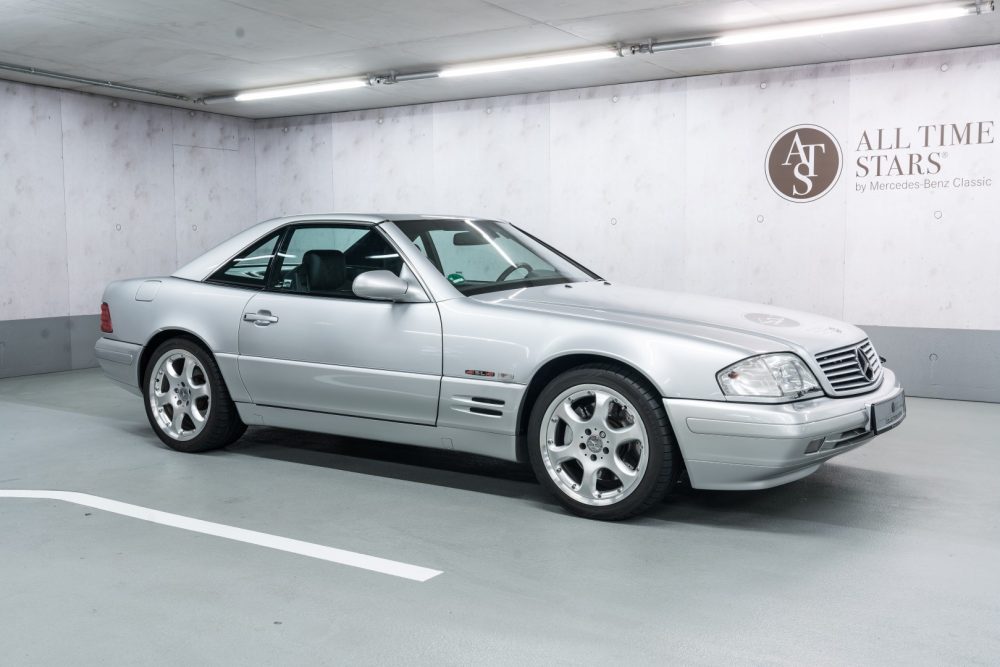 Back in the 1990s, Mercedes-Benz really started hitting their stride with producing a bunch of special editions that were all made up whenever they felt they need. Most of the time they just threw whatever they had in the parts bin on the cars when it came to paint colors, wheels, interior trim and then would finish it off by calling up their graphic designers to whip up a unique logo to stick around the car. Today's car, a 2000 SL320 Mille Miglia, is exactly that.
Back in 1995, Mercedes actually launched a Millie Miglia edition to commemorate the 40th anniversary of Stirling Moss's and Dennis Jenkinson's win of the 1955 Mille Miglia road race. A nice gesture for sure, but I'm sure this decision was highly influenced, if not totally, by getting ready to launch a major facelift in 1996 for the R129 and they wanted to move all the old stock out. Offered on the SL280, SL320, and SL500, it was nothing more than some red inserts on the leather seats, carbon fiber trim with some red weave in it and some leftover EVO 2 wheels from, you guessed it, the parts bin. Then in 2000, Mercedes made another Mille Miglia edition, but just made 12 cars. Why 12 cars? Well, that is how many they needed to usher around VIPs at the Rally 1000 Miglia in Italy. In 2001, the final year of the R129, they again made 13 cars all based off the SL600. So what is unique about these cars? Well, it is basically a Silver Arrow with some badges on the outside and a little sticker on the ashtray door. That's it. Lean manufacturing must be big at Mercedes.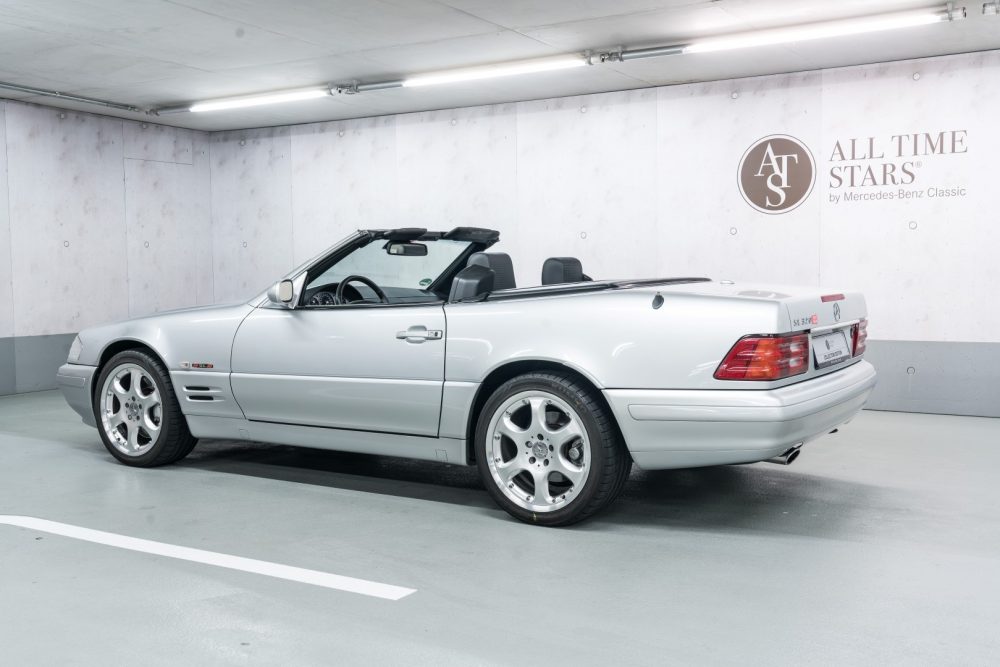 Year: 2000
Model: SL320 Mille Miglia
VIN: N/A
Engine: 3.2 liter V6
Transmission: 5-speed automatic
Mileage: 55,700 km (34,610 mi)
Price: €66,890 ($76,043 Today)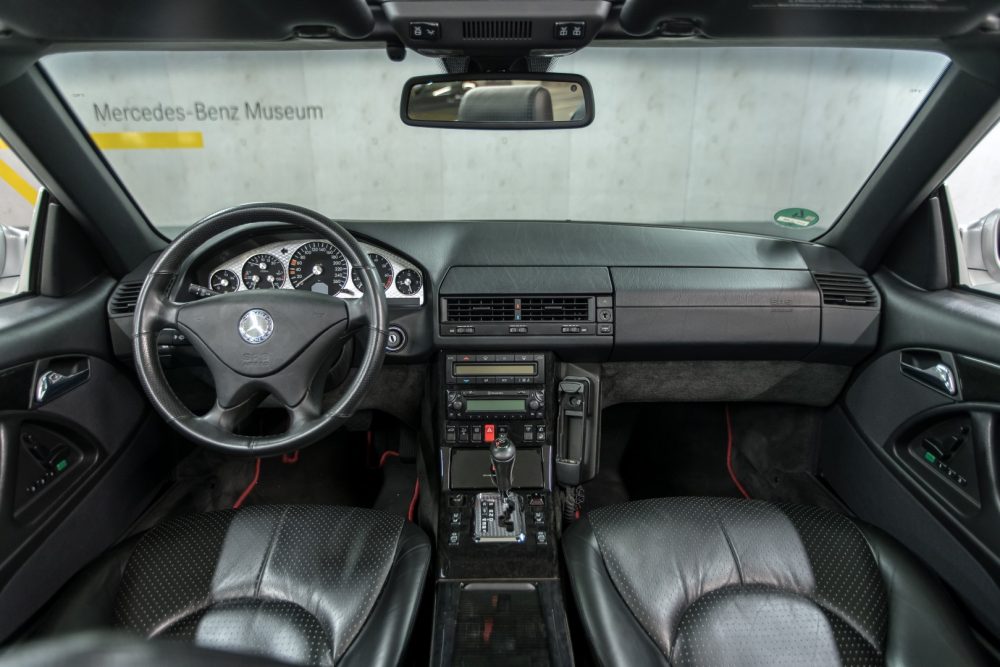 ALL TIME STARS offers this very rare R 129 320 "Mille Miglia" Edition from 2000. This special model, of which only 12 units were built, was used as a support vehicle for the legendary road race in Italy. This collector's vehicle impresses with its classic colour combination of brilliant silver metallic with black nappa leather interior.

Visit us at Mercedes-Benz Museum Stuttgart and let yourself be convinced by this vehicle.

Before delivery this Mercedes-Benz classic car receives a comprehensive Service, a new Safety Inspection and a Mercedes-Benz Classic Car guarantee.

No liability for printing and writing errors.
Subject to error and prior sale.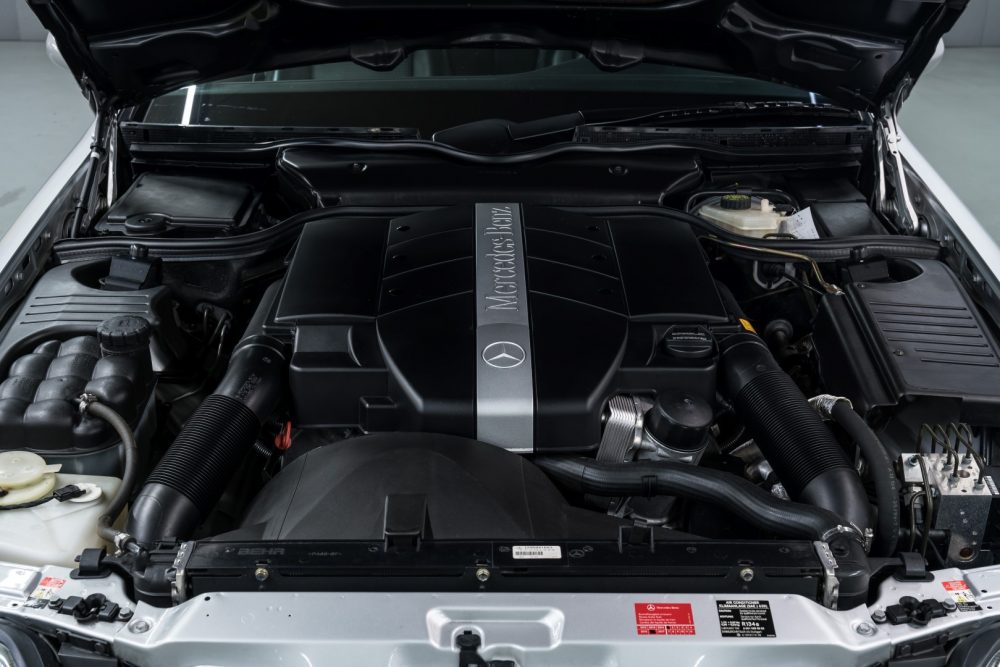 North American was never blessed with any of the Mille Miglia editions from any year, but we didn't exactly miss much with these. The M112 V6 in a 2000 R129 is a cool touch as the SL320 with the M104 inline-6 was axed after 1997 year in the US so seeing an R129 with the V6 is a little bit of a treat. As you can see, the wheels, gauge cluster, seats and shifter surround are all borrowed from the Silver Arrow cars (or maybe the other way around) that would debut in 2001 to send off the R129 chassis. They then stuck a few little badges here and there, then called it a special edition.
How much for this 1 or 12 example with 34,000 miles? €66,890, which is a little over $76,000. Yes, $76,000 for a 2000 SL320 with some different cosmetic parts and some red badges. Why is it this price? Well, this car is for sale in Germany by the mothership, the Mercedes-Benz Classic Center. They sell cars from time to time and price them outrageously in hopes someone will bite. The Classic Center in California is guilty of this as well. Why do they do this? Because they answer to no one. They make the cars, they make the parts, they set the prices. Don't like it? Go buy a Fiat. They won't shed a tear.
– Andrew