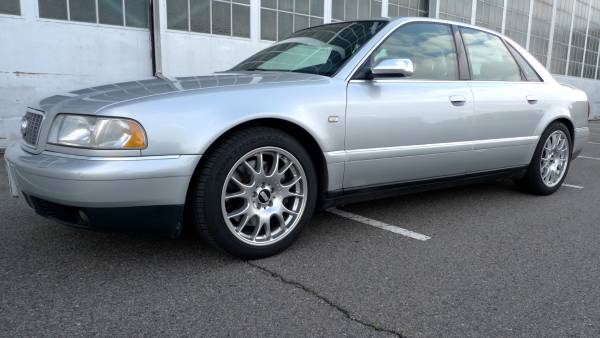 My somewhat dour post regarding yesterday's S8 had me feeling a bit downtrodden, and this listing was just what I needed to feel a little better. Not every current S8 owner is less than careful, and there are many who have grabbed one of these spectacular super-sedans because of the same enthusiasm I have for them. In the case of today's example, it's a first-year run S8 from 2001. However, the owner has upgraded the often-maligned 5-speed Tiptronic to an 01E 6-speed manual. The dream of many though few have been completed, the 6-speed swap is often mentioned as an alternative to add a little sport and long-term reliability to the mix. But it's no small undertaking, and finding one that's done correctly offers the potential buyer a turn-key package without the headaches of heavy lifting: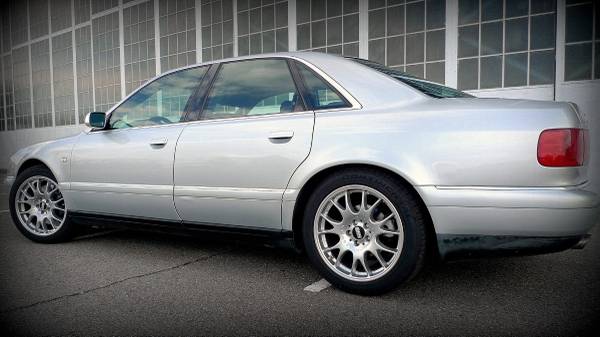 Year: 2001
Model: S8
Engine: 4.2 liter V8
Transmission: 6-speed manual
Mileage: 145,000 mi
Price: $13,900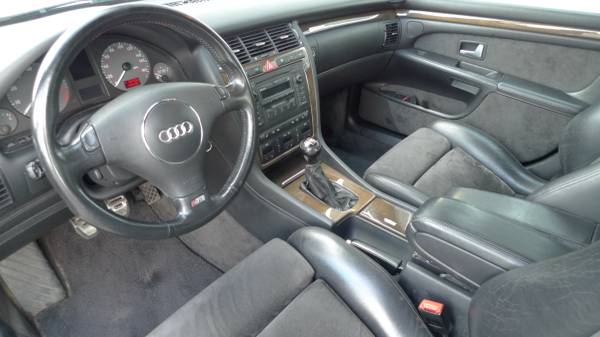 2001 Audi S8, silver w black alcantara interior + sport seats
No accidents, no smoking, no abuse, no modifications (okay, just one = 6MT)
Always garaged, always adult enthusiast owned, original books and records;
Meticulous documented maintenance, all keys and books from new
SUPER clean inside and out, only a few very minor cosmetic blemishes;
Drives tight and solid, dry underneath, engine runs very strong with no issues;
Two sets of wheels/tires. Winter = Stock 18″ Avus with Blizzaks; Summer = 18″ BBS CH with Conti DWS performance.

The 6MT conversion was done last year when the original transmission finally died and was HUGE investment but worth it. 100% professional and thorough job by one of the best Audi tech's in the land with genuine factory parts. It is PRO, and has totally changed the personality and performance of the car. The D2 S8 is such a timeless and well respected sport sedan, and with three pedals its absolutely awesome. Yes, the ultimate AWD German muscle car that goes like a banshee in the snow, and disguised as an executive luxury sedan.

This is one of a few supreme build quality cars where 100K+ mileage is genuinely LOW. I've owned this gem for a long time and maintained her with an open check. Hence replaced most of the important and expensive parts. So it's genuinely set up for the next enthusiast owner for another ~50k miles and years of reliable Teutonic driving with changing the oil and keeping the brakes up. I would sell it to a family member with no qualms. Price is fair and firm.

Clean and clear title, $13,900, serious buyers only please.
Text or call, no email, three oh three, 332 dash four nine seven two.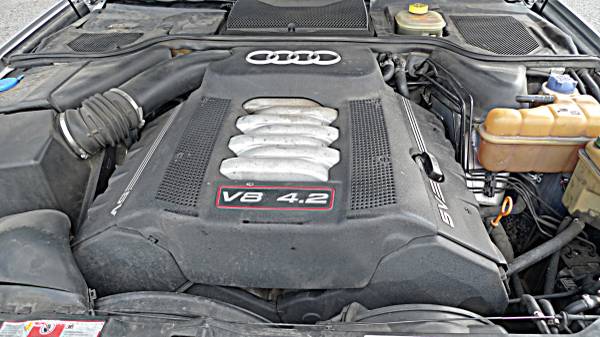 The car currently sits on BBS CH wheels; honestly, not my favorite design, but one that is both period correct for the car and a dealer installed option on some Audi dealers. But, importantly, they're not cheap wheels, and shod with Continental tires (and, including the original set of Avus wheels with snow tires) it's one sign of more careful ownership. 2001s are more common to see than '02s and '03s, but this car also has some nice and expensive options; the Alcantara package alone cost $3,500, and it appears to also have the premium package which included rear shades. But the big selling point is the 6-speed transmission, a multi-thousand dollar conversion that turns this D2 decidedly into a collectable driver's car. The asking price will weed out those who are unable to understand the value in that conversion; at nearly $14,000, it's easily double the going rate for an average condition '01 S8. But buy a bad one, and you'll be sorry you didn't consider this example; maintained and upgraded, I agree with the seller that the price is quite reasonable considering the package. If you like the color combo and the row-your-own status being already done, this is the S8 to get, even with slightly higher miles than you might have been hoping for. With the big-ticket item out of the way, this truly should be a car that can be enjoyed for years to come.
Special thanks to our readers TTDriver and John for spotting this example and sending it in!
-Carter