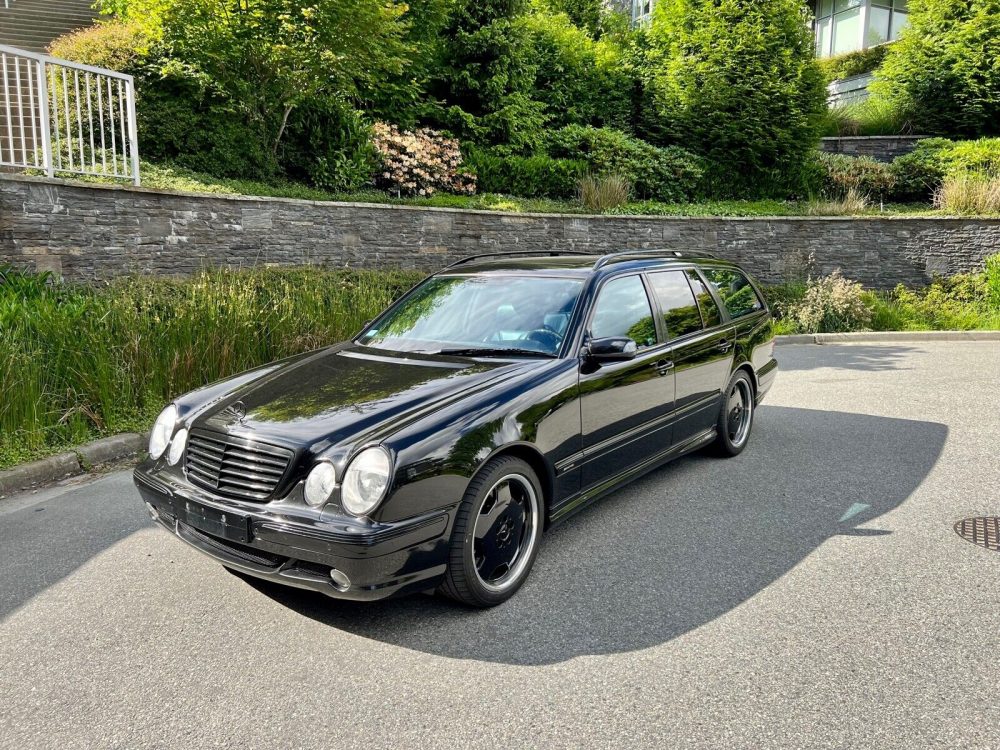 Now that the summer is drawing to a close, we inch closer to another year where the clock moves one year ahead on the 25-year import rule for those who live in the United States. For certain cars that were built early in the model year like September and October, this is a big difference marker. What I mean by that is if you are looking to import 1998 model year, that doesn't mean you have to wait until 2023. If that door sticker says "09/97" but it is a 1998 model year, you are good to go. But remember this could also work against you if it is made several months into that current model year.
Today's car isn't that case quite yet, but it is getting there and the hard work of getting it on North American soil is already done. Yes, this is 2001 Mercedes-Benz E55 AMG Estate up for sale in British Columbia at a still somewhat reasonable price. Although, what if I told you there was a way to bring this thing in the US legally right now?
Year: 2001
Model: E55 AMG Estate
VIN: WDB2102741B273952
Engine: 5.4 liter V8
Transmission: 5-speed automatic
Mileage: 166,000 mi
Location: British Columbia
Price: $27,000 CA ($20,639)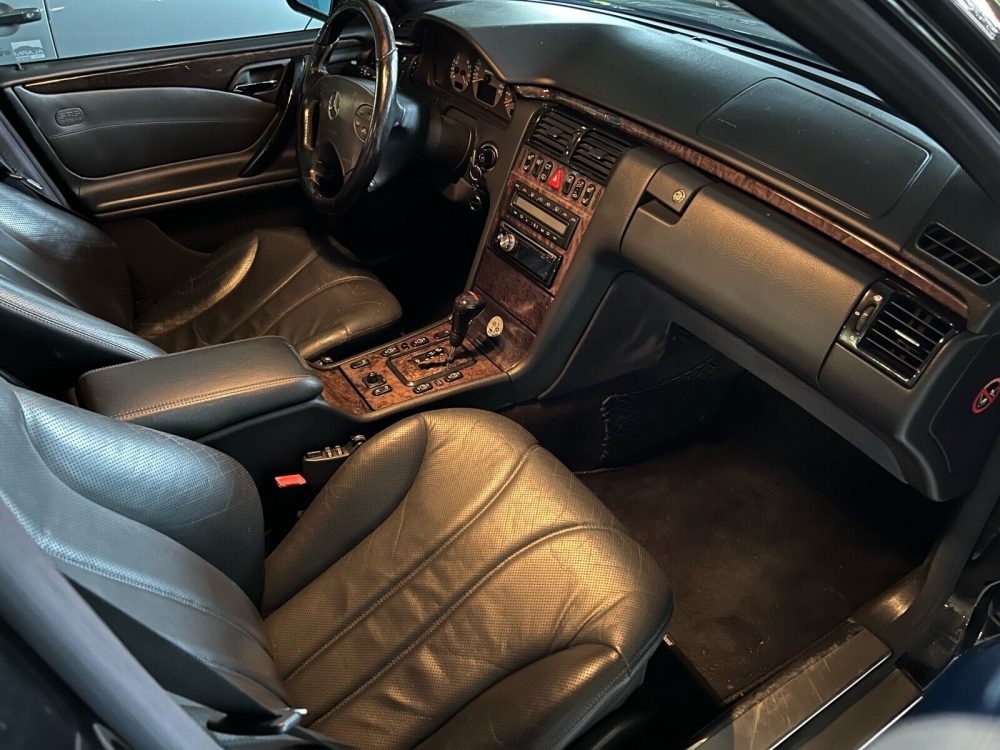 USA customers – on the NHTSA eligibility list (NHTSA 03-5887) for USA import through registered importer.
https://www.federalregister.gov/documents/2003/03/12/03-5887/decision-that-nonconforming-1996-2002-mercedes-benz-e-class-w210-passenger-cars-are-eligible-for

FIN WDB2102741B273952
Model E 55 AMG
Engine 113980 30 248112
Transmission 722636 02 487632
Order Number 0 – 248 20576
Order Location KASSEL BRANCH
Interior LEATHER BLACK (521A)
Paint 1 OBSIDIAN BLACK (197U)
Delivery Date 2000-11-21

Code Description
213 PARAMETER STEERING
220 PARKTRONIC SYSTEM (PTS)
242 FRONT SEAT RH ELECTRIC ADJUSTABLE WITH MEMORY
249 INSIDE AND OUTSIDE MIRROR AUTOMATIC DIMMING
275 MEMORY PACKAGE (DRIVER SEAT, STRG. COL., MIRROR)
293 SIDEBAG IN REAR LEFT AND RIGHT
345 RAIN SENSOR
401 SINGLE SEATS
404 MULTI-CONTOUR SEAT, FRONT LEFT
405 MULTI-CONTOUR SEAT, FRONT RIGHT
414 ELECTRIC TILT/SLIDE SUNROOF IN GLASS VERSION
423 5-SPEED AUTOMATIC TRANSMISSION
480 SELF-LEVELLING SUSPENSION
500 OUTSIDE REAR VIEW MIRROR LH AND RH FOLDING
520A EXCLUSIVE LEATHER TRIM
543 SUN VISOR WITH VANITY MIRROR, ILLUMINATED, LEFT AND RIGHT
581 AUTOMATIC CLIMATE CONTROL
600 HEADLAMPS – CLEANING EQUIPMENT
611 EXIT LIGHTS FOR DRIVER DOORS
612 XENON HEADLIGHT
673 HIGH-CAPACITY BATTERY
679 BASIC WHEEL AS SPARE WHEEL
691 BLUE HEAT-INSULATING GLASS ALL-AROUND, GLASS REAR
772 AMG STYLING PACKAGE-FRONT SPOILER, SIDE SKIRT
774 SHELL MODIFICATION FOR AMG-WHEELS
801 CHANGE OF MODEL YEAR, THE LAST FIGURE SHOWING THE NEW MODEL YEAR
876 INTERIOR LIGHT ASSEMBLY
877 READING LAMP IN THE REAR
910 DYNAMO WITH HIGHER CAPACITY (FFO)
926 EXHAUST GAS CLEANING WITH EU4 TECHNOLOGY (EURO 4)
954 EQUIPMENT PACKAGE FOR AVANTGARDE VEHICLES
988 REG. DOC. AND COC CERTIFICATE WITH EC TYPE LABEL
o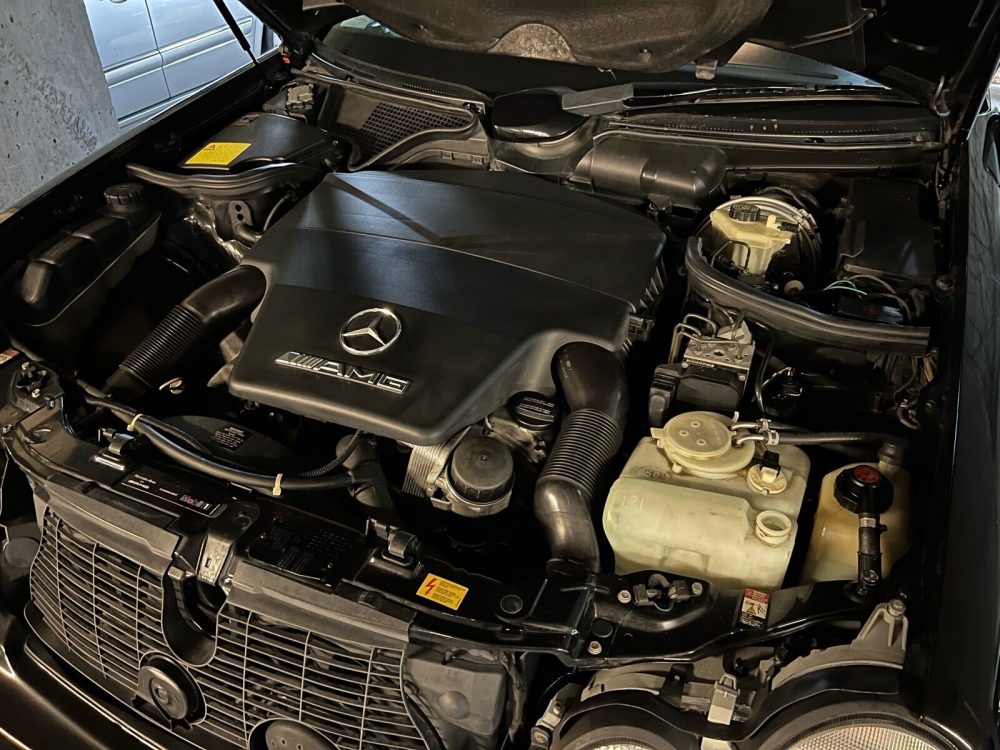 First, let us take a quick look at this very fast wagon. A few things stick out like the color-matched wheels and very wrong Black Series AMG badge, but other than that it seems pretty typical for an example with over 165,000 miles on it. The seller notes this one came out of Japan, which is does snow, so a really extensive look for rust is going to be required given how W210s love to rust even if they get just a little bit wet.
Now for the fun part. A few weeks ago we saw a 2001 E430 Avantgarde 4MATIC Wagon sell out in Colorado. Legally sell being the important information. This is thanks to the W210 being on the NHTSA eligibility list that allows you to bring in W210 cars before 25 years, provided you make all the important modifications up to US spec. This is not a ton of work to do on the W210, but you do have to swap the cluster which means you are going to lose your mileage claim if you ever decide to sell.
This brings us back to this E55. If you want this car now, you can have it. However, the question remains it is worth it? For me, probably not. We are very close to these being 25 years old and allowed in without any modifications at all, including not having to mess with the cluster that I mentioned before. Values are these are holding strong and somewhat reasonable, and we've yet to seem them shoot up a massive amount. Mark your calendars, because they'll be here before you know it.
– Andrew