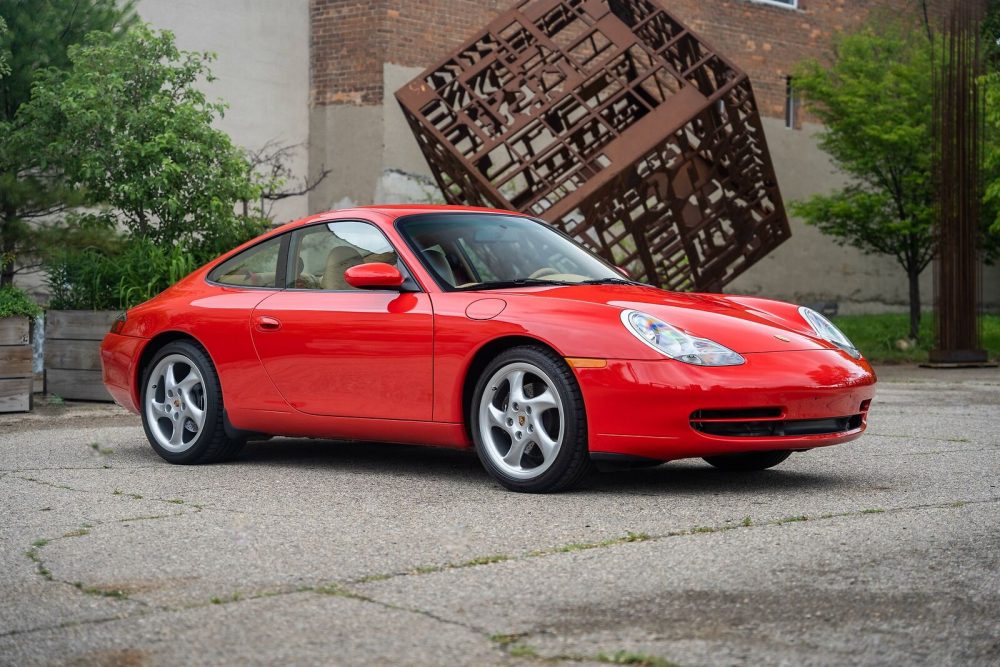 Well, here it is. Just to get the cat out of the bag, this is a 2001 Porsche 911 Carrera coupe with an asking price of $58,000. Uh huh. Not a GT3, not some crazy paint-to-sample example with special wishes, just a Guards Red 996 with a little over 29,000 miles. I know we've seen some example of relatively common early 996 examples sell for big money lately, but this one might take the cake. Worth it? Eh.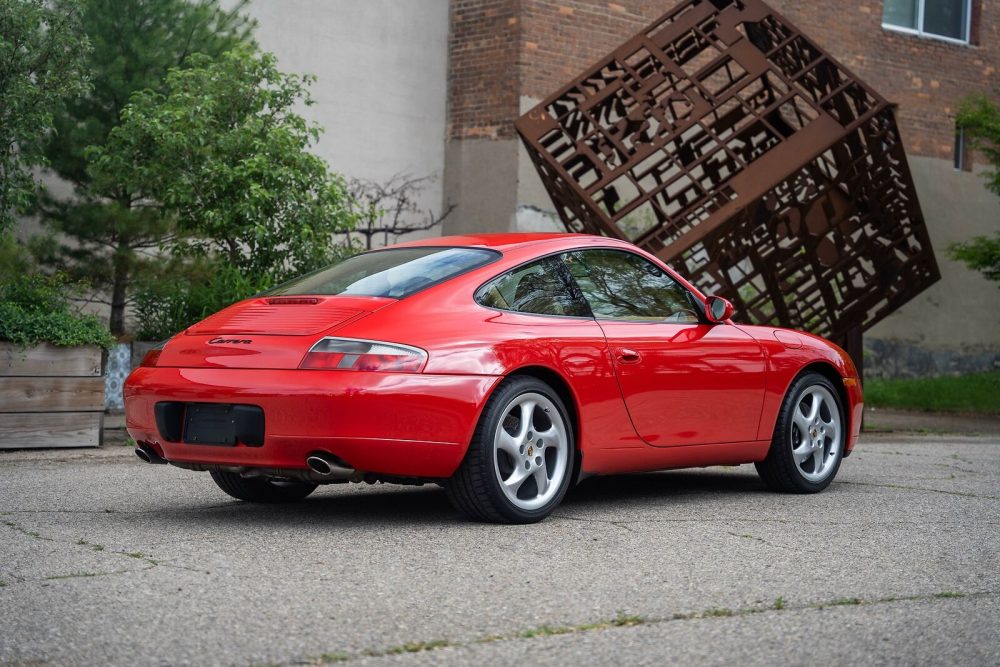 Year: 2001
Model: 911 Carrera Coupe
VIN: WP0AA2996XS622471
Engine: 3.4 liter flat-6
Transmission: 6-speed manual
Mileage: 29,360 mi
Location: Philadelphia, Pennsylvania
Price: $58,000 Buy It Now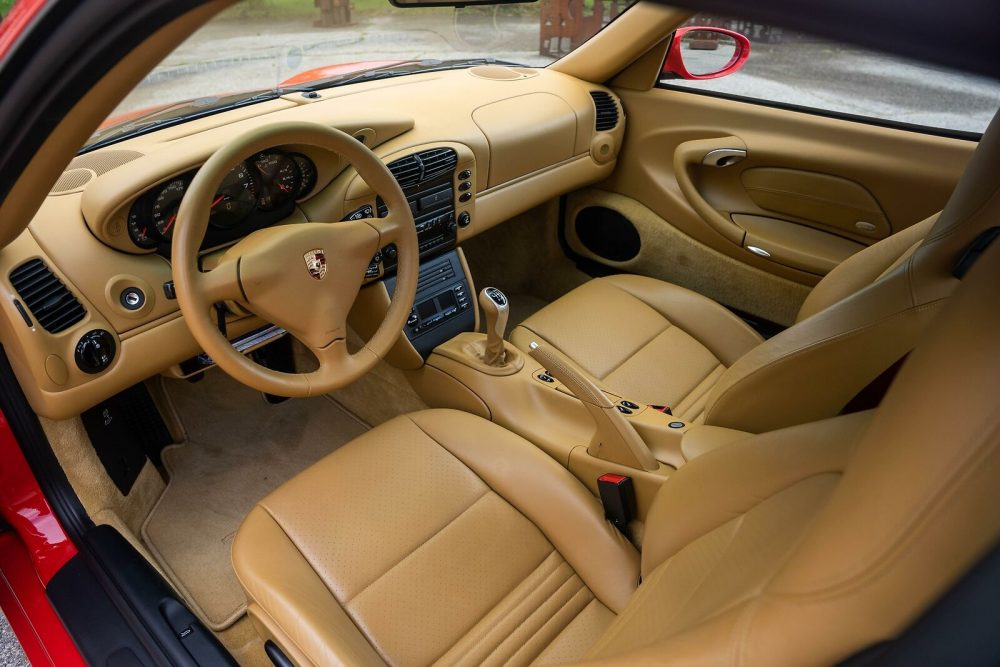 – Chassis # WPOAA29961S622803
– One Long Term PCA Member Owner From New
– Showing Just 29,000 Miles With IMS Bearing Service Completed
– Finished In Guards Red With Full Savannah Beige Leather Interior
– Well Optioned With 18″ Turbo Look Wheels, Technic Package, And More
– Complete With Books, Tools, Jack, Spare, Porsche COA, Roof Racks, And Available Service Records

When discussing sports cars, there are few that are more well-known than the Porsche 911. Since its introduction in 1964, the 911 has become a quintessential sports car. Up until the creation of the 996, Porsche was known for its glorious air-cooled flat 6 engines. However, with the introduction of the 996 Porsche decided to switch things up a little.

It was the first time the 911 had ever had a water-cooled engine and also the first to deviate from the classic round headlights. The result was a new body that stretched the previous 911's proportions. It now was 18.5 centimeters longer, with a wheelbase lengthened by 80 millimeters, and a width that grew 3 centimeters as well. However, the changes in dimensions paled in comparison to the changes at the rear of the car. With increasingly strict emissions regulations the air-cooled engines could not keep up, so the water-cooled technology took the lead. Not only did the water-cooled cars manage better emissions, but they offered profound performance benefits as the new 3.4 Liter flat 6 put out just as much power as the legendary 3.3 Turbo. This water-cooled engine was also successful in motorsport, taking the 911 GT1 to a LeMans victory in 1998. Roughly 175,000 996's were produced which in comparison to the 997 and 991 is quite rare with both the later generations producing well over 200,000 units each.

The 996 Carrera on offer here is a 2001 model year, chassis number is WPOAA29961S622803, and it is a rare configuration. Guards Red with full Savannah Beige leather interior and red seat belts make for a very unique and high optioned Carrera. This car also has the highly sought-after "turbo look" wheels. The car was initially delivered to Michigan and accrued all 29,360 of its miles with a single owner who is a 47 year PCA member, who in the summer of 2013 sent the car in for service at a reputable shop for the IMS Bearing that plagues many 996 generation 911s. In total, this car has roughly $9,052 in service and maintenance records. All of the glass in this example is original to the car and the Guards Red paint, which is also original, is in very good shape. Under the hood, you will find the option code sticker fully intact as well as a clean and correct front trunk area with factory spare appropriately mounted. This 996 Carrera would be best described as a well-kept, nearly new example of the early water-cooled era. Between its desirable specifications and completely sound mechanicals, this car would make a great addition to any garage or Porsche collection.

This generation of 911 marks the end of the air-cooled cars and the beginning of a new era for Porsche. While initially met with skepticism, 996 era cars are looked back on with fond eyes. As we get further away from an analog driving experience, cars like this 996 Carrera will continue to appreciate in value as a result. It is one of the few ways we can really connect with a car in this digital age. Included in the sale are the owner's manuals, tools, jack, spare, COA, a lengthy stack of service records, and a set of roof racks.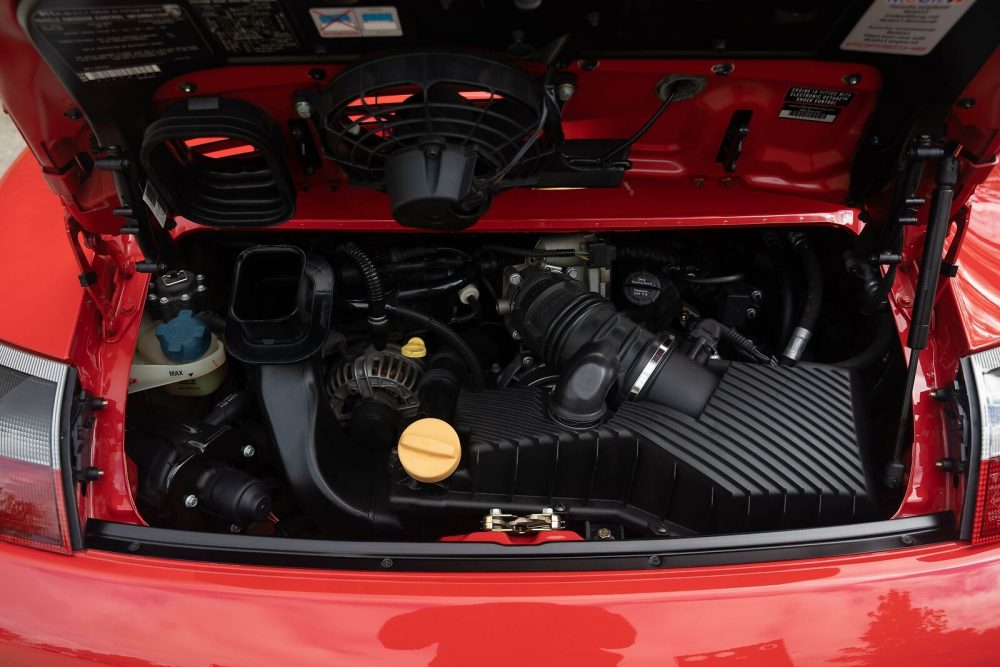 Well, I'm at a little bit of a loss on this one. Is it a really nice 2001 911? Sure. Great. However, it is a 2001 911. I know used car prices are a little nutty right now and this car has the IMS bearing already done, but this is good 911 Turbo money we are talking about it. It is pretty clear this dealer thinks the world of it since the 3.3 Turbo and GT1 was mentioned, which is hilarious on it's own, but $58,000? Not buying it, both figuratively and literally. Maybe in another 10 years.
– Andrew