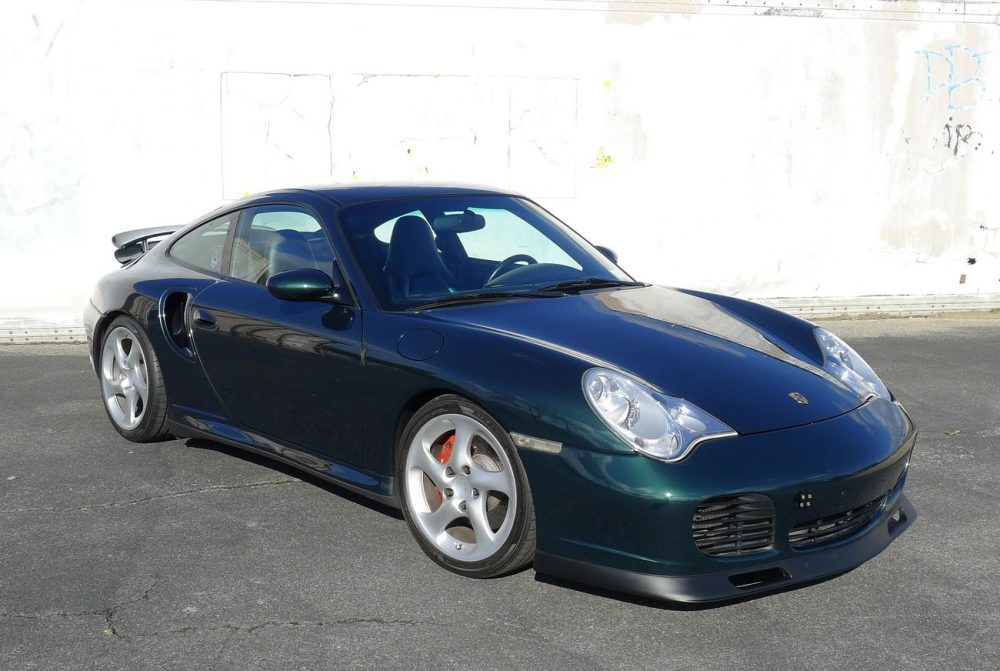 A few weeks ago I took a look at a 2002 Porsche 911 Turbo that was totally normal on outside, but then when you opened the doors things took a left turn. Judging by the comments, I wasn't alone on this thought. Surprisingly, it sold for nearly $52,000, which I think is a premium for a 2002 Turbo, but it did have only 29,000 miles on it. Today, I came across another 996 Turbo, but as you might have noticed the unusual color is on the outside this time. This 2001 up for sale in New York is painted in Forest Green Metallic and shows nearly 65,000 miles. Problem is, it is much more expensive than the car from a few weeks ago.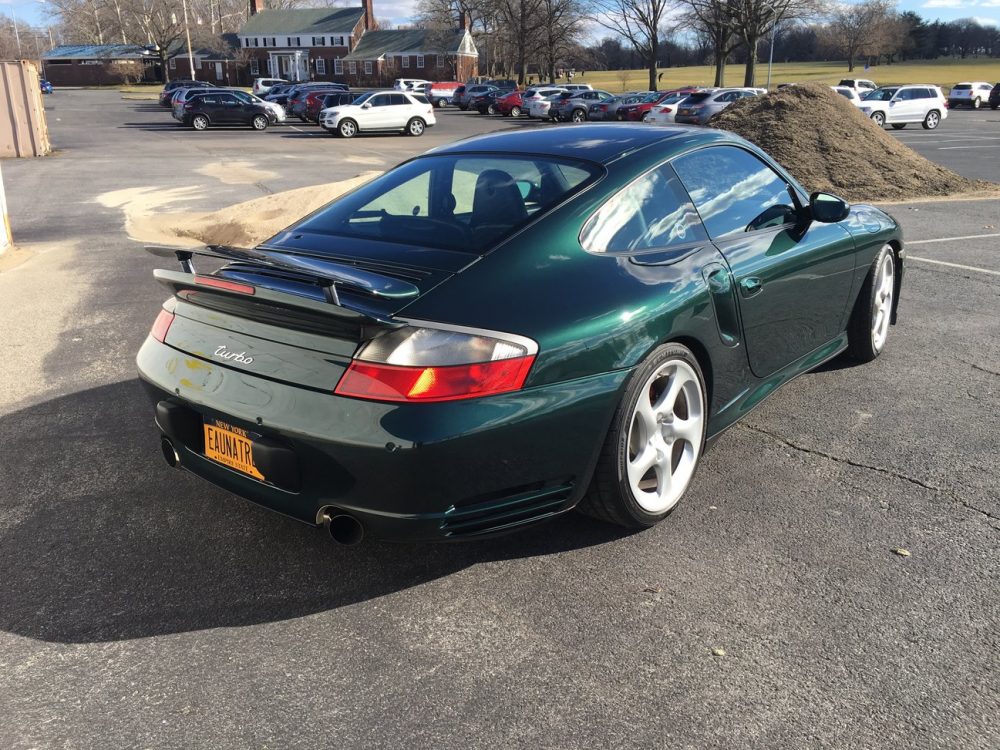 Year: 2001
Model: 911 Turbo
VIN: WP0AB29911S686633
Engine: 3.6 liter twin-turbocharged flat-6
Transmission: 6-speed manual
Mileage: 64,800 mi
Price: $59,000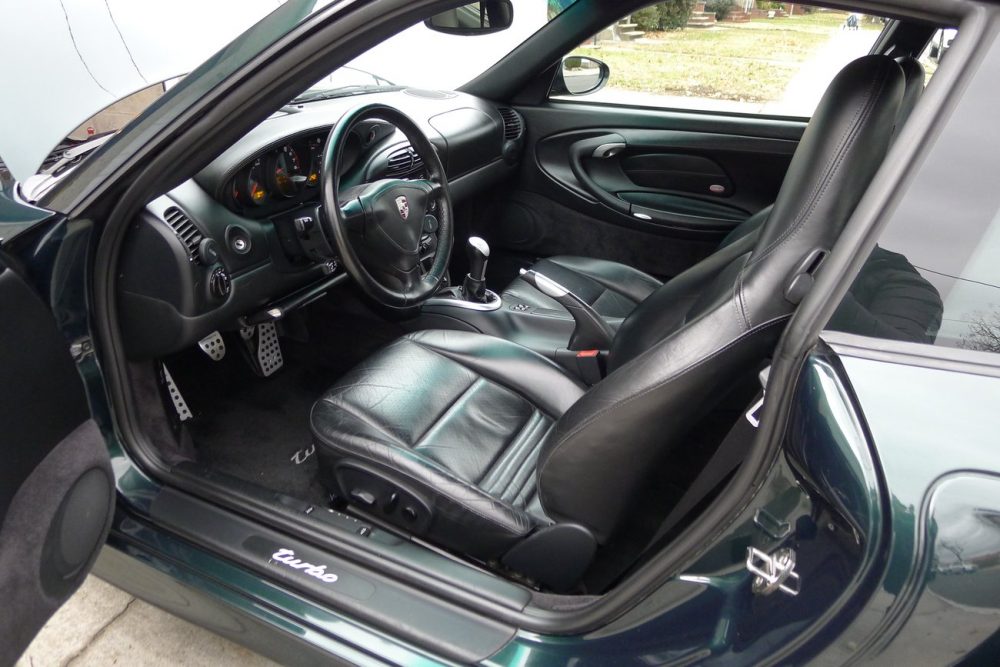 Entertaining the sale of my beloved 2001 996 Turbo which I've owned since November 2015. Great opportunity for someone looking for a unique, well-sorted, prime example turbo as this configuration does not come along very often. Reason for sale due to increasing lack of use as a result of other commitments and hobbies. Title in hand.

Additional Equipment:
059 Delete Front Bumperettes
498 Delete Model Designation
513 Lumbar Support – Right Seat
053 Forest Green Metallic Top
586 Lumbar Support – Left Seat
635 Parking Assist System
652 Sunroof Delete
662 Porsche Comm. Mgmt
680 Digital Sound Package
692 Remote CD Changer (6 Disc)
AD Black – Full Leather Interior
M6A Black Mats – Porsche Lettering
P14 Heated Front Seats Package
Y06 Alum / Lthr Shifter / Brake Handle

H I G H L I G H T S :

Super Rare Spec
Special order Forest Green Metallic over Black Extended Leather, 6 speed manual transmission and factory SUNROOF DELETE! Other notable options are heated seats, navigation and park assist. Gorgeous color changes shade depending on amount of light (see various photos).

Very Clean
No accident history and clean title. Looks like but NOT a 20k garage queen, a testament to the attention my car has received. Garaged and sleeps under a soft cover with a battery tender hooked up. I ensure the car is always clean and free of debris before putting on the cover. Placed 2nd in last years Grand Marques Concours to a brand new 991 Turbo. Nothing says 'I love you' like an immaculate car

Meticulously Maintained | Service Records
Car is turn key and ready to go. I have the original books with dealership service stamps and a binder full of receipts and service records. Most recent maintenance within the last 5k includes major 60K service, battery, sparkplugs, coilpacks, fluids, fuel filter, air filter, serpentine belt, alternator, engine mounts, cv boots, maf sensor, boost leak tested and more. Replaced many other parts as preventive maintenance just because 'I was already there'. Brakes and tires have plenty of life and clutch was already changed by PO. I also have good Blackstone Oil Analyis reports. Paint correction and ceramic coating was also performed by a top detailer. Everything in the car works – hydraulic spoiler is fully functional and there are zero 2nd gear pop-out issues!

West Coast Car
Clean and dry undercarriage. Originally from Washington/Arizona and I have not driven the car in snow or when roads have been salted here in Tri-State. If you're an East Coast buyer, I've already paid the $2K enclosed carriage transport to get the car here!

Tasteful Upgrades | Extras
H&R Coilover Suspension
H&R Front & Rear Swaybars
Markski Tune with Remote Smart Tune Flasher
Fabspeed Headers
Glorious sounding EBWerks Stainless 'Race' Exhaust (designed to sound like a GT3 at full throttle)
B&M Short Shifter
GT2 Clutch and LW Flywheel
Lloyds Floor Mats
Aluminum Pedals
Full Front End Paint Protection Film installed by Detailers Domain.
Note: If desired, I will give buyer a swap option in form of a Remus Sport Exhaust for a milder sound.

Quick Summary
These cars are truly exceptional and one of the most reliable in its category. Legendary GT1 derived 'Mezger' engine did not suffer from common issues found in standard 996. Car looks, drives and sounds absolutely superb. I have taken great care of her. Also keep in mind that in addition to car's condition, this is a rare and exclusive color not to be confused with the many black, gray and silver 911 Turbos you see out on the road. More notably, my car has the black interior (non-draped leather) as opposed to the more common tan interior often associated with green Porsches. Add in the sunroof delete, manual transmission and voila, a Green Unicorn! All these warrant a premium and the saying goes, you can either pay now or pay later. Buy the best you can afford.

Contact Info
Serious buyers only please. Not in a rush to sell, no interest in any trades nor have the bandwidth to answer questions one at a time via pm or email. If genuinely interested, please call or leave vm at 917 415 0125and I will happily discuss my car in detail. Absolutely no test pilots. Thank you in advance!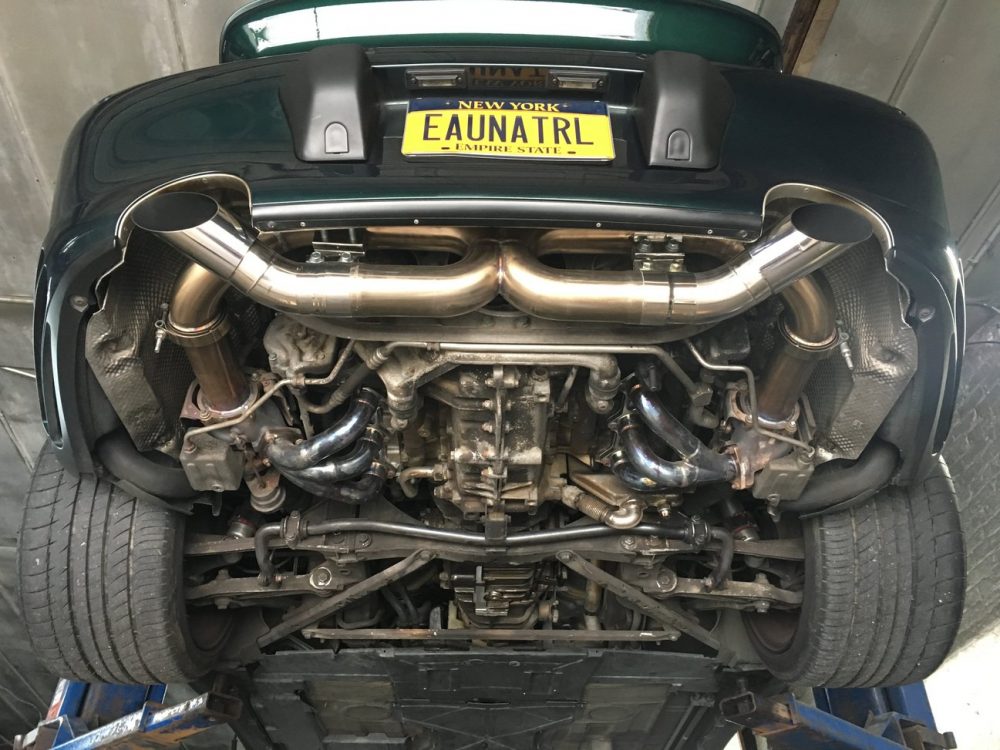 Pretty clear the owner of this car really loves this car and looked after it quite well. It has a fair share of modifications that are take it or leave it, but nothing too extreme that turn this car into something you can't drive regularly. The Forest Green Metallic is an interesting color in that it looks very dark when parked in the shade, but in other photos you can see it shines much brighter. To me, it almost looks too dark. Another thing to note on this car is it is optioned without a sunroof that is a very popular thing for people who like to track these cars as it gives you a little extra room for a helmet.
The asking price of of $59,000 gives me pause slightly. This is a pretty modified car with some miles on it and that price is surely into "premium example" territory. You could argue that the color and the modifications do maybe add a little, but this isn't exactly a Miami Blue 993 where people will surely pay a premium to get it. I think this one might for a little waiting for that perfect buyer because they are much better deals to be had surely.
– Andrew