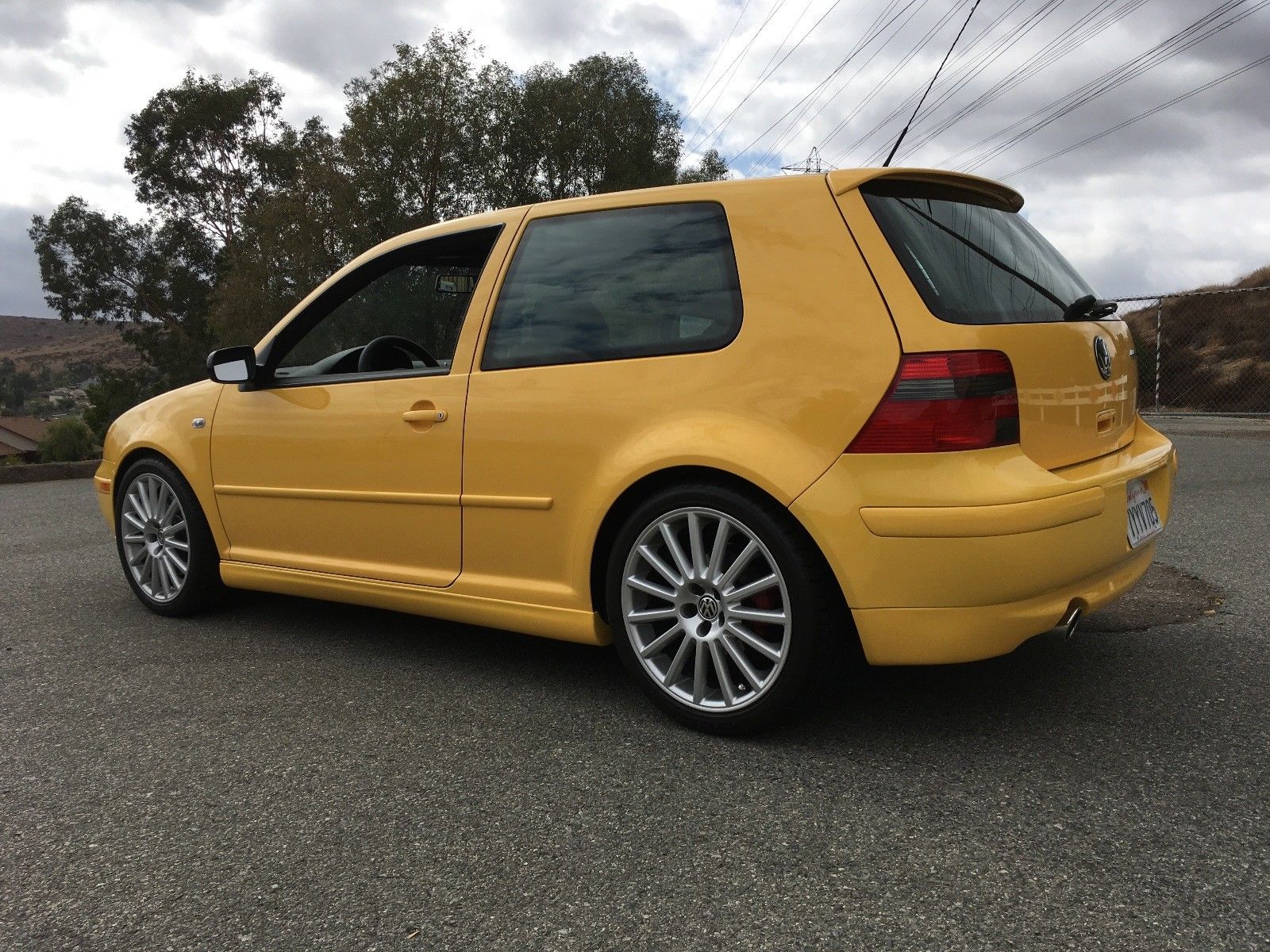 News broke this morning that the brand new RS4 Avant is unsurprisingly not coming to the United States. While this is no doubt disappointing to the twelve people who actually would have bought it and the 1.8 million who claim on the internet they would if given the option, it follows a long tradition in German motoring of leaving the best of the breed in the homeland. When it came to the GTI, not only did we have to wait several years before we got the hot Golf, but indeed it was a bit watered down and heavier when it did arrive. The same continued in the next two generations; more weight, less power. Both in the second and third generations we also lost out on supercharging, all-wheel drive and special body kits available in the European market.
Once again in 2001, a neat Golf was launched that – of course – wasn't coming to the United States. But of all of the special editions that weren't sold here, perhaps this one made the most sense to be excluded. It was called the 25th Anniversary Edition and you didn't need to be good at math to realize that there was no GTI sold here 25 years before 2001. Since the "18 year Anniversary Edition" didn't make much sense from a marketing perspective even in spite of Volkswagen's continual spotty judgement in that regard, it was no surprise that it wasn't offered. That was too bad, as it had a lowered suspension, better brakes, a bit more power, fantastic Recaro seats and the best looking BBS wheels fit to any Volkswagen, ever. Volkswagen enthusiasts in America drool inwardly and shouted openly, so in 2002 Volkswagen finally did bring the special edition here. Again, since "19th Anniversary" didn't make any sense, we instead got the "337" Edition. This was, for all intents and purposes, an exact copy of the 25th Anniversary model, but instead the 337 referenced the internal project code for the original GTI. But they were quite limited, with only 1,250 sold in the U.S. and 250 sold in Canada. So, you probably missed out on your chance to own one, right? Well, wrong, because in 2003 Volkswagen re-released the 337 edition. Conveniently, there was now a round number that they could actually commemorate the GTI's longevity with as it had been 20 years since the A1 GTI rolled out of Westmoreland. Again, it was a greatest hits edition; the 337 upgraded 12.3 inch vented brakes with go-faster red calipers carried over, as did the upgraded suspension. Though they sported different fabric, inside was the same Recaro interior with deep bolsters. The golf ball shift knob also returned, though it now was mated to a new 6-speed transmission (MQ350) which in turn were connected to R32 Aristo wheels in place of the BBS RCs. Deeper front and rear valances matched the previous two models, and the 20th AE got blacked headlights more similar to the 25th AE. A final homage to the original model were subtle rabbits adorning the rear and vintage inspired GTi badging. But the biggest change was that the 20th AE was available in three colors unlike the silver-only prior cars; Black Magic Pearl, Jazz Blue and Imola Yellow: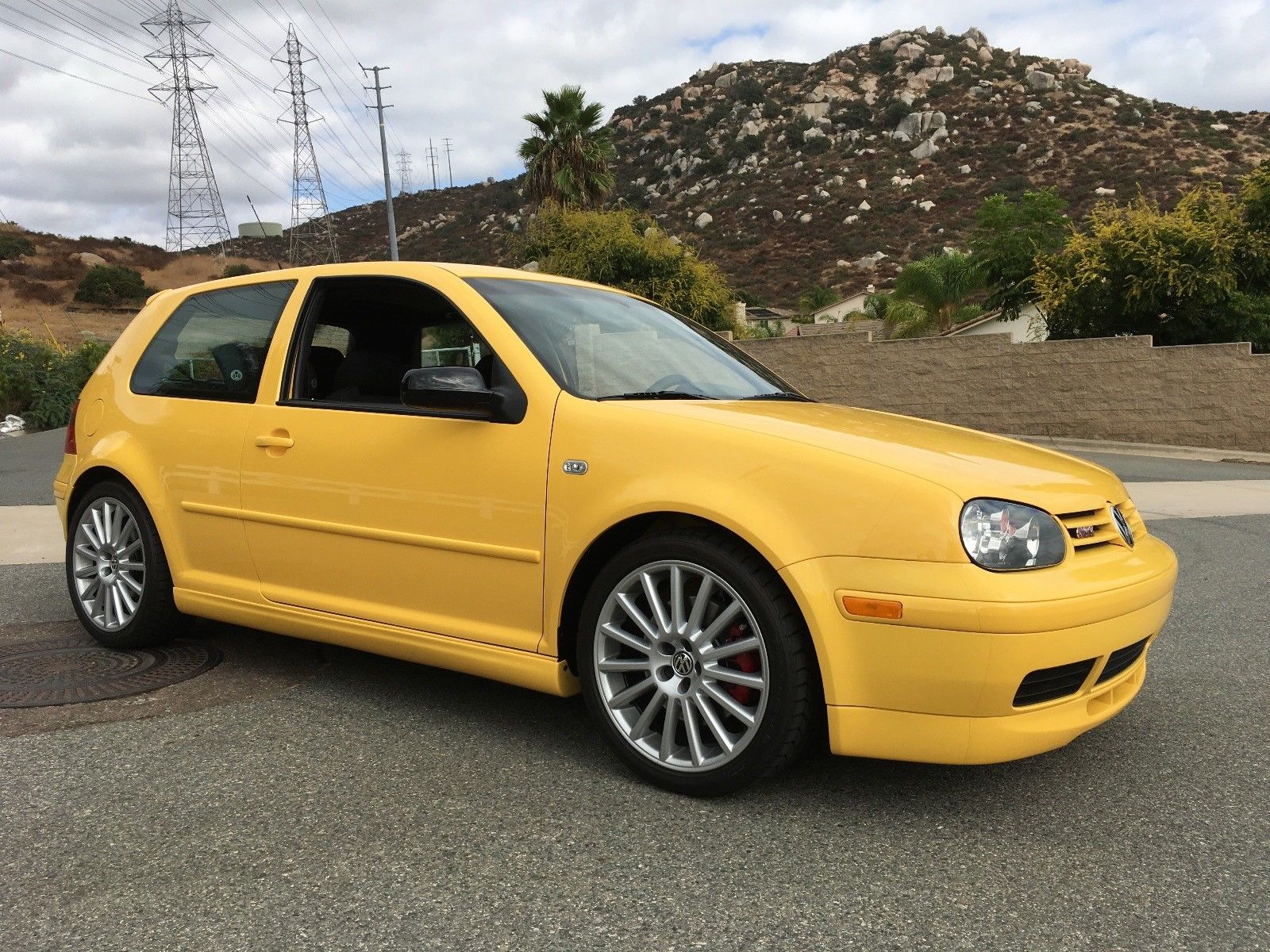 Year: 2003
Model: GTI 20th Anniversary Edition
Engine: 1.8 liter turbocharged inline-4
Transmission: 6-speed manual
Mileage: 9,800 mi
Price: $17,000 Buy It Now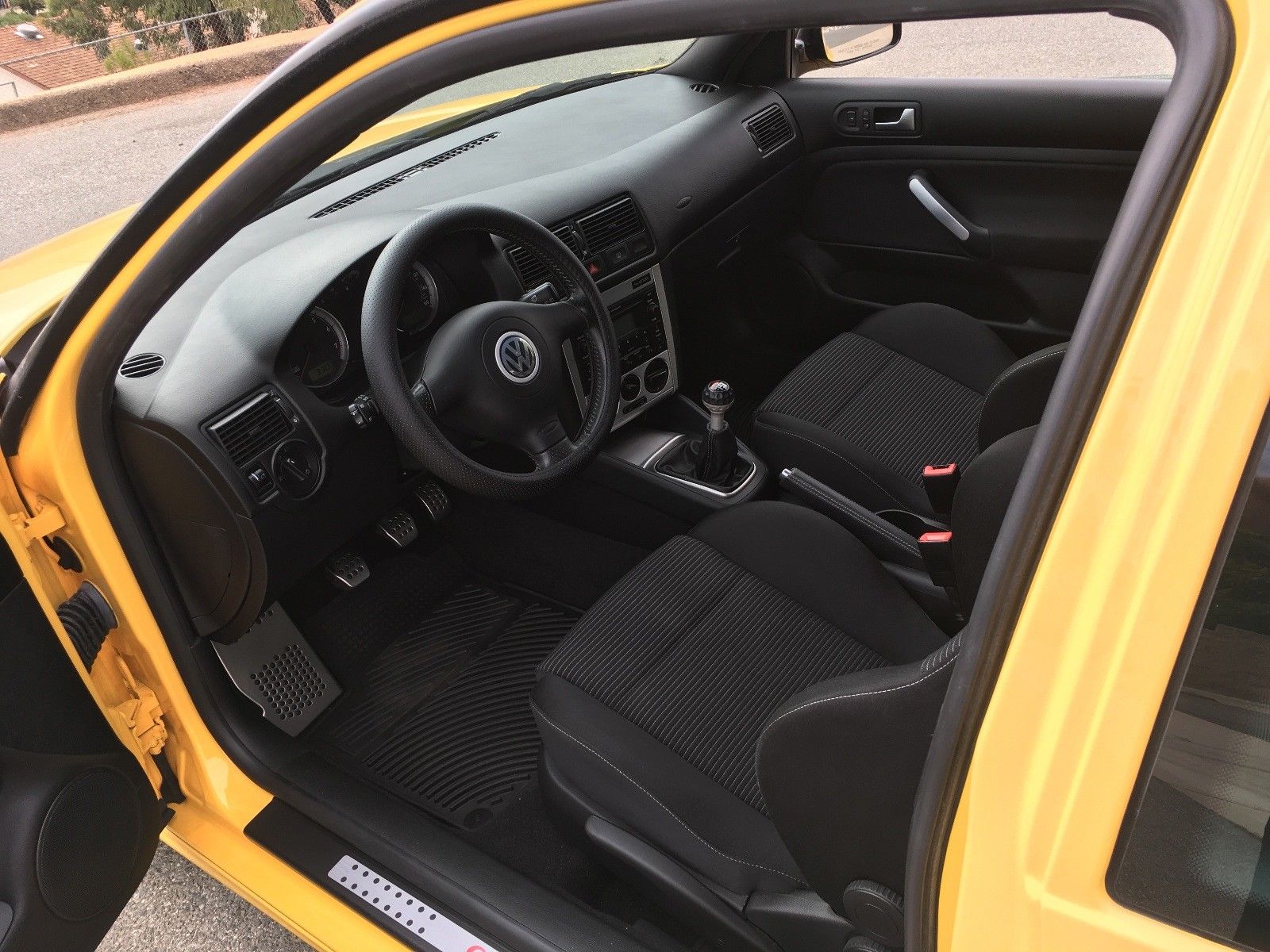 FS: 2003 20th Anniversary Edition GTi. 100% all OEM and never modified. Car has only 10k original miles. Yes, not a typo – 10k original miles.

Located in zip code 92071 – Santee, CA (east county San Diego)

This car is in near perfect condition. Everything works, as it should. Ice cold A/C, power windows/locks, CD/cassette/CD changer/Monsoon sound, sunroof, etc. It all works perfectly.

1 of only 4000 made for the US and 1 of only 1000 in the best color by far; Imola Yellow. Very hard to find in this condition with this ULTRA low miles and all OEM.

I am the second owner. The car has been maintained religiously from the get go. Service items have been done based on time and not miles.

Recent maintenance done – timing belt and tensioner, water pump, serp. belt, oil and filter, air filter, fuel filter, tranny fluid, coolant, power steering fluid, brake fluid and more. All work performed by Stan and Derek at Dark Kastle Motorsports so you know it was done right. I have all the receipts proving work from day one. All items used were OEM VW or German made equivalent. No Chinese garbage on this car. Car has less than 1000 miles since the items mentioned.

Tires are only about 1.5 years old as is the battery. Maybe 2000 miles on them.

Always garaged and it shows. Paint is near perfect, interior is unmarked and the drivetrain runs without a hiccup.

Numerous show winner in the MKIV stock class with trophies to prove it.

Car comes with the following options – 6 disc CD changer and VW monster mats. 3 sets of mats come with the car in fact. The gray edged ones, the yellow edged ones and the rubber monster ones.

Original window sticker is included along with photos from when the car was dropped off at the dealer and still on the shipping truck.

I have described the car as honestly as I can. I encourage any perspective buyer to come by and see it in person and go for a spin.

I paid up for the car when I bought it and I am asking a high amount for it in return. The value of the 20th's are only going up every month. If you cannot afford it, please don't waste mine and your time telling me you think it's worth what KBB says. KBB value does not apply here. If you know these cars, then you know what I am talking about.

I have decided to sell this perfect car because my focus has change to another project and need the funds to move forward with it. Otherwise it'd stay put. If I cannot get what I want or near it, I will hold onto it and sell it later. I know I will get what I want eventually. I've have seen 2 other 20th's with more miles than mine sell right for what I am looking to get in the past couple months.

Any question, please ask.

I reserve the right to end auction early should I chose.

If you have any negative feed back or less than 10 feedback, please contact me before bidding or I may cancel your bid.

Please only contact me if you have the money to buy now. I will not hold car until you sell yours or until you ask your significant other for permission to buy. If you do not pay, I will report you as a non-pay to eBay and ding your account. Don't be an eBay flake!!!

Thanks for looking and good luck.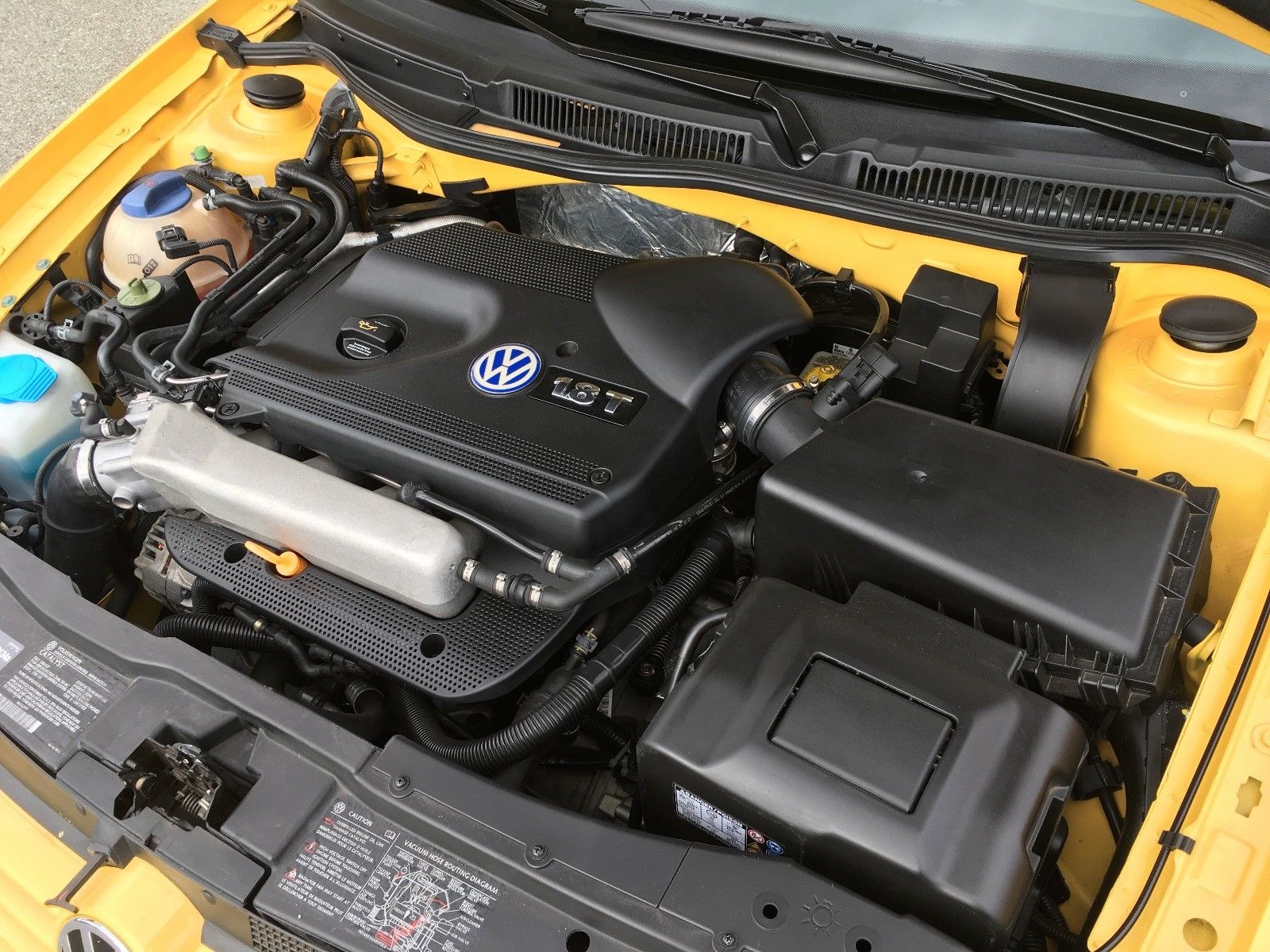 Perfection. Outside of jumping in a DeLorean and hitting 88 mph, you're not going to find a better original example of the 20th. The seller and prior owner not only cared for the exterior condition, but it's spotless inside and under the hood and has a mechanical freshening necessitated by age. There's literally nothing to critique; well, perhaps except for one thing. The price is $18,000 (or, was – now it's $17,000 – Ed).
That's a lot of scratch for a used GTI, period. In fact it doesn't take long to realize that money puts you into a GTI not one, not two, but indeed three generations newer. A great example is this 2016 GTI 2.0T SE with Performance Package I found – the same mileage, more functionality, more speed and much better driving experience await you. So obviously you'd really want to get a Mk.4 to even consider this. But Mk.4s, as I've talked about before, are sort of the E36 generation of GTI – cheap to buy, cheap to mod, not the best build quality, and a lot of them were made – so finding a good one today is pretty hard. Still, this money puts you into the much greater street-cred of the R32 – though, as we'll see tomorrow, you get much less for your money in terms of condition.
On the other hand, I completely understand where the seller is coming from and why they've priced the car high. Even higher-mile 337 and 20th AE cars demand a premium typically and it wouldn't be unusual to see one no where near the condition of this example hit the market at $10,000. To me, the real competition is a perfect collector-status car rather than a better performance or newer model. For that, look towards the 2005 TT Roadster I recently wrote up.
I think it'd be a hard choice between the Audi and the GTI for me, in all honesty. Though they share so much below, they have such different character! At the end of the day, I think the GTI would be my choice because I've always had a soft spot for them, but if a TT 225 Coupe of equal condition to this came up, for the same amount I'd be leaning towards the Audi.
-Carter