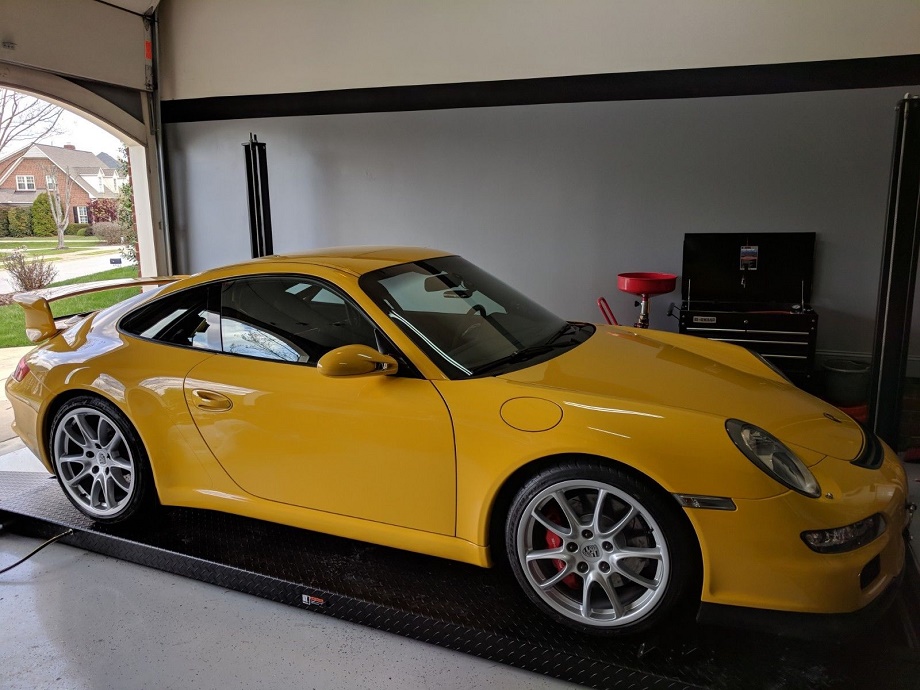 This is a Speed Yellow 2007 Porsche 911 GT3, located in North Carolina, with 53,500 miles on it. As you can see, like the very wonderful GT3 RS I wrote up a few days ago it has a few miles on it. Not a ton, but enough that we know its owners have derived some joy out of it. As they should.
However, it's not quite as perfect and worry-free as that RS. There are some flaws and those raise questions. The uncertainty they create will scare away many potential buyers. They've also brought with them a lower price; the lowest price I believe I've seen for a 997 GT3. I won't call this post a "roll of the dice" because I'm not sure you roll the dice on a car costing more than $80K, or at least not one without deep six-figure upside, but can you live with a little less certainty?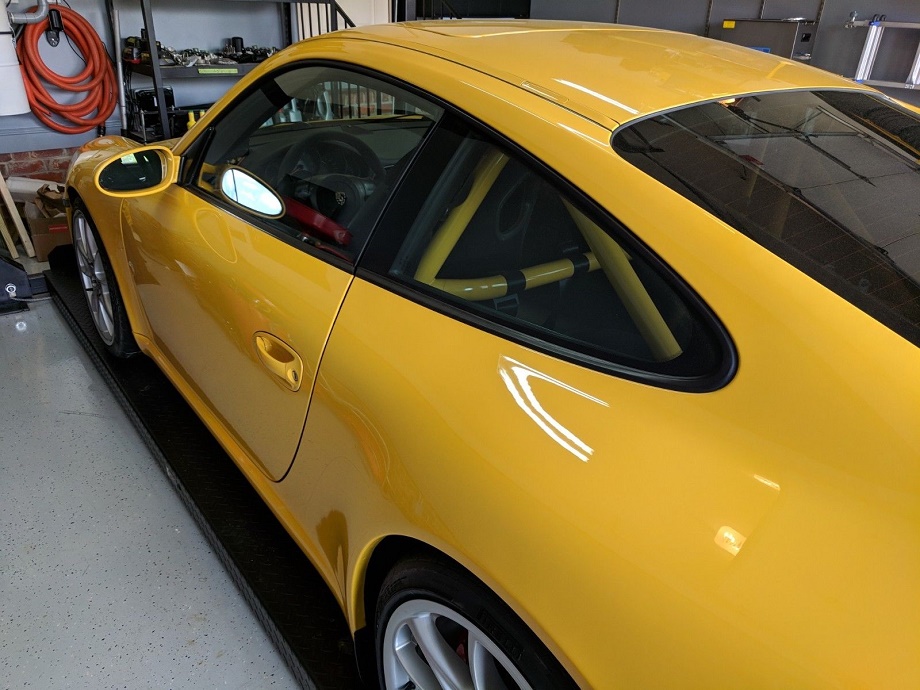 Year: 2007
Model: 911 GT3
Engine: 3.6 liter flat-6
Transmission: 6-speed manual
Mileage: 53,500 mi
Price: $83,000 Buy It Now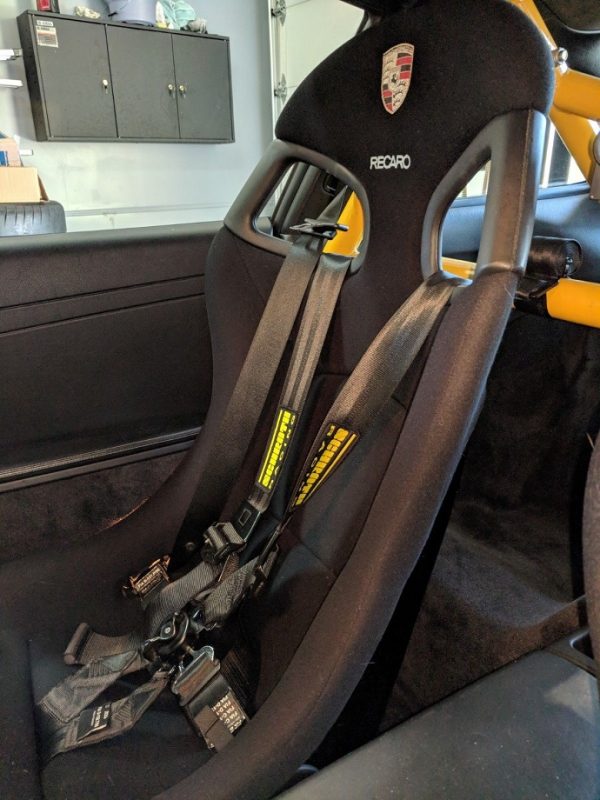 Here's a well maintained 2007 GT3 in beautiful Speed Yellow. This is a fantastic car if you're looking for an awesome weekend / track day car. 53.5k miles and counting. Here's your chance to enjoy that awesome Mezger engine and GT3 handling at a very competitive price.

Exterior: Paint is in very good condition but some areas are not original. There was a left front accident reported on CarFax in 2012. With the car on the lift I can see signs of repairs in the right rear section of the car as well but from what I can tell all the work was very nicely done using OEM parts. No signs noticeable from viewing or driving the car, it looks great and handles beautifully. Additionally, I had the rear bumper cover replaced and painted due to a cosmetic issue. At that time I also had the rear fenders and rockers painted due to rock chips. Front air intakes are protected by black radiator mesh.

Interior: The interior is very clean but the following items could be improved upon:
It has the usual worn AC panel and radio buttons.
A bit of bonding agent (glue) can be seen on the very bottom of the windshield (they must have messed up during the install).
Steering wheel alcantara is worn and could use a re-upholster (less than $500 cost).
It is equipped with a roll bar painted in the exterior color with a fire extinguisher mounted to it. Additionally is has the "cobra" style GT3 light-weight bucket seats wrapped in perlon fabric with Porsche crest. These seats are pretty rare and worth quite a bit. Very light and offers great support. They are also equipped with Schroth six-point harnesses (current). The pedals are covered by Rennline aluminum covers. Floor mats are custom black ones with yellow GT3 embroidery. Center console is painted in exterior color.

Engine: The engine is running great. It has been carefully maintained with the following done over the course of the last year:
Oil and filter change
Coolant lines pinned
Plastic coolant pipes replaced by Sharkwerks metal pipes.
Coolant fluid flushed
Water pump replaced
Starter replaced
Spark plugs replaced
Fuel filter replaced
Cabin filter replaced
Wiper blades replaced
Air filter cleaned
Engine is pretty much stock with the only modifications being:
K&N air filter element
Souls center bypass pipe
Muffler valves hard-wired to Sport mod
Runs and sounds great!

Transmission: Fluid recently replaced with Mobil DelVac and shifter cables adjusted. Clutch slave recently flushed. I have not had the transmission removed to inspect how much life is left on the clutch but it works fine. Previous owner claims it has the RS 4.0 LWFW but again, I have not inspected to confirm.

Suspension: OEM Shocks with some minor mods to suspension linkages:
RSS solid caster puck front lower arms.
Tarrett solid bushing front lower arm.
Champion rear adjustable toe links
Brakes / wheels: Almost new DeMan slotted front rotors. Rear rotors are OEM and showing some wear but still has plenty of life left. Pads are Pagid yellows with plenty of life left on them. Caliper bolts are replaced with Tarrett caliper studs and brake lines are stainless steel wrapped. Brake fluid (Motul 600) recently flushed. Wheels are OEM in like new condition with Pirelli Zero tires with very little wear. Mounted using wheel studs.

This is not only a great looking GT3 but it's also very well maintained car equipped with a nice set up upgrades, especially if you intend to do track days. Needs nothing, ready to be enjoyed on or off the track!

I've tried to carefully describe the car but please feel free to ask questions. Happy to answer to my best ability and provide more pictures if desired.

AIM logger/camera and radar detector not included in sale.

Title is clean but does have a lien on it.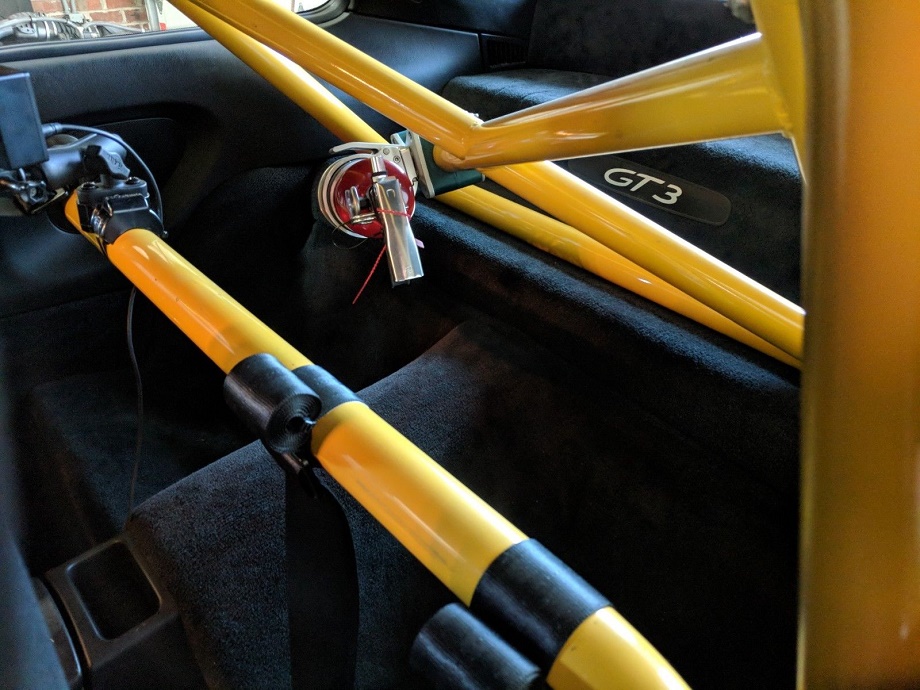 Unsurprisingly, this GT3 has been for sale for a few months. Even at its lower-than-normal asking price buyers have still found the price too high. It gradually has come down, but may even have to come down some more. We'll see. Let's get to the cause: it's been in an accident. That accident was at the hands of a previous owner, perhaps even a couple of owners ago since the current owner says it was quite a few years and miles ago, and documentation of the accident/repair does not seem to be available outside of what shows up on a CarFax report. The seller says the car performs without issue and upon inspection appears to have been repaired at a high level. Excellent news, but there's still that nagging uncertainty. Living with a car with an accident history can be easy. It can be entirely unnoticeable. Buying a car with an accident history is not easy.
So what do you do? The seller has been fairly straightforward in disclosing what he knows about the car, its current condition, and its repair. There doesn't appear to be any deception here and in that regard we're off to a good start. I wouldn't have posted this if I thought there was, but my familiarity with this GT3 likely is the same as yours: I found it on the internet. This GT3 also has a few modifications, though none are anything that buyers likely would find problematic. Some they might even prefer. Those modifications aren't holding back a sale, but they should be noted.
I do think there is potential here. The GT3 is a track car; it's a pretty damn good track car. Yes, I love that this one is Speed Yellow. This could make for a nice option for the buyer looking for a GT3 to use primarily at the track while saving a little bit of money on the purchase. Obviously, you want a comprehensive PPI to help understand its condition and repairs. There's no point saving money up front just to shell out a bunch later. But if that PPI shows everything to be in great shape? Well, then I think you have something quite worthwhile. Any GT3 is a pretty amazing car. Not all of them are perfect. Sometimes that can work out just fine.
-Rob