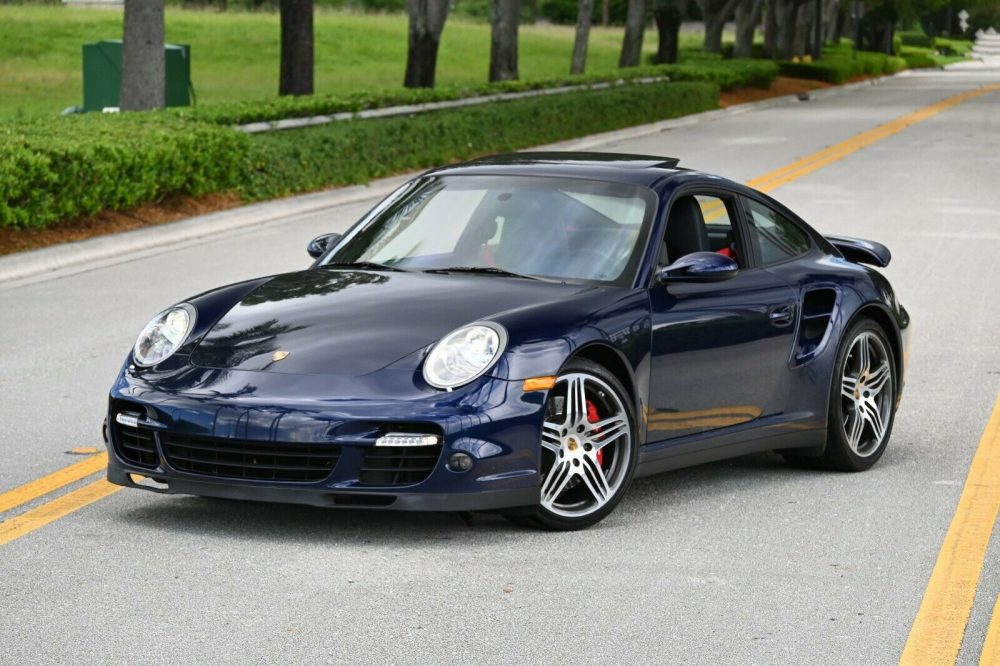 One of the cars that seems to have turned the corner in terms of its valve bottoming out and is now on a rise is the 997 Porsche 911 Turbo. It seems for a handful of years these hung out well under $100,000, but never down under $50,000 like the previous generation 996 did. Everyone knew they were fine cars, but most preferred the facelift 997.2 for the upgraded looks, equipment, and addition of the PDK gearbox in place of the outdated Tiptronic box. However, it is now 2021 and everyone is going crazy for good used sports cars, so here we are.
This 2007 911 Turbo up for sale in Miami thankfully has the six-speed manual gearbox and is finished in a very sublime color combo of Lapis Blue over an Ocean Blue leather interior. The good news? It only has 26,000 miles. The bad news? That means it is expensive.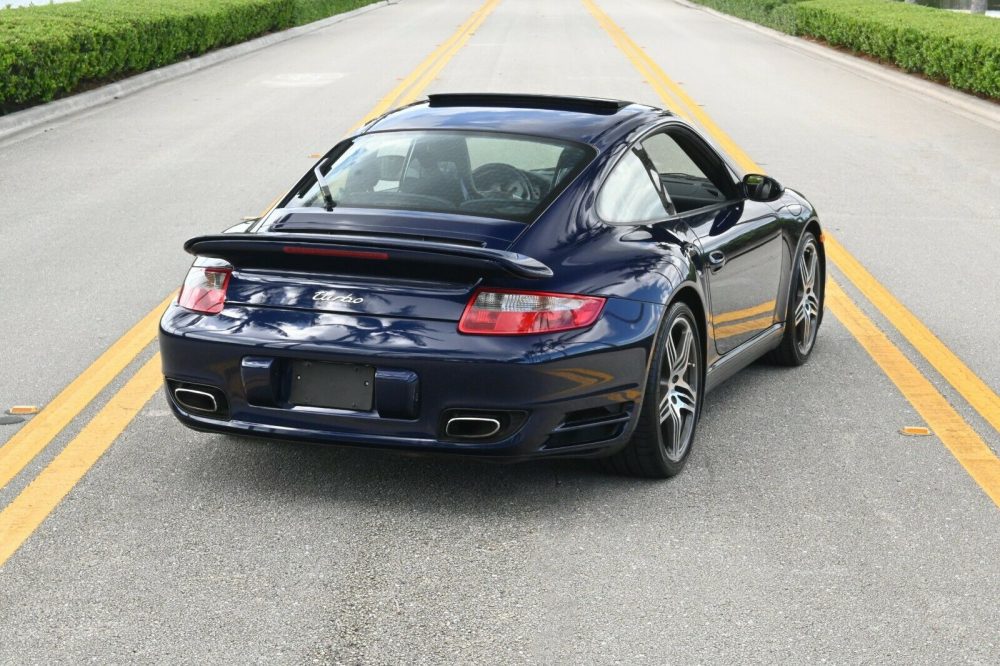 Year: 2007
Model: 911 Turbo
VIN: WP0AD29907S786676
Engine: 3.6 liter twin-turbocharged flat-6
Transmission: 6-speed manual
Mileage: 25,795 mi
Location: Miami, Florida
Price: $120,000 Buy It Now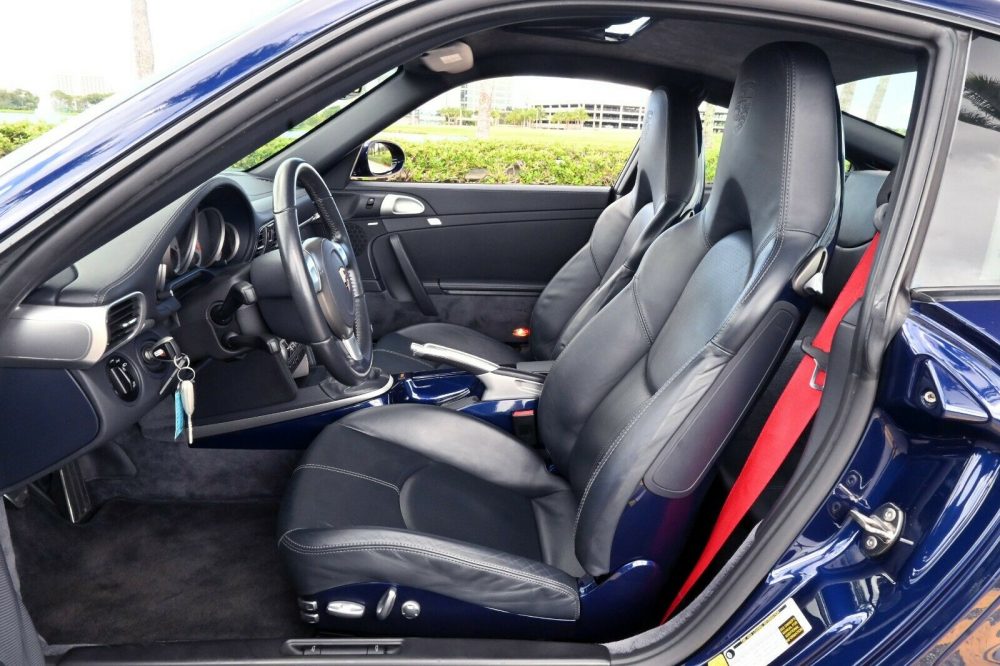 Available now this incredible 997 Turbo finished in Lapis Blue paint over Ocean Blue full leather interior with a big $135,130 window sticker, loaded with must-have and individual options.

This Florida car shows a careful and detailed service history performed at Porsche authorized dealers, including a major service performed at Porsche of Orlando, just 2k miles ago.

The Lapis Blue Metallic paint looks par with the 25K original miles that this car has. Some road wear can be seen in the bottom front of the rear bumper. The lights are crystal clear all around showing proper garage storage throughout its life. This car is accident free, and the paint meter shows all original paint around the body.

The Rare Ocean Blue interior of this car also all original and very well appointed with factory Porsche Exclusive options, including sports seats with exterior paint (Lapis Blue) finished hardbacks and center console. The PCM is fully functional, including all the convenience electronics of the car. Plastics are free of stickies and the additional carbon overlay around the PCM and the AC controls, add a very nice touch to it.

This car is all original and unmodified, making it a great candidate for a demanding collector, or for emissions strict states. The factory Turbo wheels are wrapped on OEM approved Bridgestone Potenzas.

The long $135K window sticker options list include:

Sport Chrono Plus

Porsche Communication Management with Navigation

425 Rear Window Wiper
640 Sport Chrono Package Turbo
692 Remote CD Changer (6 Disc)
810 Floor Mats – Interior Color
ECA Gear/Handbrake Lever Alu Look
FE Sea Blue Full Leather
J2 Lapis Blue Metallic
P01 Adaptive Sport Seats
X70 Metal Door Sill Model Insignia
XME Rear Ctr Cons Painted Exterior Color
XPA Thicker Steering Wheel-Leather
XSA Sport Seat Backs Painted
XSC Porsche Crest in Headrest
XSX Seat Belts – Guards Red
XTV Door Finishers in Leather

This car comes a full set of owner's manuals, spotless Carfax and a clean Florida title.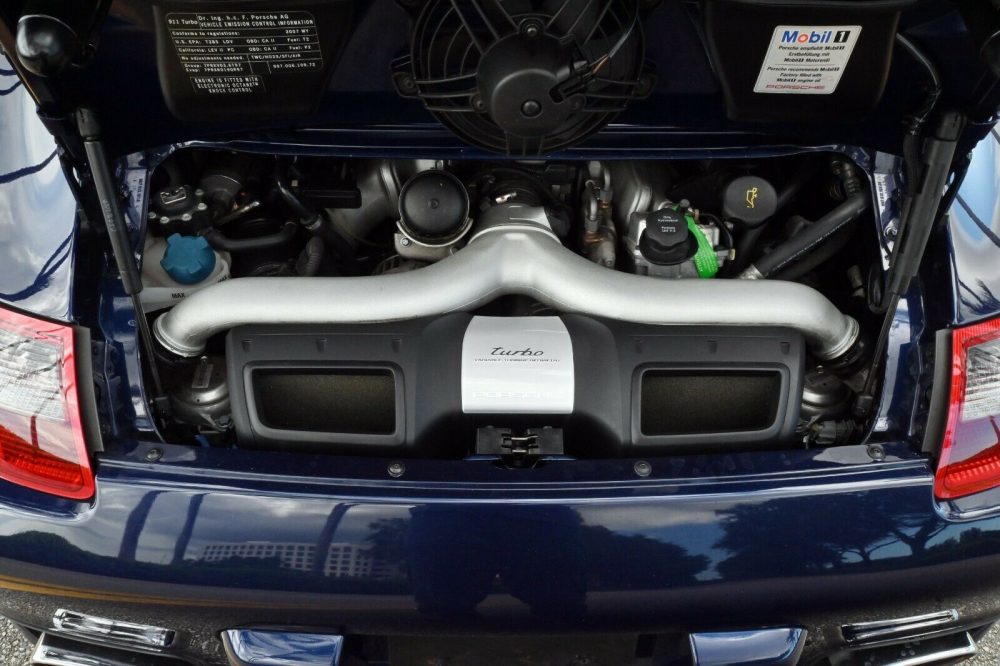 Don't get me wrong, this is a very nicely spec'd example. The interior options make all the difference, such as the adaptive sport seats with the color-matched backs. However, the $120,000 asking price has me doing some quick head math and it is not adding up. We've seen examples with fewer miles sell for much less money recently, and it wasn't just one example. Maybe this dealer is trying to get ahead of the game and ask a super premium price, but this extremely hot car market is still to cool just a tad, so the asking price might be a little too much. If this was your perfect car and wanted to pay for it, go for it, but maybe it is not the best deal ever right now.
– Andrew