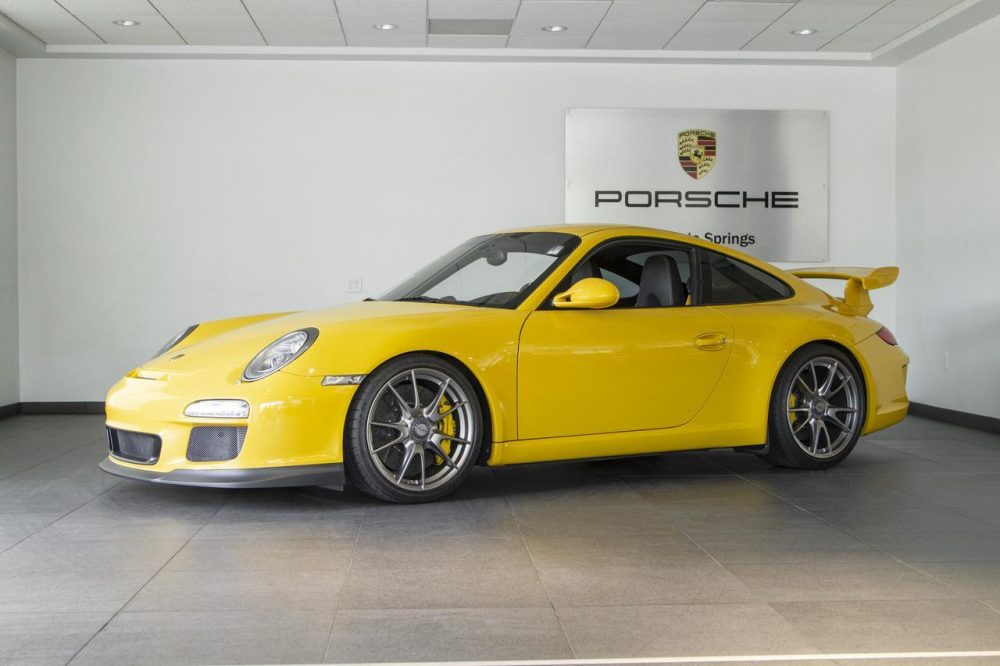 The 997 Porsche 911 GT3 is sort of in the middle of an interesting phase right now. They aren't new enough where buyers are desperately demanding them as the latest and greatest, but not old enough where it would be considered a classic. On the flip side, one could argue that these were timeless cars from the beginning and would always be in demand from the first day on the lot until 50 years from now. I don't disagree with that, but I'd argue that Porsche spit out so many different GT cars after launching the 997 GT3, that these are sort of overlooked when it comes to shoppers who are willing to spend north of $100,000. The interesting part is that some early 997.1 GT3 examples are selling well under $100,000. The make it even more interesting, you can find 997.2 GT3s for under $100,000 if you are willing to compromise on color. However, today's car probably isn't going to be a compromise for anyone.
This 2010 GT3 up for in Colorado is finished in the lovely Speed Yellow and has a ton of options like Carbon Ceramic brakes, the Sport Chrono package, hardback yellow seats, yellow gauges, and a bunch of little things that all add up to a very big price tag. It comes in with just 27,000 miles on the odometer and looks every bit the part. Thing is, are you willing to spend a premium on the now two generations old GT3?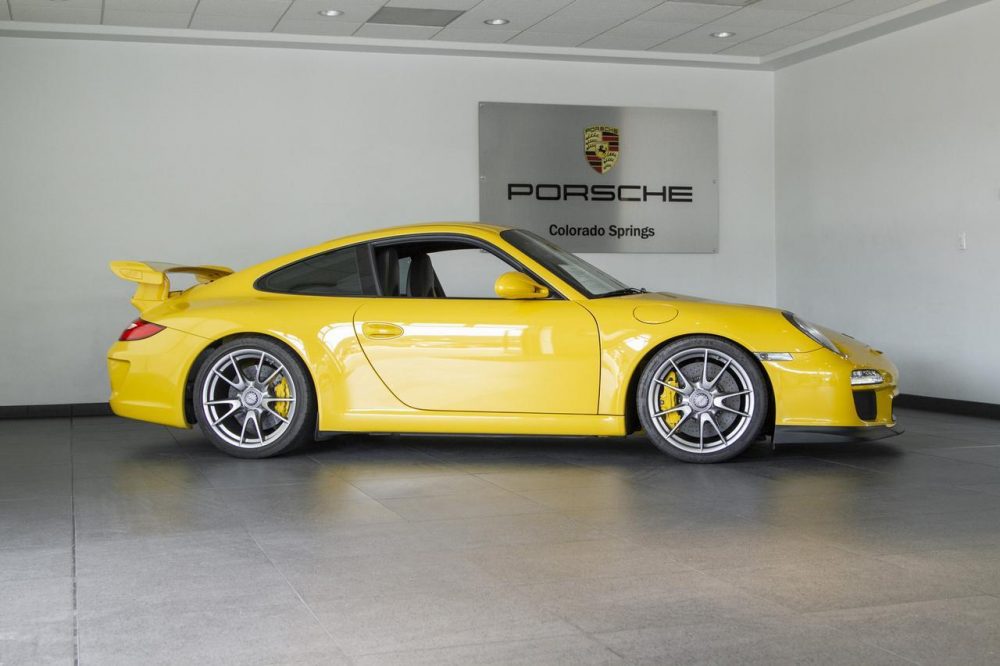 Year: 2010
Model: 911 GT3
VIN: WP0AB29936S740277
Engine: 3.8 liter flat-6
Transmission: 6-speed manual
Mileage: 26,524 mi
Location: Colorado Springs, CO
Price: $115,600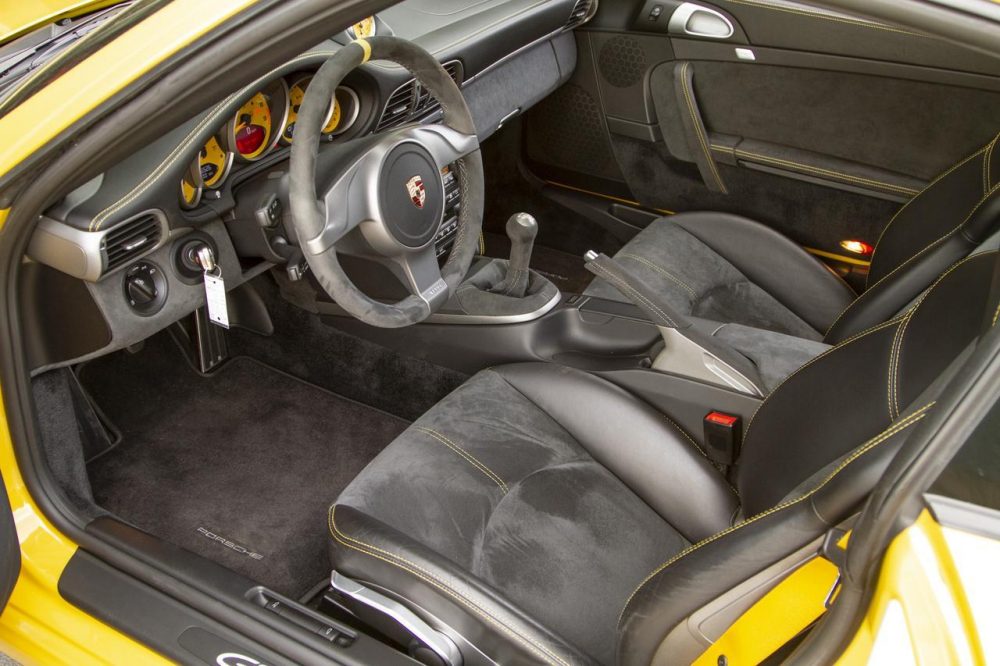 Certified Pre-Owned 2010 GT3 in Speed Yellow over Black Leather interior with deviated stitching in yellow. This GT3 had an MSRP of $142,880 including nearly $30,000 in factory options and has Porsche's Unlimited Mile Certified Pre-Owned Warranty for 2 Years from the day you purchase the car. The car came to us from an out of state enthusiast friend that took exceptional care of the car during his ownership and its overall condition shows very clean. During previous ownership a Fabspeed exhaust has been fitted to the car along with clear side makers. Our Factory Trained Technicians just completed the comprehensive 111-Point Certified Pre-Owned inspection to ensure the GT3 is ready for its next owner. During the inspection we installed 4 new tires and completed a full major maintenance including oil and filter change, new pollen filter, new engine air filter, new spark plugs, and the 2 year brake fluid flush was done at the same time. The previous owner had a factory windshield installed the day before we received the car. The car comes with 2 keys, books, and window sticker.

Original Equipment:

– Dynamic Engine Mounts
– Ceramic Brakes
– Heated Seats
– Front Axle Lift
– Sound Package Plus
– Dynamic Cornering Lights
– Bluethoot
– Sport Chrono
– Satellite Radio
– Universal Audio Interface
– Navigation
– Aluminum Foot Rest
– Self Dimming Mirrors
– Rain Sensing Wipers
– Yellow Instrument Dials
– Yellow Chrono Timer
– Yellow Seat Belts
– Deviated Stitching in Yellow Throughout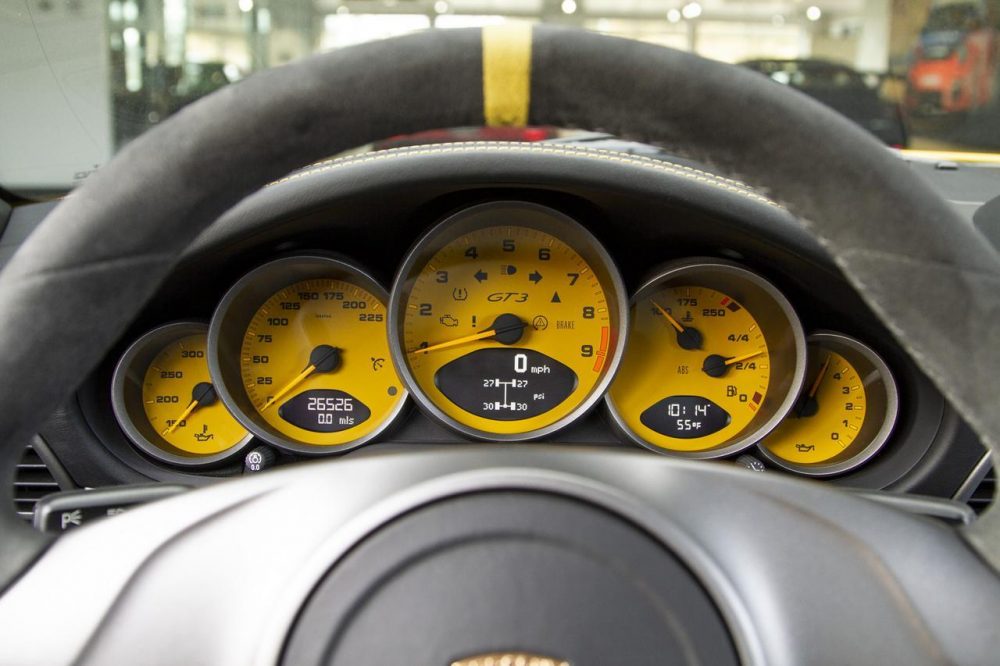 You certainly won't see me signing up to buy any yellow cars if given the choice, but I think I'd make an exception for this one. In my eyes, Speed Yellow looks perfect on the 996 GT3 and the 997 GT3 for some reason. It is just dark enough that it doesn't look feminine, but not so dark it ends up looking like honey mustard. All the yellow accents on the interior I adore, especially the hardback seats and gauges. I know yellow needles against a yellow gauge face isn't ideal for track driving, but I don't think the owner of this car bought it to do any track days. Add in the fact that the yellow on the Carbon Ceramics match perfectly, and this is a yellow home run for me.
Naturally, this dealer has this one priced at a premium that includes a $599.95 "Dealer Handling" fee, which is an embarrassment to even put that on your website. The values on these cars are totally arbitrary to begin with and this dealer goes out of their way to spit in your face and charge you an additional fee when you are already going to be paying a premium just because. The $115,600 asking price is really high for a non-RS 997 GT3 and I don't need to tell you that will buy you a whole slew of 991.1 GT3s and have cash left over. This dealer is looking for a perfect buyer who wants to pay a $15,000 premium for the yellow paint along with the chance of banging the car off the rev-limiter and forever be haunted by an over-rev on the DME report all because you can't see the needle on the gauge.
– Andrew