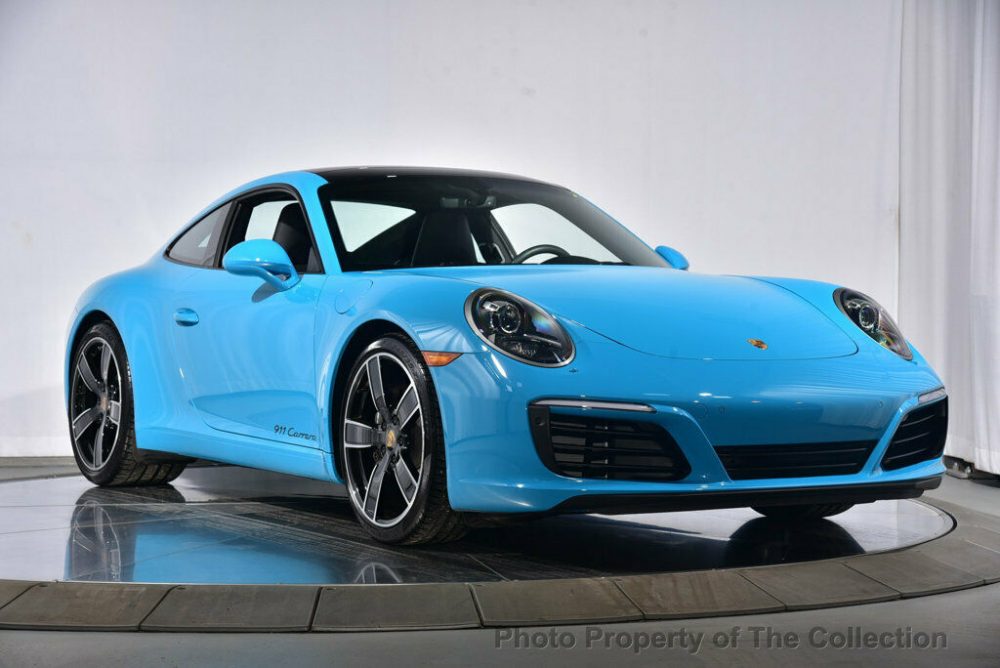 The classic blues have been so popular on Porsche 911s, that the company actually wised up and offered as a standard-ish color for the 991 chassis. From a money perspective, it seems like an odd move seeing as they know they'll get another $7,000 or so if someone orders it for paint to sample, but maybe it was a logistics thing of them selling more cars to begin with if they could sprinkle some of these cars throughout dealer lots around the county. The blue offered on the 991 was actually Miami Blue (not Mexico Blue) that had just a little bit of a teal shade to it if you look at it in certain lighting. Meanwhile, the Mexico Blue that I linked, is a much truer royal blue that you would associate the color of blue with. Now don't confuse that with Rivera Blue, as that is a little lighter shade of Mexico Blue. Are we having fun yet? This photo explains it best with left to right, Rivera, Miami, then Mexico. Easy.
Naturally people want this color more than a black, white, grey, or silver, so of course Porsche charged more for it. You thought you were getting off that easy? A more standard color like Jet Black Metallic or Agate Grey Metallic is $710, but Miami Blue? $3,140. That bigger price tag just isn't exclusive to Miami, a color like Lava Orange also carries the same $3,140 premium. So now that the 991 production is done for good, people are dumping their cars to upgrade to the 992 and these special colors are now on the used market. This 2017 C2 up for in, wouldn't you know, Miami, Florida, just has 3,400 miles on it. I hope the extra money was worth it.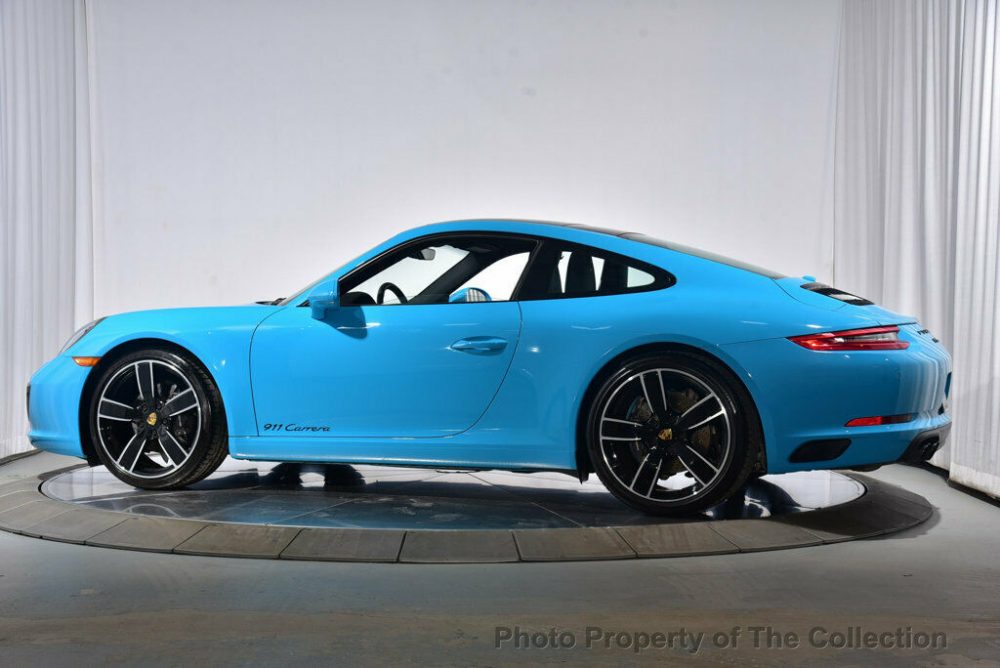 Year: 2019
Model: 911
VIN: WP0BB2A94KS126090
Engine: 3.0 liter twin-turbocharged flat-6
Transmission: 7-speed Doppelkupplung automatic
Mileage: 3,410
Location: Miami, Florida
Price: $82,900 Buy It Now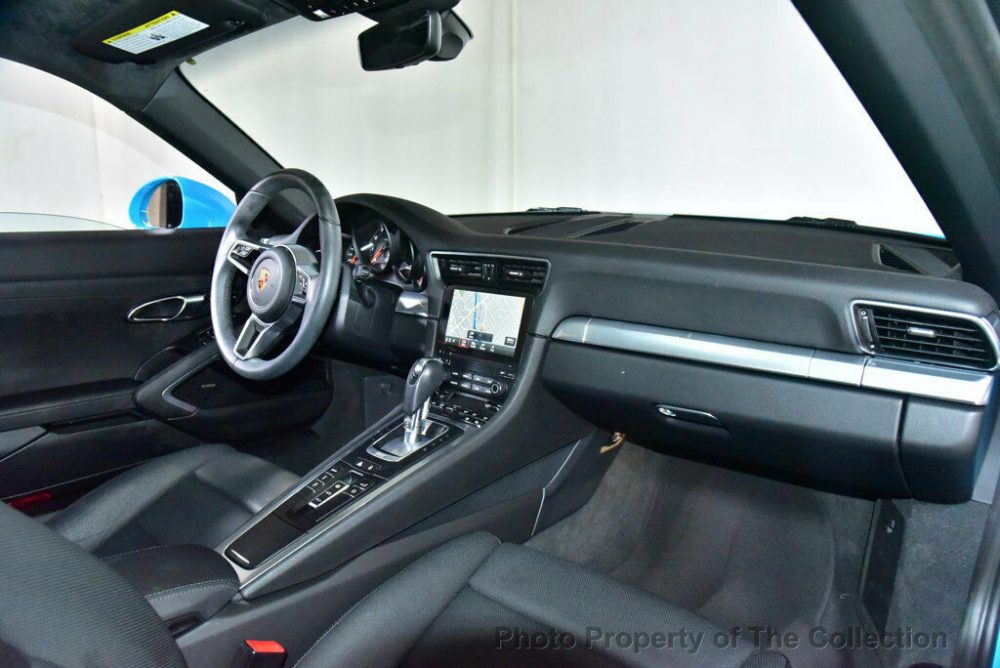 2017 Porsche 911 C2. Miami Blue/Black Interior. Porsche Certified Pre-Owned Warranty Will Cover Vehicle For Up To 6 Years/Unlimited Miles Of Original In Service Date. Carfax Available.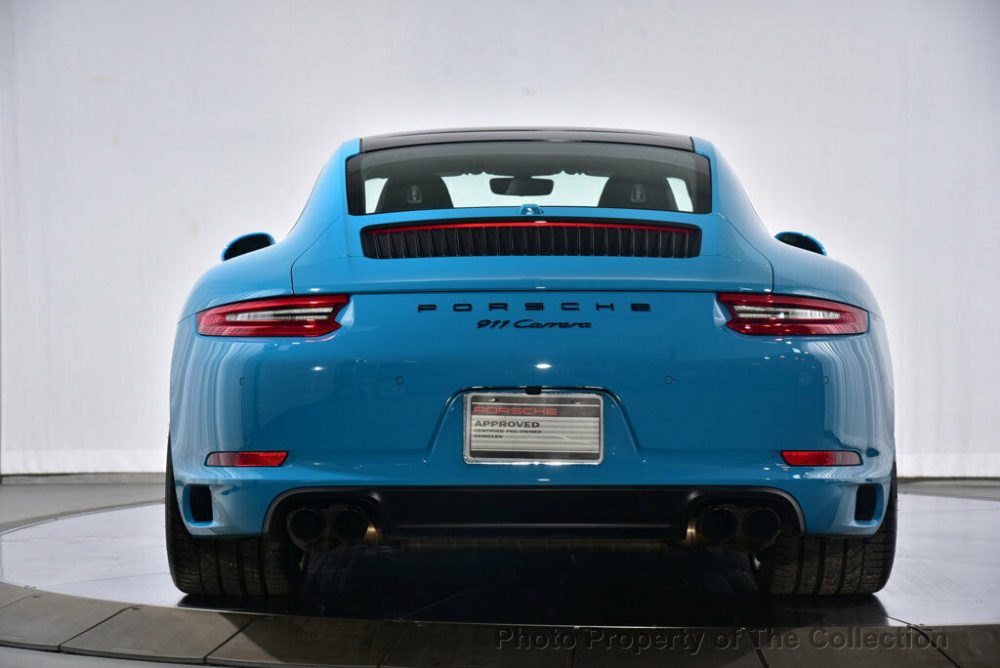 The thing I noticed about paint-to-sample cars is that it usually never stops with just the custom color. The person who orders it does some kind of color matching to the interior trim, or maybe matching gauges as well. Not so with these standard cars that you could buy straight off the lot. You are highly unlikely to find a car with matching blue seat belts or blue stitching because as cool as that stuff is, unless someone is paying a premium for it, like some do, they aren't wasting the time on it. So when you look inside this example, it is just all black. This car does have about $12,000 in options, but all of them are fairly tame like the Premium Package, a sunroof, heated steering wheel, and so on.
At a $112,910 sticker price, this one is down to $82,900 after just the 3,400 miles. A tough blow if someone traded this car in, but maybe a good buy for someone who really wants a like-new 991.2 C2 for a hefty discount. For me, if I'm laying up that kind of money, I'm heading over to the Carrera T. Which is also available in Miami Blue.
– Andrew