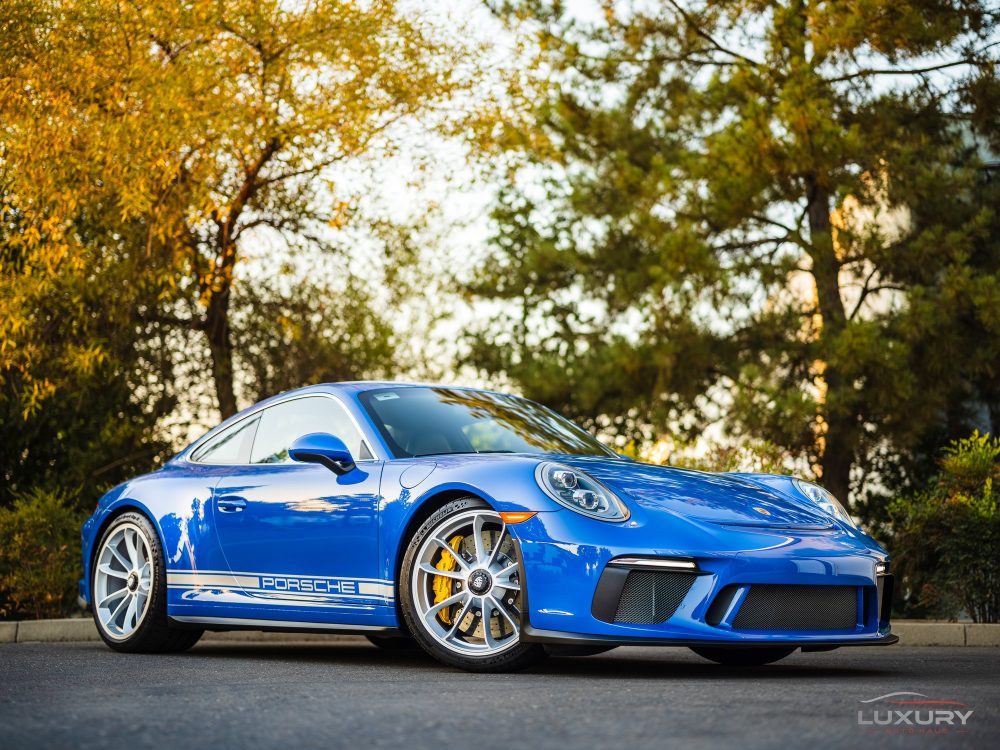 Say the words "Nogaro Blue" and you'll perk any German car fans ears. It first showed up on the scene back with the legendary RS2 Avant as RS Blue, but was later renamed Nogaro Blue and has been a staple in the Audi lineup both as a standard color and an Audi Exclusive option you could pay for if your dealer liked you enough. Not only that, but Porsche recently started taking paint-to-sample orders with the 991 even though they literally have handfuls of nearly the same shade of blue. Still, there is bragging rights when you have the Nogaro Blue and that certainly seems to be the case with today's car.
This 2019 Porsche 911 GT3 Touring finished in the paint-to-sample Nogaro Blue with a black leather interior and some very special CXX option Pepita seat inserts. From there you have a whole other slew of options like the Ceramic Composite brakes, an extended range fuel tank, a front axle lift system, Sport Chrono, Bose audio, and a pile of deviated stitching and extra leather. Who wouldn't love this one? Well, what if I told you it had just 401 miles? Time to sell the house….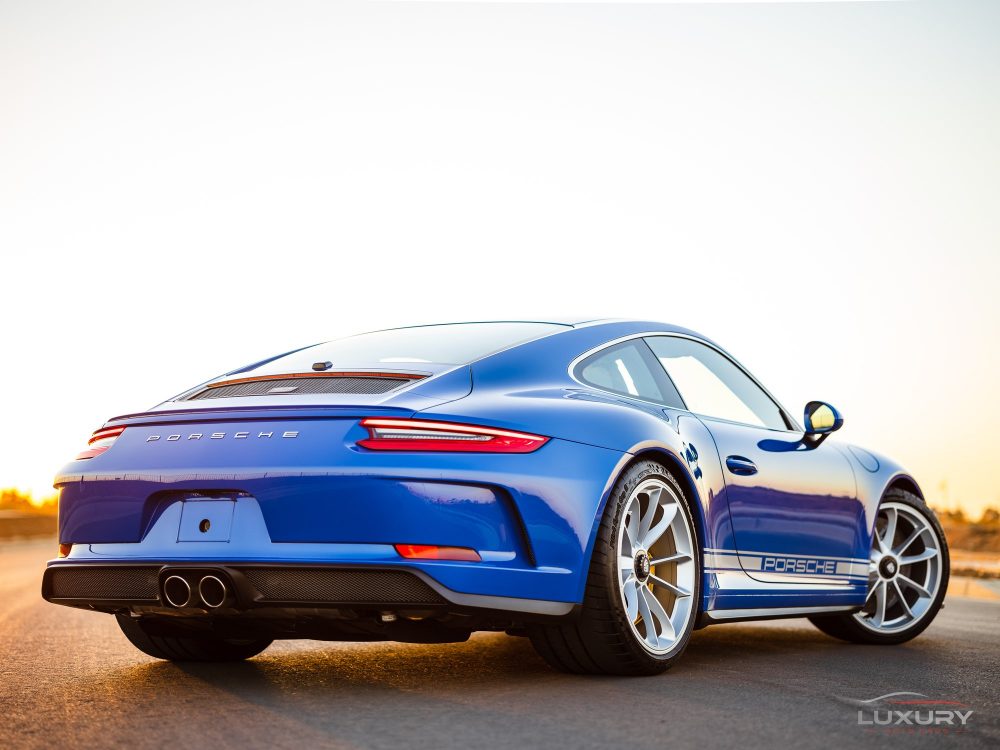 Year: 2019
Model: GT3 Touring
VIN: WP0AC2A91KS149139
Engine: 4.0 liter flat-6
Transmission: 6-speed manual
Mileage: 401 mi
Location: Sacramento, California
Price: $334,950
Offered for sale is a 2019 Porsche 911 GT3 Touring in Paint to Sample Nogaro Blue Metallic exterior with Black Leather interior and CXX Pepita Seat Inserts. It doesn't get much more special than this color coupled with the low mileage, CXX options and the overall perfection of this spec. If you're in the market for a Touring that is undoubtably collectible or even a driver that is close to new and one of a kind, this is the one. Nogaro Blue is a metallic with pearl effect which has long legacy with Audi initially being developed for the release of the RS2 Avant – a vehicle that was developed with Porsche and even assembled by Porsche in Zuffenhausen. Quite recently it has been added to Porsche's PTS color palette and carries tones that perfectly suit the history and shape of the 911. The additional equipment options outside of the paint and interior specifications include the Extended Range Fuel Tank, Color Selection for Stitching in Deviated Thread, Rear Center Tunnel Cover Model Logo in Deviated Stitching, Steering Wheel Rim in Deviated Stitching, Seat and Headrest Logo in Deviated Stitching, Manual Gear Lever in Carbon Fiber with Shift Boot in Deviated Stitching, Dashboard Stitching in Deviated Thread, Upper Door Panel Stitching in Deviated Thread, Rear Side Panel Stitching in Deviated Thread, Center Console Lid Stitching in Deviated Thread, Preparation for Exterior in Custom Color, Wheels Painted in Satin Aluminum, Porsche Ceramic Composite Brakes (PCCB), Front Axle Lift System, 6-Speed GT Sport Manual Transmission, Fire Extinguisher, Smoking Package, LED Headlights with PDLS, BOSE Surround Sound System, Sport Chrono Stopwatch Dial in White, Seat Belt Outlet Trims in Alcantara, Custom Tailoring Options (Special Wish), Vehicle Keys Painted in Leather Pouch, Interior Trim in Carbon Fiber, Full Bucket Seats, Chrono Package with Preparation for Lap Trigger, Door Sill Guards in Carbon Fiber, Instrument Dials in White, Sun Visors in Alcantara, Seat Belts in Silver Grey, Extended Deviated Stitching Interior Package, Fuel Cap with Aluminum Look Finish, Center Console Tunnel Sides in Leather and Porsche Experience Center Delivery (Los Angeles). In addition to the extensive options list the exterior is fully covered head to toe in XPEL Ultimate Plus Paint Protection Film along with Gtechniq Crystal Serum Ultra Ceramic Coating on top of the film. Single owner CARFAX is available free upon request. We are extremely motivated by trades and can make them happen effortlessly either locally or out of state as well as assist in obtaining reliable and fast transport coast to coast. We can facilitate any additional Clear Bra, Ceramic Coating, Windshield Protection and Window Tinting needs prior to sale or shipping. We can also help you obtain the most favorable leasing or financing option with our preferred lending partners. Please feel free to call Phil at 916-231-3489 with any questions or for more photos and video of the vehicle.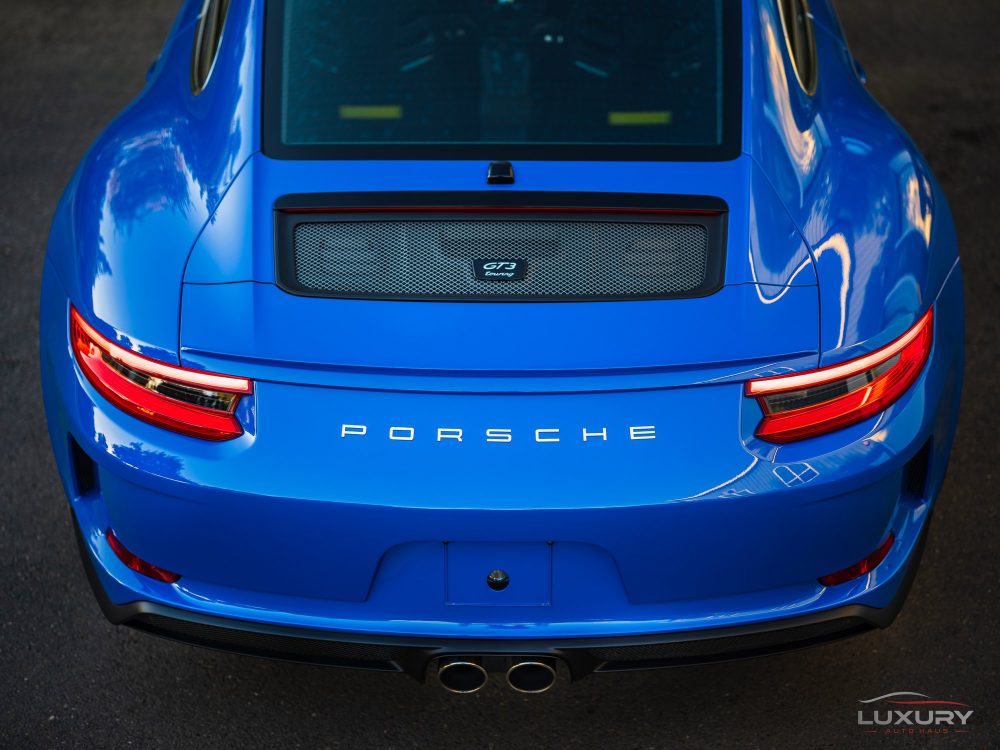 Whoever ordered this car had a hunch that the GT3 Touring was going to be an instant classic that maybe didn't fall too far below sticker. I don't think any of them saw bouncing back way over sticker, but none of us saw the world coming to end in March 2020 either. I hate to go as far as saying the owner sat on this one as an "investment," but it sure seems like that when looking at the price.
The build on this one came in right under $200,000 and today is offered at an asking price of $334,950. Yes, that is a very large number. A very, very large number. However, what are you going to do? This is likely the only 991 GT3 Touring in Nogaro Blue and if you want it, you have to pay for it. Once you start playing in the world of multiple six-figures, the numbers mean less and less in the grand scheme of these and it becomes a reality of "how bad do you want it?"
– Andrew