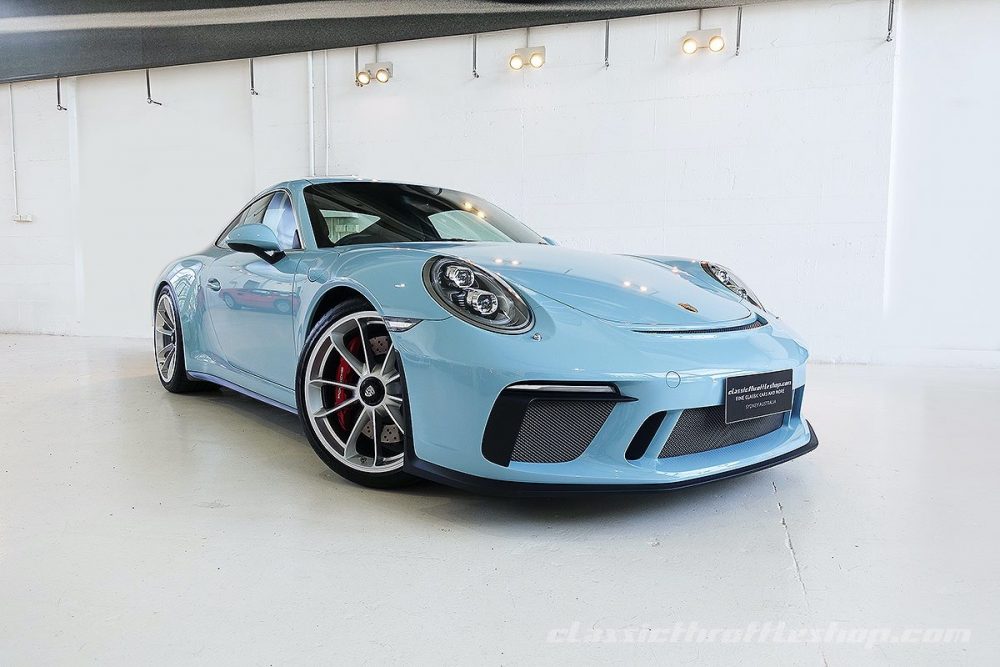 Last week I took a look at a very rare Porsche 911 Speedster that seemed to have a little bit of a color crisis. Seriously, after we posted the car the dealer literally altered the color of the car. That car now looks like Voodoo Blue, and I am not sure why. Either way, its not a good look for an official Porsche dealer to be altering or photoshopping the colors of cars for sale. Wanting to wash my hands from all this, I'd thought I'd check out another 991.2 that we actually know what the color is.
This 2019 GT3 Touring up for sale in Australia is painted in a classic 356 color called Meissen Blue. Judging by my fantastic Googling, this isn't the first time someone has selected paint-to-sample Meissen Blue on a modern 911 or even a 991 GT3. I think the color is wonderful, and apparently do a lot of other people who earn significantly more than I do. Outside of this fantastic paint color, this is a GT3 Touring after all which means a bunch of other custom options that costs a bunch of money.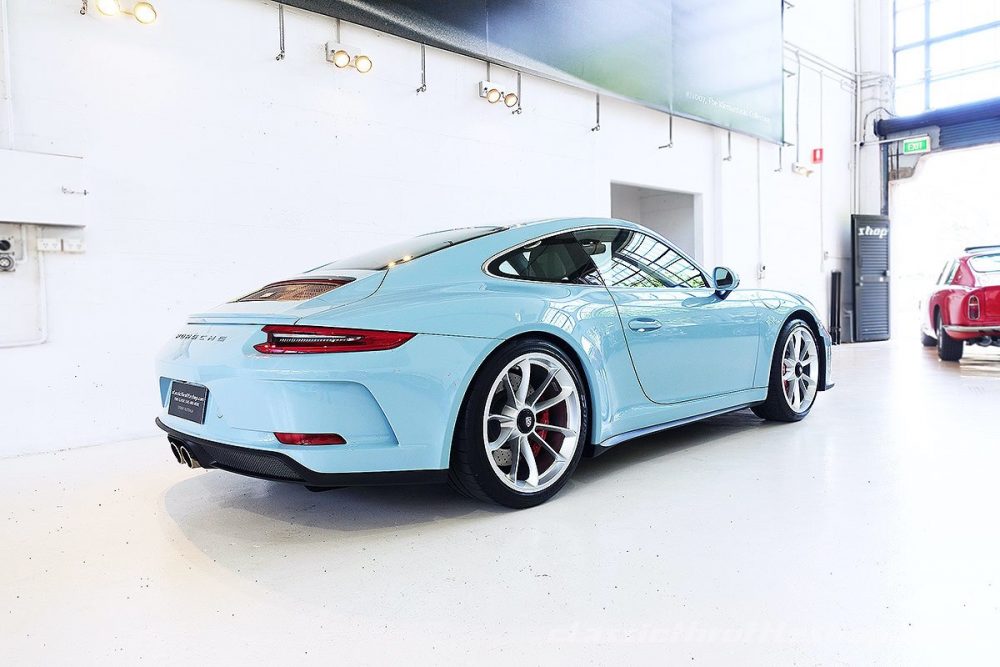 Year: 2018
Model: 911 GT3 Touring
VIN: N/A
Engine: 4.0 liter flat-6
Transmission: 6-speed manual
Mileage: 415 km (257 mi)
Location: North Sydney, Australia
Price: AU $384,995 ($260,572)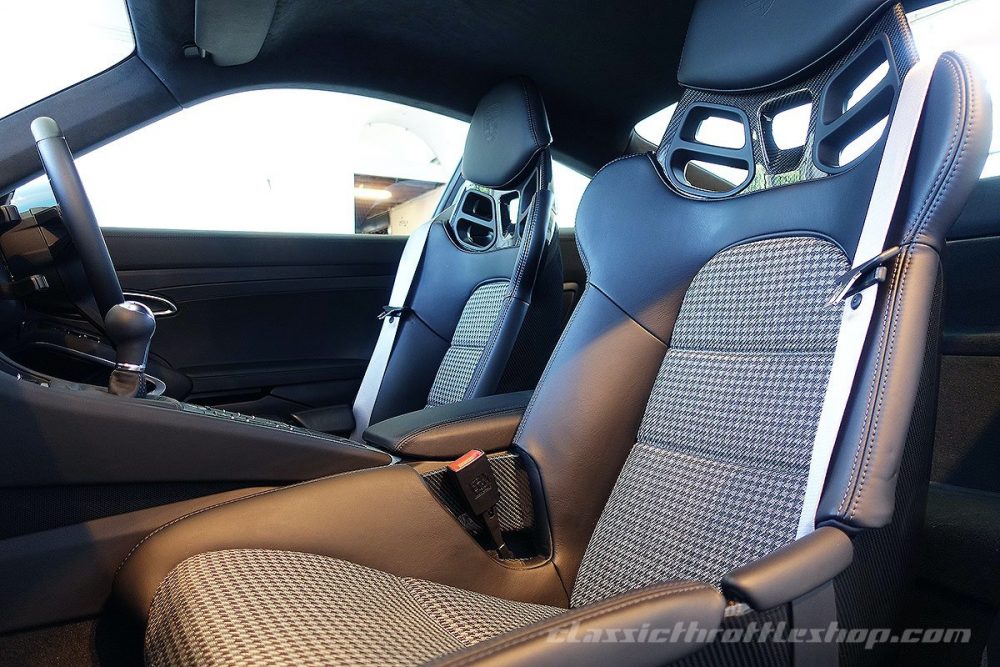 The GT3 Touring is Porsches way of channelling the original analogue 911s, the name "Touring" originally derived from the 1973 2.7 Carrera RS, meaning it was essentially the RS fitted with creature comforts for the open road.
Upon purchasing a Touring, you are informed that the GT3's fixed wing is to be removed, you're banned from optioning a roll cage or fire extinguisher and you were only allowed a 6-Speed manual transmission.

What's under the bonnet? Or apologies, the boot?

The Touring is equipped with a naturally aspirated 4.0-litre flat six that some say was touched by the hand of god, it produces 500bhp, it does 0 – 100km/h in 3.9 seconds and it revs out to 9,000rpm.

Like a good cheese with wine, its motor goes hand in hand with its 6-speed manual transmission.

Developed by the GT department the new gearbox is a precision tool, satisfying after every gear selection allowing the driver to feel like… a driver, rather than the PDK in the GT3 doing all the work.

We are excited to bring to market this very special and virtually brand new 2019 Porsche 911 GT3 Touring with just 414 kilometres travelled.

Ordered in a 'Paint-To-Sample' Meissen Blau, this 911 is believed to be the only one of its kind here in Australia.

With the opportunity to order a PTS vehicle afforded to only a very select few, other options also had to be chosen that would make each car all the more unique.

This as new vehicle has been optioned with following bespoke equipment:

• Meissen Blau Paint to Sample inc. Roof Colour

• Interior Trim in Houndstooth

• Full bucket seats

• Touring Pack

• 6 Speed GT Sports Manual Transmission

• LED Headlighting with PDLS Plus

• Light Design Package

• Reverse Camera

• Personalised Entry Sill guards illuminated, stainless steel- "MeissenBlau"

• Personalisation CT-Option

• Auto dimming mirrors and rain sensor

• Sport Chrono Package

• Preparation for outer sills illuminated

• Silver Grey Seat Belts

This is an exceptionally unique opportunity to own a one-off, modern investment Porsche 911.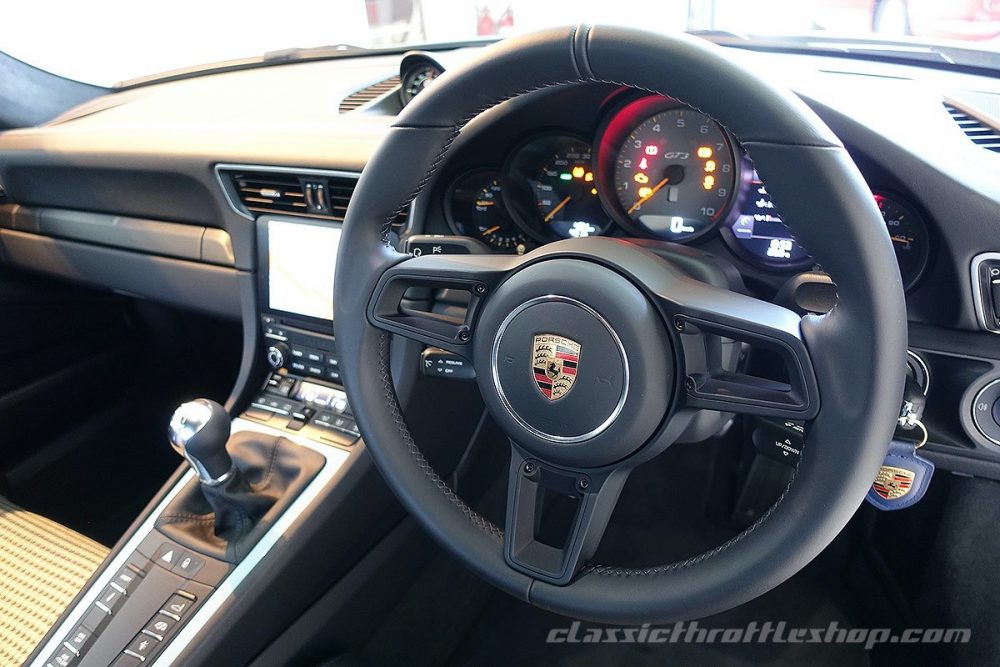 In additional to paint, other custom touches include the carbon bucket seats with houndstooth inserts, LED headlights, Sport Chrono, grey seat belts, and my favorite, custom door sill text of "meissenblau". The fact that Porsche even allows that is pretty cool and some have even got pretty creative when specing their car. I think the houndstooth is a pretty nice touch to throw it back to the era of the 356 and early 911 while the rest of the stuff is pretty common even for a GT3 Touring. This car only has around 250 miles on it, so it seems the first owner didn't drive it much or these are all test drive miles.
As expected, cars are really expensive in Australia. If you spec'd this one out in the US, I think it could be had for under $200,000, but this one checks in with an asking price of AU $384,995, which is just over $260,000. Since we don't have the VIN, its tough to say that its actually how much they retail for in Australia, or this is just a dealer looking for a $60,000 pay day. Either way, a cool spec. Glad we know what color it is.
– Andrew