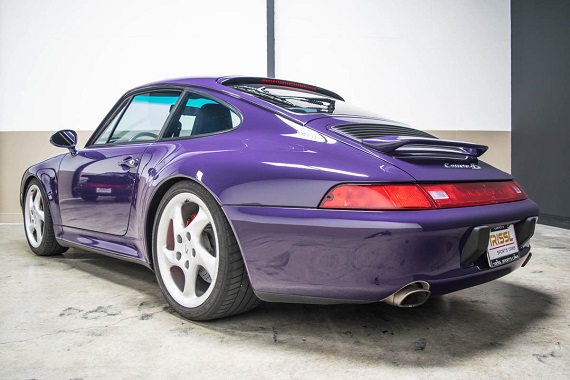 The striking Amaranth Violet 1996 Porsche 911 Carrera 4S, which we featured almost exactly one year ago, has come back up for sale from a new seller. As one of the much more rare shades we ever see there is sure to be a good deal of interest here, but whether it can find a new buyer we shall have to wait and see. It's wearing different wheels now than in its previous auction and still sports a few modifications so it isn't as original as some collectors might hope, but the color is one you'll almost never come across. Purple isn't the most popular color on a car, but it really does look mighty good here.
The below post originally appeared on our site May 25, 2015: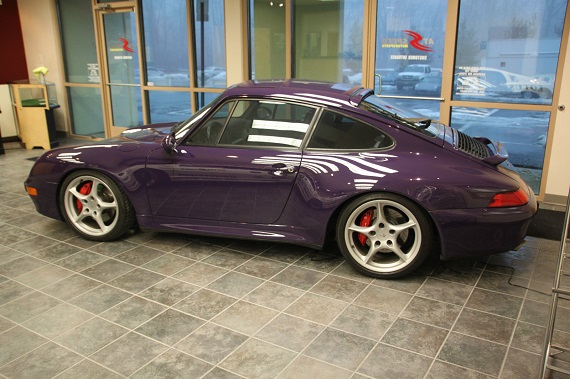 I have been enjoying my romp through the Porsche paint spectrum and I will continue with that theme with today's car. Love or hate these colors, I think we can all agree that Porsche does an excellent job of keeping interesting options available to allow customers to set their cars apart from the many silver, black, white, and red vehicles of the world. On the air-cooled market these cars can be particularly noteworthy. This brings us to the car we see here, another paint-to-sample color that certainly will not appeal to everyone, but which we so rarely will ever come across: an Amaranth Violet 1996 Porsche 911 Carrera 4S, located in Maryland, with 43,000 miles on it. Like the last paint-to-sample car I featured the original buyer selected a previously available color for this Carrera so there should be a sticker to verify the color itself. Any shade of purple is rare on a car and its variants make up some of the fewest offerings Porsche has made available. There is one consistent feature amongst them: they are incredibly eye catching. Like with orange, there is almost no subtlety to these cars and draped over the curvy figure of the 993 C4S Amaranth Violet should attract even more attention.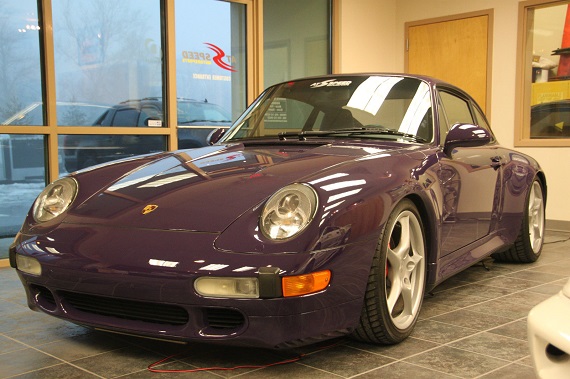 Year: 1996
Model: 911 Carrera 4S
Engine: 3.6 liter flat-6
Transmission: 6-speed manual
Mileage: 43,000 mi
Price: Reserve Auction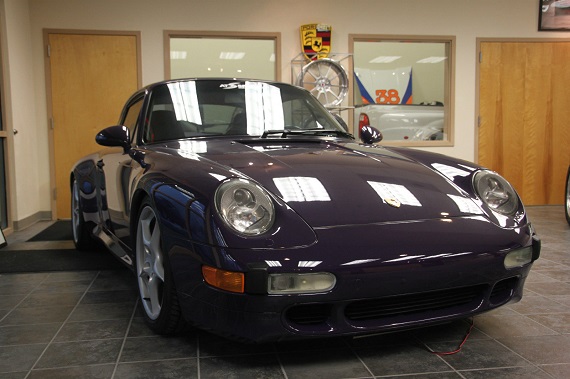 1996 Porsche 911 Carrera 4S

After many years of ownership, I have decided to put my low mileage, rare and unique exterior/interior color combination air cooled 911/993 on the market. I have owned this car through my company and then personally since 2002. As you can tell from the mileage it was driven 2,000 – 4,000 miles per year depending upon how busy I was.

With only 43k original miles this 911 shows like new inside and out. The exterior is nearly perfect and is a factory "paint to sample" color (Amaranth Violet) as seen on the Certificate of Authenticity. The hood, bumper, rocker panels and fenders have had clear film on them from before I bought the car in 2002 (with about 14K miles on it). I replaced the clear film about 2 years ago and also replaced the factory film in front of the rear wheels at that time.

The factory two tone interior shows very well with just the typical wear on the bolster of the driver's seat and a poorly repaired carpet blemish about the size of a dime. As for the rest of the interior it is mint with all the original items in working order, except for the radio which has been replaced with a Nakamichi unit.

Over the years the car has been fitted with genuine Porsche MY02 wheels, lowered H&R suspension, factory short shift kit, front end protection bar, Byrd armrest in Marble Grey, different shift knob/boot, and a small aftermarket rear spoiler.

The car does have a few factory interior options that do make it a little different from many other 993s.

From the Certificate
Porsche radio CR-220(not included in auction)
Two tone leather(Rubicon Grey and Marble Grey) – instrument rings, knee bar, seat inlays and door panels in Marble Grey
Instrument Carrier, Steering Wheel & Column, Sun Visors, Gear Box Tunnel, Gearshift Knob & Boot, and Brake Handle covered with Interior Leather(Rubicon Grey)
Rear Window Wiper
Full Power Seats – Driver/Passenger
Lumbar Support – Driver
Instrument Dials Painted in White
Front Floor Mats Embroidered with 'PORSCHE' Lettering
Porsche Floor Mats – Marble Grey
Porsche Litronic headlights

I have many pieces of literature from Porsche related to the 993 that I have collected over the years that will be included in the auction, as well as the window sticker and Certificate of Authenticity. My car was displayed at the Porsche Club of America Headquarters Open House event in Columbia Maryland a couple of years ago so some of you may recognize it from the promoting of the event..

Inspections are welcomed before auction ends. The car can be seen in the showroom of At Speed Motorsports, Hanover MD 21076. The car is for sale locally and the auction will be terminated if the vehicle is sold.

The vehicle is Sold as – is with no warranty expressed or implied.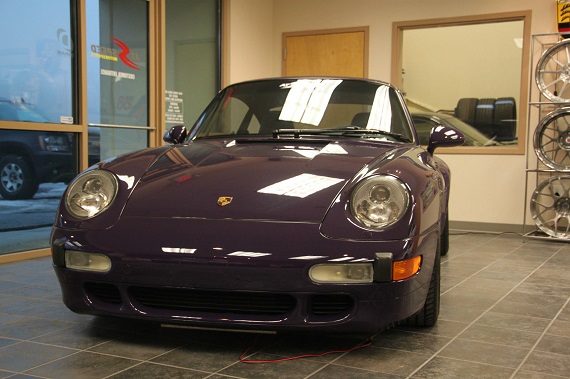 It looks as if this may be a showroom vehicle for a tuning shop; a car designed to draw eyes and inspire would-be racers who are seeking to harness some extra performance from their 911. In that regard, this exterior color works quite well. We haven't been treated to much in the way of variety with the pictures so we can't get a full gauge on just how this color looks. It even looks somewhat subdued under the interior lighting we see here and it would have been really nice to see some shots of it outside under the sun where it might really pop. That's an opportunity missed. We also lack interior pictures, but it's Grey so we may not be missing much. It is a two-tone Grey so perhaps it'll possess more dynamism than many similar examples, but as long as a lion hasn't been let loose to rip things apart the interior likely looks as it should and will be what we expect. An interested buyer will of course want to see it, but this car is all about that exterior color. The lack of detail will make this somewhat of a tougher sell for any long distance buyer, though generally speaking these are the sorts of 993s to seek out, at least among those which are naturally aspirated. With its wider body and upgraded braking the C4S surely has its fans, a point only enhanced on the second-hand market. The auction here sits at $75,600 with reserve unmet and a few days remaining. I have seen a somewhat wide range of asking prices for a lower-mileage C4S and would expect with this rare color that the reserve here would be near the top of that range. To reach that sort of ask, which would be approaching six figures, I think we're going to need more detail and verification, but only time will tell.
-Rob