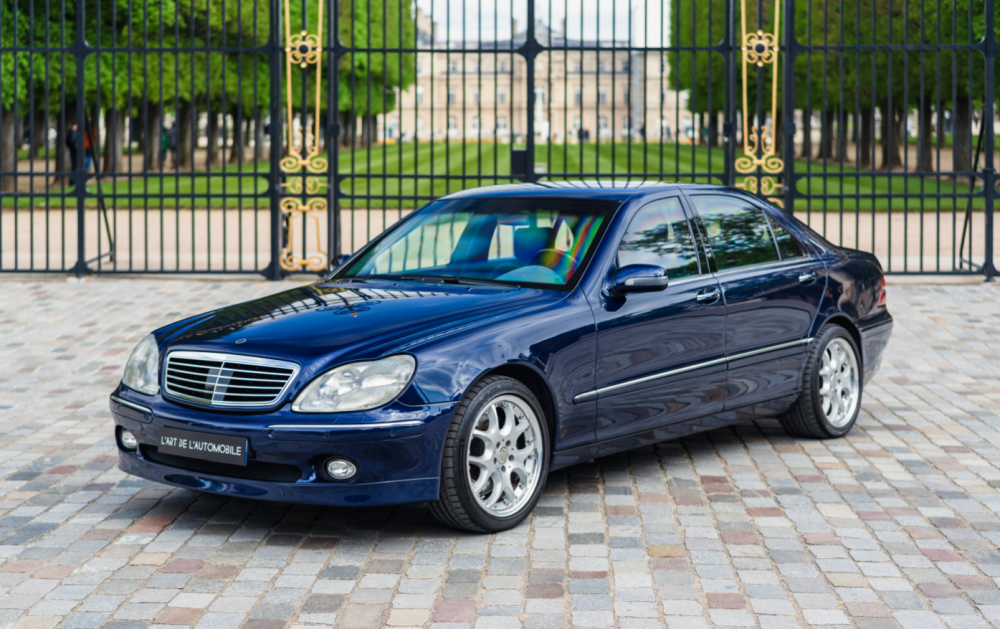 I love this one. This is a 2001 Mercedes-Benz S500 that has been modified by Brabus with their B11 package and is also armored to a B4 level. I suppose the extra power is needed given the weight. It is finished in the wonderful color of Mystic Blue Designo Metallic and the interior? Oh, wait until you see what they did. I was not prepared for this.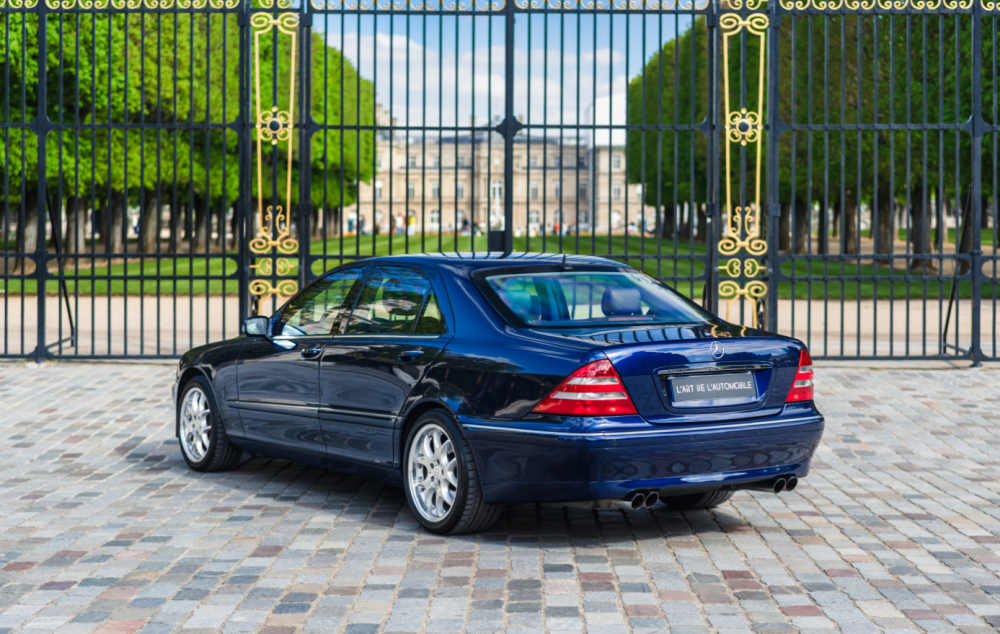 Year: 2000
Model: S500 Brabus B11
VIN: N/A
Engine: 5.0 liter V8
Transmission: 5-speed automatic
Mileage: 59,500 mi (36,971)
Location: Paris, France
Price: €79,900 ($86,482)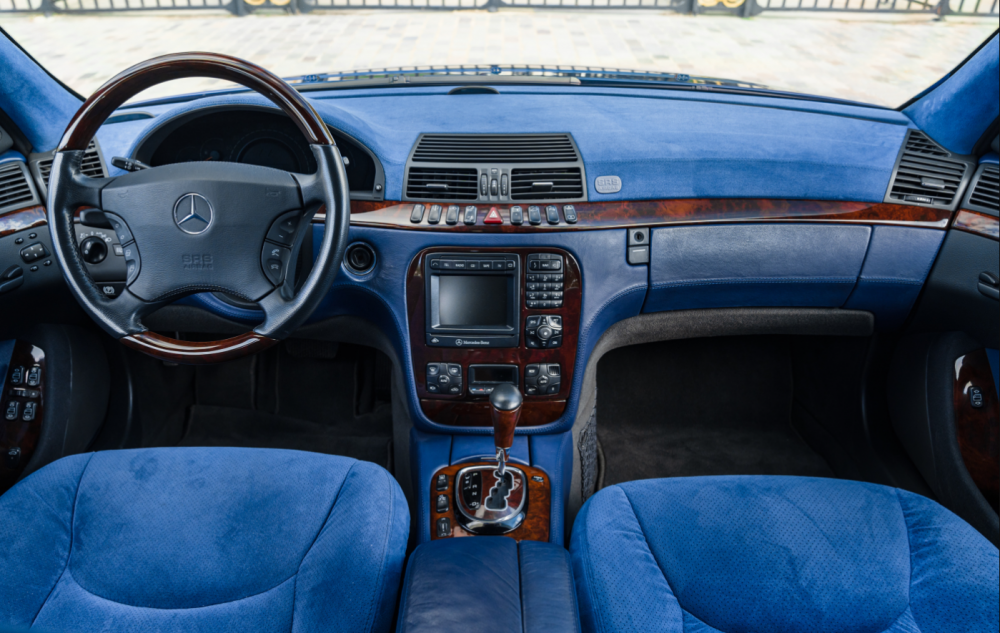 COLORS
Mystic Blue Designo metallic, blue and gray interior
OPTIONS
Mercedes options:

352 COMAND
220 Parktronic
600 headlight washers
M50 Displacement 5 liters
289 Leather/wood steering wheel
354 Telephone antenna
Z04 High Protection B4
288 Auxiliary heater
860 Analog TV Tuner
875 Heated windscreen washer
401 Air-conditioned front seats
402 Air-conditioned rear seats
731 Burl walnut woodwork
802 Technical Changes
223 Electric rear seats
673 Larger Capacity Battery
819 MP3-compatible 6-CD changer
284 Leather/wood selector lever
551 Anti-theft and burglar alarm
404 Multicontour driver's seat
275 Driver's seat memory package
853 Midline PA System
219 Tempomat with anti-collision radar
979 MB Guard special protection package
405 Multicontour front passenger seat
Z12 Front right window regulator special protection
Z14 Rear right window regulator special protection
Z11 Front left window regulator special protection
Z13 Rear left window regulator special protection
247 Electric front seat adjustment from the rear
540 Electric sun blind for the rear window
582 Thermotronic automatic climate control in the rear
249 Interior/exterior mirrors with automatic day/night switching

INFORMATION
Superb condition
Brabus B11 Complete Kit
High Protection Guard B4
Exceptional configuration

History:

365 km on 04/19/2002
6,831 km on 10/10/2003
9,946 km on 01/13/2005
14,544 km on 06/02/2006
21,812 km on 02/27/2008

Produced from 1998 to 2005, the Mercedes S-Class W220 marks the second opus of this luxurious sedan, whose success continues until today with the latest generations of S-Class, which are the flagship of the brand. The S 500 W220 has a 5.0L V8, and the car we offer for sale is exceptional in several respects.

Indeed, this car came out of the Mercedes factories with B4 level bulletproof protection, thus protecting its occupants from attacks while being resistant to handguns. Mercedes has always been a specialist in this area and this so-called "Guard" option was appreciated by important personalities.

In addition, this car is equipped with the Brabus B11 kit, so the power of its V8 increases from 306 to 336 horsepower. The Brabus aerodynamic kit for the W220 S-Class includes the front spoiler with 4 additional headlights, the rear diffuser with 4 exhaust outlets, the revisited and illuminated side skirts as well as very beautiful Brabus rims recognizable among a thousand.

With only 59,500 km on the odometer, the superb S-Class 500 that we are offering for sale is in very good condition. Originally painted in the sublime Mystic Blue Designo colour, Brabus has completely reworked the interior to make way for this incredible mix of leather and blue Alcantara. Obviously, the car is very optioned, with a view to comfort. Thus, this S-Class has features that probably make it unique: its superb sought-after configuration, the complete Brabus B11 kit and the high B4 protection.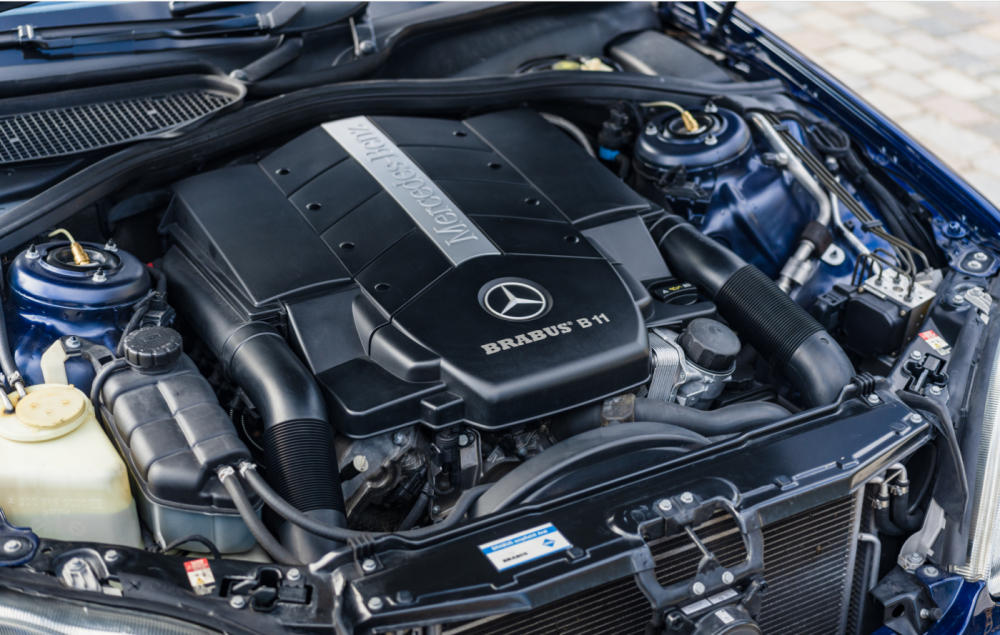 Yes, that is about a mile of blue Alcantara and leather thanks to the craftsmen at Brabus. I can't imagine what the cost of this was when new given the whole dashboard had to come out along with basically every other piece of the interior. Under the hood, the M113 V8 remains at 5.0 liters for the B11 package but gets a slight bump in power to 336 horsepower? Enough to haul around all that extra weight? Hardly.
This one is offered in Paris at over $85,000, which is a lot for a 2000 S500. I think most of the value here is in the B4 armoring given armored cars still bring good money, and the Brabus kit and crazy interior is just icing on the cake. You won't see me spending this kind of money on a this one, but it certainly makes sense for someone.
– Andrew