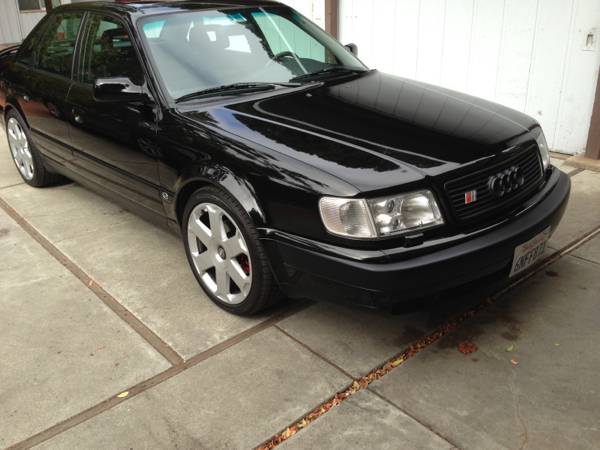 It's been a while since I looked at some C4s, and a few popped across my computer screen in searches that I thought were worth taking a peek at. As the E34 M5 and W124 500E/E500 creep up in value, if you search you can still find excellent examples of the odd-ball turbocharged inline-5 all-wheel drive wonder from Ingolstadt. While the 1993 model in the U.S. didn't sit quite as low as the 1992 model, some chassis fans love them because of the carbon fiber interior trim and as '92s are quite limited and hard to find, coming across a '93 or '94 is a touch easier. Which one of these two excellent examples would you prefer to take home?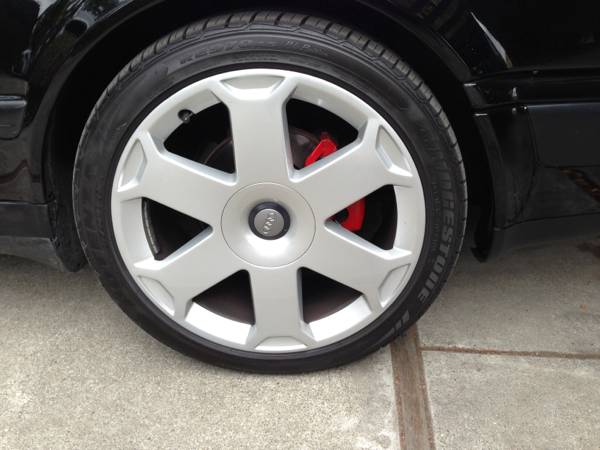 Year: 1993
Model: S4
Engine: 2.2 liter turbocharged inline-5
Transmission: 5-speed manual
Mileage: 89,000 mi
Price: $12,500
1993 Audi S4 black on black, carbon fiber edition: the rarest URS4 out there.

I purchased this vehicle used in September 2009 with 41,435 miles on the odometer (verified with carfax). The car was originally purchased by a pro baseball player with all upgrades available from Audi and he had an Rs2 turbo, exhaust manifold and (MTM) chipset installed by Hoppen Porche.

Most work I had done including tuning was performed by 034 Motorsport. Oil service was performed regularly with factory filter and synthetic oil. I have receipts for all professional services performed on the vehicle ($23,543) as well as it's original purchase ($11,000). All OEM parts were used for maintenance and repair while custom parts were provided by 034 Motorsport as noted below. Here is a truncated list of work I've done.

.(4) new tires (barely 2k miles on them) Potenza RE970AS pole posi 235/40R18
.(4) B5 S4 rims (note: set of (4) stock rims with new center caps come with the car as well)
.complete 034 3″ exhaust system with down pipe, racing cat, dual muffler system, with upgraded "quiet" flowmaster
.034 RS2 chipset, RS2 injectors, 4-BAR FPR, 3-BAR VMAP, waste gate spring, chip tuning and dyno
.034 diverter valve
.034 cold air intake for RS2
.right and left rear upper control arms
.rear sway bar end links and brackets
.right and left lower front control arms
.brake master and both clutch hydraulics
.034 engine and transmission mounts; density 50 durometer
.oil cooler assy with lines, air duct and bracket
.034 silicone turbo and intercooler hose kit
.A/C retrofitted to 134A
.BOSCH high pressure fuel pump + fuel level sender, pump kit, relay, strainer, basket etc
.coolant expansion tank and retrofit to "pink" Audi OEM coolant
.spark plugs, O2 sensors, battery
.complete head rebuild inc:
-machine cyl head; resurface, complete valve job with new OEM exhaust valves and valve guides, cam followers
-cam chain
-ARP head stud kit
-034 phenolic spacer
-dual compression head gasket
-timing belt
-timing belt tensioner/roller
-thermostat + cover
-water pump, auxiliary water pump, water flange kit/block
-drive belt
-all new gaskets throughout
.black on white phantom boost gage (center vent mounted)

I have many of the original parts that I changed out such as: stock rims, air intake box, yellow turn signal lights and other misc small items.

It is still available if this add is up.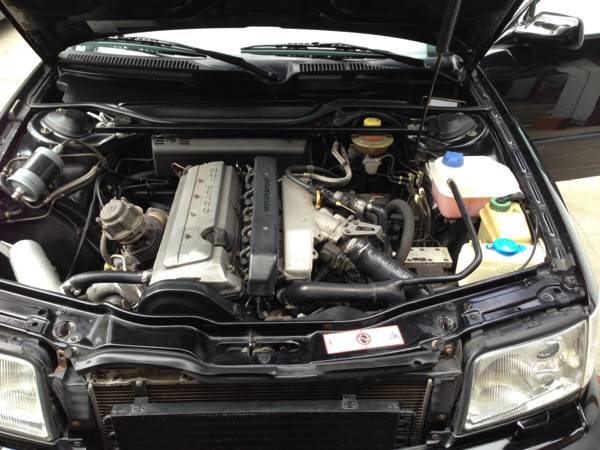 There's a lot to like here mechanically, as the seller or previous owners have clearly spent some considerable dollars upgrading this S4. The color combination isn't my favorite and to me detracts from the classiness of the C4. Black suits the W124 really well, but I think brighter colors work better on the Audi. The B6 S4 Avus wheels are also out of place and the wrong offset for the model; were it mine, I'd pony up the cash for some of the Bolero optional wheels or early 18″ D2 S8 wheels that kept the Avus design in the right period. Of course, that said, the original Fuchs wheels always look great too: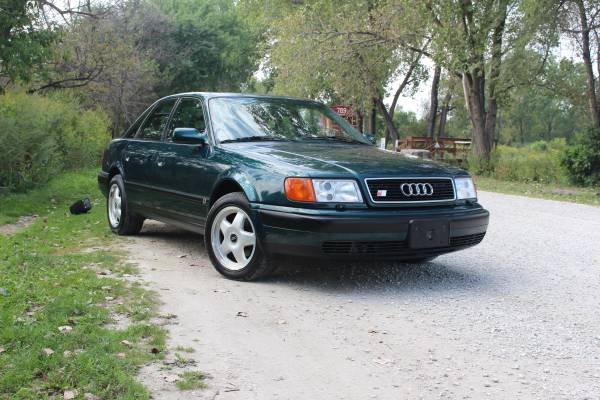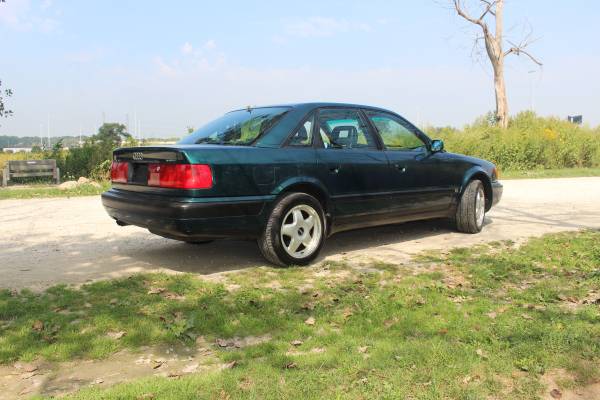 Year: 1993
Model: S4
Engine: 2.2 liter turbocharged inline-5
Transmission: 5-speed manual
Mileage: 118,600 mi
Price: $10,000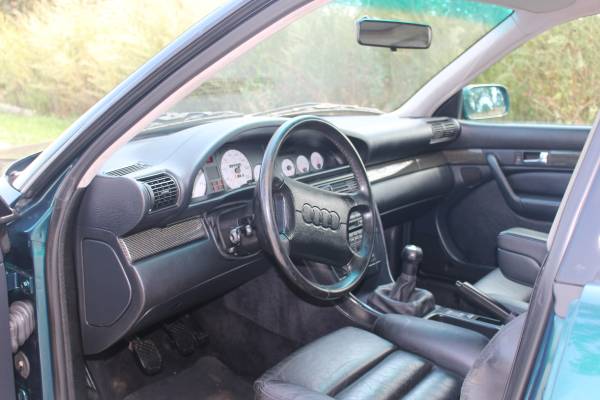 I'm selling my 1993 Audi S4. Car is all original with no body damage and has never been involved in any accidents. Vehicle was stored in temperature control room for the last 10 years. Car is in perfect condition and ready to be driven. I don't have space to keep it anymore, need to sell. Reasonable offers will be considered.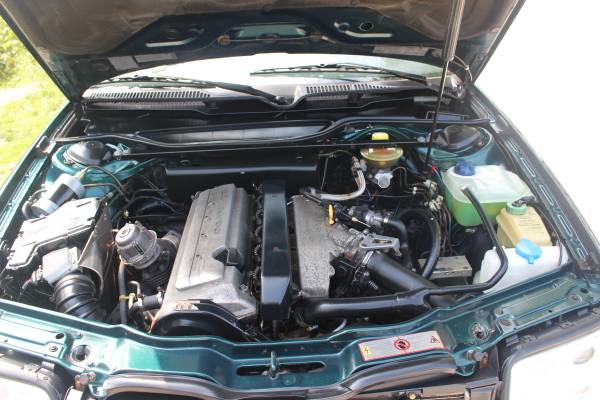 I've given Emerald Green Mica a fair amount of grief over the years, but truth be told it's a lovely color when presented well. So many have clearcoat failure it's easy to forget how brilliant the color can look when the paint is good. '93-'95 S4/S6s almost had a Subaru Outback-esque fender gap thanks to the U.S. spec springs, and just like the clearcoat it's so popular to lower these cars it's easy to forget just how high they sit. But this one appears to be all original and outside of a missing logo on the rear wheel, in very good condition. Miles are in check and it certainly looks tidy but it'd also be nice to know the status mechanically – especially at the asking price of $10,000.
Both of these examples are priced right at the top end of the market, but they're also two of the nicer examples we've looked at recently. I'd opt for the more original model personally, though I do admit that I think it's overpriced. Despite that, these super-sedans are still a bargain compared to their period competition and even today stand apart as a fresh, clean and timeless design from when Audi put some serious engineering into their cars.
I believe the black '93 had previously been sent in by our reader Jason, so thanks!
-Carter