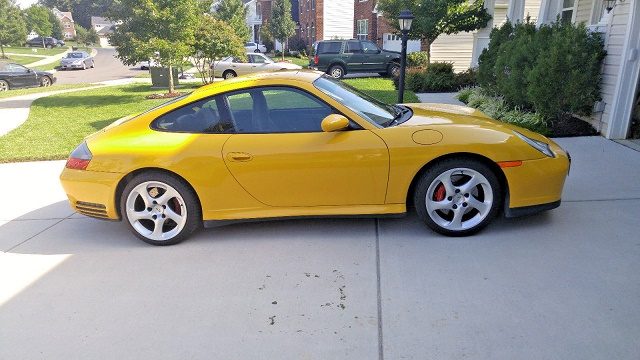 I'm sticking with my two running themes here: yellow, in this case another example of the very vibrant Speed Yellow, and value 911s. As I'm sure you can guess I love Speed Yellow. If you're still reading this I'd guess you're at least somewhat a fan because with yellow cars in general they're usually love/hate. For me, part of what makes Speed Yellow work is because it is so bright. I suppose I figure if you're going to go with a bright exterior color there's no reason to go half way. Own that brightness and enjoy every minute of it.
Here it looks quite stunning on this 2003 Porsche 911 Carrera 4S Coupe, located in Virginia, with 57,900 miles on it. It looks to be in pretty good condition and it's up for auction with no reserve. So if you're in the market for a more budget-friendly 911 and you happen to like bright colors this one should be worth checking out.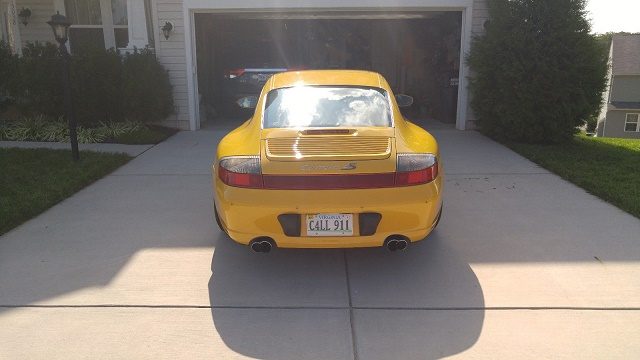 Year: 2003
Model: 911 Carrera 4S
Engine: 3.6 liter flat-6
Transmission: 6-speed manual
Mileage: 57,900 mi
Price: Auction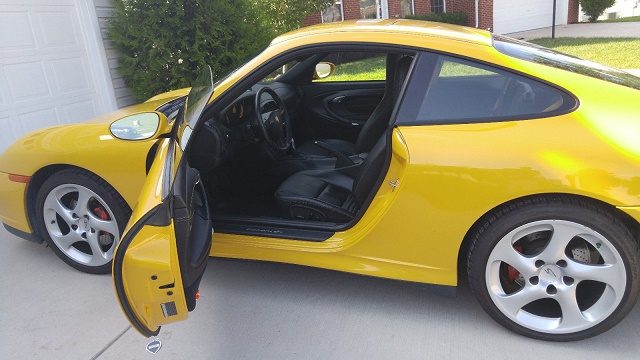 Selling my Carrera 4S because third kid means I can't fit the family in it anymore. Overall great condition for the age. In the last year, it has gotten:
new all-season tires (November 2016 from Costco)
new clutch + pressure plate
new water pump, thermostat, coolant (two weeks ago)
coolant flush
new spark plugs
new tensioner belt + pulley
oil change (two weeks ago)

All above maintenance done by the well-reputed German Auto Group in Springfield, VA who you can probably verify the work with.

Options/extras:
Porsche Communication Mgt. II system (navigation system)
Stainless Steel Sport Exhaust
Extra Lumbar support
Parking assist system (beeps when you're about to back into something)
Floor mats
Color-matched yellow seat belts, gauges, and stitching
X-Pel Ultimate Automotive Paint Protection Film applied to hood, fender ,mirror, bumper, and headlights
Black Tech-Art wheels with Kumho tires. Great if you want to start alternating summer and winter tires. If you don't, it is still a free set of tires.
Extra 12v outlet in footwell of passenger side that turns off when the ignition turns off. Lets you leave a cellphone charger or dashcam plugged in without worrying about draining the battery. The stock cigarette lighter still supplies power when the car is off.
Porsche OEM AC trickle charger that plugs into the 12v outlet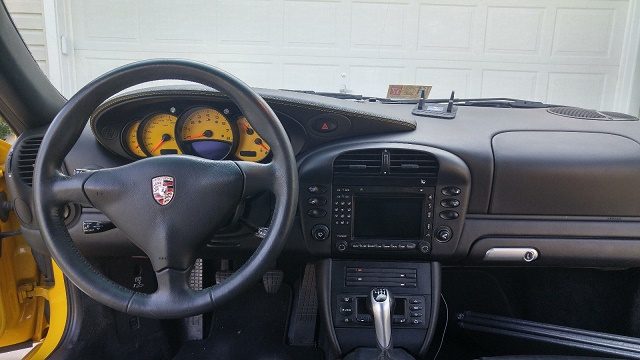 I have to say I'm really starting to come around on the 996 when it comes in these bright colors. The overall shape seems to work pretty well and certainly much better than the more standard silver or black. The interior still features the usual problems, there's just no masking its faults, but the exterior really shows much better. I still definitely would prefer the 997's exterior, as we saw last week, but I'm coming around in certain cases. The price definitely should be better.
We're still pretty early in the bidding, but right now it sits at only $21,999. That certainly will come up. There's definitely a little bit of legwork to be done by interested buyers though. While the ad provides us some useful information regarding recent maintenance, there's little else about its history. Is this the original owner? That also is left unsaid. I generally assume with such information that if it isn't stated, then it isn't the case, but you never know. It also would have been nice to see a few more interior pictures. The exterior looks in really good shape. Hopefully the interior is similar. We have a useful start though and most of these questions should be answerable with a phone call. Bidding probably will get a little above $30K and it's at that point that we need to start paying attention. As long as it doesn't go too far above that then we're in good shape. Of course even if it does move beyond that, the performance value remains quite good.
-Rob