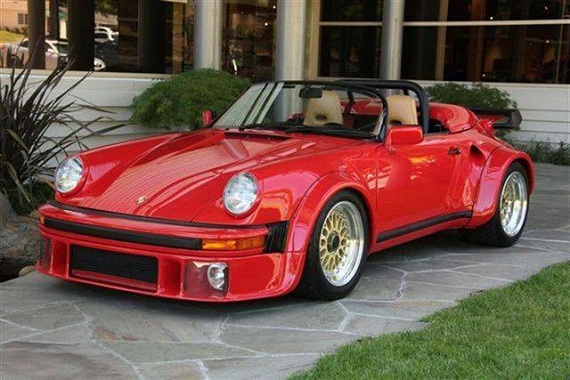 If the insanity of the crazy modified 80s wasn't enough for you in earlier's DP 935 Targa, how about a 962-powered 911 Speedster? Sound absolutely bonkers? Yup, it sure is. But in the no holds barred world of the well-heeled, you can create just about anything that you want. Borrowing elements from the 962, 934, 959 and DP935 and adding them to the already quite rare and valuable Speedster, Bruce Canepa created the ultimate enthusiast's dream of a convertible 911: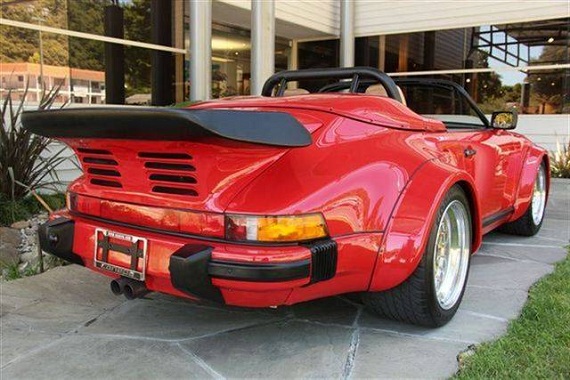 Year: 1989
Model: Speedster
Engine: 3.3 liter twin-turbocharged flat-6
Transmission: 5-speed manual
Mileage: 1,898 mi
Price: If you have to ask….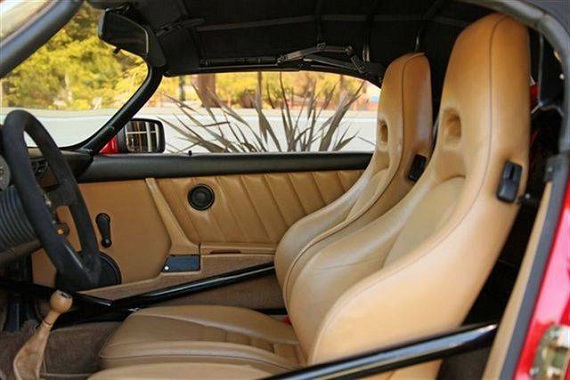 1989 Porsche Speedster 962 Twin-Turbo

3.3 litre 962 Engine
Twin 959S K26 Turbos with Garretson Intercooler
EFI Technology x3 race ecu with wideband and wastegate control
Racing-Style Oil Accumulator and Tank
911 Turbo G-50 Five-Speed Transaxle
Torsion Bar Suspension, Custom-Valved Bilstein Shocks
935 Center Lock Hubs
17 inch BBS-GTP Wheels with Nitto NT 555 275/40-17 tires front, Nitto NT 555 315/35-17 rear
935 Brake Rotors with big 959-style Brembo calipers, custom power vacuum system
Horse Power: 545 at the wheels, 692 at the crank, @ 6500 rpm.
Torque: 550lbs/ft at the wheels, 698.5lbs.ft at the crank, @ 3800 RPM

Edited from the Porsche 911 Performance Handbook by Bruce Anderson:

This could be the ultimate street hot-rod: a 1989 Porsche Speedster with 935 suspension and a twin-turbo, IMSA version of the 962 engine. It was built by an old friend of mine: Bruce Canepa, of Canepa Design in Scotts Valley, California.

Bruce has been involved with Porsches as a business, as a race driver, and as an enthusiast for years. Canepa Design did a lot of Porsche slantnose conversions when they were all the rage in the 1980s. Canepa developed his own slantnose in 1983, a design he felt could do as well and maybe better than the factory conversions. All of the brackets and mounting hardware for his were made of stainless steel to prevent corrosion. He converted the factory fenders, then re-zink-coated them for rust prevention. Extremely popular, Canepa conversions for were done for customers as far away as Australia.

Canepa's involvement with Porsches included ownership of one of the Holbert-built 962s, which he restored and raced. The 962 had come with a spare engine. Although tired and worn out, it was a great candidate for a rebuild so Bruce set it aside for a future project.

Gary Primm, a casino owner in Las Vegas, knows cars. He has a large collection and in 1989 he added a brand new Porsche Speedster. A bit disappointed with its performance, he parked it with less than 100 miles on the clock. Primm met Bruce Canepa through AMG and they talked at length about what could be done to the Speedster to both improve its looks and make it a more exciting car to drive.

Canepa felt that since 911 Speedsters had the turbo-look bodywork and suspension, they should have also been turbocharged. He thought that their performance should be like a modern update of the old Carrera four-cam Speedster, a car that was great fun in its day. Canepa's idea was to scale up that sort of performance and fun to contemporary levels.

Canepa had the 962 engine assembly and he knew he could turn it into an awesome street motor. He told Primm that, using an assortment of Porsche factory racing components, he would transform the Speedster into something really exciting. It would have lots of power, it would handle, and it would stop on a dime. He could also make it ride well; firm like a race car, but not so firm that it wouldn't be a delight on the street. Primm liked what he heard, and gave Canepa the green light.

Originally Canepa said that he wanted the car to look stock except for a large DP (Design Plastic) rear wing. He soon realized he would need larger wheels and tires to handle the potential performance. It also became clear that the stock bodywork of the car would look unbalanced with the oversized wing. Canepa liked the looks of the 934, and so adapted some of its design characteristics in the Speedster. Canepa says the design maintains a uniquely Porsche look: competitive yet subtle, classy but, at the same time, very serious.

The design uses 934 fender flares and a 934 front spoiler. The DP rear wing was chosen for the look, and because a 934 wing wouldn't cover the huge 962 intercooler. The car was also to be air conditioned, so the wing had to house the A/C condenser.

The overall goal was a car that would be very, very fast, while still retaining all the creature comforts of a street Porsche. It would have at least 550 horsepower and a top speed in excess of 200 mph. Because of the potential speed, Canepa installed a low profile roll bar for safety. The roll bar is welded to a side bar structure, which in turn is tied to chassis rails that run from the rear to the front tower assembly. The stock Speedster is fairly flexible and, as a result, doesn't ride as well as it should. Canepa felt that for the suspension to work properly, the chassis needed to be rigid like a Porsche coupe. So, in addition to the roll bar and side structure, Canepa's technicians reinforced the chassis by boxing the rockers and raising the floor level behind the seats, effectively creating a monocoque substructure. The result is an incredibly stiff tub. The only other way to achieve this kind of rigidity, says Canepa, would have been to weld a roof on the car.

Originally the plan was to use coil-over suspension, but during the planning stages another customer had Canepa build a Porsche Club car that was to see double duty on the track and on the street. After much testing of coil-over spring rates they found a solution that, in theory, worked well. In reality, today's real-life highways aren't very smooth and the car rode horribly. When the spring rate was softened for street use, the track handling suffered.

As a result, a torsion bar suspension was chosen for the Speedster. Torsion bars provide a good ride on all pavement surfaces, plus they'll let you take a corner as fast as your fear level allows. Canepa used rifle-drilled torsion bars from Stevens Machining, 23mm in front, 33mm in the rear. 22mm "Charlie Bar" sway bars from Wrightwood Racing are also used, along with custom-valved shock absorbers from Bilstein.

935 center-lock hubs and nuts were used so the Speedster could run center-lock wheels. BBS had just developed a wheel to handle the side loads of the new GTP cars. Cleaner-looking with thicker spokes, it was ideal for the Speedster. The 17 inch BBS-GTP wheels are 9 1/2 inches wide up front, 12 3/4″ wide in back, with 275/40 ZR17 and 315/35 ZR17 Goodyear GS-C tires.

For brakes, Canepa mounted 935 rotors to the 935 hubs. Calipers are the big 959-style Brembos. In order to combine the streetabiliy of power brakes with the stopping power of a race car, Canepa designers fabricated a power brake vacuum storage tank using the 962 engine as the vacuum source.

Canepa says that the Speedster handles better than any street Porsche he's ever driven. He says that with racing slicks it would handle as well as his RSR. It has a great ride too, as smooth as a new Carrera on all the road surfaces on which it was tested.

Jerry Woods got the nod to build the 962 engine. Canepa wanted a lot of torque, a lot of bottom end power, and as little lag as possible so it would be manageable on the street. That's exactly what Jerry delivered. He converted the 962 to 3.3 liters by using 100 mm pistons and a 70.4 mm stroke crankshaft. He chose an HKS electronic wastegate control, designed a proprietary programmable twin ignition system, and added a prototype Haltech fuel injection management system that's designed to take full advantage of the 962's twin sets of staged fuel injectors. It runs on one set when normally aspirated, then kicks in the second when the engine comes up onto boost. The result is enjoyable operation around town, and absolutely stunning acceleration and performance on the open road.

Upon completion, the Woods-built motor delivered 581 hp at 6500 RPM at 1.1 Bar boost. Peak torque was 550 lb-ft at 4000 RPM. (On 110 octane fuel and 1.3 bar boost, the motor delivered 650 hp). Installing it in the Speedster presented its own set of problems. Originally designed for mid-engine cars, the 962 had to be completely turned around and placed behind the transaxle. The technicians at Canepa had to design and build all new intake plenums and intercooler plumbing, plus make it all fit under the wing and engine lid. It not only works, it looks like it came from the factory.

The twin K26 turbos are the originals from Bruce Canepa's own 959S. The special intercooler is from Fred Garretson. The stainless exhaust system was entirely custom-fabricated, placing the turbos directly behind the rear tires, next to the engine. The design enables the use of short primary header pipes for better performance and keeps the turbo plumbing short for less lag.

The stainless steel muffler is also custom-made. It features the same two large tailpipes you'd find on a twin-turbo 935 engine. While calming much of the roar, it doesn't totally eliminate the snarl in this Speedster's exhaust note.

The oil system is designed like Porsche race cars, employing a 28 quart oil tank in the front trunk. The engine "breaths" into an accumulator in the rear fender well which, after separating the oil from the fumes, pumps the oil back into the tank.

The flat racing fan was chosen for a number of reasons: its aesthetics, its wonderful sound at idle, and its ability to cool a street motor that's producing 600 horsepower.

The transaxle is a G-50 five speed from a 1989 911 Turbo, shortened an inch so that it fits the Speedster chassis. The axles and CV joints are from Super Boots, the company that supplies Indy Car axles.

Gary Primm lives in the Las Vegas so the car needed air conditioning and a heater. With limited space available, both presented challenges. The Canepa crew designed a rear motor mount plate that could accommodate the mounting of the air conditioning compressor on its backside. The solution required a compressor that runs in reverse, but it works as well as a factory system, delivering ice cold air on the hottest desert days. The custom exhaust headers left no room for heater boxes, so a gas heater from a Porsche rally car was fitted. It also works extremely well, allowing Primm to enjoy top-down driving, even in the dead of winter.

The emergency brake is also ingenious. Canepa's designers developed a system that uses an Accumulock to lock pressure on all four calipers. To operate, you simply pump the brake pedal, flip the lever on the Accumulock, and it sets all four brakes.

With the exception of the roll bar, the turbo dial, and the 959 speedometer, the cockpit looks like a factory Porsche Speedster. Canepa Design added a set of TRW four point competition seat belts and a Sony CD sound system. When asked how fast the car would go, Canepa just grinned and said, "At 200 mph it feels pretty comfortable. Jerry Woods calculated that it should top 210. It has the power and gearing to do it."

The fit, finish, interior and mechanicals of this Speedster are absolutely fabulous. The performance is even more incredible. Like all our cars, its been thoroughly detailed, tuned and tested to ensure it meets the expectations of collectors that drive their Porsches.

Contact Canepa Design on (831) 430-9940

Click on the link below to share this vehicle's overview on Facebook, Twitter, MySpace and more.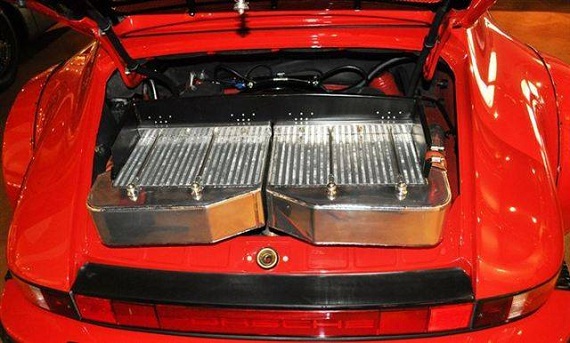 It's doesn't take much to realize the amount of work and money that's gone into creating this monster. Nearly every item is a big dollar proposition; the Speedster alone wasn't cheap, but throw in the multi-hundred thousand dollar custom 962 motor and you've really moved to another performance category. Then there are the 962-spec BBS magnesium wheels measuring a simply staggering 12″ in the back mounted on 935 hubs. On those hubs are 959 brakes to help slow it down, and a 934-style body kit covers up those giant wheels and tires. Of course, you need that hardware to deal with the close to 600 horsepower the 962 motor is pumping out – only about three times what the Speedster originally came with. But there's civility, too; this isn't a bare bones racer – they even took the time to fit air conditioning! To me, this car is insanity personified in an automobile; it's as if they took a list of must-haves and combined it into one package. But unlike many tuner cars that look like a bit of a dog's breakfast, this insanity actually works in my mind. Sure, I wouldn't want to pay to service it, but I would like to take that car out for a ride and feel that twin-turbo rush. Pricing? Like most of the offerings from Canepa, if you have to ask….
-Carter