Take two very desirable machines and stick them together and you get…? Well, for starters you get a car that I haven't ever come across before. You also get a conundrum, but more on that later. Here we have a Guards Red 1992 Porsche 911 Carrera RS, a highly desirable and ridiculously wonderful machine in its own right. However, this isn't a standard Carrera RS, but rather a Carrera RS whose 3.6 liter flat-six has been turbocharged by the wonder-workers at Ruf Automobile GmbH. That means 370 hp in one of the lighter 964 variants produced. It means a narrow-body 911 with a healthy does of power being delivered only to the rear wheels. And it means an object of much desire.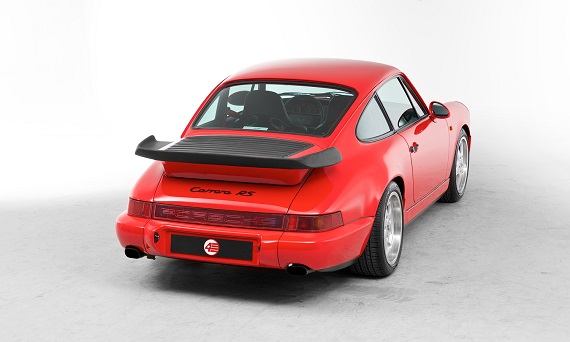 Year: 1992
Model: 911 Carrera RS RCT
Engine: 3.6 liter turbocharged flat-6
Transmission: 5-speed manual
Mileage: 36,389 mi
Price: £174,995 ($249,411)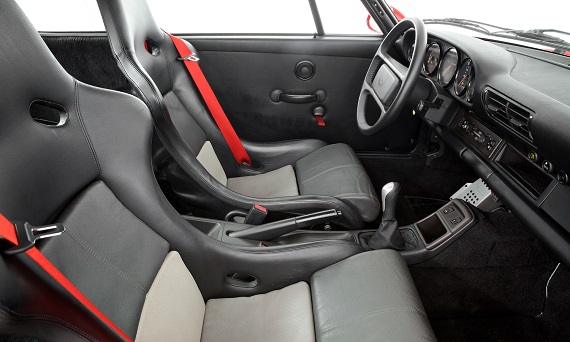 MODEL HISTORY
The Porsche 964 was manufactured and sold between 1989 and 1994. Designed by Benjamin Dimson in 1986, it featured significant styling revisions over previous 911 models. A new naturally aspirated engine called the M64 was used for 964 models, with a flat-6 displacement of 3.6-litres. Porsche substantially revised the suspension, replacing the rear torsion bars with coil springs and shock absorbers. Power steering and ABS brakes were added to the 911 for the first time; both were standard. The exterior bumpers and fog lamps became flush into the car, allowing for better aerodynamics.

In 1992, Porsche produced a lightweight, rear-wheel-drive only version of the 964 called the Carrera RS. The RS was fitted with a revised version of the standard engine titled M64/03 internally which had an increased power output of 256hp and a lightweight flywheel coupled to the G50/10 gearbox with closer ratios, asymmetrical Limited Slip Differential and steel synchromesh.

A stripped-out interior devoid of luxuries such as electric windows, rear seats, air conditioning, and cruise control was part of the RS package, as were the bucket front seats. The bonnet was made of aluminium, the chassis was seam welded, and sound deadening was deleted. Furthermore, the glass was thinner in the doors and rear window. The Carrera RS is approximately 155kg lighter than the standard model.

The 964 RS for sale here benefits from a RUF turbo conversion, hence the addition of RCT (RUF Carrera Turbo) to the name. RUF Automobile is a German car manufacturer and is hugely successful operating as a Porsche tuner; a specialist in customer-requested RUF conversions. The first RUF-modified Porsche was introduced in 1975.

EQUIPMENT
17-inch RUF alloy wheels, Turbo, 964 Turbo fixed rear wing, Twin exhausts, Leather Recaro bucket seats, Air conditioning, Dash clock, Lockable glove compartment, Space saver spare wheel, Tool kit.

EXTERIOR
Finished in Guards Red the RS presents extremely well with almost no blemishes to speak of. The paintwork retains a glossy shine throughout, and looks stunning against the polished rims of the RUF alloy wheels. The car is perfectly straight down both sides and is entirely corrosion-free.

The most notable aesthetic difference between this RS and a standard example is the addition of the fixed Turbo rear wing, which allows room for the large intercooler beneath the lid. The car also features twin exhaust pipes, as per the factory 964 Turbo, while still remaining a lightweight narrow-body RS.

INTERIOR
The leather Recaro bucket seats are in excellent condition with almost no signs of any wear. The upholstery remains soft and the bolsters are scratch-free. This example is equipped with factory optional air conditioning.

On close inspection the dash presents well and the switchgear still feels solid to operate. The carpets throughout are impeccably clean, and the headlining is without of any rips. The only notable wear is light marking to the centre of the steering wheel.

ENGINE & TRANSMISSION
The Carrera RS was fitted with a revised version of the standard 3.6-litre 964 engine. It had an increased power output as well as a lightweight flywheel coupled to a G50/10 gearbox with closer ratios. Featuring a RUF turbo conversion this particular example has all the benefits of the agile RS, combined with the awesome power of a factory wide body Turbo.

WHEELS, TYRES & BRAKES
The RS sits on a set of 17-inch RUF alloys. The wheels present extremely well and show almost no age-related wear or curb marking. They are finished with polished rims.

The wheels are shod in a matching set of Pirelli PZero tyres, each with plenty of tread left. Between the spokes the black Porsche calipers are in good order; the discs too have ample life remaining.

HISTORY FILE
First registered 24th September 1992 this Carrera RS has covered just 58,563km (36,389 miles) from new. The car has recently been imported into the UK with all duties and taxes paid. Present in the history file is the original Porsche document wallet complete with a stamped service book and the driver's manual.

The low mileage is complemented by an extensive history and is complete with detailed maintenance invoices from the following mileages: 1,504km, 6,725km, 8,450km, 9,513km, 24,299km, 24,737km, 25,412km, 25,615km, 26,491km, 30,815km, 36,306km, 42,623km, 48,146km, and 57,536km.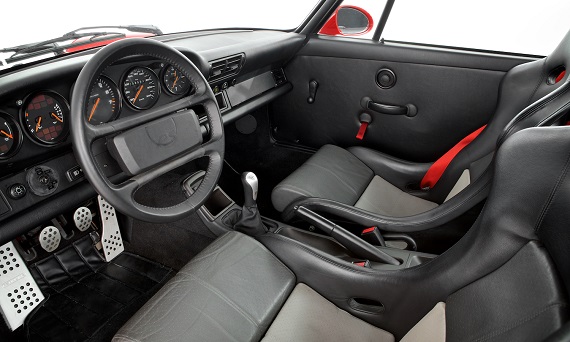 How we might value this 964 likely depends a lot on the documentation that goes along with the Ruf turbo conversion. It doesn't appear to have all of the standard Ruf RCT exterior pieces as those came with different wheels, a body-colored whale tail with a slightly different profile, and a complementary front spoiler. Still, it should stand as one of the few narrow-body 964 Turbos in existence further enhanced by the various upgrades and deletions that made the Carrera RS so special. I would suspect, however, that its value would fall below that of an original Carrera RS, whereas here its current asking price seems to have it aligned with other examples of the 964 Carrera RS we've seen. I will be interested to see if it manages to attract that kind of value. There is no doubt that this is a unique and wonderful example, and I'm sure someone will snap it up, I'm just not quite sure about the asking price.
-Rob