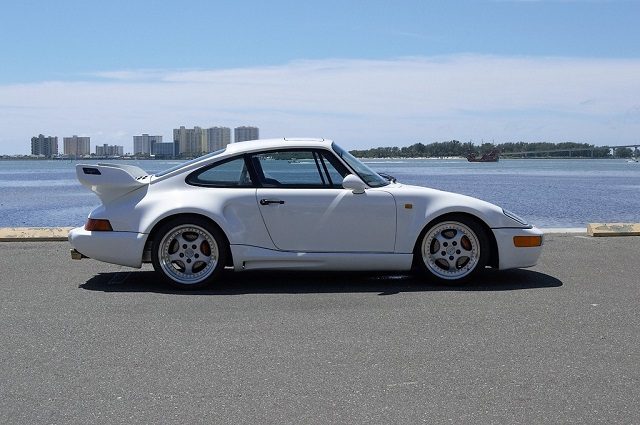 Gemballa has been around for quite a while. Since the early 80's they've been creating designs for a wide variety of Porsches with a few Mercedes and Ferraris thrown in as well. Honestly, most of their designs I haven't much liked. I like over the top – I mean I'm a fan of RWB – but Gemballa has always seemed over the top in a way that I found unappealing. It's a fine line for tuners to walk and built entirely upon subjectivity; some find the right balance, some miss the mark.
Here we have one that I do like. At least for the most part. Based off the 911 RS America, this Gemballa build was to serve as a showcase car and, if we're to believe the ad, demonstrate the more refined style they were hoping to put forth once the excesses of the '80s were behind them. It's still fairly over the top, but not too crazy and its likeness to the Flatnose Turbo S makes it look like something the factory may have even produced. It's sort of a melding of the Turbo S and the 3.8 Carrera RSR, both highly sought after machines that turn the heads of just about anyone who sees one. I imagine this Gemballa will do the same.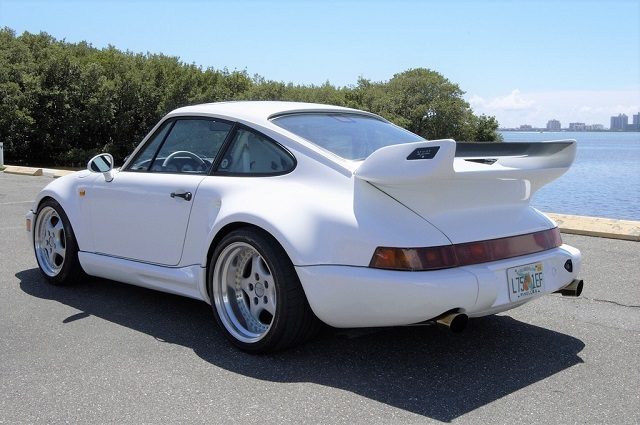 Year: 1993
Model: 911 RS America
Engine: 3.8 liter flat-6
Transmission: 5-speed manual
Mileage: 16,937 mi
Price: $99,500 Buy It Now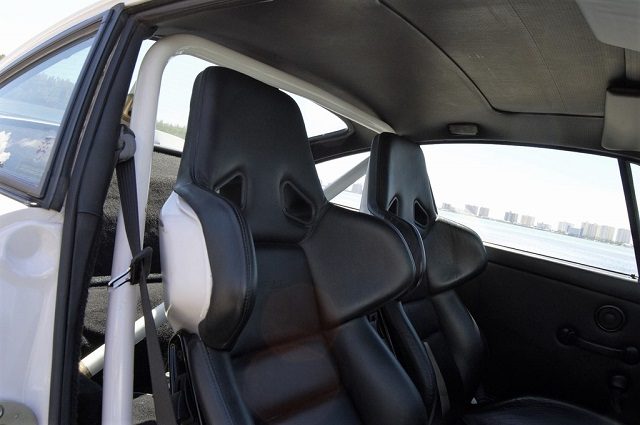 Before Singer's amazing creations, before RWB's wide bodies, before Magnus Walker officially made it cool to NOT be a typical Porsche guy, before TechArt, there was Uwe Gemballa.

The Gemballa's of the 80's were radical creations with massive body kits and interior customization. As Gemballa moved into the 90's they evolved into a more performance focused company with more subtle streamlined body work. This car is the result.

What I know about this car and its history came from the previous owner, a copy of the Gemballa RSR spec sheet, and from the July 1995 issue of Eurosport Car magazine in which this car was featured. The car's history goes like this: When Gemballa opened in California they needed a vehicle to showcase what services they were going to offer. They chose this RS America. The car was flown to Germany, the modifications were done at Gemballa and the car was returned to California.

There is no other RS America modified like this that I know of. It's exclusive, unique, fast, and loud.

——————————————————————————————————————————————

I have been a Suncoast PCA member since 2003. There are many Porsche experts out there, I am not one of them. Please ask any and all questions in advance. I will respond asap to the best of my knowledge. The car is available for viewing by appointment in Clearwater, FL. If you would like the car inspected I can suggest a local company who has recently worked on the car or other arrangements within our local area can be made. Viewings and inspections must be done prior to auction close. If you want a picture of something not shown here, just ask.

Terms of Sale: Your winning bid is a binding contract. A deposit is due within 48 hours of auction end unless something else is agreed upon by both parties. Balance needs paid in full via wire transfer within 3 days of auction close. No I won't fall for cashiers check / M.O. scams so don't ask. The car is sold AS-IS, Where-IS and must be picked up in Clearwater, FL. I have someone who can help with shipping also if that's an option for you and we can discuss that as needed. No warranty is expressed or implied. The title is clear and in hand. I reserve the right to end the auction early as the vehicle may be advertised elsewhere.

——————————————————————————————————————————————

I have included below the details of the condition and just some details of the cars history, based on the information I have. The car is nice overall but I will try and list everything, no matter how small, that a buyer could be critical of and condition mentioned is my opinion only. Consider the condition to be nice unless specifically noted otherwise. I'm going to be really picky, but I may have missed something

Additional pictures available at this link, including of most mentioned flaws, and they may show up in reverse order: 1070.photobucket.com/user/CLWTUSKEN/library/1993%20RS%20AMERICA%20GEMBALLA%20RSR?sort=2&page=1

Owners: I have owned this car since 2003. The Carfax shows I'm the third owner. I originally thought that I showed up as 3rd on Carfax due to a title change between states or spouses when the previous owner moved to Florida ( it shows 2nd ownership for only 15 days ). I have since found the original owners name in the Maintenance log, so I'm unsure of the timeline but I believe the 15 days is incorrect and only represents the time owned in Florida.

Fun Fact: In 2005 I attended Porsche Parade in Hershey, PA. I was honored to lead the largest gathering ever of Porsche RS America's up the hill to the Hershey hotel. You can find the article about that here: rsamerica.net/articles/member/keithv_parade_05_rsa_corral.htm

VIN / Production #: WP0AB2967PS418054 / the 54th RS America built , M-Date 3/92

Mileage: 16,937 at picture time, this will increase slightly…..

RS America options: Out of the 4 available factory options, LSD, Sunroof, A/C and Cassette Radio, this car originally came with 2: Limited Slip Differential ( 220 ) and Sunroof ( 650 ). The article stated that Gemballa added the A/C and Alpine CD player.

Color = Grand Prix White

Per the ID label this car was also originally taken as a European Delivery

Gemballa Modifications per sheet and article:

Slant-Nose w/ flush headlight glass / poly-ellipsoid halogen lights

Sportster front skirt and side skirts with air intakes

Factory Metal quarter panels, Turbo sized fender flares on rear, ported for engine cooling

RSR Carbon fiber air channels added to ported front bumper for brake cooling ( replaced fog lamps )

Rear 3 piece bumper assembly with dual exhaust ports

3.8 RSR rear spoiler with adjustable carbon fiber middle

18" Speedline RSR CUP DESIGN 3 piece wheels 9×18 & 11×18 polished lip

Recaro A8 seats w/ Red Sparco harness

Roll Cage – custom lightweight with adjustable diagonal strut brace

Carbon fiber interior pieces: dash, brake lever, shift knob

White face gauges

RSR sport suspension, street tuned, springs, Bilstein shocks

RSR anti sway bars & Strut tower brace

Turbo brakes, red 4 piston calipers

RSR Clutch

RSR stainless steel exhaust including headers

MOTOR: the Gemballa spec sheet reads: "3.8 RSR Engine, all factory racing components." The article reads: "Using Porsche parts throughout, the engine was upped from a stock 250 horsepower to a pavement ripping 375 hp. Likewise, torque was increased from 229 ft-lbs. to 282 ft.-lbs.. To maximize power output the redline was raised to 7150 rpm. A two pipe exhaust system originally used on the 965 Turbo, was added to relieve back pressure/ A larger throttle, 8mm wider in diameter, was substituted, as were valve spring caps and camshafts. The engine's displacement was increased to 3.81 litres using original RSR parts and backed by an RSR clutch."

I did not receive any maintenance history paperwork from the previous owner. At some point he had some repairs to the motor, although I don't know the exact details. I'm not sure if Gemballa USA is who worked on it or not, but I know they know about it.

In May I just had almost $5k worth of services done: New battery, filters, brakes, fuel sender, various gaskets, washers, seals, o-rings, belts, etc.

Interior: The dash, headliner, door panels, are all in excellent condition. The drivers seat shows slight wear as expected. The seat backs show some paint removal where they come in contact with the roll cage. This happens when the seats are pushed back that far. See picture.

The left side/thigh support of the drivers seat is loose, but it actually makes getting in and out easier. There is also a plastic trim piece missing from the side of this seat.

Boot/Trunk: New Battery. Carpet in good condition, tool kit and spare tire. See picture. The boot / trunk struts need replaced, they no longer hold it open.

Accidents: The car has never been in an accident that I know of. When I purchased the car there was an outward dent in the trunk lid, where the previous owner had closed the lid and a brush handle was sticking up. I had this fixed locally by Superior Auto Body.

Track: I personally have never had the car on a track but I did autocross it once locally. The previous owner did say he tracked the car some but I don't know details / frequency.

Exterior: I have always kept the car stored inside in a climate controlled garage. The paint is in good condition with imperfections as mentioned:

There are some, ( 4 – I believe ) minor cracks/chips in the windshield, these happened with the previous owner.

There are small rock chips / scuffs on front end skirt, as well as in the paint between the rear wide body air intake vents and the bottom of the car, and also around air intake on the side skirts. The passenger side seemed more affected, there is also a small ding in the passenger side air duct. There are 4 small dot size chips on the wing on the passenger side. See pictures.

On the top of the passenger door there is a small area where the 1st layer of paint is missing, about 4mm or 5mm, isn't very noticeable as it's white / white.

There is a tiny crack, about 4mm or 5mm developing on top of front drivers fender. See picture.

There is a crack inside the air intake on the rear driver's side wide body. See picture.

There is a small crack inside the air intake on the passenger's side wide body. See picture.

There is a small spider web crack in the paint on the passengers rear flare, approx. 1 cm. See picture.

On the grill area of the rear wing, there are 3 places where there are small cracks. There are 18 of these small support areas between the grill lines, the last 3 towards the back are cracked, all in the same spot as this seems to be the area with the most flex. They don't affect anything physical, just a cosmetic issue. See picture.

The light to the right of the license plate is loose and there are some small cracks in the corner of the opening for this light.

Wheels: There is minor curb rash on some wheels, one wheel has a minor dent on the lip. The tires are Michelin Pilot Sport 235/40ZR18 & 295/30ZR19 and while they have plenty of tread they are older tires. I'd have to check what year I had them put on but you should put some fresh rubber on before doing any real driving.

Sunroof: As of 8/19/17, the sunroof now has a small issue closing. While I was making sure everything worked on the car, a tiny plastic piece on the drivers side of the sunroof mechanism broke. This small piece helped allow the plastic piece that pops up when opened, to go down slightly when closing. So right now you have to use your hand to hold it down until the sunroof slides over it. Hopefully a cheap fix, I'll try and have it looked at as soon as I have time.

Elec / Lights: All Head lights work. Both Blinkers work. Parking lights work. Both interior domes work. 2 horn buttons on steering wheel, left one works, right one doesn't..

—————————————————————————————————————————————-

Other included items, extra's, etc.:

The original copy of Eurosport Car magazine from July 1995 featuring this car, plus digital copies of the article.

An original OEM muffler and exhaust tip ( p/n 964.111.046.05 ) will be included with the car. See pic.

Ring and Pinion, 31:9 (3.44) These extras came to me with the car, I've never had any gear work done.

Sparco harnesses, Red, 3"/2". See picture. These look orange in the pic, but it's just the light. They are red and like new, I personally have never used or even installed them.

2 small Roll Cage pieces, some paint chips ( never used or installed since I've owned it ) See pic.

The original Gemballa floor mats were replaced but will be included. See picture.

Brand new floor mats, never opened. 964.551.015.00.5FV , 964.551.012.01.5FV , 964.551.021.00.5FV

A custom bra with headlight and mirror covers ( never used or installed since I've owned it ) See pic.

A spare set of the headlight glass for the front fenders will be included – THESE ARE VERY RARE. My wife bought these many years ago from Heinz at Gemballa USA and I believe at the time he told her they were his last set. We bought them just to have as backups.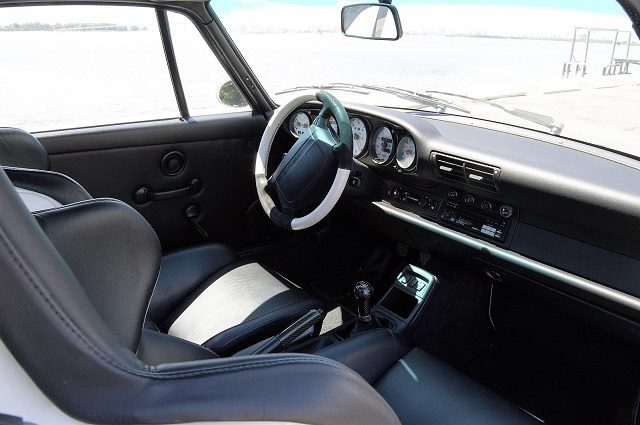 That this 911 was an RS America prior to its build probably isn't too relevant at this point, but at least it provided a nice starting point for all of the work. The seller suggests it's the only RS America with this Gemballa conversion, which is probably pretty likely, and I'm curious how many other 964s at all were converted, if any. So this is definitely a rare find. The mileage is very low and it generally looks pretty good. Add in a substantial boost in power – stated to be 385 hp – and you've got a machine with the performance to match its much more aggressive looks!
While there are plenty of details we'd probably like about its history and previous ownership the seller has been fairly straightforward in passing along what he knows about the car as well as what he doesn't know. Or, at least, as well as you can pass along information you don't know. Given the mileage we'd generally expect near flawless condition, but there are a few flaws and minor niggles here and there. There's not too much that would deeply trouble us, but the statements about engine work performed by a previous owner certainly should spark some further investigation. It's a high-strung machine so engine work wouldn't necessarily be unexpected, but with fewer than 17K miles we might question whether it was abused. Naturally, a PPI is a must.
So how much should this extra performance, exclusivity, and added cachet of the Gemballa name be worth? So far, not that much as bidding sits at only $60,100. I would imagine there's plenty of hesitation given everything needing verification and that may restrain any bidding for a little while. There are still a good number of days left on the auction so we may see this number rise. We'll certainly have to see it rise before there's a sale. The combination of such a longstanding name in the tuning world and the power and performance of this build should be enough to bring things up. We'll just have to see how desirable this 964 now is.
-Rob