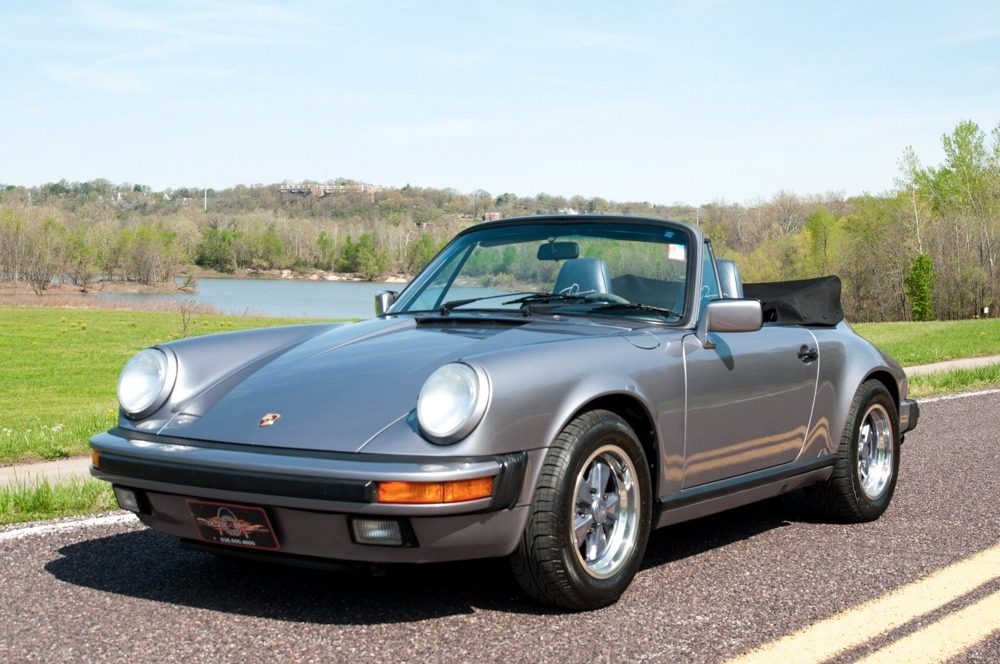 It's been a while since I've seen one of these 911s. This is the Commemorative Edition (aka the Jubilee Edition), which Porsche released in 1988 to celebrate the production of the 250,000th 911. Like other special editions of its time the special enhancements were almost entirely cosmetic. In this case that meant special exterior and interior colors: Diamond Blue Metallic for the exterior, with color-matched Fuchs wheels, and Silver Blue Metallic in the interior (the seller refers to it as Diamond Blue in the interior as well though I've always seen it called Silver Blue). It makes for an attractive combination that's quite elegant as these things go.
You also got Dr. Ferry Porsche's signature stitched into the seat headrests, a shorter shifter, and an electronic top for the Cabriolet. I suppose the most unique aspect of this particular Commemorative Edition is that it's had the model designation deleted. You probably don't care about that. These 911s are pretty rare with only 875 produced in total. I believe the seller's statement that this is 1 of 100 imported to the US refers to the number of Commemorative Edition Cabriolets rather than the number of Commemorative Edition 911s imported in total. Still, there aren't a lot of them.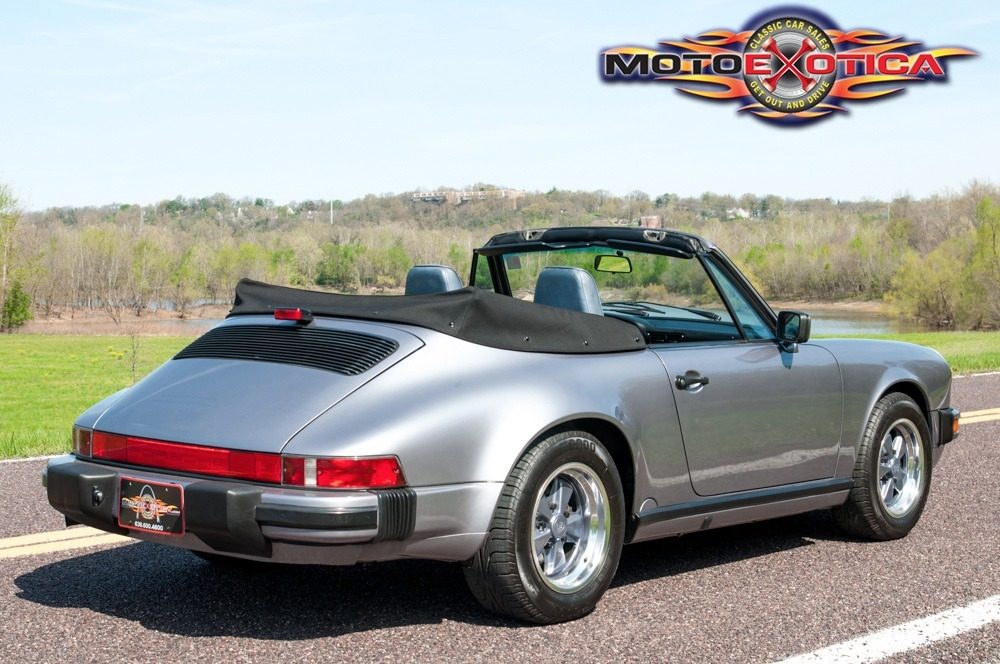 Year: 1988
Model: 911 Carrera Cabriolet
Engine: 3.2 liter flat-6
Transmission: 5-speed manual
Mileage: 58,185 mi
Price: Reserve Auction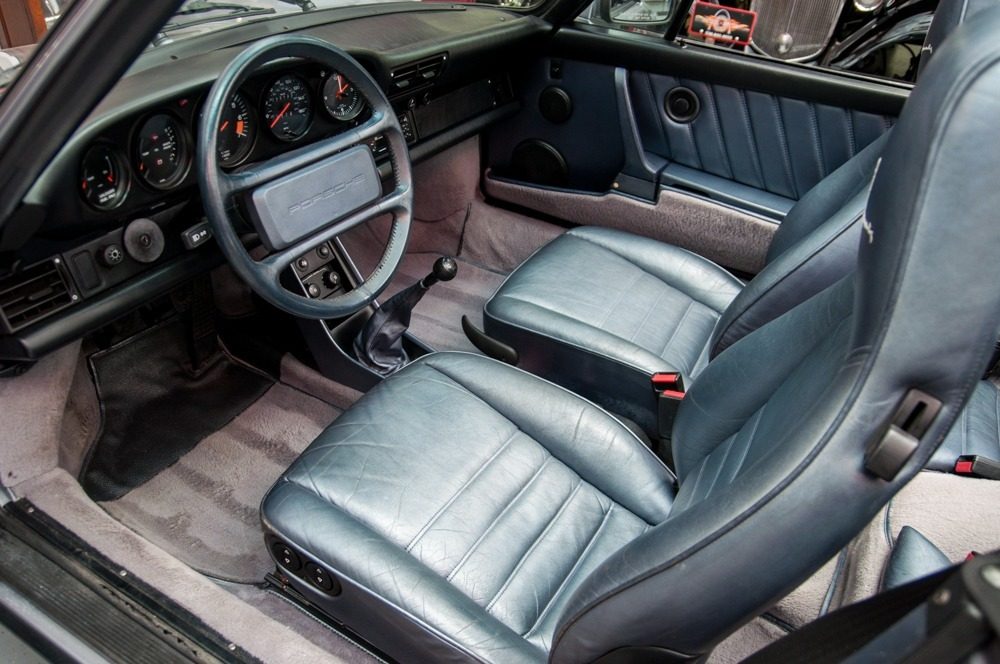 1988 Jubilee Edition Porsche 911 Carrera Cabriolet
Description
1988 Jubilee Edition Porsche 911 Carrera Cabriolet

One of 100 examples of the rarely seen Jubilee Editions exported to the United States
Second-to-last year for classic 911 bodystyle
Recent, complete 60K service performed by Porsche Cars North America
Original Diamond Blue Metallic exterior (code F5), black electric folding cabriolet top and Diamond Blue Raff leather interior (code RZ) with Dr. Ferry Porsche's hand-stitched signature on headrests
3.2L flat six-cylinder engine
G-50 five-speed manual transmission
Four-wheel-disc brakes, four-wheel independent suspension
Complete set of VDO gauges
Color-keyed 15-inch Fuchs wheels and Pirelli P6000 tires
Low original miles (58,xxx)
Documentation includes Porsche Certificate of Authenticity, original warranty and maintenance booklet, copy of Carfax report and toolkit
This is, without a doubt, a Porsche-lover's Porsche. MotoeXotica Classic Cars is pleased to present this 1988 Jubilee Edition Porsche 911 Carrera Cabriolet. It is one of 100 examples exported to the United States.

Made on September 18, 1987, in Stuttgart Zuffenhausen, Germany, this car was once displayed in the Porsche Museum in Stuttgart. It left the factory with the following options – Blaupunkt "Reno" radio, shorter gearshift lever, electric cabriolet top, no rear model designation, supple leather seats and Pirelli tires.

Dressed in its original Diamond Blue Metallic paint (code F5), black electric folding cabriolet top, they are in excellent overall condition. The windows are in very good shape, clear and blemish-free, as are the vehicle's lights, which are intact and clear. This car rides on very good Pirelli P6000 195/65R15 tires, on color-keyed 15-inch Fuchs wheels. The body panels are straight and solid and look fantastic, including the black, electric folding cabriolet top, the engine bay is quite tidy and the bumpers are in great shape.

Under the hood is Porsche's 3.2L flat six-cylinder engine, buttoned to a five-speed manual transmission. Driver assist features include power steering and power brakes.

Inside, the Diamond Blue Raff leather interior (code RZ) looks great, including the leather bucket seats, complete with the hand-stitched autograph of Dr. Ferdinand Porsche on the headrests. The silver carpet looks great, and the black instrument panel is in great shape, complete with full complement of VDO gauges. The factory, four-spoke steering wheel is present and looks good and the inner door panels look great, too. The mirror glass and shift lever are both in overall good condition. Completing the interior is the Blaupunkt "Reno" AM/FM stereo with CD player.

In 1988, Porsche unveiled the "Commemorative Edition" Carrera (also called the Jubilee Edition) to celebration the 250,000th 911. Debuting at the Frankfurt Auto Show in 1963, Porsche built only 875 of these Jubilee 911 cars, exporting 100 to the United States. Jubilee car owners received some very unique and recognizable features – shorter gearshift lever, electric cabriolet folding top and more. A Diamond Blue Metallic exterior was standard, with matching, color-keyed 15-inch Fuchs wheels and Diamond Blue Raff leather interior, complete with the hand-stitched autograph of Dr. Ferry Porsche on the headrests.

Car had its 60,000-mile service performed by Porsche Cars North America's Classic Center in Atlanta, Georgia.

The Porsche 911 was developed as a much more powerful, larger, more comfortable replacement for the Porsche 356. The new car made its public debut at the 1963 Internationale Automobil-Ausstellung, better known to English speakers as the Frankfurt Motor Show.

It was initially designated as the "Porsche 901", after its internal project number. However, Peugeot protested on the grounds that in France it had exclusive rights to car names formed by three numbers with a zero in the middle. So, instead of selling the new model with another name in France, Porsche changed the name to 911. It went on sale in 1964.

Mechanically, the 911 was notable for being rear-engined and air-cooled. From its inception, the 911 was modified both by private teams and the factory itself for racing, rallying and other types of automotive competition. The original 911 series is often cited as the most successful competition car ever, especially when its variations are included, mainly the powerful 911-derived 935 which won 24 Hours of Le Mans and other major sports cars races outright against prototypes.

Competition to this Porsche in 1988 included Chevrolet's Camaro IROC-Z Convertible, Chevrolet's Corvette Convertible, Ferrari's 328 GTS, Ferrari's Mondial Cabriolet and Ford Mustang's GT Convertible.

This car is currently located at our facility in St. Louis, Missouri. Current mileage on the odometer shows 58,185 miles. It is sold as is, where is, on a clean and clear, mileage exempt title. GET OUT AND DRIVE!!!

CLICK HERE TO VIEW OUR YOUTUBE VIDEO

VIN: WP0EB0914JS170427
EIN: 64J01515 (M930/25)
TIN: 1J01657 (G50/01)

Note: Please see full terms and conditions listed below that pertain to the purchase of any said vehicle, thank you.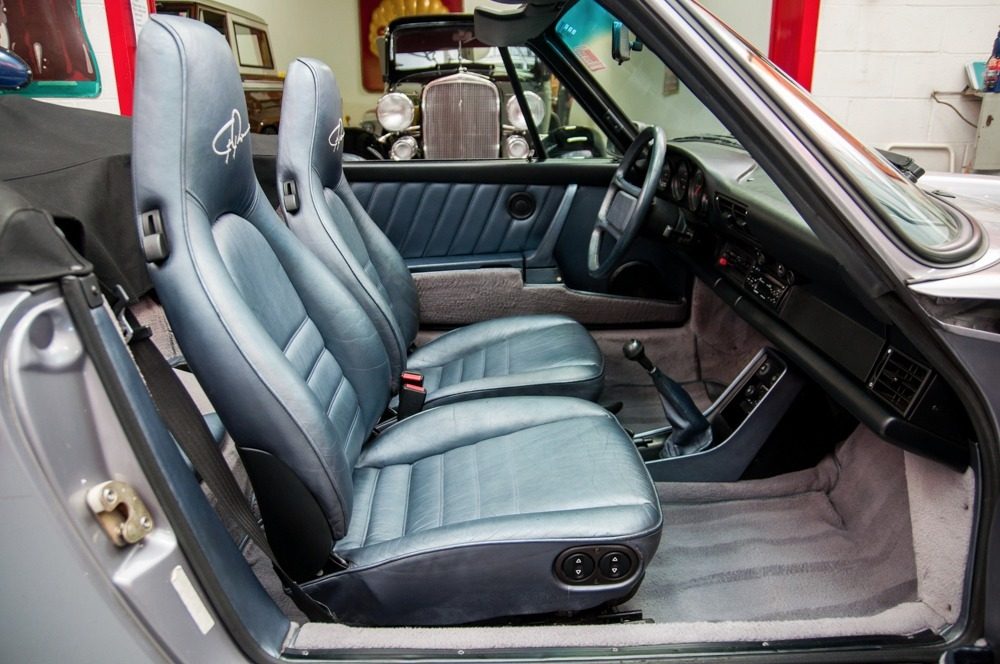 We're shown a lot of pictures of this 911 with a good mix of full shots and detail shots. What we see definitely looks promising. There's certainly wear to be found, but nothing that might give us great concern. The paint shows well all around with some fairly typical blemishes to the front end, though fewer than we might assume on a 30-year-old car. The wheels all look in very nice shape. The interior presents similarly. The wear to the seats looks minimal up front. The rear seats don't look quite as good, perhaps the lighting just isn't great, and the steering wheel looks a little grubby, but there don't appear to be any major defects like cracks in the dash or tears or scuffs in the carpet and seating. Overall this is a nice looking Carrera Cabriolet.
The one area of lack is with the documentation. It comes with its original books and the maintenance book shows a few early stamps, but nothing else. We see a recent service receipt as well. It doesn't sound like there's much in between. All of that may require some extra digging and, of course, a thorough PPI will be a must. Hopefully its mechanical condition checks in as sound as its cosmetic condition appears.
For a while the various special edition 911s would trade for a small premium over a standard 911. With only cosmetic enhancements to distinguish them these have never really garnered significant enough appreciation to warrant much higher values. With the 911 market having moved downward those premiums probably will be diminished even further, though probably not gone altogether. This one is currently being bid at $25,350. With fairly low miles and pretty good condition it has a few points in its favor so we'll have to see where it ends up.
-Rob