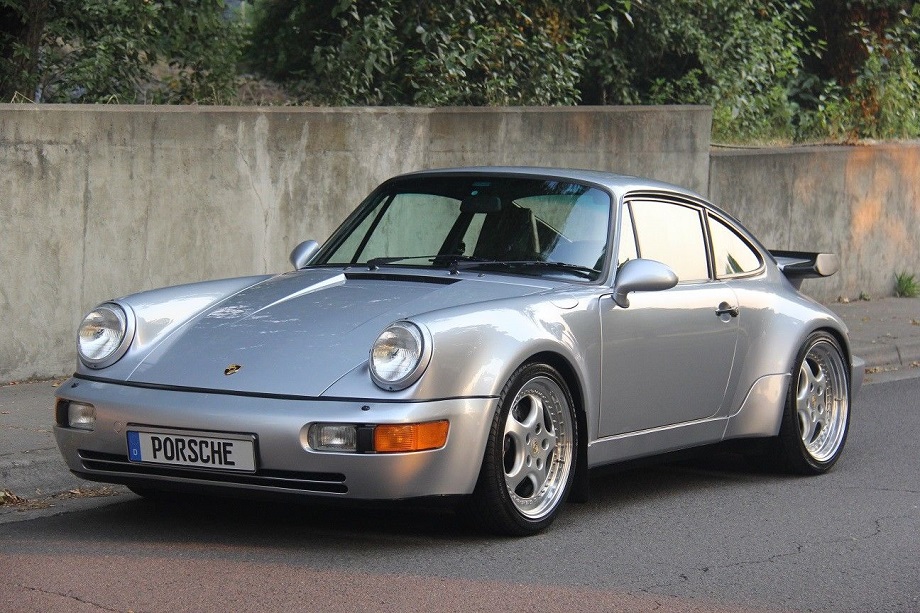 Update 8/2/18: This car listed as sold at $95,400
Here we have a Polar Silver Metallic 1991 Porsche 911 Turbo, located in Oregon, with Black interior and 73,940 miles on it. We don't see the 964 Turbo come around for sale all that frequently, at least not compared with its longer lived predecessor the 930, but for whatever reason I've been seeing some nicer ones pop up for sale lately, one of which appears to have sold quite a bit more quickly than I'd have expected. There are a few up on eBay right now, including the very pretty and gradually becoming less expensive Coral Red Metallic example I posted a year ago, but I chose this one for a couple of reasons.
First, I think Polar Silver looks fantastic on the 964 in general and especially the 964 Turbo. Silver isn't typically a color I prefer on most cars, but Polar Silver is an excellent variant of the color and it just works on the 964. I don't know why, it just does. I also like that this one has a few modifications that should make it just that extra bit more fun to drive. Obviously, how much appeal that work has will vary by buyer, but fun is fun and more power generally is more fun. So why not?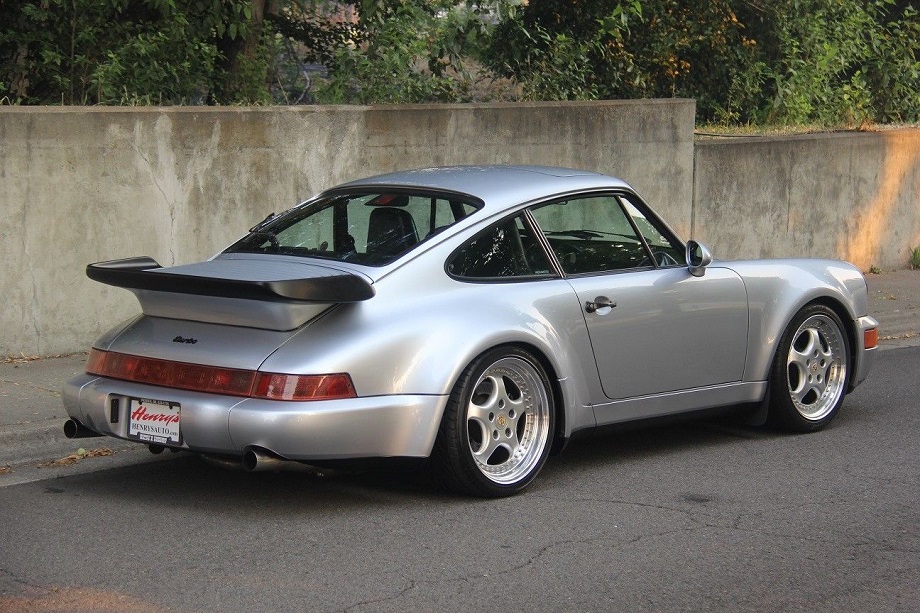 Year: 1991
Model: 911 Turbo
Engine: 3.3 liter turbocharged flat-6
Transmission: 5-speed manual
Mileage: 73,940 mi
Price: Reserve Auction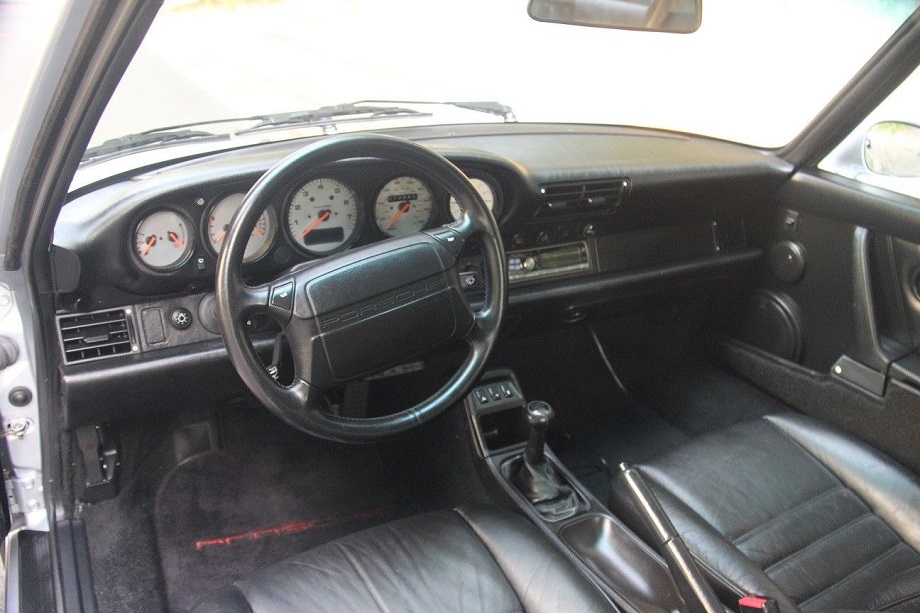 Call or Text Lukasz at 541-890-1694. This Porsche is absolutely beautiful.

Many extra photos are available to view through our website.

The Engine had a major Service 10910 Valve Job "Street Performance" work done at 65,800 miles with documentation. Included all bearings, rings, clips, complete tear down, gaskets master rebuild kit, performance valve job, powdercoating…

1991 Porsche 911 Turbo in Polar Silver/ Black Interior. It is powered by a 3.3 Liter Turbo Engine that did have a full all out rebuild by ImagineAuto Inc in Lenexa, KS. Work was done not because the car needed it, customer wanted to have his 911 be a powerhouse.

Work included Full street Performance Valve Job, Main Bearings, Oil Pressure Switch, Rod Bearings, Intermediate Shaft Bearings, Timing Chains, Chain Rails Set, Valve Guides and Stem Seals, Complete Piston Ring Set, ARP Rod Bolts and Nuts, ARP 4206 Head Studs, Piston Pin Clips, Oil Return Tube and Seals, Main Seals, Oil Pump Seals and Lock Tabs, Oil Cooler Seals, Cam Key Ways and Pins, Case O' Rings, Head Copper Shims, Upper and Lower Valve Cover Gaskets, All other gaskets and seals and crush washers.

The 911 also has a C2 Light Weight Flywheel with a C2 LW Stage 1 Clutch, Pressure Plate and Release Bearing.

Rebuilt the Fuel Distributor to boost flow rate.

Bilstein PSS9 Fully Adjustable Gas 9 Way Shocks Installed and Lowered to Euro Specs.

High Flow Turbo S GHL SS Full Exhaust with CAT Bypass.

IA High Air Flow Intake System

Tail Wastegate WG46.8 46mm 1 bar spring

Brand New Rebuilt Steering Rack with Boots and Ends.

Alpine CDA-9851 MP3/WMA CD Receiver with Alpine MRP-T240 Amp with MB Quart Qline Speakers in Front, Sound Great!

We have dyno results – 415 Horsepower at the wheels.

Lots of Service Records included. Just Serviced too (07/11/2018) – Oil Change, checked all fluids, tire pressures, lights, etc.

Aside from all the fancy technical words, this is truly a remarkable car and we know you will absolutely love it.

We are Henry's Foreign Auto at 4586 S Pacific Hwy Phoenix, OR 97535 Oregon Dealer#DA6362

Our business has sold cars worldwide, we do not provide transport but can assist you along the way. Here our facility has a showroom where this Porsche will stay until sold and transported. Also our business is conveniently located off a major highway making easy deliver/pickup location for trucks.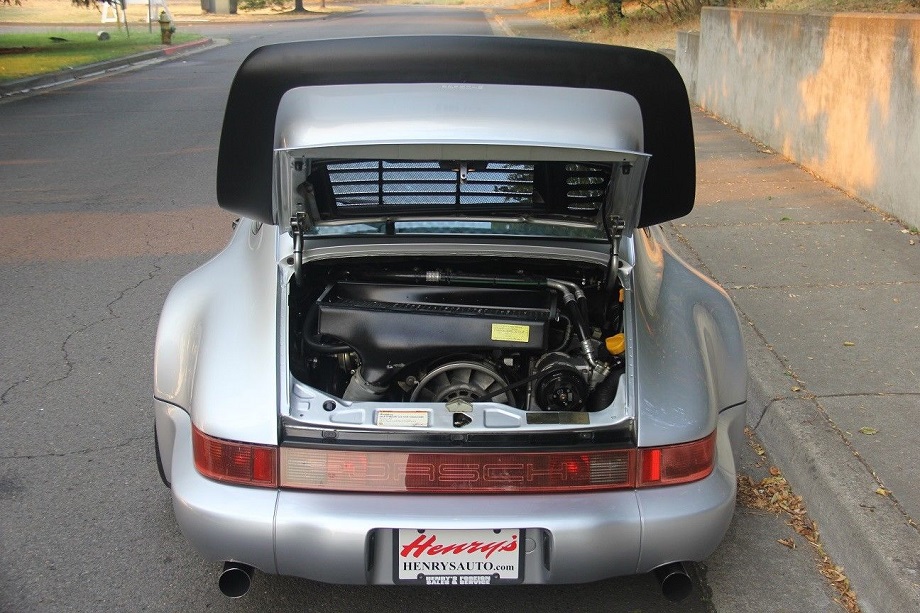 I don't always find the 964 to be the best looking of the Turbos, but this one definitely looks good. Color tends to play a large role in what I think of these and as I said above silver seems to really fit the 964's lines well. This one looks in very nice condition on the outside. We don't see a lot of the interior and the pictures are a little blurry so the only assessment is that it looks fine. Nothing looks out of the ordinary, but you'll want a closer look. It's said to come with a large number of service records, though not necessarily a complete service history.
We do know this 911 Turbo has had a full engine rebuild at 65K miles. It is stated to have been performed at the request of a prior owner not because it was needed but because the owner wanted more performance. That's not a bad thing, but you'll still want to check out the documentation and have a PPI just to make sure everything was done as it should be. Your trusty butt dyno probably will be sufficient for gauging the stated power claims, which also should give you a chance to feel the difference with the light weight flywheel and clutch.
For those seeking a completely original Turbo this one won't suit your needs, but for others who don't mind the alterations they'll hopefully make this a little more enjoyable to drive. It looks great and as the last of the rear-drive Turbos (except, of course, the much more limited GT2) that extra power should make it even more exhilarating. Bidding sits currently at $80,100 and we should see that rise up above six figures. I'll be curious to see just where the auction ends.
-Rob