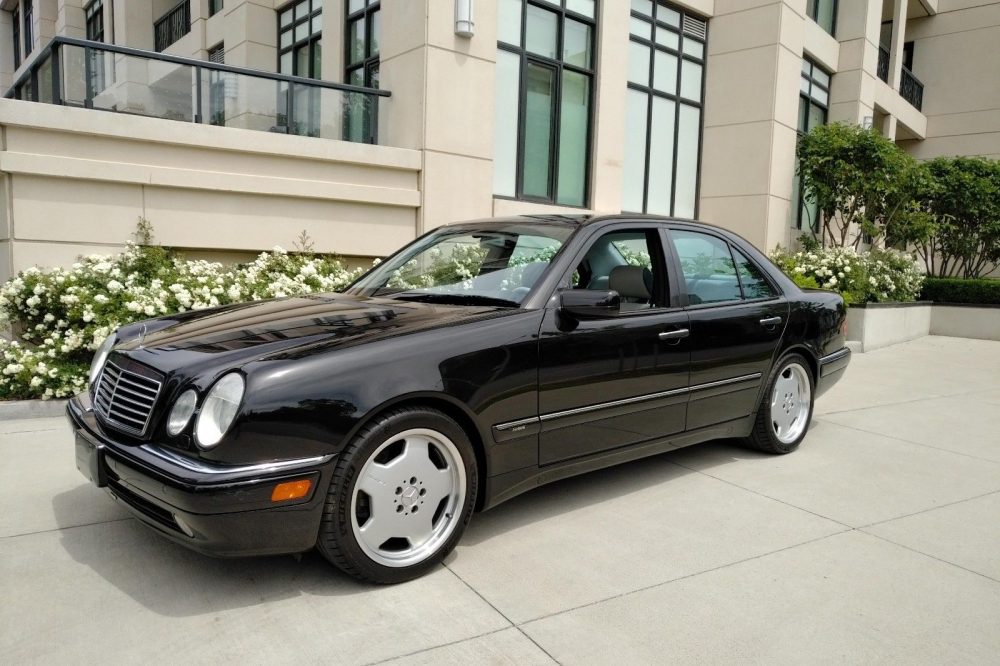 I'm ready to declare that the W210 Mercedes-Benz E55 AMG has stepped into collectibility territory. Full disclosure, I own one of these so take it how you want, but the recent sale prices have been telling the story. Over the past year, auction results for clean, nice condition E55s have been producing prices that have surprised me just a little. For the past five to eight years, you could pick a decent W210 E55 for $7,000-9,000 and have a nice example. If you wanted a rusty one with a bunch of issues, $5,000 would put one in your driveway. Now, those $9,000 examples are $13,000-$15,000 and the really prime cars with low miles are reaching the high-teens and maybe even $20,000. Sure, you can still find those rusty $5,000 ones if you look hard enough, but I just don't think there will be any appreciation on those because once the rust starts on a W210, it never ends. I guess this makes sense in the grand scheme of things because we've been seeing price cycles like this for years with W201 190E-16vs, W124 500Es and on the BMW side with the E39 M5 and of course the E30 M3. Remember when you could get one of those for $8,000?
Today's car, a 1999 E55 AMG up for sale in Canada, brings a little bit of a unique situation. First being it is a Canadian-spec car so there are some minor changes from the US cars and second being that it's a 1999 which means this is the rare, one-year only, pre-facelift car. That means a different gauge cluster, steering wheel, body work, transmission setup, taillights and radio. For some the one-year status might mean increased scarcity, but I doubt you'll find a lot of people wanting a 1999 over a 2000-2002 because of all the upgrades the facelifted cars received.  That doesn't matter all that much today because this car is in outstanding condition and is set to probably bring a nice, fat number once the auction ends.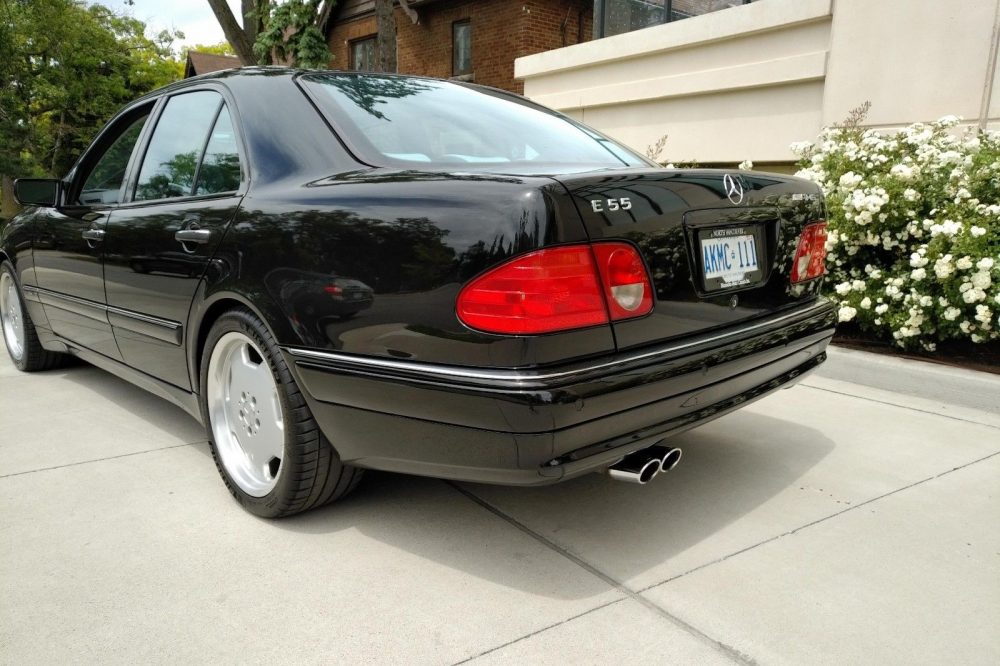 Year: 1999
Model: E55 AMG
Engine: 5.4 liter V8
Transmission: 5-speed automatic
Mileage: (116,000 km) 72,079 mi
Price: Reserve Auction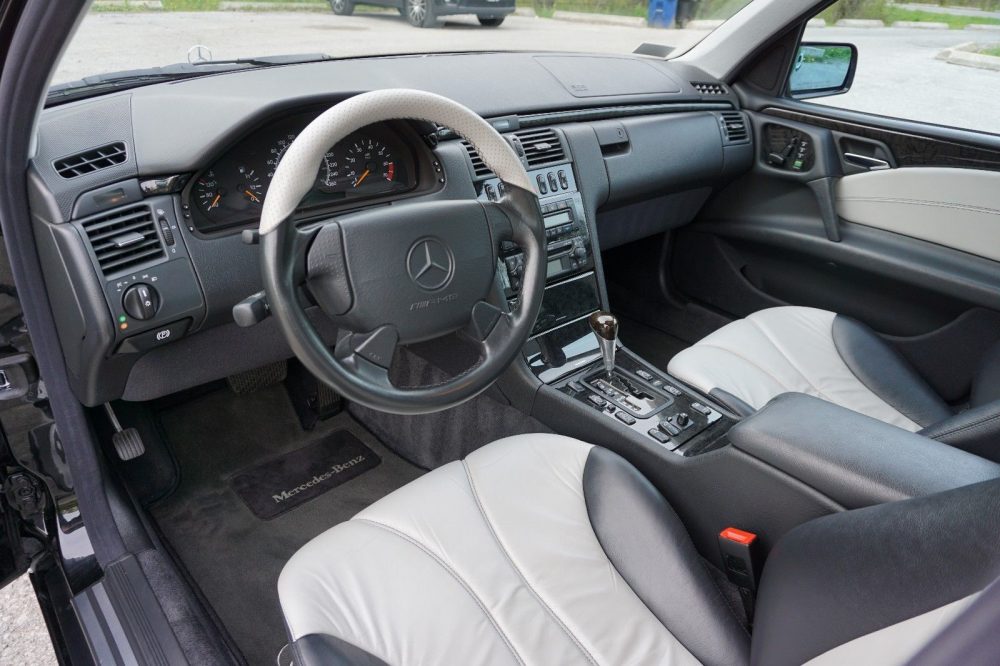 1999 E55 AMG WDBJF74H1XA873237

April 30 1999

-In service date, purchased from Mercedes North Vancouver (1st owner)

July 21, 2009

-vehicle inspected and transfer to 2nd owner in Vancouver

from original owner (same family) 56,711KM

March 12, 2010

Oil change Mobile 1, spark plugs, cabin filter, air filter, coolant flush, 60,439KM

July 20, 2010

Oil change Mobile 1 64,000KM

August 6, 2010

Brake flush 64,184KM

June 23, 2011

Oil change Mobile 1 66,100KM

June 15, 2012

Replace rear window regulator, lube steering bushing 69,544KM

July 30, 2012

Oil change Mobile 1 70,000KM

August 23, 2012

Replace rear window regulator 70,883KM

August 8, 2013

Oil change Mobile 1 73,000KM

May 20, 2014

Oil change Mobile 1 78,000KM

June 5, 2014

Swap springs for H&R, keep OEM spring pads #3. Change rear diff fluid,

replace all brake pads

January 28, 2014

Replace rear window regulator

November 24, 2014

-vehicle transfer to present owner Darius

and ship to Toronto by Hansens Vehicle relocation. 84,000KM

December 22, 2014

Transmission electrical plug leaking, replace and top up fluid @MB Queensway

December 26, 2014

Oil change Mobile 1, replace MAF sensor, air filter, cabin filters 84,300KM

December, 2015

Oil change Mobile 1 98,000KM

August 19, 2016

Battery @ MB Queensway

Replaced all 4 brake discs and pads and lower ball joints, OEM parts from MB Toronto

September 22, 2016

Wheel Alignment at MB Toronto 103,842KM

November 2016

Oil change Mobile 1 105,475KM

April 27, 2017

Replace motor mounts, transmission mount @ MB Oakville 105,909KM

May 5, 2017

Spark plugs, V belt, Flush cooling, Flush brakes, Perform vehicle inspection report

At MB Oakville 106,512KM

November 2017

Oil change Mobile 1 112,140KM

May 9, 2018

Install 4 new Mic Pilot Sport 4S tires 112,600KM

May 10, 2018

Wheel Alignment, check engine light, scan codes, replace O2 sensor

At MB Oakville 112,654KM

Currently 116,000 KM as of July 2018. (approx. 72,000 miles)

*****I have records for all of the services listed. No expenses has been spared in the care of this car. By having spent 15 years in Vancouver there is no sun damage to the leather, dash or wood and the paint is impeccable as it gets carnauba wax applied by hand regularly. The leather is treated with an all natural product and smells and feels new. The car is run mainly on the highway, on sunny days. No short trips, and the oil is changed regularly regardless of mileage as you can see in my description. Battery is kept on a trickle charger when the car is parked. All of the common items have been addressed on this car. It needs nothing, and the costly items (rotors and tires) are new. I'm selling the car to make room for an 02 SL500 Silver Arrow. I can work with buyer on delivery within Canada and USA. If kept in its current condition, this car will continue to appreciate in value as its getting harder to find low mile orginal W210 E55's.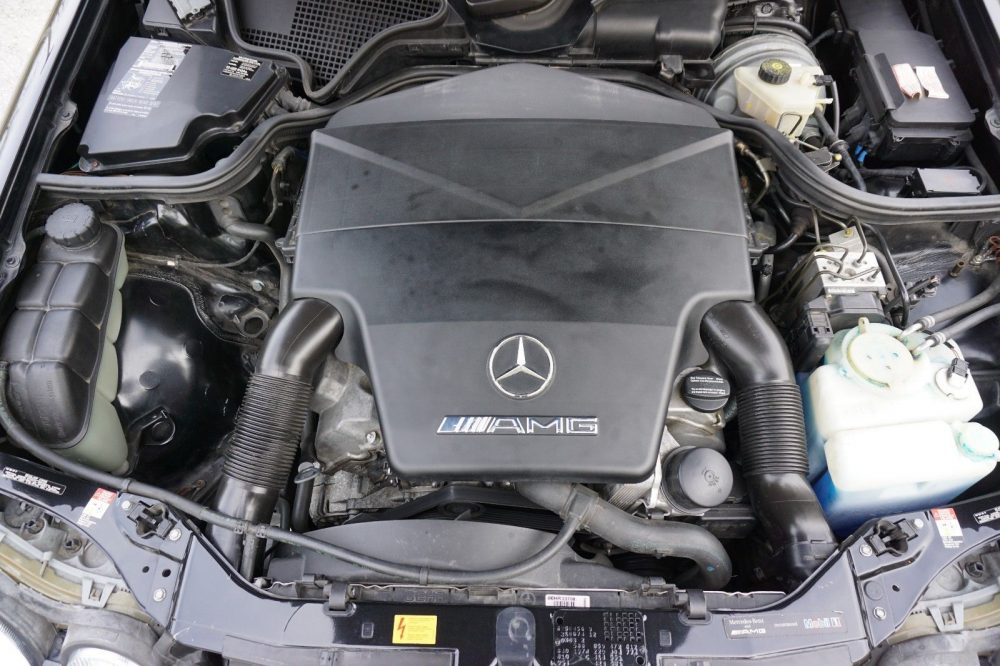 For all the beat up E55s I see, seeing this one is a breath of fresh air. The black paint is flawless and the "panda" interior is something I personally love. The seller did an outstanding job of keeping this car nice and it is probably going to reward him for doing so. You wouldn't know that the car has 72,000 miles on it from how clean everything is and even the wheels are nearly flawless. This car also has the rare parking sensors option in addition to the special interior setup which make it even more rare. The only thing I do see is an aftermarket shift knob, which isn't the end of the world and can be swapped out without issue.
Now for the price. I can see this one easily hitting that $15,000 mark because of its condition and having all the service records as well. I think this being a Canadian car will drive up the price a little more because there aren't just as many of them in Canada to begin with, so ones like this make it even more desirable. One thing to remember is that Canada has the 15-year import rule, so some W210 E55 Estates have been making their way over from Japan and Europe, so there are some other options out there for select buyers. Still, I think this is probably one of the nicest ones you are going to find and whoever buys it, it will be money well spent.
– Andrew