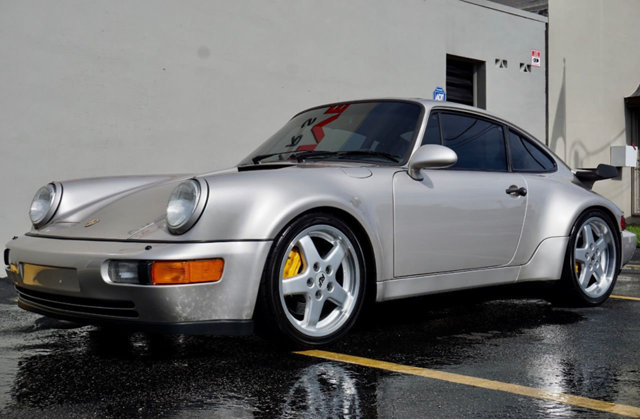 As the Turbo era died off in the early 90s and nearly everyone abandoned forced induction thanks to newer, more stringent fuel economy and emissions standards, Porsche's 'Gott verdammt, ve continue to do things the same vill!' attitude extended to boost. Instead of backing away from their somewhat flawed design, Porsche doubled down and launched a 'brand new' Turbo model of the 911 for 1991. I say 'brand new' because while the body looked modern and the interior updated, in reality this was the same old-school Porsche 911 Turbo underneath. It was still rear-drive only, still a single turbocharger with a ton of lag, and still capable of ripping your face off. Still displacing 3.3 liters, revisions to the intake, exhaust and ECU left the flat-6 churning 315 horsepower and 333 lb.ft of torque, the 964-era Turbo hit 60 in under 5 seconds if you threw caution to the wind and was within a breath of 170 flat-out. Outside, the 964's smooth bumper covers replaced the impact-era units and 17″ Cup 1 wheels filled the flares, but squint and not much looked different from 15 years prior. Yet sure enough, newfangled technologies had crept in: anti-lock brakes, airbags, power steering *gasp!* In many ways, though modern and certainly capable of hanging with the best cars of the day if not exceeding their performance, they felt a bit like a dinosaur unabashedly sticking its middle claw up towards progress and the future. It's that attitude, reputation and look that today continues to drive the desirability of this model in the used market: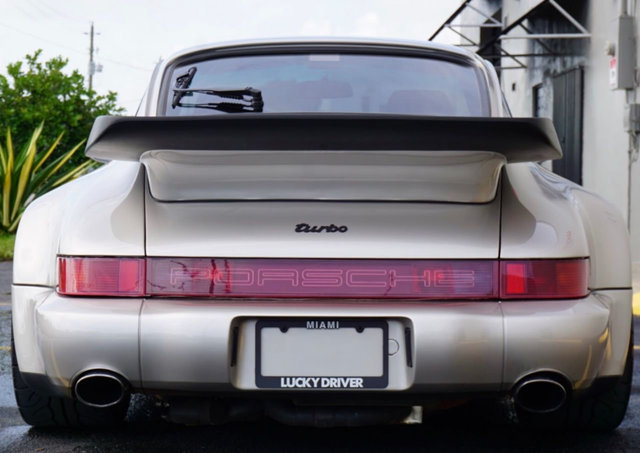 Year: 1991
Model: 911 Turbo
VIN: WP0AA2966MS480334
Engine: 3.3 liter turbocharged flat-6
Transmission: 5-speed manual
Mileage: 72,300 mi
Price: $119,500 Buy It Now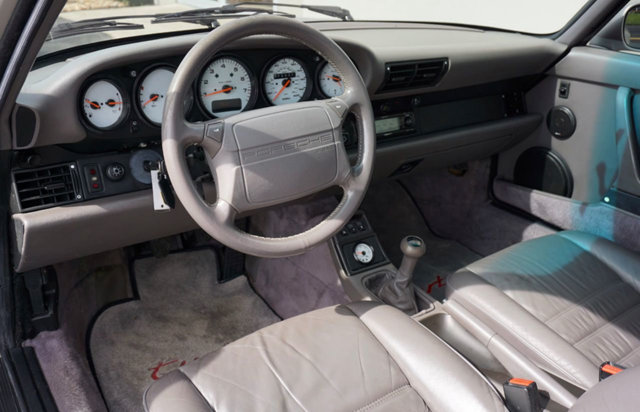 1991 Porsche 911/964 Turbo Coupe.Zermatt Silver on Gray Leather Interior.Original White Option Sticker is Present and Includes : Sunroof,Locking Differential,Lumbar Support Left Seat. etc. Added Options Include : Blaupunkt Miami,White Gauge Faces. This 964 is Cosmetically and Mechanically Outstanding.Very Clean Car Inside and Out .It Drives and Sounds Just Right.All Options Work Properly.This is a 964 Turbo that Can Actually be Driven and Enjoyed, Not Just Looked at in a Garage.
An Engine-out Service in 2015 Included Installing ARP Head Studs and New Rocker Shaft Seals. Other Upgrades include: Bilstein PSS10 Coilovers, B&B headers, and a Fabspeed Exhaust.
18 RUF Speedline Alloy Wheels on Yokohama Advan Neova AD08 Tires measuring 225/40 up Front and 285/30 out Rears.
This 964 Turbo has Service Records Since 2011 . Owner's Manual.Spare Keys.
For More Details Call Us @ 305-776-8111

We Ship Worldwide. Buyer is Responsible for Shipping Cost.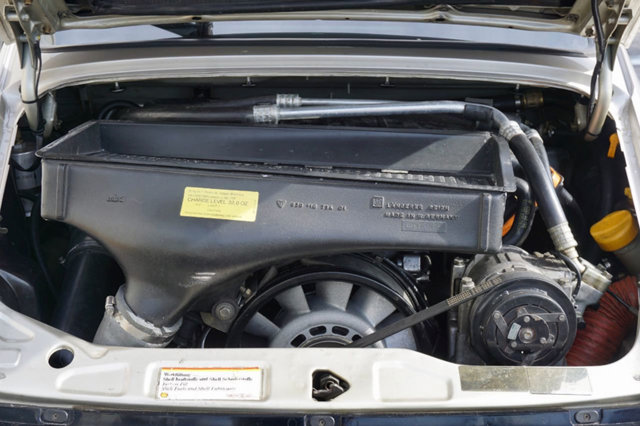 As you probably already know, the 964 Turbo was more rare than the models either side of it. This '91 is one of 674 imported for the year, and stands apart from a standard 3.3 with its Zermatt Silver paintwork. That's usual, since Polar Silver was the standard metallic. If it's correct, this one must have been special ordered. The gray leather is an unfortunate match in my eyes, but it is abnormal when black was again usual. Outside, the 18″ Ruf Speedlines look stunning and offset the bright yellow calipers well, and this car also features upgraded suspension and an engine rebuild. While not a pickled, super-low mileage example, this one is certain to both turn heads and appears to be a nicely sorted driver-quality collector.
To be honest, this one wasn't the first 964 Turbo to catch my eye this week. Rather, it was this Grand Prix White example, also with Ruf Speedlines: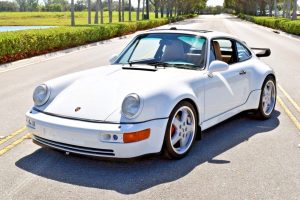 Compared to the Zermatt car, the immediate attraction was the price. At $27,000 less, a few more miles could certainly be overlooked. But of course the larger problem is that the GPW example has a branded title having been declared a total loss after a crash. While the seller claims it's because of low residual value in 2011, but at that point it still would have been a pretty pricey car, so that had to be a lot of accident damage. Attention turns, then, back to the Zermatt example. Is it priced right? Mileage, mods, and maintenance line up nicely with the Polar Silver car Rob looked at over the summer:
Rob thought it would surge past $100,000, but it fell short of that, listing as sold at $95,400. We have a more rare color here, but all things being equal it's hard to see why today's car should be valued at $22,000 higher than the Polar one. Still, these are stunning cars to look at and if nothing else a fun dream for a dreary January Monday morning. For a bit more fun, you can watch the old Motorweek clip of these cars when new – check out those Rubystone Reds!
-Carter