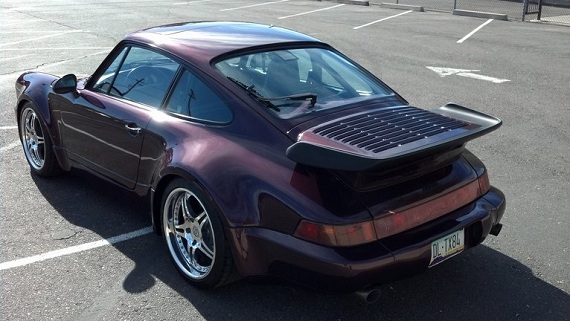 When I first saw this 965, my first thought was that I had seen it's long lost brother before, and indeed, I had – late last year Paul wrote up a super-low mile Porsche 968 with the same color combination. The question for many (including me) was why anyone would have originally selected these shades post 1974, but as one person pointed out, if you want bland go buy a Camry. This 965 is anything BUT bland, with it's purple on purple hue, flashy polished HRE wheels and (gulp) 739 rear wheel horsepower. Think you'd driven something faster? Unless it starts with "Boeing", that's not likely. Take a look then at this monster 911 Turbo: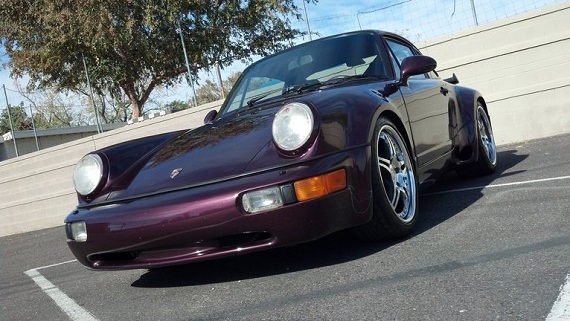 Year: 1991
Model: 911 Turbo (965)
Engine: 3.8 liter twin-turbocharged flat-6
Transmission: 5-speed manual
Mileage: 109,000 mi
Price: $59,995 Buy It Now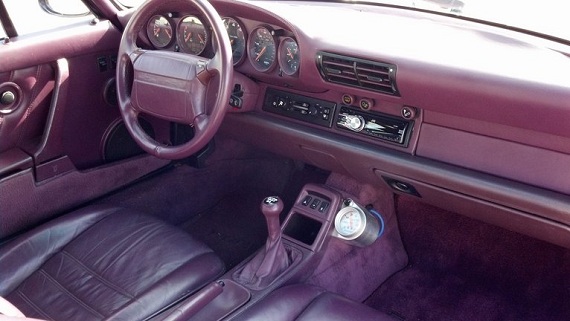 You are bidding on a factory 1991 Porsche 964 Turbo, under 10,000 miles on Mode Inc/Bob Holcombe 3.8 litre twin turbo, twin plug engine, (109k on body) new $10,000 5 speed G52 trans, Sachs Hydro Boost clutch (ultra soft pedal), giant 14 inch Brembo brakes, EFI engine management, Bilstein coil-over suspension, $8,000 HRE 18 inch wheels.. She runs and drives excellent, very dependable, and fast!! on street tires I get wheel spin to nearly 100 mph.. not for the faint of heart.. This is a factory custom ordered Amethyst Metallic over Magenta full Leather interior Turbo, was told it is 1 of 5? easily $100,000 in upgrades invested into this car, motor build alone was $40,000, plus $100,000 original purchase price.. includes a binder 2 inches thick with all receipts.. car made dyno proven 739 horsepower to the rear wheels, on race fuel.. 631 rwhp on 93 octane pump gas.. dyno sheets included.. carfax certified car, no accidents.. AC is cold, Heat is hot, power windows, power moonroof, power seats, wipers, lights, everything works as intended.. this incredible Porsche Turbo is spotless, no scratches, no dents, no door dings, interior is also spotless as well, seats show excellent, no dash cracks.. very rare stunning color, when was the last time you saw a factory metallic purple 964 Turbo driving down the street.. one of the fastest, rarest, aircooled Turbo's in the country.. Pictures speak louder than words..

Email or call Alan with questions or offers 602-997-6778

..click links or copy and paste in your browser for video of car..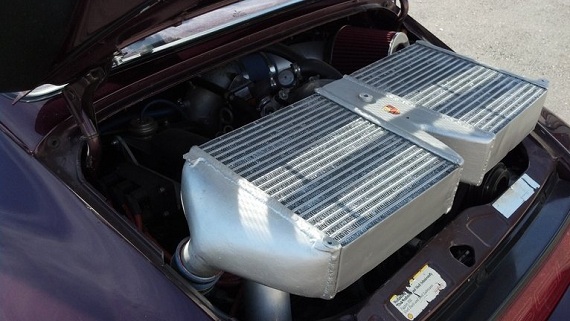 Well, there you go. If you want a modded to the extreme 911 Turbo, it doesn't get much better than this in the air cooled era. While most of the modifications are very desirable, I can't help but feel that the very pricey HRE wheels look out of place on this car. Were it mine and I still wanted some polish on those wheels, I'd probably select something like the Speedline-inspired RHs linked below: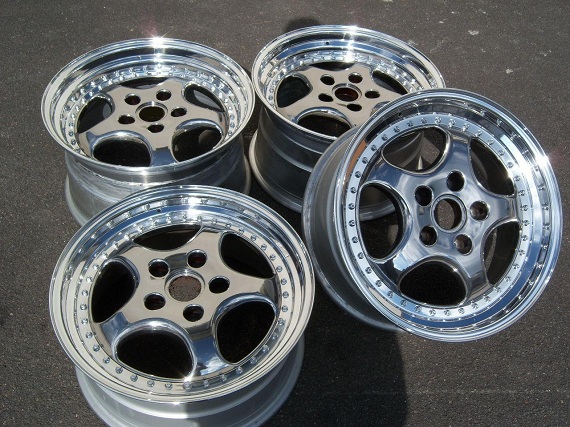 Like many of the modded cars we feature (especially of the Porsche variety), the modifications alone are worth at least the asking price in original dollars. This obviously won't be a daily driver for anyone, but at least with some miles on the body and engine the new owner won't be afraid to drive it, unlike that investment-grade 968 Paul wrote up. For $60,000, the price doesn't seem as outrageous as the color combination and it appears well maintained. It also appears this is an expensive car to run, so the entry price will only be the beginning, but you'd be in rarefied air – both in power and color selection. Feeling bold?
-Carter