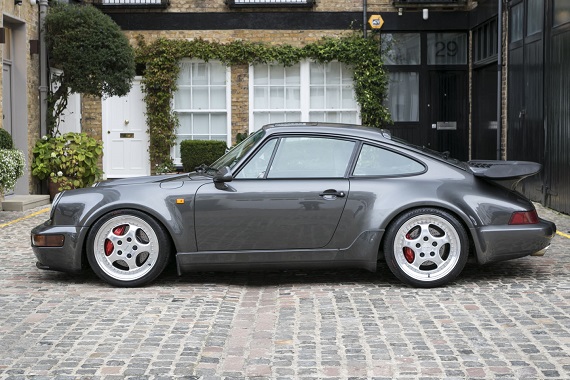 This one will take some sussing out. Let's start with what seems definite: here we have a Slate Grey Metallic 1993 Porsche 911 Turbo 3.6 with just under 40K kilometers on it (~25K miles). It has a couple of nice options from Porsche Exclusive including a two-tone black and grey interior with sport seats and rootwood accents. While the rootwood doesn't necessarily fit the performance character of the Turbo 3.6, this is one of the few instances where I do think it provides a nice contrast and looks pretty good. They didn't overdo it and that is most definitely to this 911's benefit. All around this is a gorgeous looking example and the more I come across it the more I enjoy Slate Grey (whether metallic or not) on the 964. Now for the big question: the seller, which is a pretty well regarded classic car dealer in England, has listed it as one of the very few examples of the Turbo S that Porsche produced. But is it?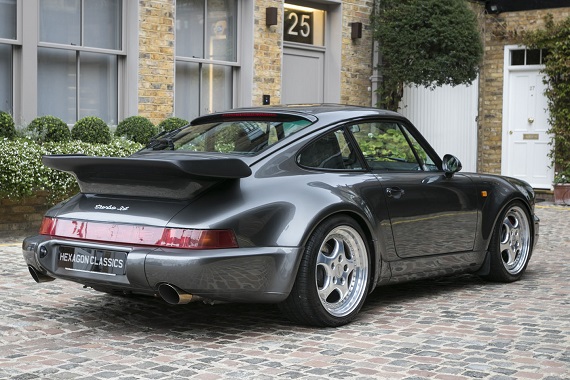 Year: 1993
Model: 911 Turbo 3.6
Engine: 3.6 liter turbocharged flat-6
Transmission: 5-speed manual
Mileage: 39,714 km (24,677 mi)
Price: Inquire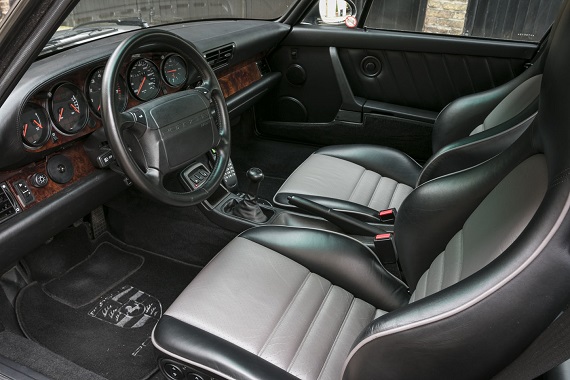 PORSCHE 964 TURBO 3.6 EXCLUSIVE 1993 (SEPTEMBER)
LEFT HAND DRIVE: EU SUPPLIED: 24,677 MILES (39,714 KLM)
The Porsche 964 is the company's internal name code for the latest series of 911 manufactured and sold between 1989 and 1994. Designed by Benjamin Dimson in 1986, it featured significant styling revisions over previous 911 models, most prominently the more integrated bumpers.

The 964 Turbo 3.6 is a progenitor of this prestigious and coveted lineage. A third generation Porsche 911, with the classic air cooled six-cylinder engine, pure rear wheel drive, the concept remained faithful to the personality of the first of its kind. With the engine developing approximately 385bhp, the car was capable of exceeding 280 km/h and getting from 0 to 100 km/h in less than 5 seconds. Shod with the Speedline rims, through which you can see large diameter discs and the four-piston calipers, this car has the look to match its performance.

At the end of 964 production in 1994, the Porsche factory had some 90 Turbo chassis left. These were all transferred to Porsche Exclusive and built as the very special and rare Porsche 964 Turbo 3.6 Exclusive. The Turbo 3.6 Exclusive was available either with the traditional 964 Turbo 3.6 body, or with the Slant Nose option which factory records show circa 76 units were built which leaves some 14 traditional bodied cars.

Our car, we understand, is one of these 14 ultra –rare and specially built coupes by the Exclusive Division with the highly regarded 'S' engine specification producing some 385 BHP. The following fitted factory options were also specified:

Exterior: Schiefer Metallic (Q9Q9) Interior: Schwarz Leder (VD)

Exclusive front spoiler
Exclusive rear spoiler
Special Two Tone Leather Interior
Sun Roof
Sports Suspension
Sport Heated Seats
Electric Height Adjustments
Window Screen Top Tint
Electric Sun Roof
Remote CD
18″ Polished 3-piece wheels
Dark Rootwood dashboard trim
Exclusive Performance Tuning
Supplied new on the 30th September 1993 by Porsche Zentrum, Wuppertal, the motorcar has a complete & detailed service history from new. Accompanying the car is the following documentation:

Original Leather Handbook Pouch
Original Books and Associated Literature
Original Supply Sales Invoice
Factory Issued Data Sheet
Factory Issued Identification of Conformity
Current Dyno Test Report
Various Maintenance Invoices
Original Tools
Fitted Car Cover
Hexagon Classics post sales preparation will include a fresh service and all safety checks completed and carried out by an official factory Porsche Service Centre prior to handover.

Without doubt a unique opportunity to acquire one of the rarest and most sought after contemporary 911 models ever produced.

Available for immediate inspection at our central London Showrooms.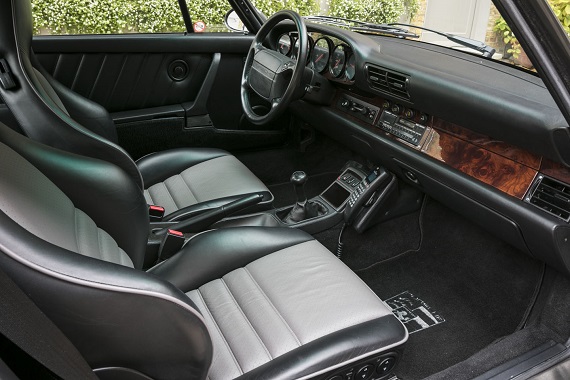 One part of this is clear: they have suggested this Turbo 3.6 was from the final run of 93 Turbo chassis that Porsche gave to the Exclusive department to produce the Turbo S. Most of those came with the flatnose borrowed from the 968. A much smaller number retained the 964 front end rather than the flatnose – a total of 17 in all – and the seller suggests this is one of those 17, though to my knowledge all of those were destined for the US market and this one is from Europe. (A quick aside on the '94 numbers since the ad description is off: there were 93 total built of which 27 were RoW models featuring the Flatnose, 39 were Flatnose built for the US, 10 were Slantnose for the Japanese market, and 17 were the US package cars with the standard 964 front profile.) We've featured a package car before and they are fantastic, but as should be immediately clear a 1993 model would not be one of those cars and there are a number of other features to the package car this Turbo lacks. So this isn't the proper Turbo S, but there were some cars that began as a standard Turbo 3.6 and had the X88 engine option that brought them to Turbo S specs. A few of these were also fitted with the X99 package, the rear air inlets that we see on almost every Turbo S I can recall. This Turbo 3.6 clearly lacks the rear air inlets and the option sticker does not list the code X88 that should designate the 385 hp engine. Now, I have never seen the actual option sticker for a Turbo 3.6 with the X88 package so perhaps it isn't so obviously listed. Furthermore, this Turbo was sent to Porsche Exclusive which simply gives a generic option code stating that it has options that are unique to this vehicle. Perhaps one of those was the engine package. I don't know for sure, though I wouldn't rule it out. I do think we can rule out this being one of the end-of-production Turbo S that were produced, but after that there is some legwork to be done. This is no doubt a unique 911, we just need to determine how unique it might be. Any ideas?
As usual with these cars, the best information on the Turbo S and X88 engine Turbo 3.6 can be found at http://www.flachbau.com/.
-Rob