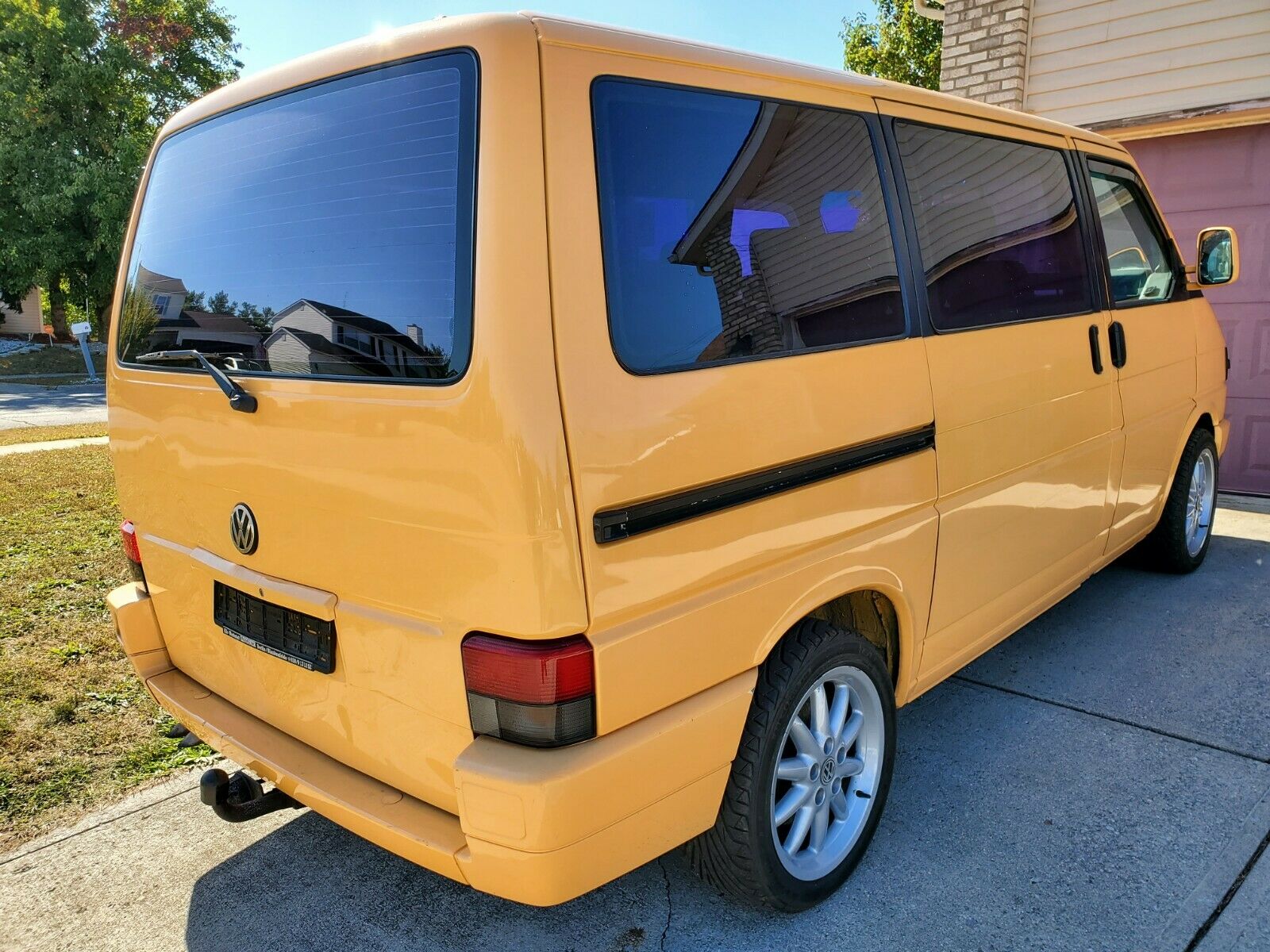 Update 12/3/19: This Caravelle syncro sold for $11,600
It's hard to fit into the regular lineup all of the various neat German vehicles from diverse brands, so admittedly I end up focusing on ones that really spark my interest. That leaves big gaps in coverage, and one such gaffe is certainly the Volkswagen T-series. The first three generations were based upon the Type 2 platform and rear-engine configuration, which left plenty of space for a slab-sided apartment on wheels. But Volkswagen continued the feat with the T4. The engine moved to the front and was water-cooled, transverse and in most applications driving the front wheels. But like the T3, the T4 was also available in syncro configuration with all-wheel drive.
However, while the T3's viscous coupling sent power forward with twin locking differentials for each axle, the T4's front-drive transverse layout meant that it needed to employ a system similar to the Golf platform. That meant a viscous coupling to transfer power rearward when slip was detected, with some T4s also having a manually locking rear differential to assist in really sticky situations. While not the go-anywhere mountain goat the T3 could be, it was a neat configuration not offered in the States. Further, you could get a plethora of engine choices at the same time the EuroVan was solely offered with the 2.5 inline-5 gas motor. Case in point is today's 2.4 liter AAB. While not more powerful than the 2.5 gas motor, the 10 valve inline-5 diesel was a lot less thirsty and offered 77 horsepower and 121 lb.ft of torque at low revs. Here it's hooked to a manual transmission and already imported to the U.S.: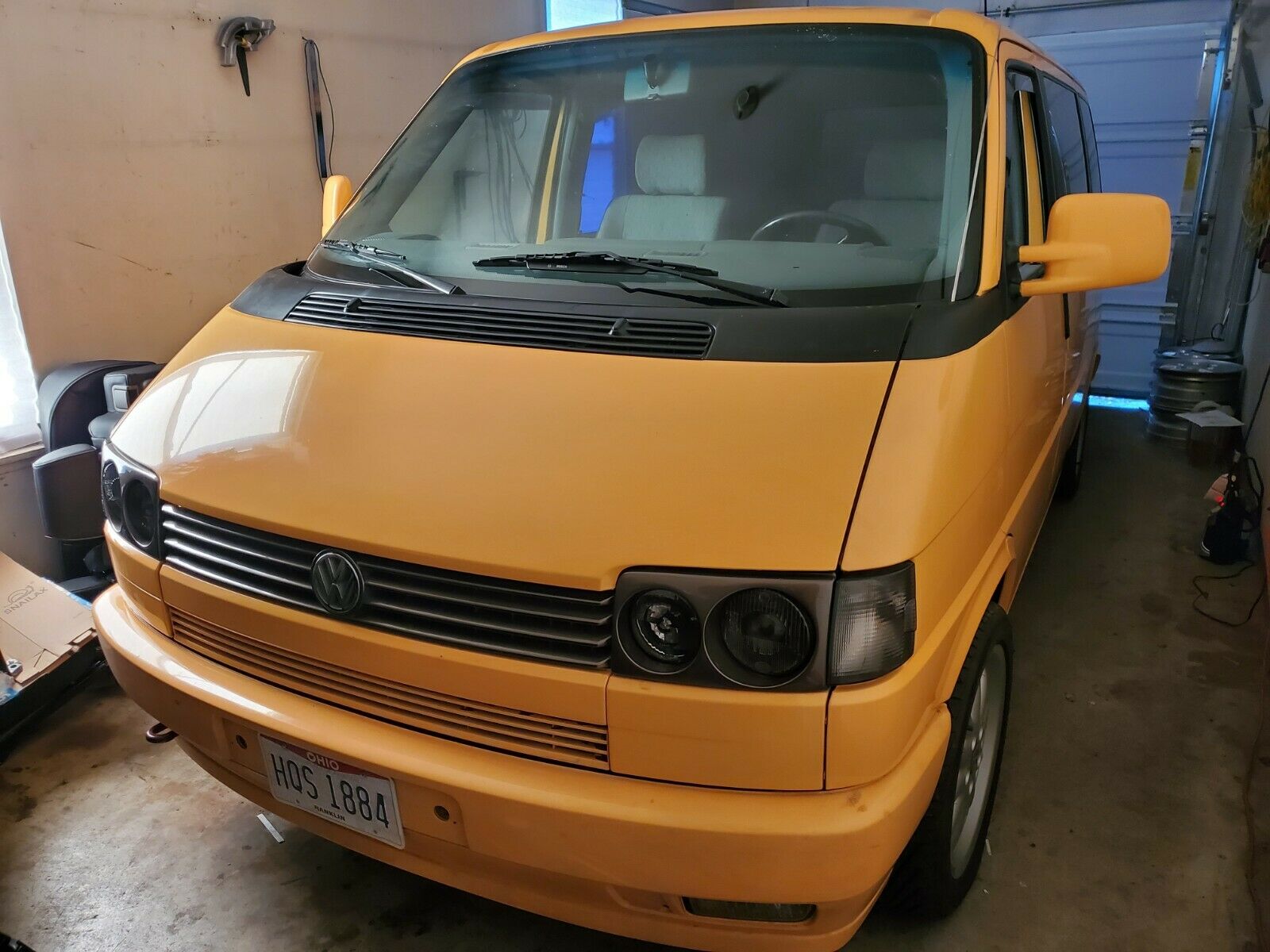 Year: 1993
Model: Caravelle syncro Diesel
VIN: WV2ZZZ70ZPH065506
Engine: 2.4 liter inline-5 diesel
Transmission: 5-speed manual
Mileage: 160,000 mi
Location: Columbus, Ohio
Price: No Reserve Auction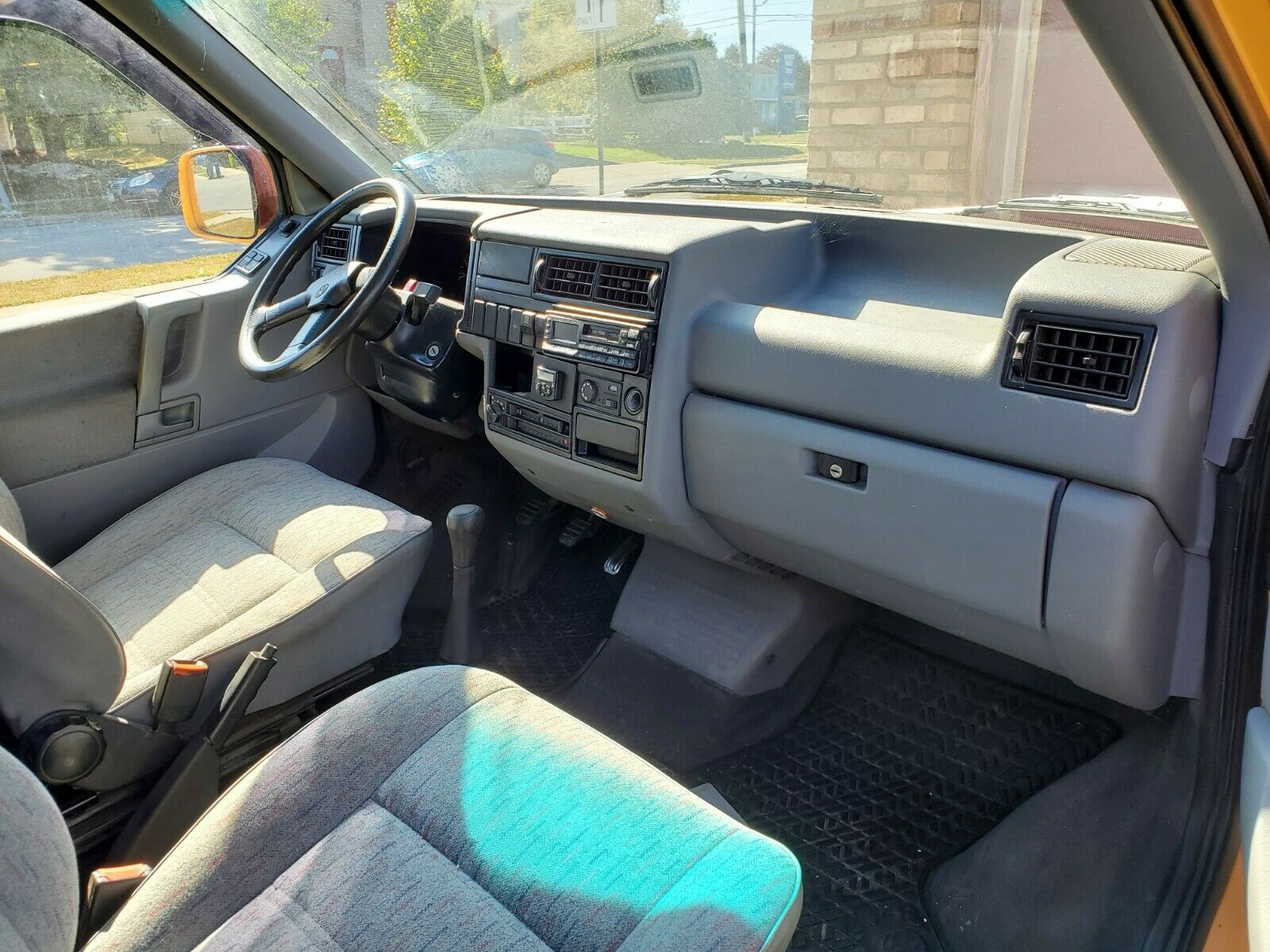 Euro import, 5 SPEED DIESEL VW SYNCHRO (AWD) condition, this is a $17k-$35K vehicle at the very least.
US REGISTER AND INSURED, CLEAR OH TITLE, LOCATED IN COLUMBUS, OH

5 Speed, 2.4 Diesel 5 Cylinders (most of them are 1.9 4 Cyl) AWD
153k original miles (240k kilometers)
INVESTMENT GRADE ! NONE AVAILABLE IN 5 SPEED DIESEL AWD IN CONDITION FOR SALE ON EBAY
SAVING ARE BRINGING CLOSE TO ZERO RETURNS, THIS IS A GREAT INVESTMENT FOR A SMALL BUDGET

Shift flawlessly & smoothly in all 5 gears, runs like a charm, engine runs like a swiss clock. NO MECHANICAL ISSUES.

Since imported vehicle VIN#WV2ZZZ70ZPH065506 Instruments are in Metric still, imported legally trough bonded broker.

Runs and drive excellent, no smoke, EXCELLENT. Please bring your mechanic have it inspected!
Many upgrades and proper maintenance are done.
New PZW lights (High-intensity headlights), no dash cracks, the clutch is excellent.
Maintenance was done less than 3000 miles ago:

Timing Belt new, Alternator and belt, VW Original battery, Glow plugs, Oil change and filter
And more…

It can be driven nationwide.

Serious only, please.
Tires kickers and broken dreamers please keep looking.
Note: The VW is currently in Columbus OH in my garage, will gladly pick up at the airport and arrange with DMV transport plates to drive back home if necessary.

US Title/reg, clear no liens.
Driving it daily so the mileage is going up a little.
NO DECEPTION ! THIS IS A FANTASTIC BUY

Vehicle is sold as is condition, no warranty expressed or implied. A mandatory non refundable deposit of $300 is required at the end of auction, the remainder will be paid via bank wire transfer within 7 days (TD Bank, Wells Fargo, Bank of America, Chase), or remainder cash if picking up. A $220 is charge en sus the auction to cover the incidentals.
Pick up within 7 days or prior written agrement, after that will have to store it at $175 a month.
Please ask questions, do not assume anything.
Thank you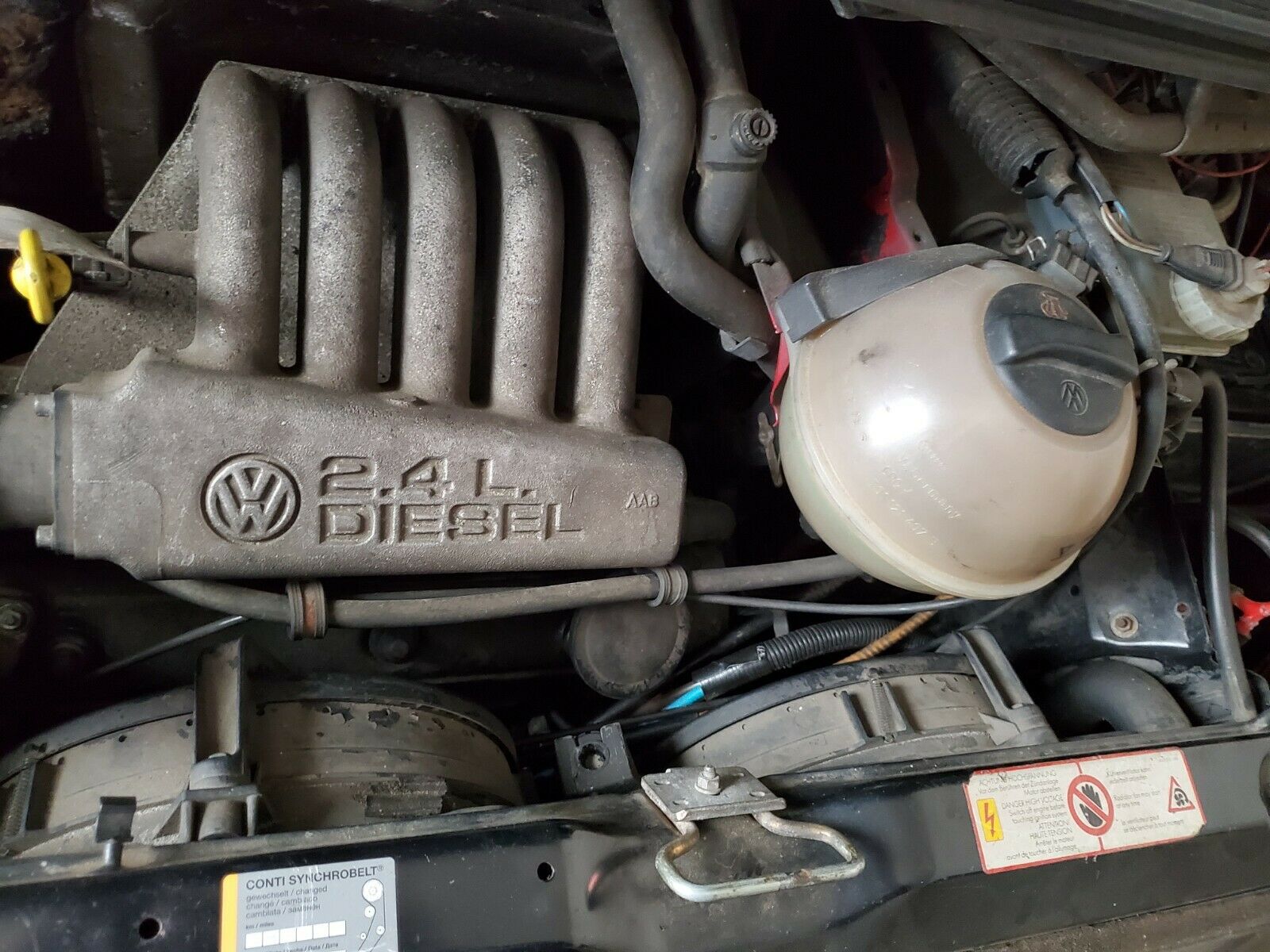 This T4 certainly looks pretty clean, with gleaming paint work, Audi Boleros and a tidy interior from what's shown. The light conversion should up the ante in output, too. The color appears to be Ginster Yellow, but I do have to wonder if it's original as it looks just a bit too good outside. And, though the seller claims high vehicle value, they unfortunately don't do a great job showing rust-prone areas or a complete picture of either the outside or especially the inside. The AAB also isn't a particularly desirable engine; it's loud, not particularly powerful and though you can squeak 30 mpg out of this configuration it lacks the punchy thrift of the later TDis which have the best part of double the power. That could probably be dismissed if it was a Westfalia/Weekender camper version, but that's missing too.
On the plus side, it really does look fairly tidy as it sits, it's got a valuable set of wheels attached and the auction is no reserve. Right now, bids are hovering around $4,500. Compared to the last Euro Caravelle Diesel I looked at, which was asking over $50,000, this one seems like a bargain though it's lacking the better motor and pop top. If it stays under $10,000 and is as clean throughout as what's displayed in the photos, it could be a fun buy to turn heads at the local show.
-Carter