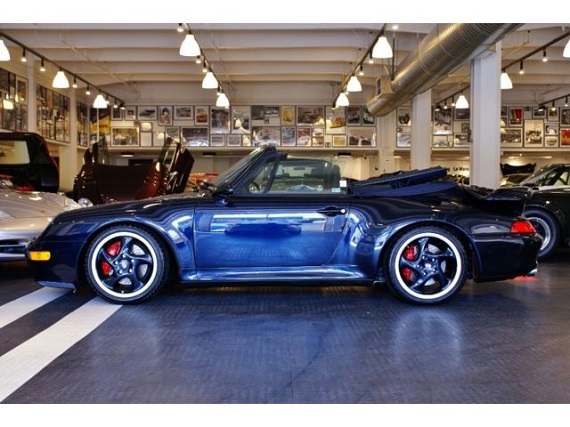 This car doesn't exist. Or I should say, this model doesn't exist, since the car clearly does. Porsche never officially produced a 911 Turbo Cabriolet for either the 964 or the 993 models and while such minor inconveniences as non-existence rarely dissuade certain well-heeled Porsche enthusiasts from asking the factory to make one anyway, this car has not come about through those means. Rather this one came about through many hours of labor and a thorough dip into the Porsche parts bin by an owner who simply wanted to improve his 911. Earlier this week Carter presented another take on how someone might arrive at a 993 Turbo Cabriolet and while that car's development appears to have been somewhat, shall we say, unfocused, this build seems well thought out and carried out with a good deal of care. For starters, it began life as a 1995 911 Carrera 4 Cabriolet, which makes for much better starting material than a 1977 911S Targa. Add in a 993 Turbo engine, widened rear bodywork, upgraded suspension, Turbo brakes, wheels, and sport seats and you have something fairly comparable to how we'd have expected a 993 Turbo Cabriolet to look and perform had Porsche chosen to produce one. With more than 124K miles on the clock this isn't a garage queen only shown at special events, but rather an enthusiast's dream made reality that is frequently enjoyed.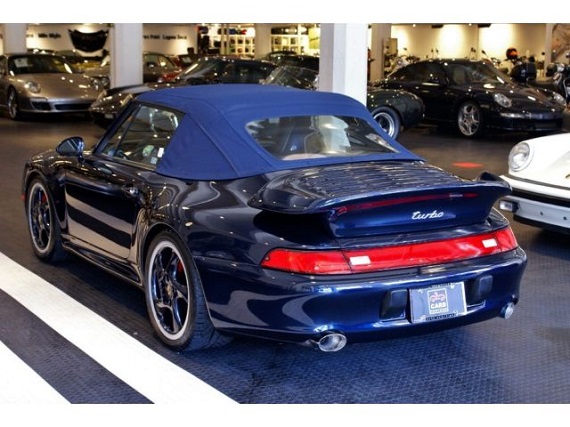 Year: 1995
Model: 911 Turbo Cabriolet
Engine: 3.6 liter twin-turbocharged flat-6
Transmission: 6-speed manual
Mileage: 124,146 mi
Price: $105,700 Buy It Now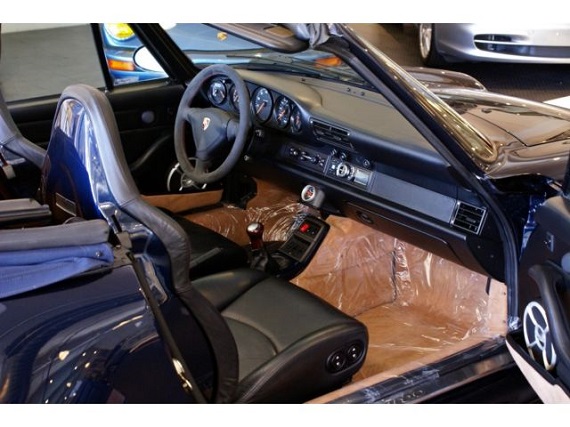 There isnt much we can say about this incredible 1 of 1 custom built 993 Turbo Cabriolet that Excellence Magazine hasnt covered. Below is a link to the December 2012 (issue # 206) article that describes the construction of this Porsche in great detail. http://www.excellence-mag.com/issues/206/articles/turbo-cab#.Vd4QjJenxVcThis build was completed using almost entirely OEM Porsche parts. For those of who are too busy to read the entire article we have included a basic breakdown of this epic cars DNA.Started life as a 1995 Carrera 4 cabriolet:- Midnight blue paint (original factory color)- Real 993 Turbo engine installed by TurboKraft in Arizona (lager compressor wheel from K24 unit)-Steel body turbo conversation (Quarter panels, and rockers purchased new from Porsche)-500hp rating-Original 993 C4 transmission & short shifter kit (rebuilt)-RS touring flywheel-Bilstein PSS-9 coil-overs-Adjustable Rear-Toe-links-993 Turbo brakes-18 993 Turbo wheels-Hardback 993 sport seats (hardback is midnight blue)-996 GT2 RS steering wheel-993 Turbo mufflers modified to improve airflow & exhaust note. There is far too much information about this vehicle to list here so please read the Excellence Magazine article in its entirety or call us for more information.The current mileage reads 124K but please keep in mind that is mileage on the chassis of the donor car. The mileage of the 993 Turbo engine is less than half the chassis mileage.Car comes complete with service records that completely document the build, extra keys, owners books, Magazine placard and a clean Carfax history.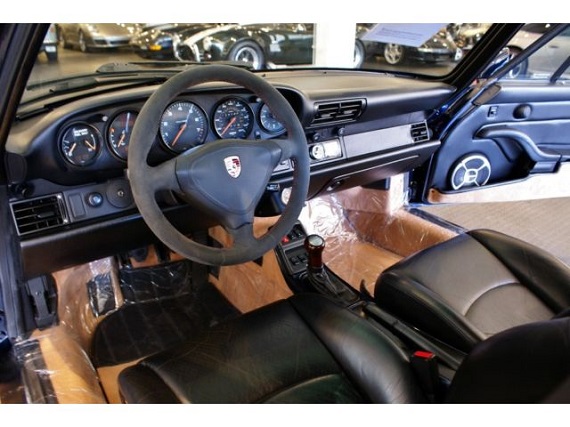 As the ad states, this 993 was featured by Excellence Magazine back in 2012 and for full details on the car and the build I would suggest checking out that article (also, it has much better pictures). All together it makes for a very interesting machine that is extremely rare, though its rarity exists in the manner of many well done modified Porsches. Were it a full factory build then the price would be astronomical given the current 993TT market. As it stands, I'm frankly unsure what the right price is. The asking price here seems about where we'd expect a 993 Turbo Coupe to be priced given the mileage, but that's for what really is an entirely different beast. This will come down to the desire of a particular buyer for a car that Porsche never produced. There surely is a market for that and this is a wonderful example of that sort of build. It would not surprise me if this sold almost immediately nor would it surprise me if it was on the market for a few months waiting for the right buyer to come along. Either way, I'm sure it will sell and a new owner will have a 993 most never even knew existed.
-Rob