I'm always curious when colors change within a marque, especially when they are colors that I particularly like. Here we have an Iris Blue 1996 Porsche 911 Carrera 4S, located in Indiana, with 39,975 miles on it. Iris Blue is a color that we're fairly familiar with here as it's been seen on the 3.2 Carrera quite a few times. It's a really nice shade of blue that veers to the lighter end of the spectrum and one of my favorites available during that time. As should be quite clear, the shade of Iris Blue available for the 993 was quite different, no longer a light blue, but now a dark blue that shows hints of purple when under direct light. The pictures here bear that out fairly well. The full name of the color is Iris Blue Pearl and it is that pearl effect that gives the color is shifting possibilities. I will admit, as someone who loves the original version of the color, that it looks stunning here and seems to work particularly well on the curves of the 993.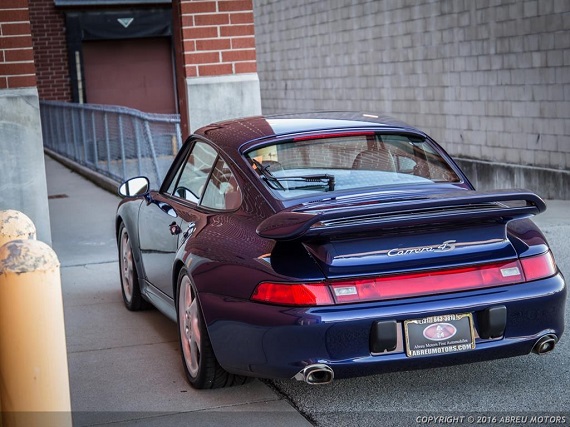 Year: 1996
Model: 911 Carrera 4S
Engine: 3.6 liter flat-6
Transmission: 6-speed manual
Mileage: 39,975 mi
Price: $87,895 Buy It Now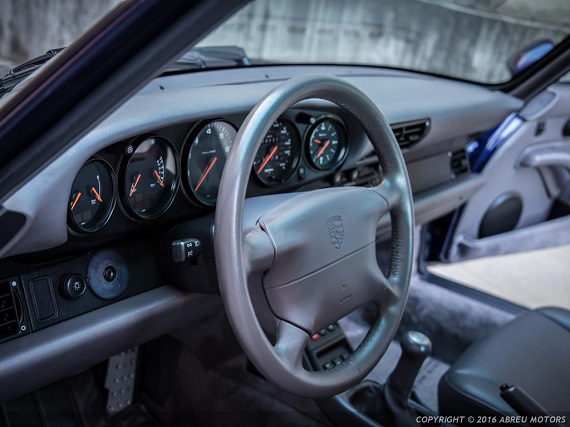 Iconic 993 Carrera C4S Coupe, only 39,975 miles!

The 993 has a reputation as an absolutely superb driver, with incredible performance features, both in acceleration and de-acceleration, to tight cornering and seamless, nimble gear transitions, not to mention the infamous body-style and design that has had a timeless appeal. This model was acquired from California and is one of the nicest examples we have had the pleasure of knowing. Thanks to a supremely meticulous owner, this 1996 C4S is a solid Condition 2, and worthy of any collection.

This stunning Iris Blue Metallic captivates the eye with its rich and lustrous depth, a true beauty when reflecting the beams of the mid-day sun. A very rare and desired color for a coveted model, becoming increasingly harder to find on the market today. Gray leather interior is flawless.

Factory color code Iris BlueMetallic(L39V)/Grey Leather(TT),

2 owners, no accident history, crystal clean Title,

Aero-Kit 2 addition

Front fascia/fenders are covered in a protective clear bra

This car has been thoroughly serviced – over 8 years, service totals over $20,000. Complete with records/ledger.

Service in May/2015 at 38,350 miles includes:

4 new tires, front/rear brakes & rotors, in addition to all regularly scheduled maintenance

*Completed "California Emissions Inspection" this July, 2015

Dual power seats,

Sunroof,

Climate heat/air conditioning,

Full power equipment, Windows, locks, mirrors,

Heated seats,

Porsche CDR-210 audio system,

Dash, seating, carpeting, headliner are all in like-new condition,

Sits on 4 coil-overs,

New factory suspension components

Engine/Transmission in superb condition – no modifications

Build Label# L39V : TT C02,139,159,425,445,454,650,688

Comes with all original books, build labels, stamps, tools, compressor.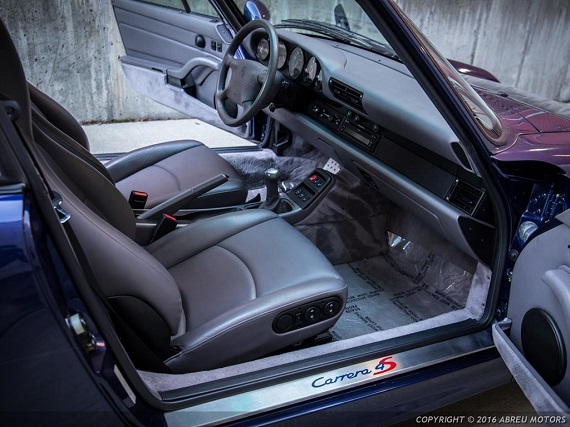 The condition of this C4S looks quite good and given its very low mileage I would expect it to attract a good deal of interest given that the price doesn't even seem terribly absurd. It wears the aero kit, which I think really adds a healthy does of aggressive presence to any 993, but if I'm reading the ad correctly it sounds like the aero kit was a later addition and not original to the car. Buyers will have to decide how significant of an addition that aero kit is – either positive or negative. Otherwise, there isn't much more to comment upon. This is a dealer that typically does a high degree of touching up to their pictures so it definitely would be worthwhile to assess the car in person, but it does present well so I'd hope everything is as it seems. The C4S has shown pretty nice values among the 993 line so while this one is by no means priced low I do think it'll have some takers.
-Rob