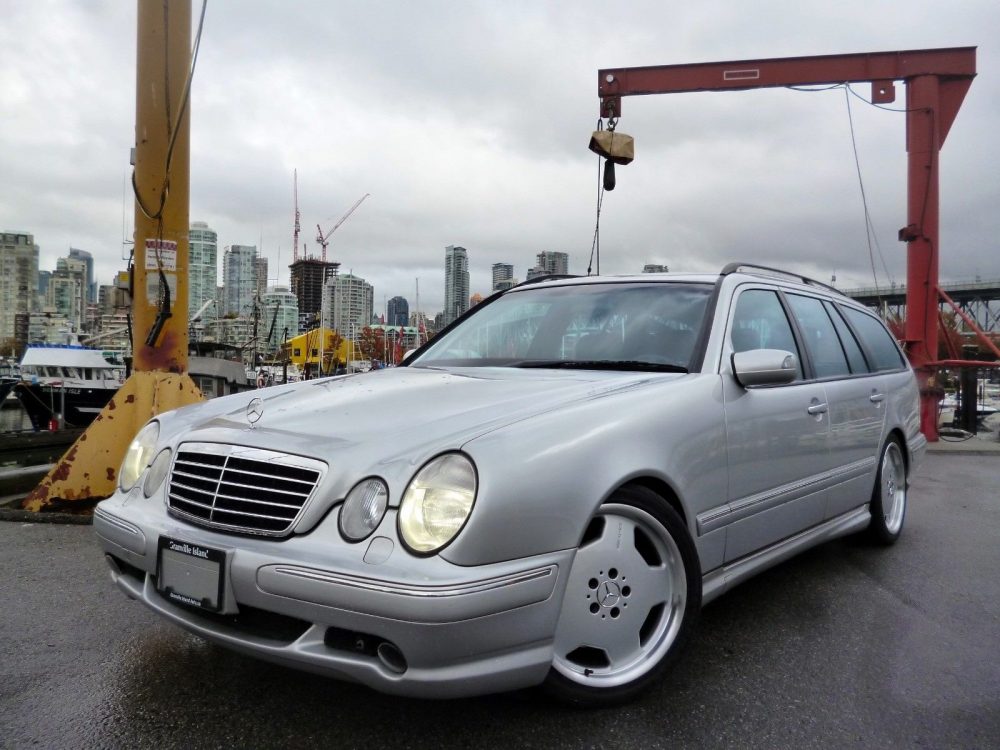 A little over a month ago I looked at a 1999 Mercedes-Benz C43 AMG Estate that, thanks to Canada's 15-year import law, was ready to be enjoyed by our friends to the north. Today, I have big brother E55 AMG Estate that looks to be literally fresh off the boat from Japan. This 2001 shows 47,000 miles and looks to be missing the most important W210 characteristic: rust. Although much like the W211 AMG Estate, you'll pay a premium for that extra cargo room.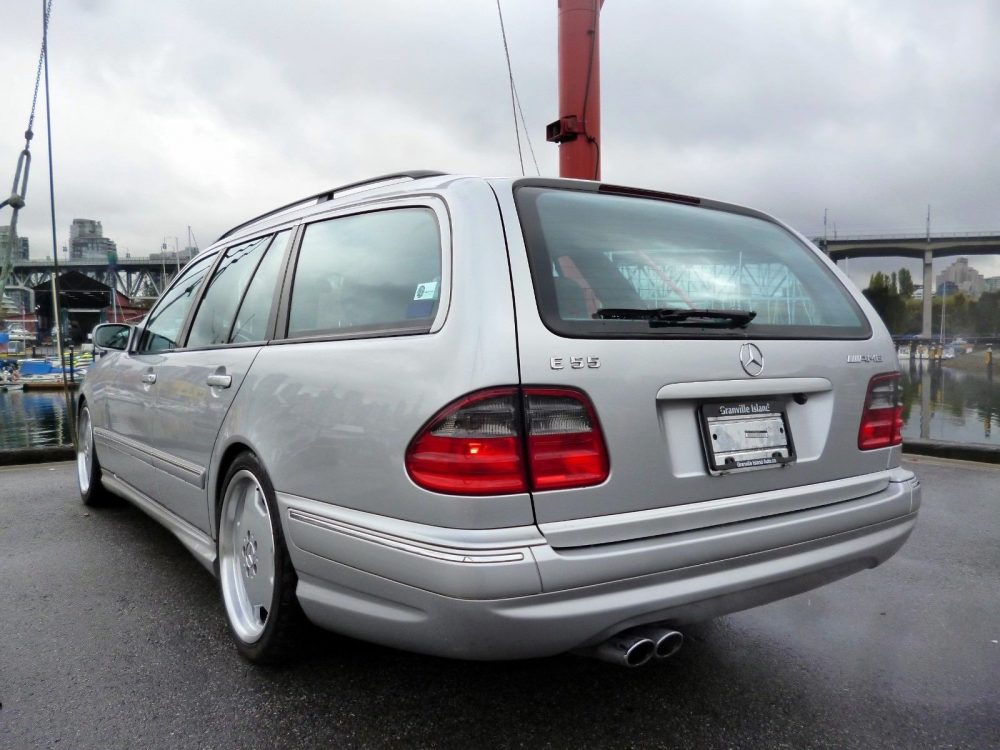 Year: 2001
Model: E55 AMG Estate
Engine: 5.4 liter V8
Transmission: 5-speed automatic
Mileage: 76,180 km (47,336 mi)
Price: Reserve Auction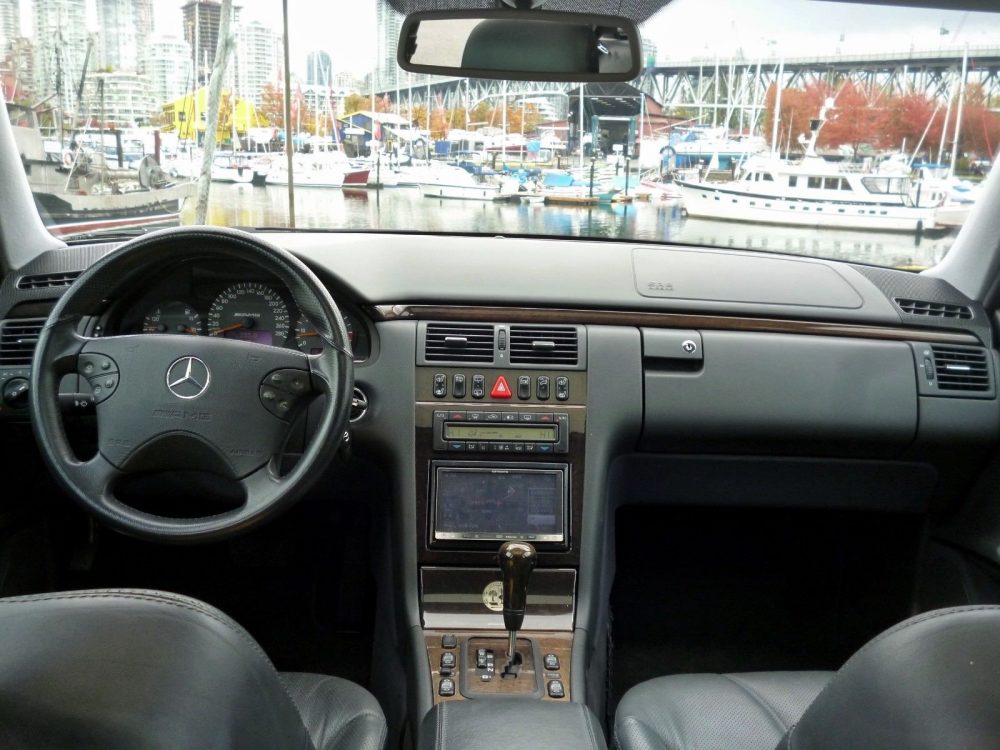 This rare, Ex-Japan W210 Mercedes-Benz E55 AMG Wagon comes well equipped with a brilliant silver exterior, black leather interior with wood trim accents, heated and power adjustable front seats, dual zone climate control, air conditioning, power sunroof, power windows, keyless entry, steering wheel mounted audio controls, backup camera, 18″ AMG Monoblock alloy wheels, and has a 5.4L V8 engine producing 349hp / 391ft-lbs paired to a 5 speed shiftable automatic transmission

Bid with confidence, this car is absolutely immaculate. We have thousands of dollars worth of invoices on reconditioning and servicing from the previous owner. Truly a time capsule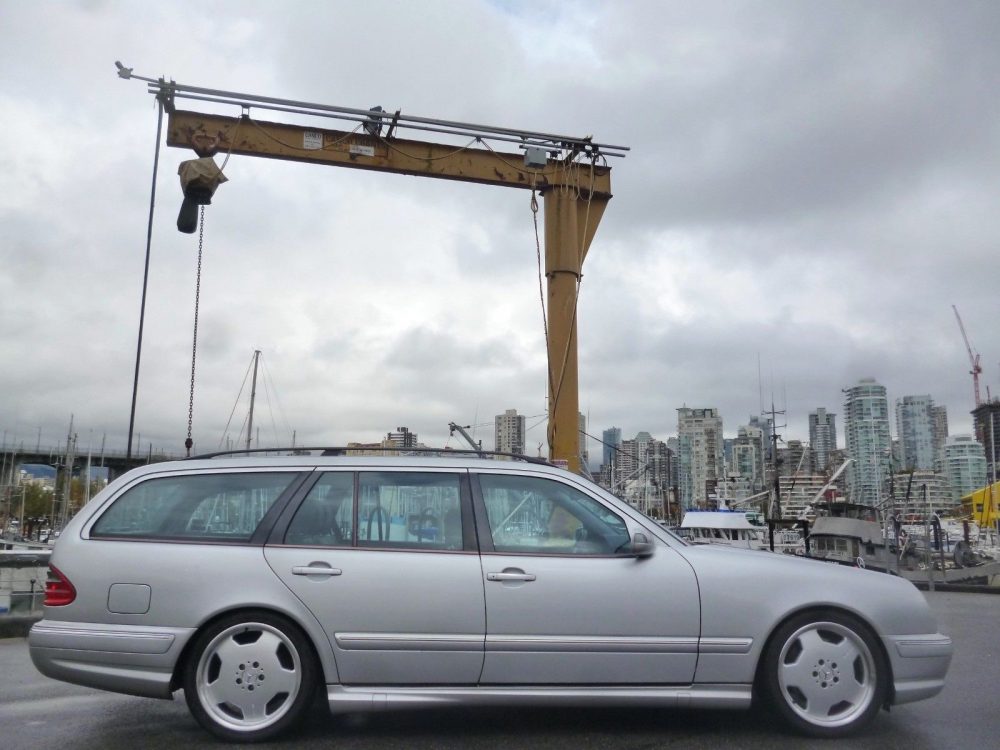 This a really nice example of a W210 E55 AMG Estate. It's not perfect as in typical AMGs that come from Japan fashion, they are plastered with fake AMG logos and wood that are made to look factory, but end up looking cheesy. I really dislike the headunit that was swapped in as it looks out-of-place and it is in Japanese as well. Outside of those little things, I can't complain about much. This is a really rare wagon as production for these were only around 1,700 that were distributed around Europe and Asian. A fun little fact is that AMG actually made 15 of these in 4Matic which led to some odd-looking badging on the back of the hatch. Good luck finding one of those for sale.
I did a little digging and found that this car is listed on the selling dealer's website for $21,980 CDN which is around $16,790 USD. That really doesn't mean anything to US buyers since we can't get our hands on one of these for a number of more years, but it is interesting to compare the premium you'll pay compared to the sedan. A nice facelifted E55 AMG sedan will run you around $10,000 now depending on mileage, so this wagon doesn't seem to be priced too crazy. You figure there has to be some profit built in simply for what it took to bring to Canada, so maybe that $22,000 CDN isn't that bad. I suspect this one won't last long at all.
– Andrew