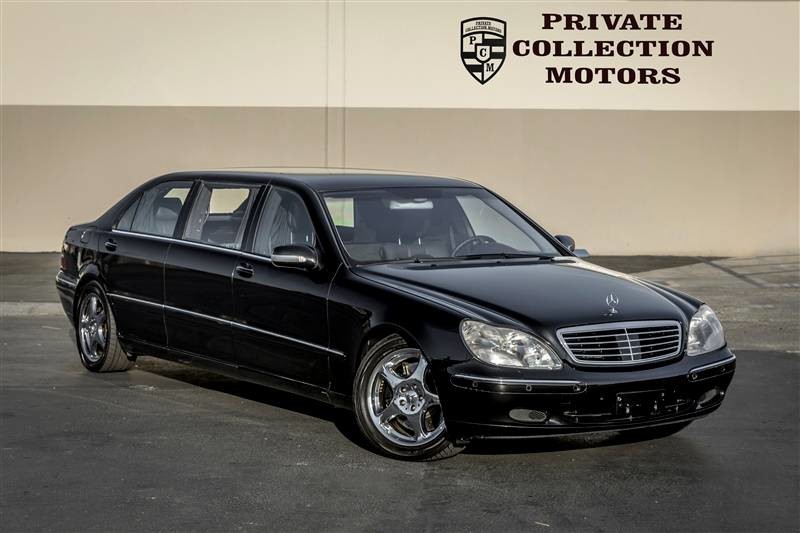 After looking at my favorite Pullman ever, I thought I'd circle back and check out another one of my favorite Pullmans that is still for sale. This W220 has a new price of $46,888, which is a $13,000 reduction from the price a year ago. Find it here. 
Finally. After so many times looking at aftermarket limousine conversions (with questionable build quality) on Mercedes I finally found a real factory Pullman. This is a 2001 S500 Pullman six seater with the AMG Advanced Mobile Media System. And here this whole time you thought AMG was just good at making cars that burn tires. This is a fully mobile office computers, desks, live televisions, DVD players and 43 kbps internet service. Well, maybe stick to your smartphones for the internet service. But this car is a great example how well a limo can be done with the right materials and planning. Lets check it out.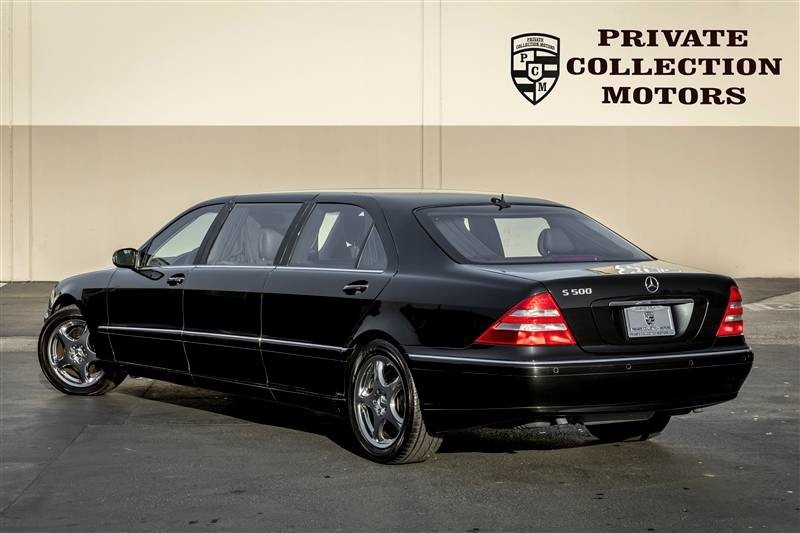 Year: 2001
Model: S500 Pullman
Engine: 5.0 liter V8
Transmission: 5-speed automatic
Mileage: 34,416 mi
Price: $46,888 Buy It Now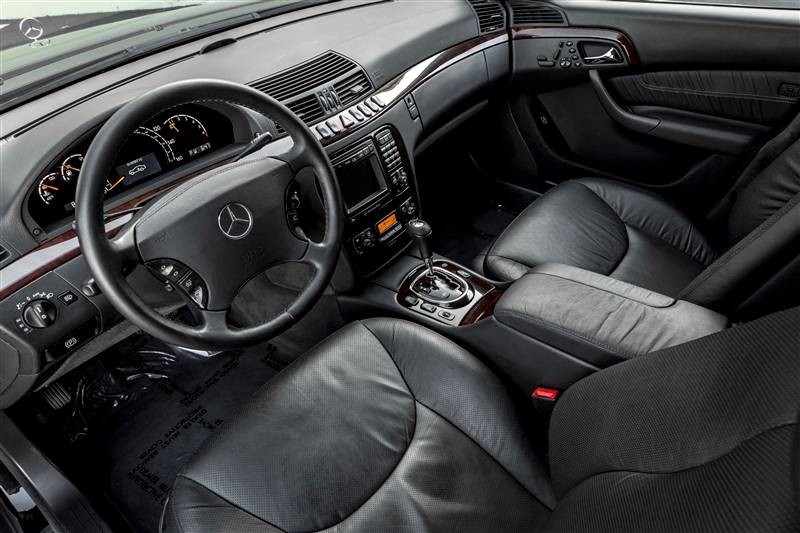 With this flagship model derived from the S-Class, the Stuttgart-based automobile brand is continuing a tradition of manufacturing prestige limousines which dates back over 70 years. The Mercedes-Benz S-Class Pullman can easily be distinguished from the long-wheelbase version of the S-Class by virtue of a wheelbase which has been extended by another full metre. The suffix Pullman alone is enough to give away the noble character of the new limousine: back in the mid-19th century, the American industrialist George Mortimer Pullman from Chicago in the state of Illinois made a name for himself by building lavishly equipped train carriages. Ever since then, the name has been synonymous with maximum comfort on wheels.

AMG have taken the Pullman a step further, and transformed it into mobile office. The AMG Advanced Mobile Media System, as it is called, comprises a high-performance, top-class integral solution which will allow business people to have all the usual facilities of an office at their disposal even when they're out on the road.

This high-end system is based on a specially developed, high-performance AMG in-car PC. Thanks to an HSCSD (High Speed Circuit Switched Data) modem or a GPRS (General Packet Radio Service) modem, the compact computer ensures high-speed internet access, allowing passengers to surf the web or send and receive e-mails during the journey. The transmission rate of 43 kbps guarantees quick access to the World-Wide Web.

Large 10.4 monitors are available for surfing the internet. The flat monitors swivel out of the multimedia console at the push of a button. The separate keyboard is neatly stored away in a ruffled pocket positioned in front of the seat cushion and can be placed on one of the two tables available for working when in use. The monitors can also be used for watching the television programmer currently selected or even the latest movies thanks to the DVD player. Thanks to a second TV tuner, different programmers can be watched on the monitors at the same time.

As well as housing monitors, notebooks and tables, the console also contains the AMG in-car PC and features a separate power supply. The high-power rechargeable battery allows occupants to make full use of the multimedia system for about 30 minutes after the engine has been switched off.

Mercedes-Benz S-Class Pullman models leave the factory equipped with AIRmatic air suspension, the ESP electronic stability program and a five-speed automatic transmission.
For all the hate I spew towards the W220, this is a great looking car. Even it being a pre-facelift 2001 model year, I dig everything about it. Maybe it is because it only has a little over 34,000 miles and isn't totally worn out yet, but everything just looks different about this car. The leather looks better, the wood looks better and even the body looks better. In the rear of this car is where everything comes together. Everything is where it should be and functions as it should. Yes, all this technology is horribly dated and an iPad could do everything that this car does, but I like to think of it when this car was new. 2001 was a good 17 years ago and this is what it took to have an office on wheels. Mercedes and AMG nailed it on all fronts with this car.
So what does this cost? Well, those 17 years ago this was a $500,000 car. Yes, insanely expensive, but you have to think of it in terms of production. If three of four people who make well over $100,000 can work in the back of this thing in while traveling, then it is totally worth it inside of letting those people sit and stare out the windows. The price today is actually not too crazy in my eyes at a little under $60,000. I guess if you really wanted to you can still use this car as an executive hauler and tuck the screens away to use tables and get just as much done.  It for sure is cheaper than a new Sprinter but then again this is a 17 year-old W220 S500. The last thing you need is a car full of people heading to an important meeting and the Airmatic system fails. Either way, cool vehicle and I'm glad it exists.
– Andrew