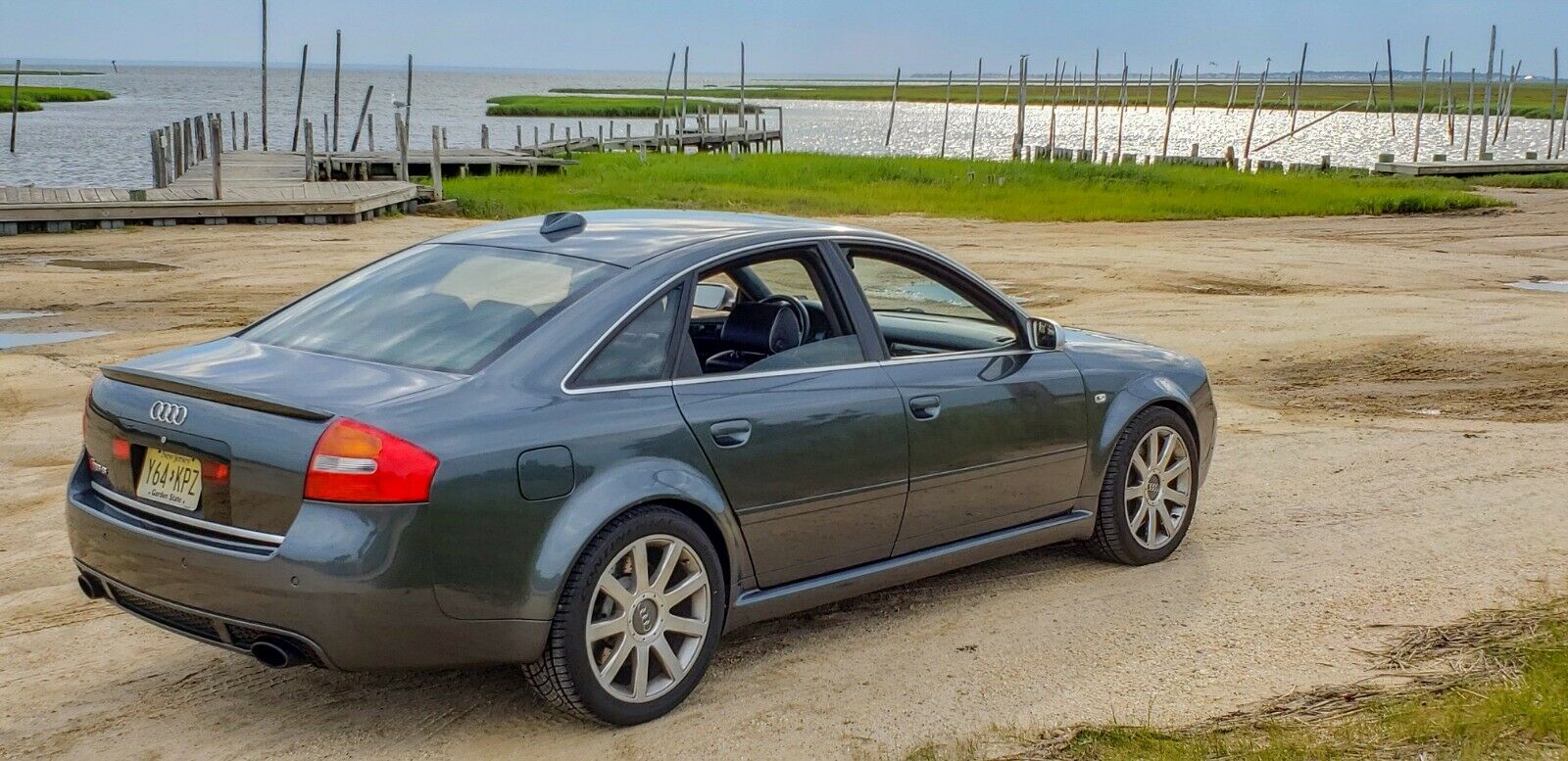 Update 7/27/19: The asking price of this RS6 6-speed is down to $20,000 today from the $28,500 original price.
From the C3 chassis we looked at the other day to the launch of the C5 was just a scant 7 years. The styling was evolutionary and instantly recognizable, but the C5 really broadened Audi's offerings in the U.S. market. Building on the success of the A4, Audi launched not only the normal sedan and wagon offerings, but the return of the S6 and introduction of new 2.7T performance models, along with the Volvo-challenging Allroad.
The pinnacle of the C5 was, of course, the twin-turbocharged all-wheel drive version you see here built by Audi's skunkworks, quattro GmbH. With assistance from VAG-owned Cosworth Engineering, the resulting BCY motor cranked out a peak 444 horsepower at 5,700 rpms and an impressive 415 lb.ft of torque between 1,950 rpms and 5,600 revs. The body, brakes, wheels and suspension were all upgraded by quattro GmbH too, with plenty of technology incorporated to transfer the power to the ground and keep the RS6 planted. Though it was saddled with an automatic transmission only and tipped the scales at a massive 4,050 lbs, the tenacious all-wheel drive, computer programming and massive power resulted in a 4.4 second 0-60 sprint, besting both the contemporary M5 and E55 AMG. The RS6 had 14.4″ front brakes, dynamic ride control, and meaty 255-section Pirelli P-Zeros to control that speed. Lowered ride height, flared sills and fenders and giant gaping intakes and exhaust along with signature honeycomb grills set the stage for how these cars have looked since.
The first RS model imported to the U.S., Audi expected to sell 860 at nearly $80,000 a pop. But they didn't. They sold more, such was the demand, with an estimated 1,200 making the journey to North America. But as with basically all complicated, fast older German cars, they're not worth what they were new, making them very tempting in the used marketplace. And there are a lot of used RS6s out there to choose from at any given time – currently, there are 10 available just on eBay. The thing is, you should avoid most of them. But not this one: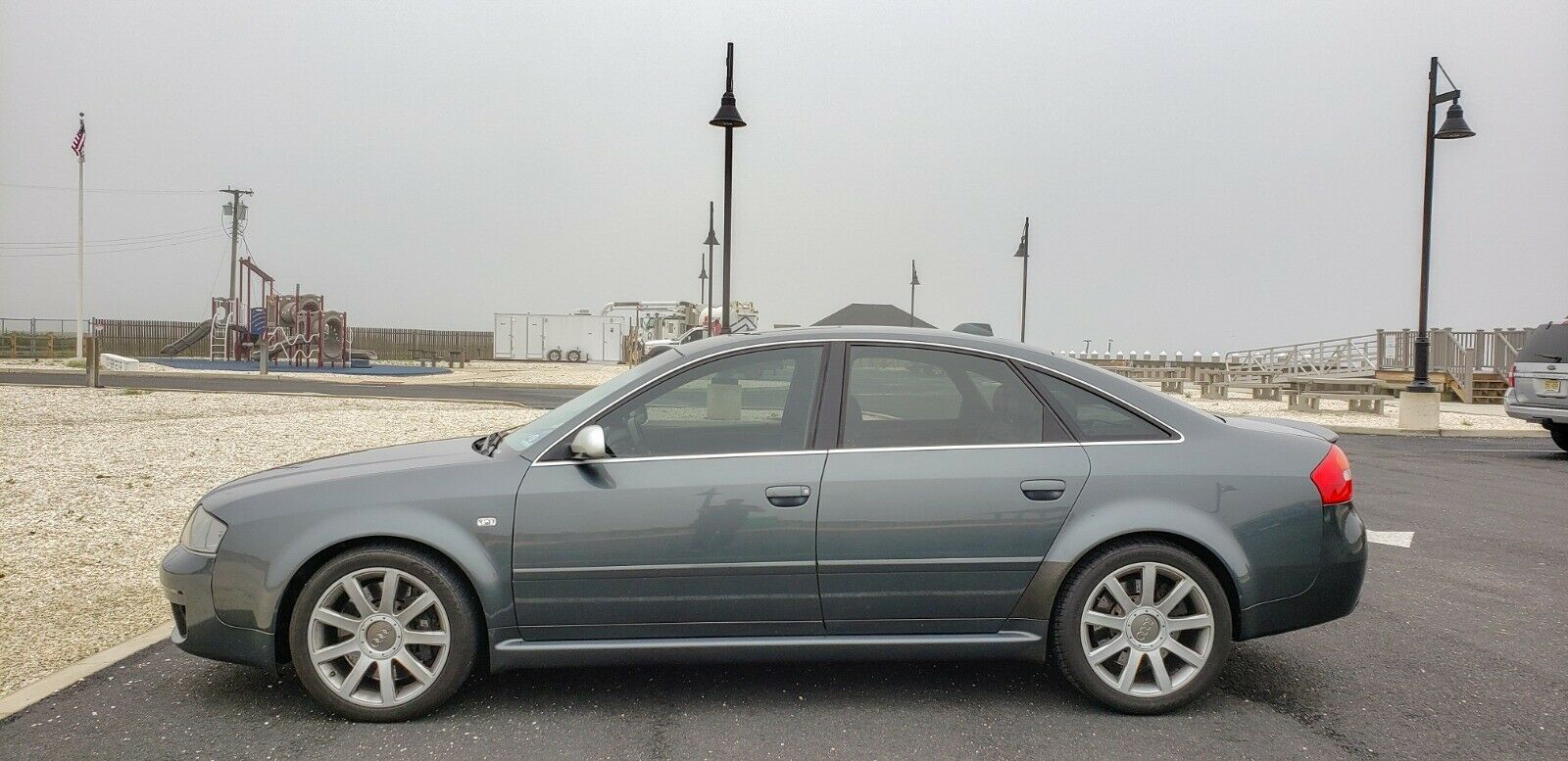 Year: 2003
Model: RS6
VIN: WUAPV64B83N905594
Engine: 4.2 liter twin-turbocharged V8
Transmission: 6-speed manual
Mileage: 92,500 mi
Price: $20,000 Buy It Now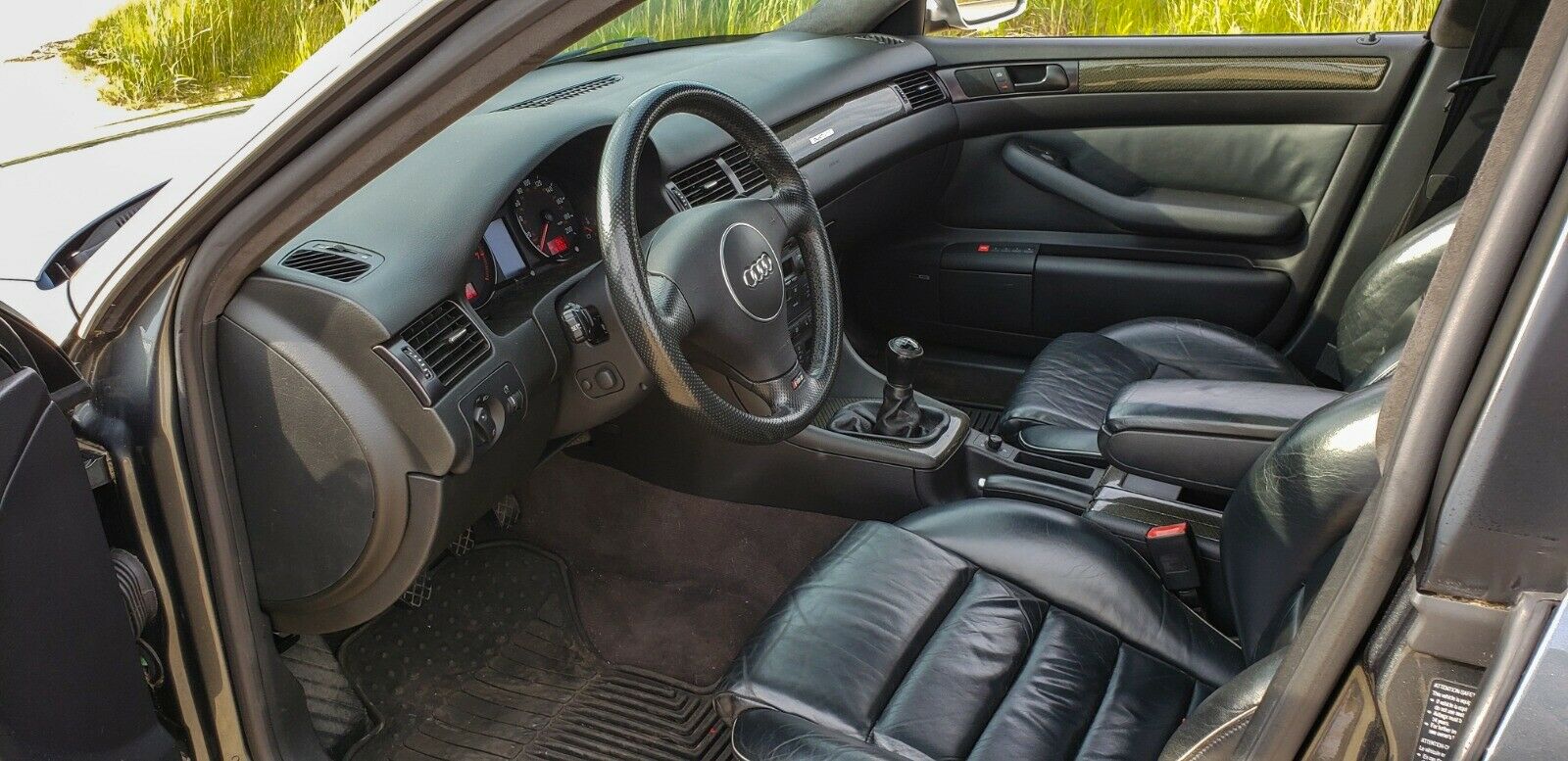 So a "little" about the vehicle. It's a Daytona Grey RS6 that I purchased from a long time friend down in Georgia who bought it back in 2013. It was pampered under her care until she finally decided to sell it in 2018, which is where I came in. I flew down and drove it almost 950 miles from Atlanta to South Jersey, and the car performed flawlessly. At this time the valve covers and plastic coolant pipe in the oil cooler (bufkin pipe) were leaking so I thought what better time for some preventative maintenance…

All of the following were performed at 89,500 miles:
-Complete Timing Belt Kit and Coolant Flush
-Oil Change and Filter
-Valve Cover Gaskets
-Replaced Driverside Cam Chain Tensioner
-Bufkin Pipe replacement with new oil cooler seals.
-Both Front Wheel Bearings

As I was preparing to reinstall the engine I was considering beefing up the existing auto trans, but decided a manual conversion was the way to go. So I saddled up and bought an entire 2000 Audi A6 to serve as my donor. Parts list related to the conversion…

-01e Transmission with 131,xxx Miles, Syncros are Perfect!
-Transmission fluid flush with LiquiMoly 75w-90
-SteveKen Manual Conversion Kit. Included Flywheel, Starter, Adapter Plate, and all hardware.
-Ringer Racing Stage 4+ Clutch and Pressure Plate Combo. Rated at 850 ft-lbs.
-New OEM Master and Slave Cylinder
-2 New Front Axles (Still have OEM Manual ones that need new boots).
-Stock Downpipes, Fully Gutted.
-Manual Tune by Blake Beadle. Car runs and dives as it would had the RS6 came with factory manual transmission.

I cannot stress how flawless the exterior and interior of this car is. Southern car its whole life until I drove it up in January. Then it sat inside for the remainder of Winter. It's never seen salt, there's no rust on it whatsoever. I have brand new Zimmerman Brake Rotors ready to go on ($1200), but between working full time and being a full time student, I just don't have anytime for the car other than driving it. A/C blows Ice cold and heat is hot as hell. Any further questions please feel free to reach out and ask.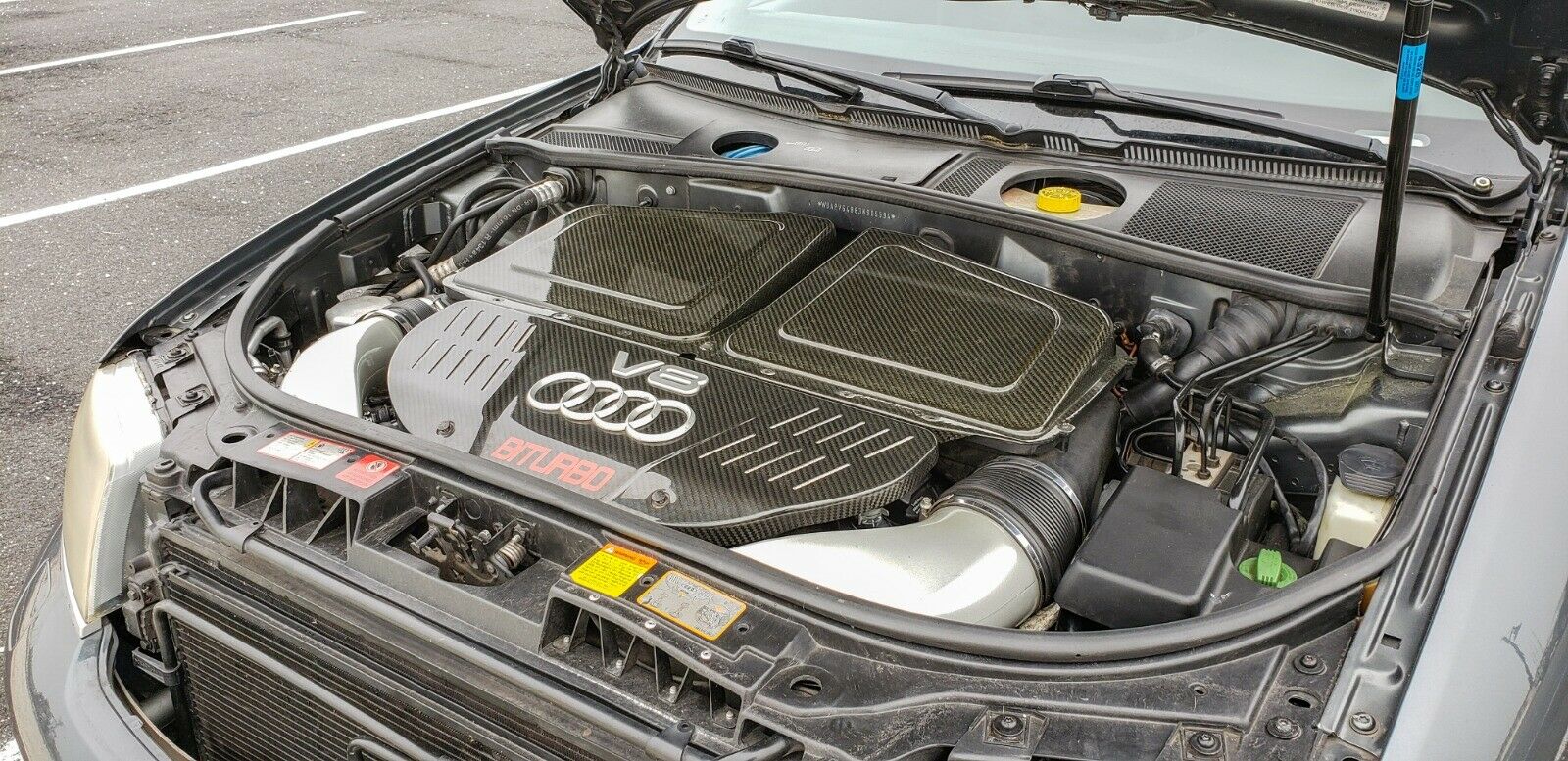 The reason you should avoid most is the deferred maintenance, which basically sets you up for a bank-busting repair at any given time. Notoriously, the standard 5-speed ZF Tiptronic transmission is a weak point that will fail. This seller has taken care of not only that item with the enthusiast's dream few undertake in the 6-speed manual swap, but the timing belt service along with other fixes is just not how these cars come to market today.
The rest of the car is fairly standard fare for a RS6; Daytona Gray Pearl Effect over black leather and generally looks nice. I'm personally not a fan of the headlight modification and would return stock units back there, but otherwise it's a very presentable driver example. The asking price of $28,500 is sharp when you load up RS6 search results; that amount will yield you a prettier Mugello Blue over Light Gray example with less than half the mileage of this one. But it won't have the manual or the recent service, never mind the extras included. It will definitely take just the right person to want this car, but presuming everything is done right, it doesn't seem like a bad deal overall for what is a done and very unique package.
-Carter