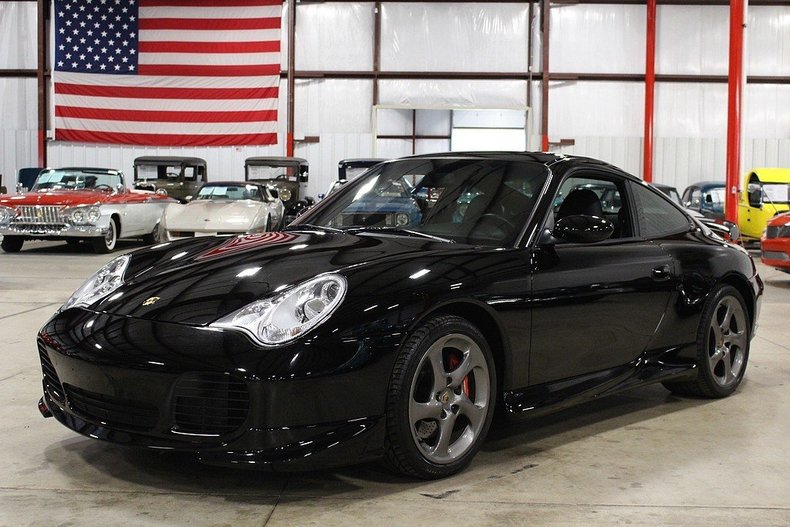 A couple weeks ago I featured this Speed Yellow 2005 C4S Coupe. It appeared to be an exceptional example of what is a generally unloved model. I stated in that post that I think bright colors really work in the 996's favor when it comes to maximizing the attractive qualities of its exterior. However, not everyone wants a brightly colored exterior and Speed Yellow is about as bright as they come. Also, as much as I liked that C4S it was very expensive with a price well into good 996TT territory.
Here I hope to remedy those two problems. This is the same model 911, from the same model year right at the end of 996 production, so you get what is for me a better looking 996 and the sort of usability that always has made the C4S a worthy candidate for daily driver duties should that be your desire. Obviously it's nearly the polar opposite in color. I'll admit I could do without the tint, especially of the rear lenses, but otherwise where a Speed Yellow 911 will turn every head, this black one should allow you to cruise by (mostly) unnoticed. At 20,086 miles, the mileage is still quite low but it's priced almost $20K less. That's a lot of money for Speed Yellow and a few less miles.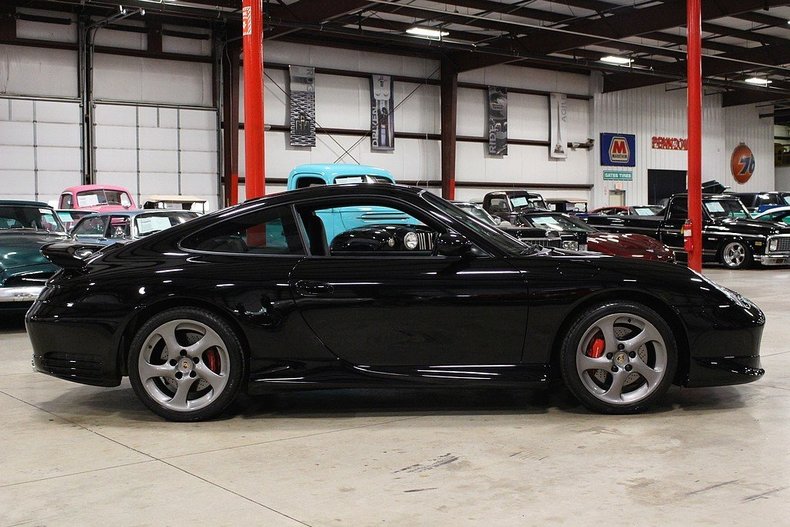 Year: 2005
Model: 911 Carrera 4S
Engine: 3.6 liter flat-6
Transmission: 6-speed manual
Mileage: 20,086 mi
Price: $47,900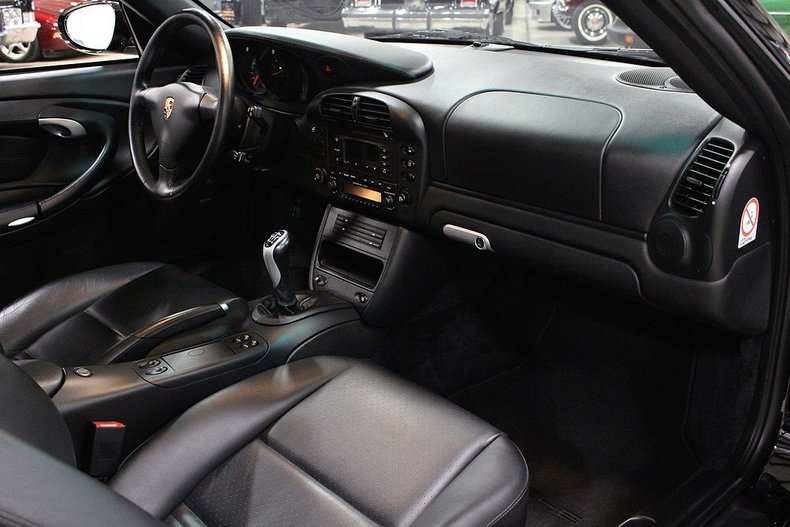 Introduced in 1998, the 996 generation of the venerable 911 was a dramatic departure from its predecessors. A whole new chassis, water cooled engined and significant electronics were the biggest differences. While fast and capable, many enthusiasts lamented the changes and the 996 has become one of the least like Porsches in history. Despite enthusiasts complaints, the 996 sold well and was still an excellent performance car. While air-cooled models have stratospheric prices and newer examples are just as pricey, the 996 represents a bargain of modern performance, classic heritage, and lower prices. GR Auto Gallery is pleased to present this sinister looking 2005 C4S for your consideration. Introduced in 2002, the C4S trim combined the wider body shell, brakes, and suspension of the top shelf Turbo model with the uprated base engine and all wheel drive. 320 hp from a 3.6L H6 engine is mated to a slick shifting 6-speed transmission and can rocket to 60 mph in 4.5 seconds. The C4S was one of the top trims in the lineup and came with such features as alcantara headliner and leather dashboard. Power leather bucket seats with seat heaters are complemented by power windows, locks, sunroof, and climate control. An original stereo with 4-disc CD changer is also standard. The interior is immaculate with a perfect dash and rip and stain free leather bucket seats. The exterior is likewise spotless. The black paint has a deep glossy finish and the body is perfectly straight. Dark gunmetal colored Turbo Twist wheels are factory items that look sharp and are mounted over big slotted brake discs courtesy of the optional sport package. The windows are tinted as are the rear taillights. It looks very sharp. This one owner car has done just 20k miles since new and has been very well taken care of. It comes with all owners manuals and is in a very desirable specification. While nearly every other 911 has skyrocketed in price, the 996 generation still represents a huge performance bargain. For the price of a base model Corvette, you could be rolling in a 175 mph Stuttgart rocket ship. To see over 80 photos of this car, including under carriage please visit our website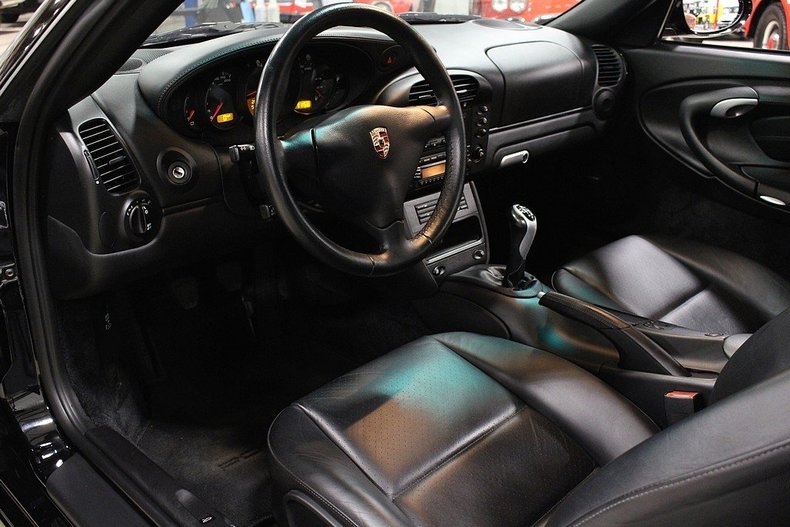 I stand by my previous statement that brighter colors work better for the 996, but as a fan of black cars in general I have no problem with this one either. It obviously projects a very different feeling, but it still looks good and that's the main point. Unlike the tint, I think the gunmetal wheels work really well here and convey the appropriate level of darkness without going the full blacked-out wheel approach where it looks like you're driving around on spares. Some color in the interior would be nice – via stitching or gauges or something – but that's probably my own personal preference. If you like black, this should suit your needs well.
It does look like it has an aero kit added. I'm not sure if that's associated with the optional sport package or whether it's aftermarket, but it's pretty unobtrusive and given the way black blends everything together you could be forgiven if you failed to notice it. I like subtlety in an aero kit so it works for me. Otherwise, we have a pretty low mileage late-model 996 C4S and with a price of $47,900 I think you're getting a good bit of car for the money. Like the Speed Yellow example you're awfully close to 996TT money, but if you could get this closer to $40K I think it'd be a fine deal and a great 911.
-Rob