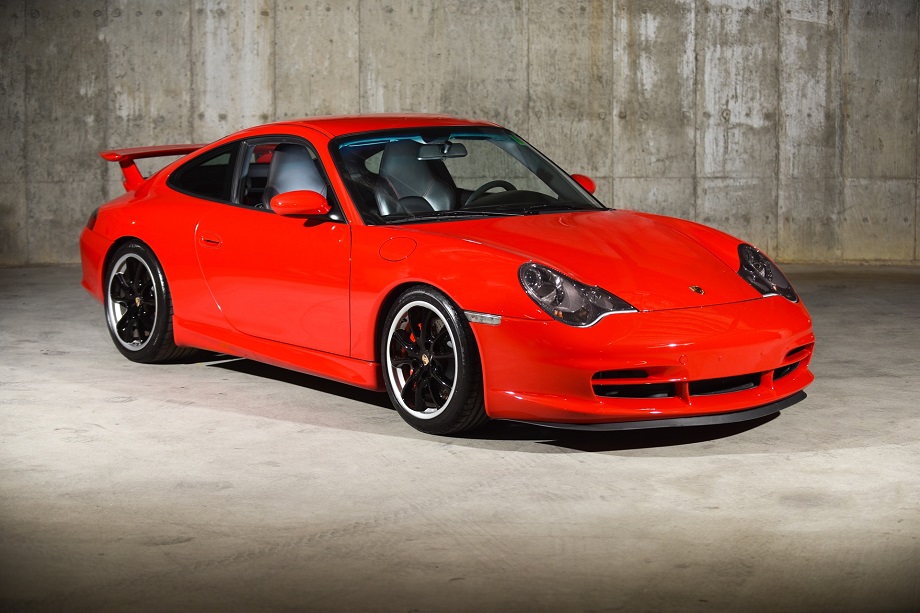 Update 8/30/18: The asking price has been dropped from $94,995 to $88,995.
996 GT3 prices do seem to be going up. It was inevitable given how highly regarded these 911s are among the Porsche lineup even when we factor in that many still don't like the styling. More modern GT3s will bring with them higher levels of performance, but the 996 is no slouch and its rawness relative to the newer models continues to garner them high praise. And even with higher prices they remain some of the few you can find under six figures.
The one we see here, a Guards Red 2005 Porsche 911 GT3 located in New York with only 21,164 miles on it, is one of the more interesting examples I've seen. Guards Red doesn't seem especially common on any 996, let alone a GT3, and the details in the interior with deviated stitching and red gauge faces provide some nice contrast. I'm not a fan of the black wheels, but otherwise I really like the way everything comes together on this one.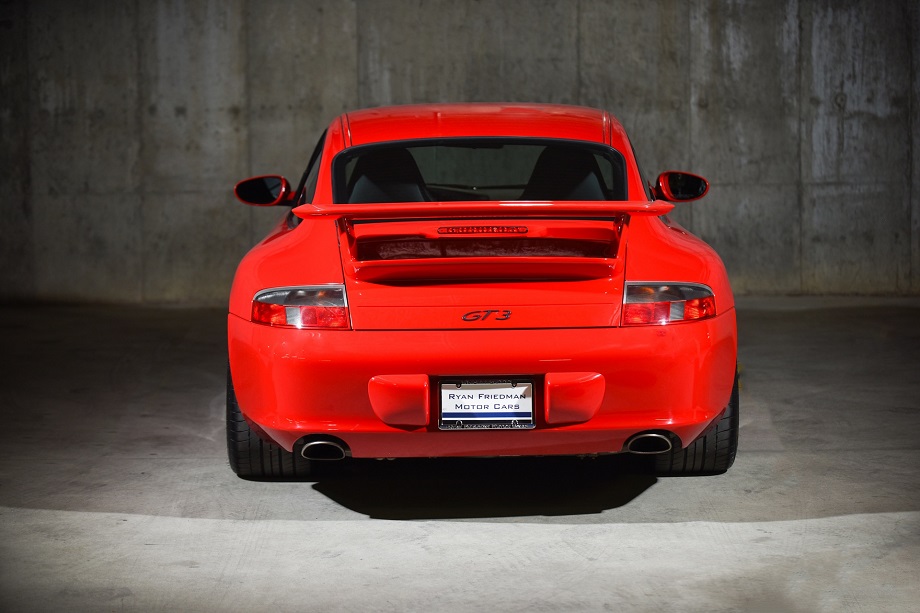 Year: 2005
Model: 911 GT3
Engine: 3.6 liter flat-6
Transmission: 6-speed manual
Mileage: 21,164 mi
Price: $88,995 Buy It Now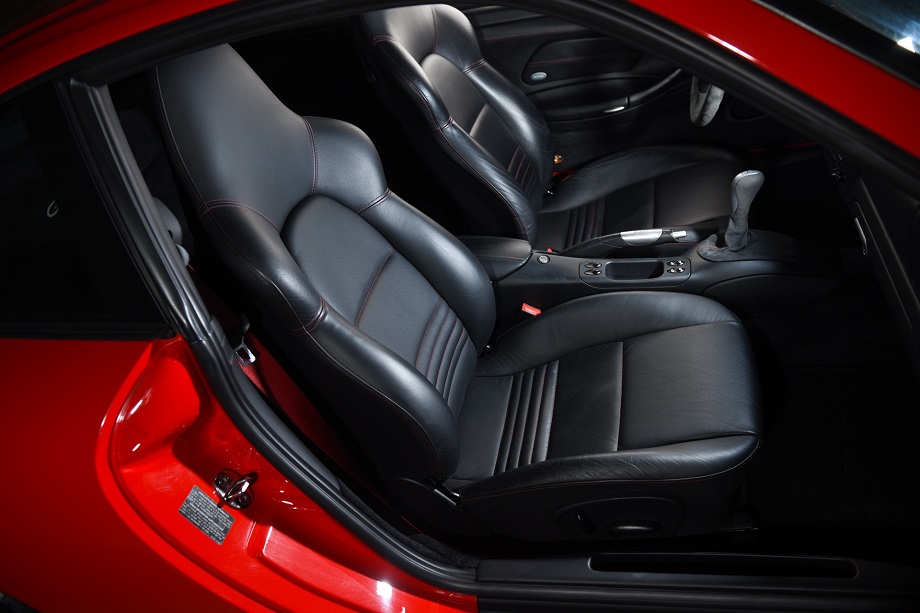 2005 996 GT3, 1 of 96, the unicorn has arrived. Blunt instruments not needed, GT3 surgical precision wanted and ready, come and get it!

RFMC is proud to offer one of the most coveted GT3s to be ever produced, sharing roots with Porsche royalty there is no GT3 as pure that is street legal.

The 996 GT3 is as pure as it gets. No traction control buttons, no sport modes, no shift intensity, turn the key fire that Mezger GT1 block and listen to that idle, lightweight cams and lifters, sparse sound deadening, rear seats deleted, this GT3 demands and rewards the focused driver. Focus! This GT3 uses a dry sump crankcase and an external reservoir. The Mezger block in the GT3 is very similar and shares much with the 962 race car motor, which is based on the same crank. This GT3 uses two cylinder heads per bank of three cylinders thus sharing the same lineage as a 959, INSANE! Another fantastic feature of the 996 GT3 is the interchangeable gear ratios, that stem from air cooled 911 heritage. The 996 GT3 screams up to redline and loves being pushed, 2-3-4 shifts are linear and surgical, this GT3 is the ultimate visceral experience for the senses.

The condition of this GT3 is close to perfect as possible and is of top-level curated quality.

996 GT3. Drivers wanted.

Call Ryan/Louie- 516-217-2580/ 516-217-2580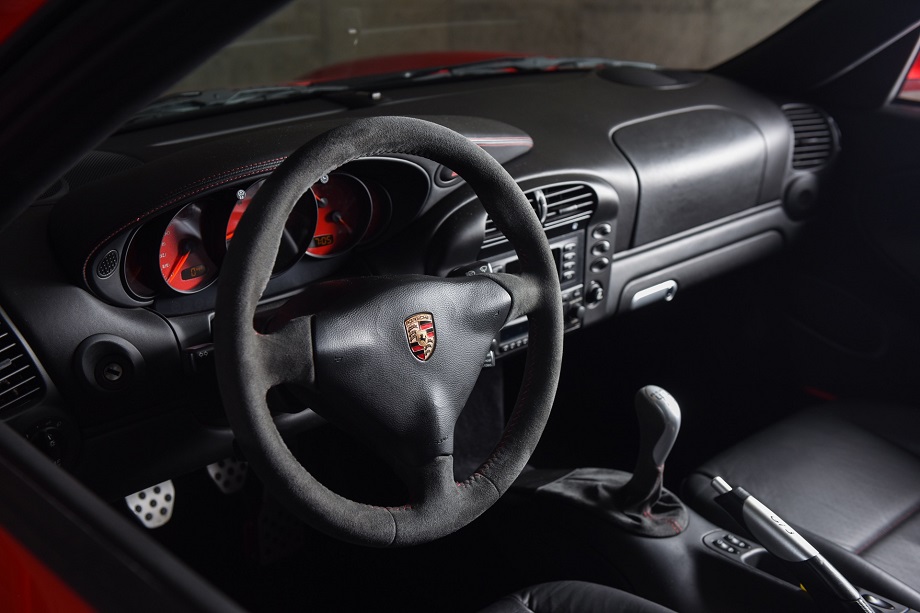 It's become so commonplace to see interior options like deviated stitching, gauge faces, and painted consoles on newer 911s that I think we forget that these sorts of selections weren't nearly as common even going back as recently as the 996. I think the most common option I've seen selected on the GT3 is a change in the seat belt coloring. So when I see one that does possess these options it makes me take notice. These aren't the sort of options to get us riled up for their increased performance so naturally their presence on a GT3 isn't really necessary, but I do think they make the whole package more attractive. Much of the reasoning behind their increased presence on current 911s relates to investment potential and presumably a similar effect will be present here.
As I said overall I like the looks of this one a lot with the exception of the wheels. A standard set of GT3 wheels would have been perfect, but everything looks in really nice condition with minimal wear.
The last high-priced 996 GT3 I featured had an asking price even higher than this one. It had a few less miles on it, though the mileage is close, and there wasn't much in the way of particular options. It did sell, though for precisely what price I'm not quite sure. Bidding on its auction wasn't quite reaching its six-figure price tag so perhaps its true selling price ended somewhere near the asking price for this one. The Speed Yellow GT3 I'd had my eye on for so long also recently sold. I mention these mostly as a way to gauge the pricing here. At first glance, my thought was that it was very high and likely would take quite a while to sell. However, I may be very wrong on that. This obviously assumes appropriate documentation is present and that a PPI reveals no issues, but if those points are met then I wouldn't be totally surprised if it sold somewhat quickly.
-Rob