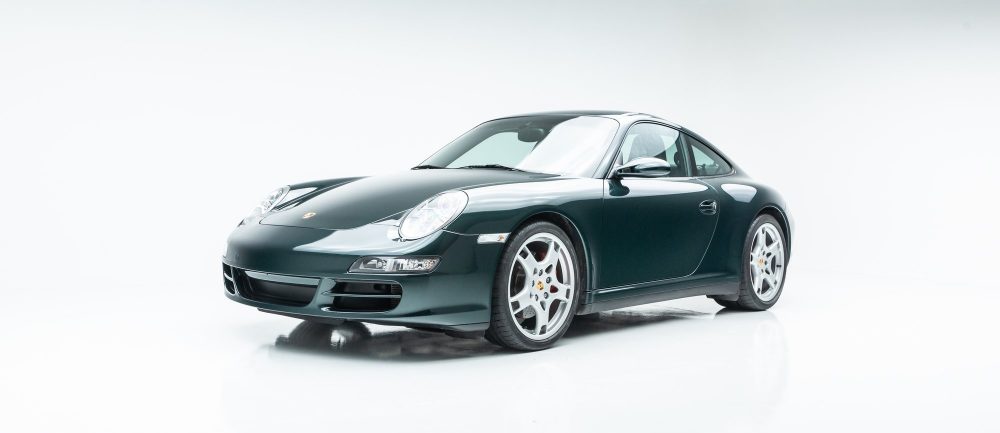 There seems to be a very vocal group of people in the car world that really love green cars. I adore them as well, so much so if given the choice of choosing a color, I'd think I'd go with a dark green. For whatever reason, there just aren't a ton of green cars out there running around. Probably because the millions of dollars car companies spend on market research says people don't want green cars, and I do see their point. Its not that companies don't produce green cars, but rather they don't produce them on the same level as the silver, gray, black, and whites. So I have to ask, do people love green because its an aesthetically pleasing color on cars? Or rather because it is rare to see and people want things that aren't so common? Like the little girl says on TV selling taco shells, "¿Por qué no los dos?"
This 2006 Porsche 911 Carrera 4S for sale in California is a green lovers dream. Forest Green Metallic on the outside, Palm Green leather on the inside. Extra goodies include 19″ lobster claw wheels, heated sport seats, park assist, Bose audio, and more. Where do I sign?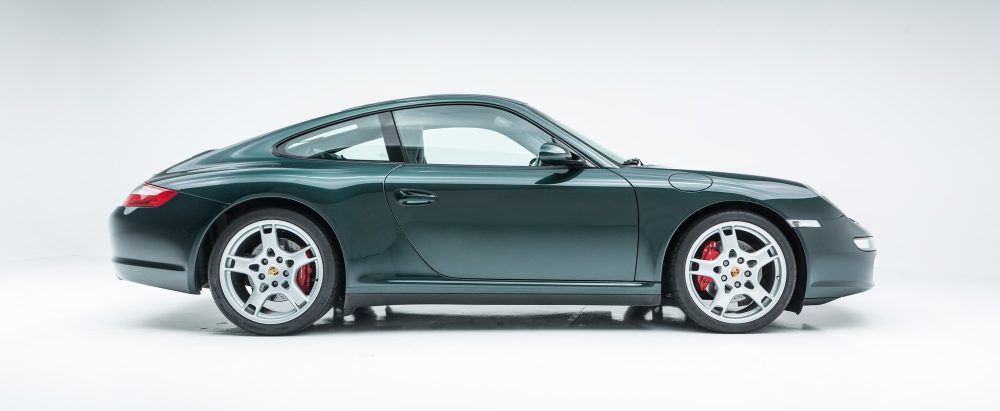 Year: 2006
Model: 911 Carrera 4S
VIN: WP0AB29936S744023
Engine: 3.8 liter flat-6
Transmission: 6-speed manual
Mileage: 47,451 mi
Location: Irvine, CA
Price: $46,500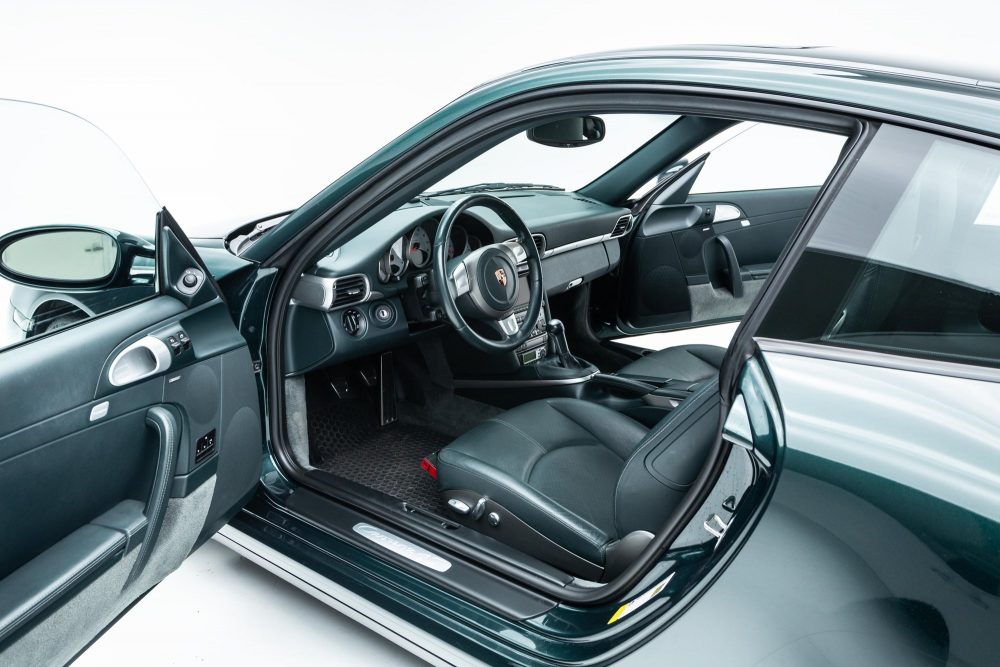 2006 Porsche 911 Carrera 4S coupe is finished in Forest Green Metallic over Palm Green leather. Factory equipment includes heated sport seats, rear window wiper, park assist, and Bose High End Sound Package as well as Navigation. 19´´ Carrera Sport wheels are wrapped in N2 Porsche Rated Michelin Pilot Sport tires with around 5K miles left on them. This 997 was first registered in Colorado before moving to Idaho in 2016 and was purchased by me it in March 2019.

Here are some more details:

– MSRP $93,740
– Current Mileage 47,451
– Aftermarket Sirius Sat radio
– Delivered on 08/21/2006, to Prestige Porsche in Denver, CO
– All oil changes, brake flushes done per Porsche standard maintenance schedule
– 07/2015 at 37k, the clutch was replaced with rear main seal and IMS flange
– Replaced serpentine belt and 3 worn composite pulleys (2016)
– Full front clear bra (2016)
– Replaced inner / outer tie rods (2016)
– Replaced the water pump and install a new thermostat (known issue with '06 997s)
– Replaced coolant hose for small leak (2017)
– Wheels powder-coated
– New OEM Porsche front windshield
– Last oil change in April 2019 @46,500 miles
– Full detail, underside, wheel wells, undercarriage plastics removed and cleaned
– Up to date on all services, needs nothing

ASKING: $46,500

Only reason for selling is I had the chance to purchase the exact 997.1 Turbo I sold a few years back and have regretted ever since. When I saw it up for sale again, I just couldn't pass it up. With 3 other 911's in the garage I've simply run out of space. This is one of the most beautiful custom ordered Carrera 4S's in one of the coolest specs I've ever seen which I why I bought it in the first place. Very well optioned with documents from new. Showing only 47,451 miles, but the car looks like it has done around 10,000, the condition is impeccable.

The exterior shows very well with no paint damage or dents and with a full front clear bra and larger PPF hips to protect the rear end. The front bumper has been painted to matched perfectly due to a large chip by Porsche. Wheels have also been refinished by Porsche due to clear coat failure in the original color and look perfect.

The interior shows almost no wear at all and everything functions as it should. Gauges read consistent and correct across the dash. The bolsters of the seats are in amazing shape showing no damage. The carpets are as new having been covered from day one and the carpeted factory matts have never been used. This is a chance to own a very well cared for custom ordered 4S. Vehicle is located in Orange County, CA and can be shown to interested parties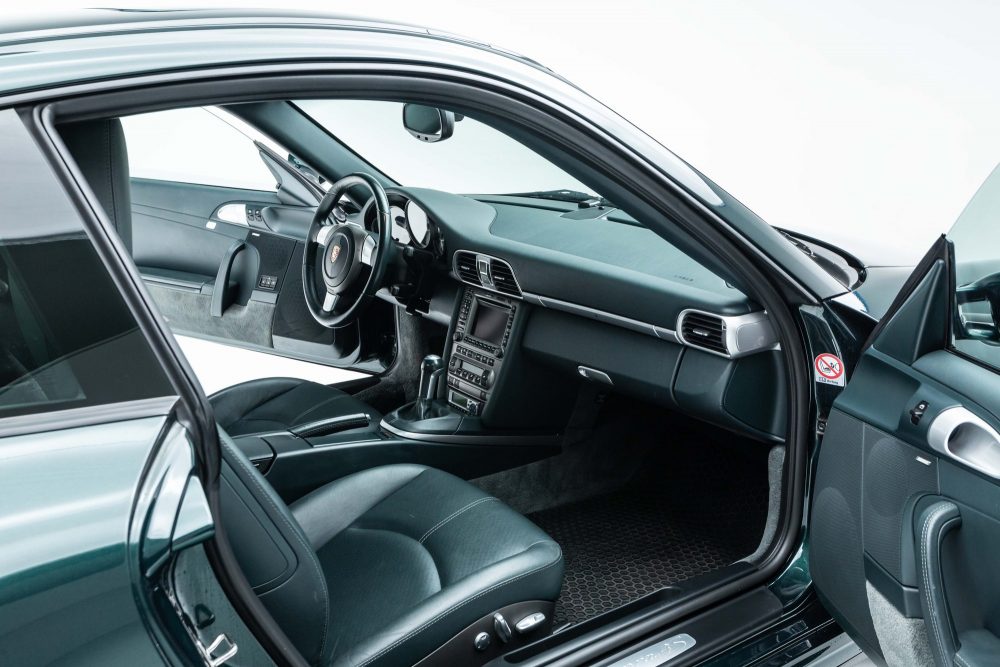 What a combo. I'm totally smitten by the car and didn't even know that Palm Green leather was a thing. I think I would of been totally happy with just a Forest Green exterior, but to follow up with a matching interior is over the top for me. This car looks like it's been loved with just 47,000 miles and a whole pile of maintenance done to it as well. It did have the IMS flange taken care of so it should be all set there, along a new water pump and thermostat. I'm not seeing anything not to love with this one.
The price? $46,500 Is that above market for a 2006 C4S? I don't believe so. A Lapis Blue example sold for $45,000 back in January and a more common black example with 44,000 miles sold for $41,500 in June. Is this color combo worth a little bit of premium? I believe so. People want crazy color Porsches as long as they aren't totally insane and this is on the right side of crazy. I wonder how much shipping from California to my door step is?
– Andrew