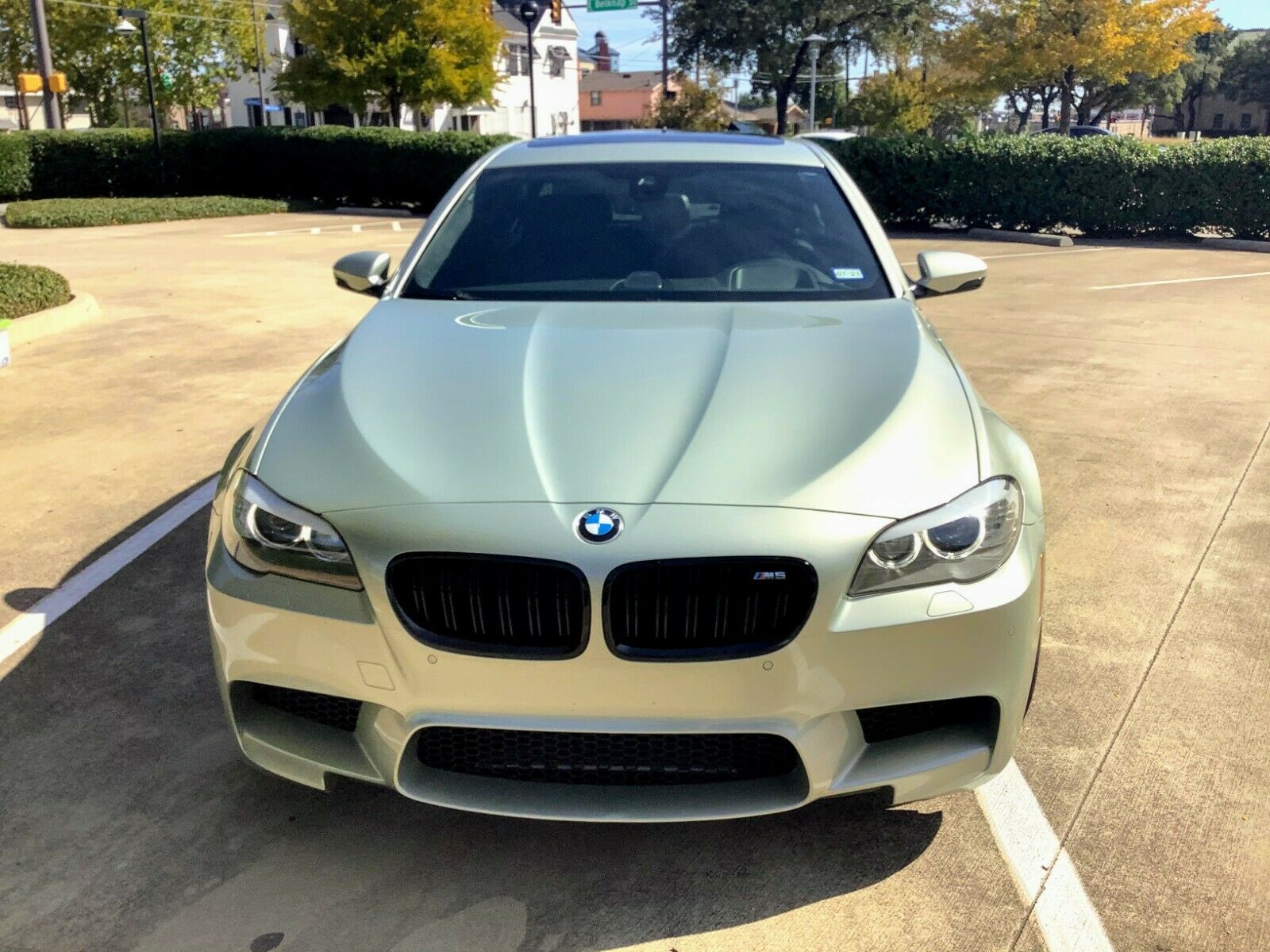 I can walk down to any dealership just like anyone else, and provided I have a pulse, probably walk out with financing for most mid-range cars regardless of whether or not I could actually afford them. Indeed, easy credit has led to the proliferation of many of our favorite brands and cars to the point where most don't feel all that special anymore. A $2,500 1990 Jetta, for example, is much more rare to see today in that condition – or, at all, truthfully – compared to a new M car.
So all modern cars aren't really all that exciting? That's far from the truth, too, as there are many special examples that float by our feed. So while the F10 M5 isn't a model often featured, it's probably our loss for not doing so. It's also easy to forget that even though it feels pretty new, the F10 has been out of production for almost 4 years and the earliest examples are now nearly 12 years old. Plus, as most M5s do, the entry price point on the antiquated models has dropped considerably compared to their original MSRP, while their performance is still contemporaneous to today's cars.
The S63B44T0 found under the hood of this particular example was good for 550 plus horsepower; not much more than the model it replaced with that wicked V10. But torque? That's another matter. While the S85 cranked out an impressive 380 lb.ft at 6,100 rpms, the two turbos tacked onto the S63 V8 produced 500 lb.ft of torque with a curve as flat as the Salt Lake from 1,500 rpms through over 5,000. That massive power could be channeled through a manual gearbox, to boot!
But it's really the color combination of Amazonitsilber Metallic (X07) from BMW Individual that has us looking at today's example: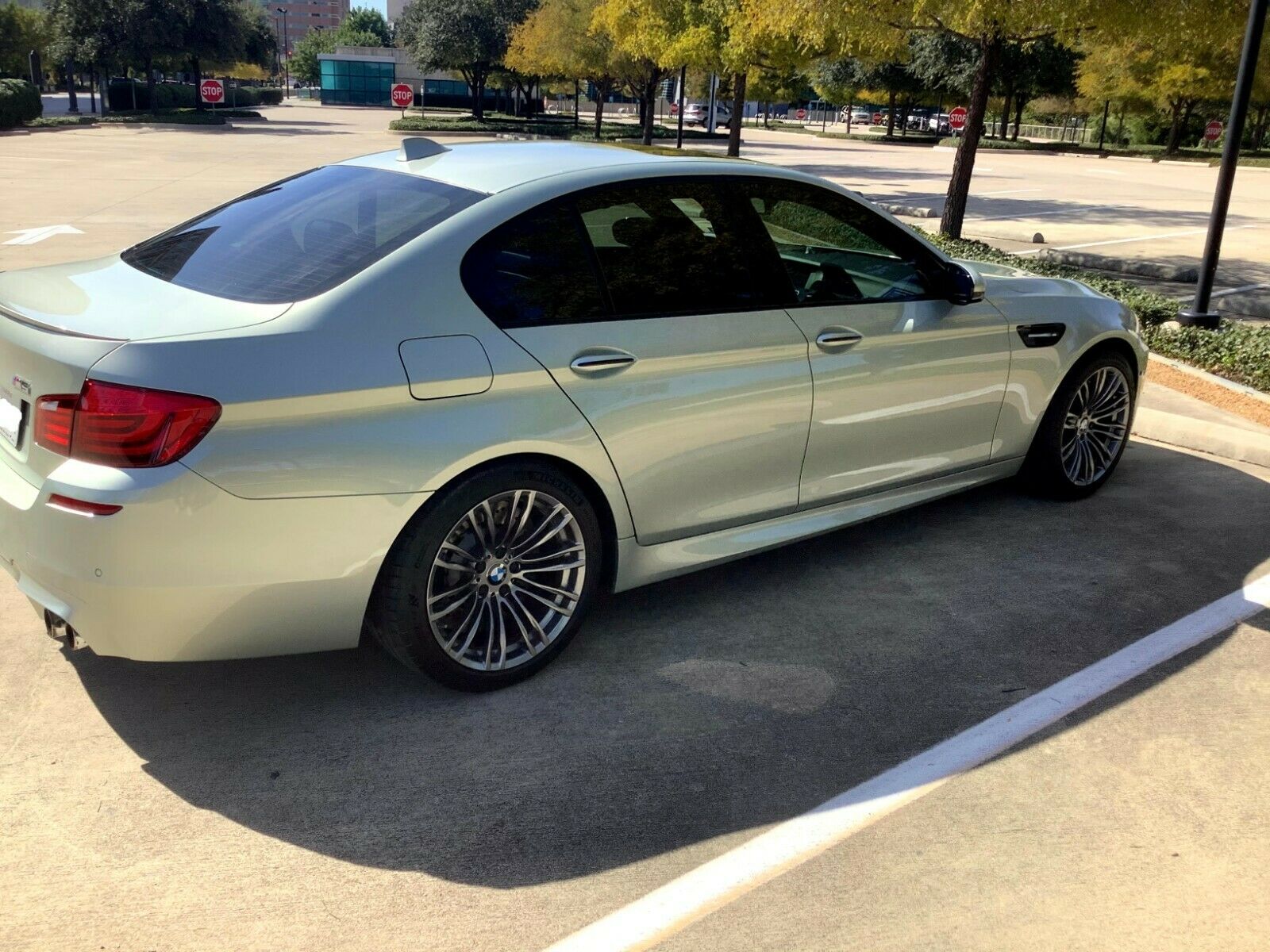 Year: 2013
Model: M5
VIN: WBSFV9C57DC773830
Engine: 4.4 liter twin-turbocharged V8
Transmission: 6-speed manual
Mileage: 57,300 mi
Location: Fort Worth, Texas
Price: $40,964 Buy It Now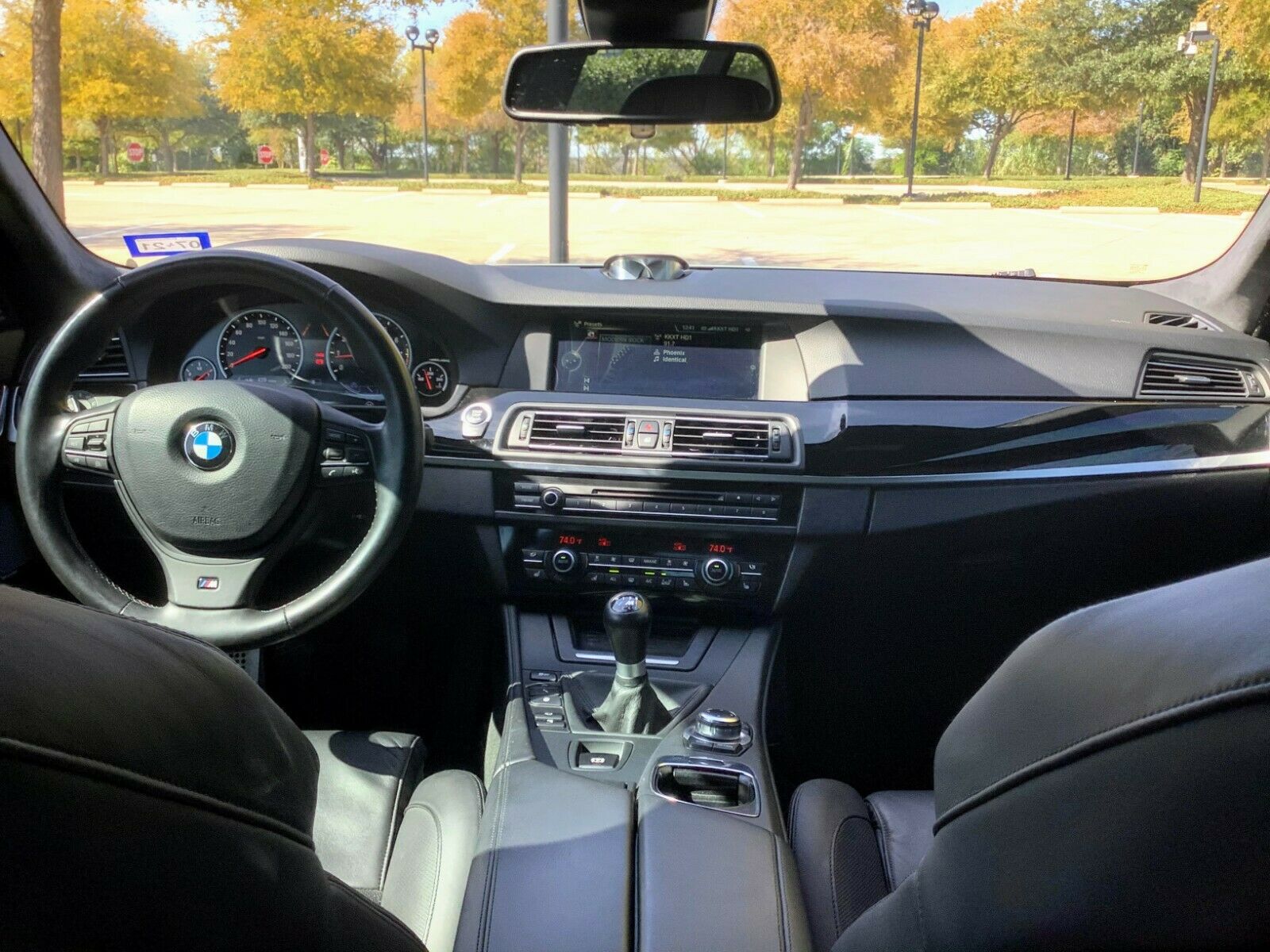 2013 BMW M5, finished in BMW Individual Amazonite Silver Metallic with a Merino Black leather interior. Only 57302 miles. All service records included. Selling due to a move out of state.This "F10" M5 boasts a 6-speed manual transmission, making it one of just 577 examples of the F10 M5 in North America with a manual transmission.This M5 also features a long list of desirable options, including the Executive Package (4-zone climate control, heated and cooled front seats, a heads-up display, a heated steering wheel, and a power trunk lid), the Driver Assistance Package Plus (blind-spot monitoring, lane departure warning, multi-angle camera system), and a Bang & Olufsen sound system.The F10 M5 is the model's fifth generation, and the final one to be offered with a manual transmission. Manual M5 models were only available for the North American market.Powered by the 560-horsepower "S63" twin-turbocharged V8, this M5 goes from 0 to 60 in around 4.2 seconds.
Editions And Packages
S754M Rear SpoilerComfort And Interior Equipment
S488Lumbar Support, Driver And Passenger
S496Seat Heating, Rear
S4L9Interior Trim Strips, Alu Trace
S423Floor Mats Velours
S416Roller Sun Visor, Rear Lateral
S4M8Individual Rear-Reading Light
S4MAM Multifunction Seat
S494Seat Heating Driver/Passenger
S464Ski Bag
S431Interior Mirror With Automatic-Dip
S415Sun-Blind, Rear
S430Interior/Outside Mirror With Auto Dip
S403Glass Roof, Electrical
S455Active Seat For Driver And Passenger
S4URAmbient Interior Light
S428Warning Triangle And First Aid KitS
4NBAutom. Climate Control With 4-Zone Ctrl
S465Through-Loading System
S453Climate-Controlled Seats, FrontMultimedia
S655Satellite Tuner
S610Head-Up Display
S6NLConnection Bluetooth + USB Devices Incl.
S6ABControl, Teleservices
S6AABMW TeleServices
S645BMW US Radio
S615Extended BMW Online Information
S6F2Bang&Olufsen High End Surround Sound
S609Navigation System ProfessionalS696DVD Changer
S6NFMusic Interface For Smartphone
S6UHTraffic Information
S6NRAppsS697Area-Code 1 For DVDDriver Assistance And Lightning
S524Adaptive Headlights
S5DSEmergency Release, Luggage Compartment
S522Xenon Light
S5AGLane Change Warning
S508Park Distance Control (PDC)
S5ADLane Departure Warning
S575Additional 12V Sockets
S502Headlight Cleaning System
S5DLSurround ViewWheels And Drive
S2MAManual Gearbox
S245Steering Wheel Column Adjustment,Electr.
S2N7BMW LA Wheel, M Double Spoke 345
S223Electronic Damper Control (EDC)
S248Steering Wheel Heater
S2VBTyre Pressure DisplayEnvironment And Safety
S850Dummy-SALAPA
S3AGReversing Camera
S316Automatic Trunk Lid Mechanism
S823Hot-Climate Version
S876Radio Frequency 315 MHz
S8SMCar Ident. Number Visible From Outside
S319Integrated Universal Remote Control
S302Alarm System
S8SCTelematics Access Request,Country-Spec.
S8THRoad Sign Detection
S8TNDaytime Driv.Lights Adjus.Via Light Menu
S853Language Version, English
S8S4Decoding, Variable Light Distribution
S845Acoustic Fasten Seat Belt Reminder
S323Soft-Close-Automatic Doors
S8KCDummy-SALAPA
S322Comfort AccessIndividual Equipment
S760High Gloss Shadow Line
S776Roofliner Alcantara AnthraciteOther Equipment
S925Dummy-SALAPA
S1CASelection Of COP-Relevant Vehicles
S9AAOuter Skin Protection
S1CDBrake Energy Regeneration
S1CCAuto Start/Stop Function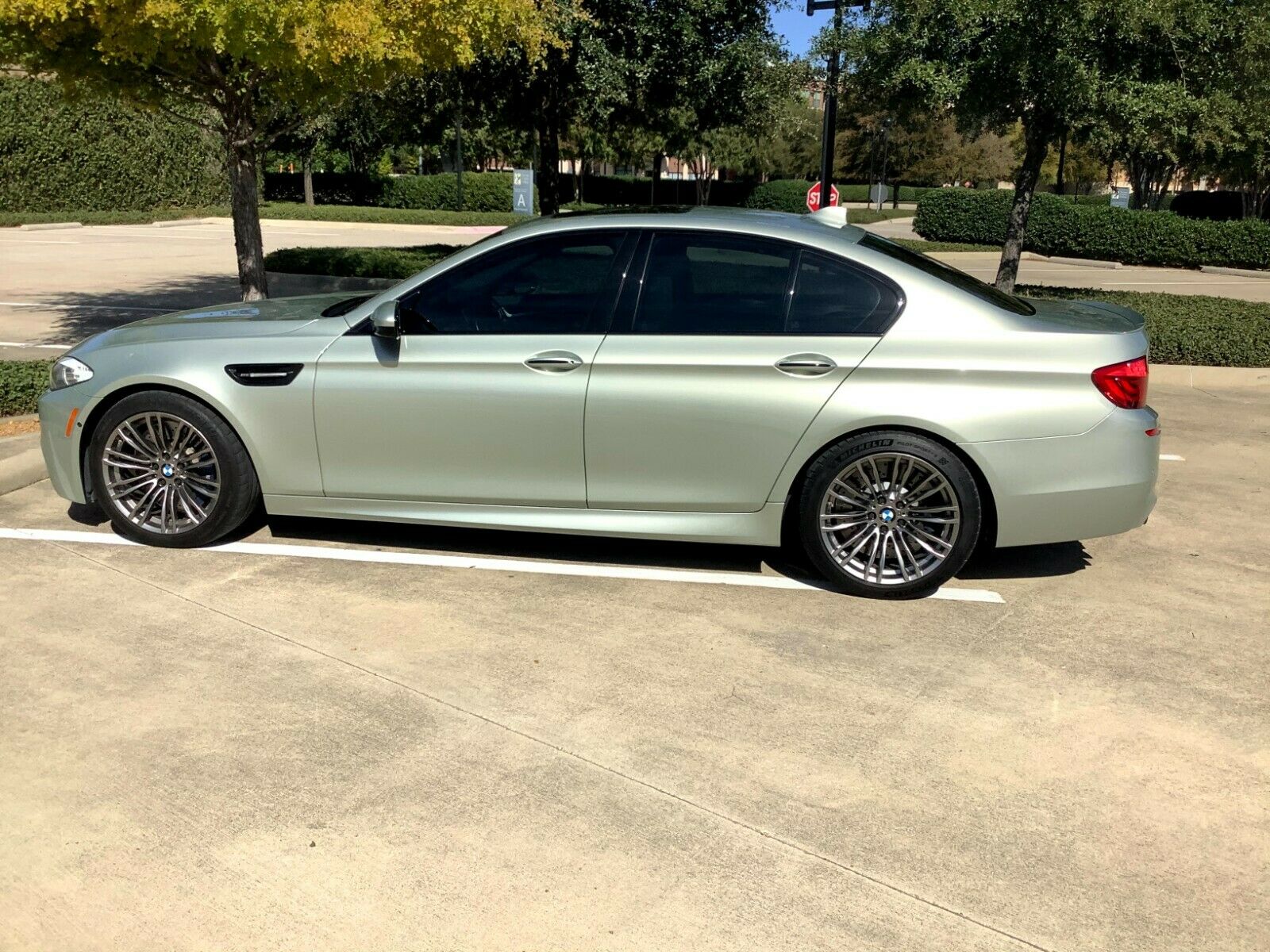 To me, I'd much rather have this car than the 30 Jahre Edition I just covered:
There are a few reasons for this. First off, I'm certain that it's more rare. Manual M5s may be more plentiful than the 30 Jahre, but not in this color. It's otherwise fully loaded, in great condition, and without outrageous miles. The asking price is also less than half what the prior listing was asking; at $41,000, it's hardly cheap but it's also not unaffordable. If you're into the newer 5-Series look and performance, this is the one to get – a color, rare color and a manual transmission.
-Carter