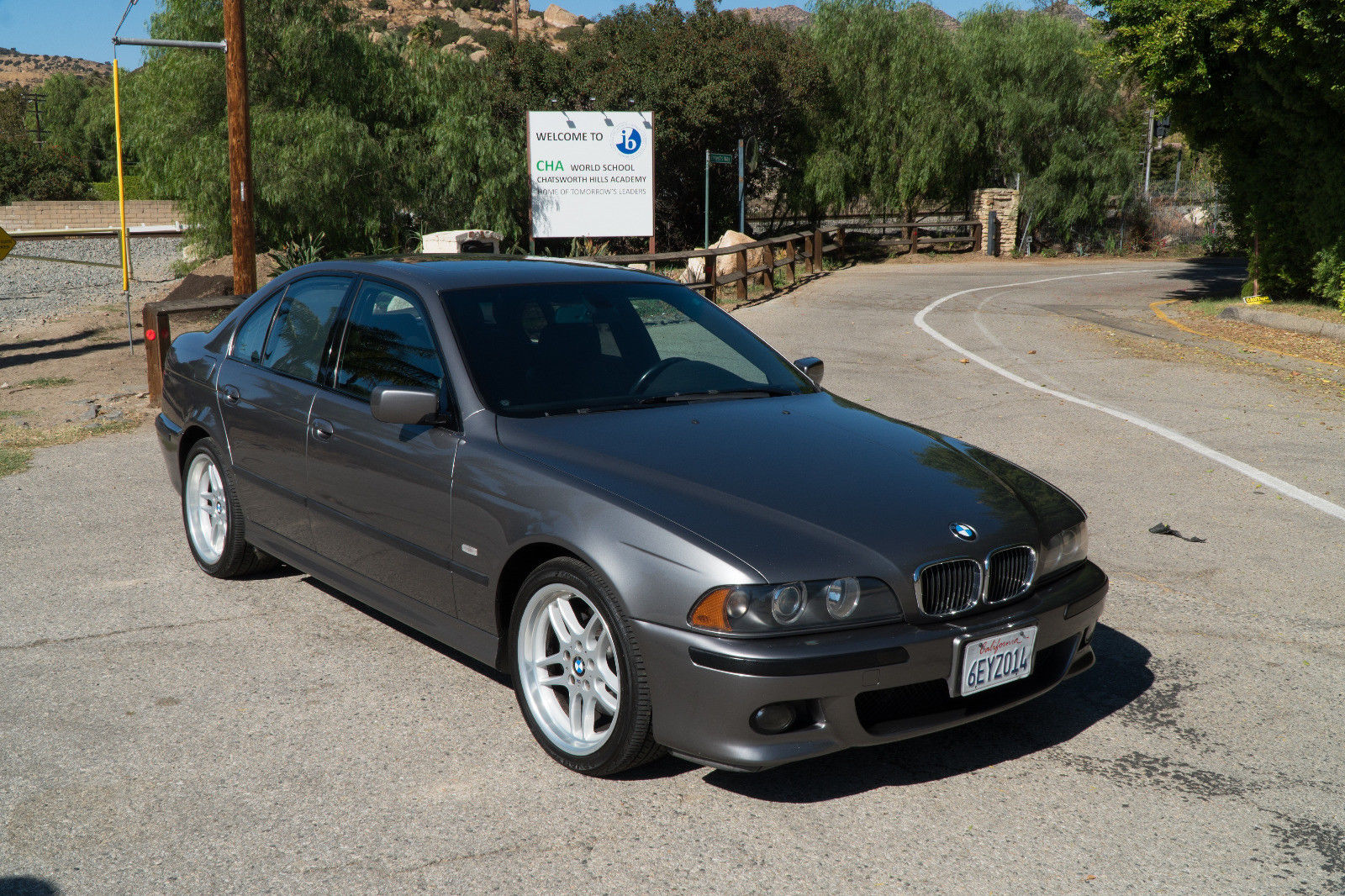 My recent M5 v. Alpina B10 post took a look at two exotic versions of the E34. Of course, BMW offered their own alternative to the M5 late in the production cycle, as the introduction of the M60 V8-powered 540i produced nearly as much usable power as the more expensive M variant. Such was the success of the 540i that BMW initially judged the M5 dead in this market; it was removed from the U.S. in 1993 after slow sales and wouldn't return until the new millennium.
As a result, the 540i flew the 5-series performance flag for two generations and still is very popular today. Especially in Sport versions, the E34 and E39 540is offered power, refinement and outstanding chassis dynamics in a package that was attainable for more people. So which is the better buy today – the first or second generation?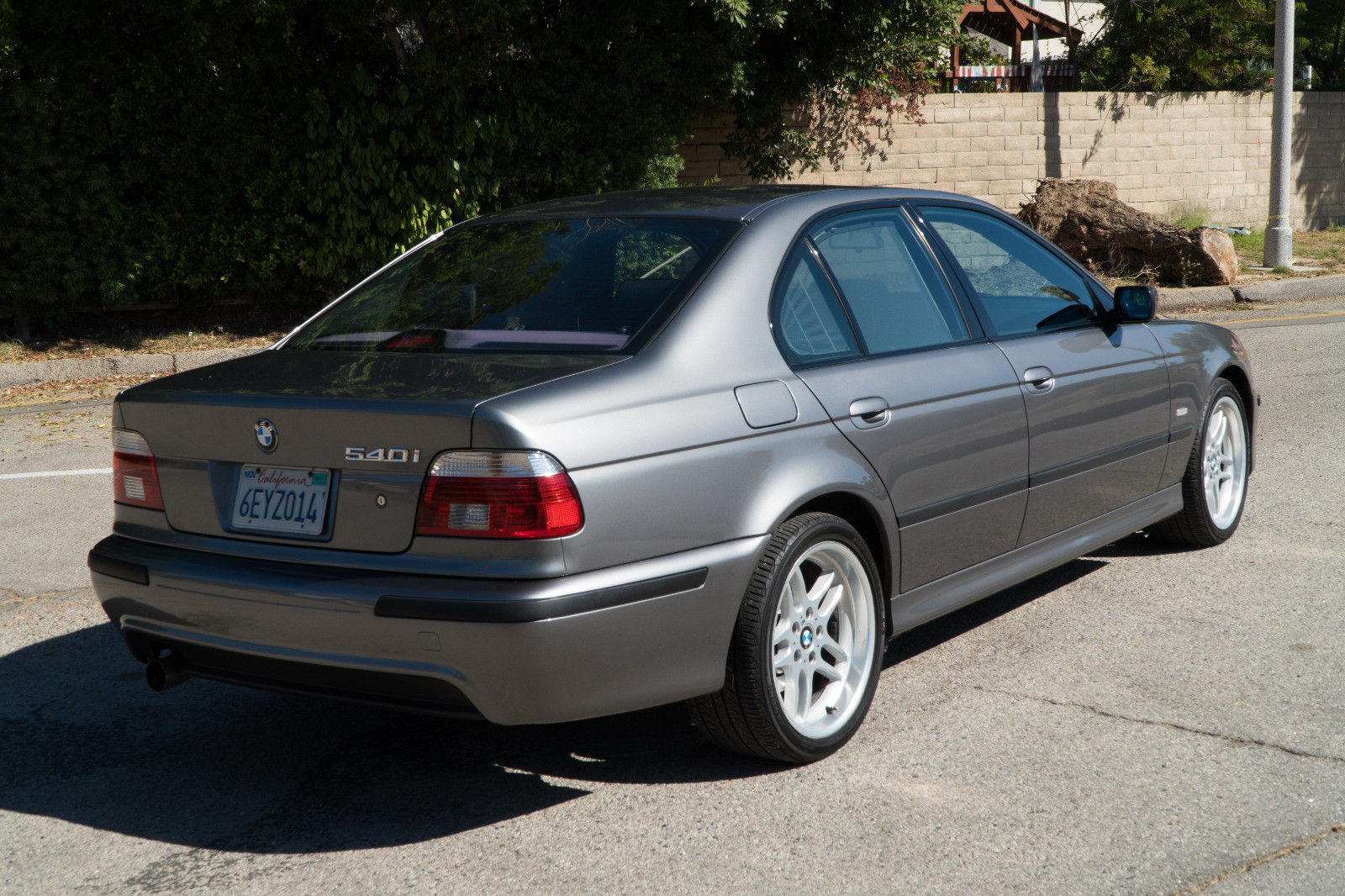 Year: 2003
Model: 540i M-Sport
Engine: 4.4 liter V8
Transmission: 6-speed manual
Mileage: 122,500 mi
Price: Reserve Auction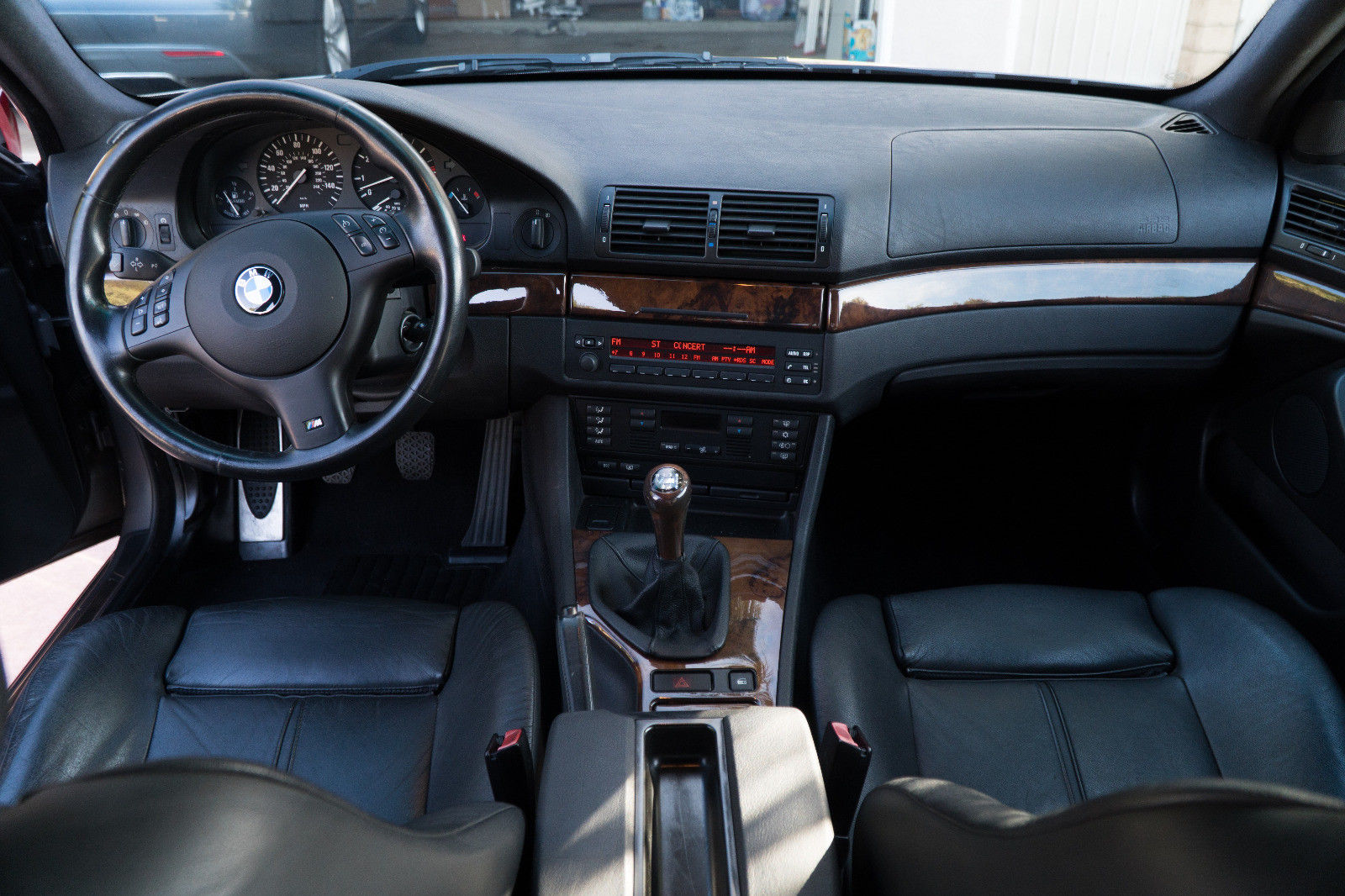 For sale is an excellent condition Sterling Gray Metallic 2003 BMW 540i M Sport with a rare 6spd manual transmission. Original California car from day one.

Mechanical
The car is in excellent mechanical condition and comes with extensive maintenance history totaling almost $23,000 in maintenance receipts. The car pulls hard through all 6 gears with no grinding or popping on up-shifts or downshifts. No CEL lights. The vehicle recently passed CA smog on 08/05/17 with no issues. The timing chain guides have been inspected and there is no timing chain guide chatter present. Everything is functioning as it should. There is currently a small oil leak from a vanos solenoid connector on bank 2. Aside from that, there are zero issues with the vehicle mechanically.

Recent Maintenance includes:

10/21/16 – New radiator
10/27/16 – 4 New Tires
01/12/17 – upper and lower oil pan gaskets, new brakes and rotors all around
03/24/17 – New Steering angle sensor
08/24/17 – 8 new NGK spark plugs, all 8 injecters were removed and ultrasonically cleaned, new electronic thermostat
10/12/17 Replaced Vanos seals.

Cosmetics

Cosmetically this vehicle is in excellent condition. The body is straight and free of any major dents or scratches. There are some nicks along the front bumper consistent with a vehicle of its age and mileage. The paint shows extremely well. There is NO clear coat issues and all panels have an excellent luster to them. I opted to remove the T-bar from the front bumper for a cleaner look but can be reverted if desired. There is a pair of chips on the hood that where the result of rock on the freeway. There are close up pictures on the photobucket album included. The paint is believed to be all original with exception of the rear bumper. The rear bumper was re-touched after a minor fender bender in April 2013. The interior is in excellent condition with no rips or tears in the leather. The headliner in in excellent condition. The liner on rear pillars are beginning to sag just a bit. AC blows cold and heater blows hot. The car has heated seats and the rear sunshades.

I have a binder full of all the maintenance records and an excel spread sheet that details all the work done sorted by date. All factory manuals and books are present.

I have tried to describe the vehicle to the best of my ability. Please feel free to contact me for any additional questions. Inspections welcome. I am willing to take the vehicle to a shop for a pre purchase inspection for within a 5 mile radius of zip code 91311. International buyers welcome. Buyer is responsible for shipping arrangements. $1,000 deposit required after the auction ends.

Please e-mail me or text me for a link to my photobucket album. I have many detailed photos. Ebay will not allow me to include a link in the ad section

uberjul@gmail.com

818-642-5826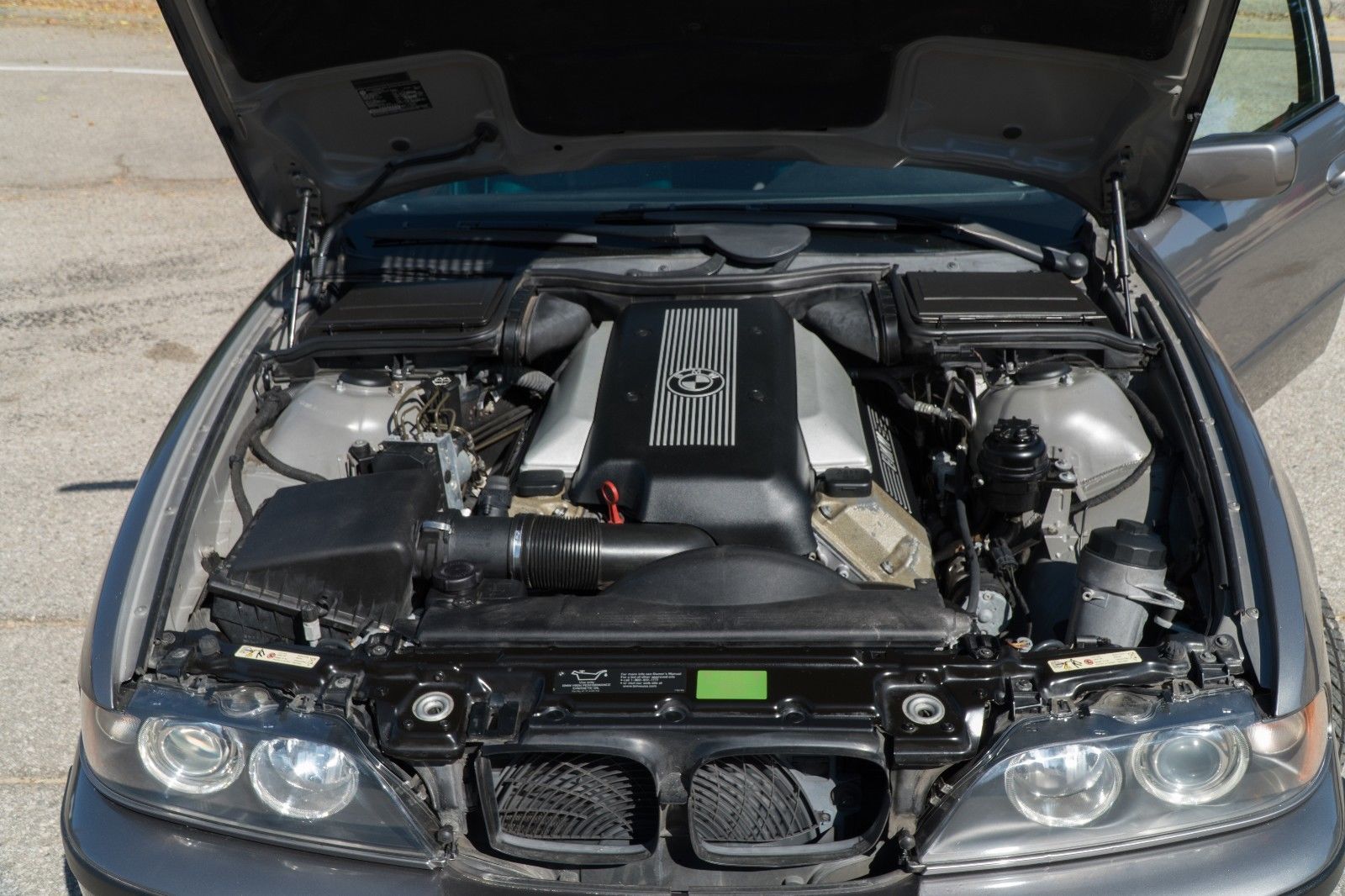 Presented in understated Sterling Gray Metallic (472) over N5SW black leather, this M-Sport equipped 540i 6-speed was produced in early 2003. Options were heavy; rear spoiler delete, M-Sport package, glass sunroof and sun shades, electric sport seats, rain sensors, Xenon lights, Hifi with CD, M-Sport suspension and M steering wheel, M-Parallel alloys and integrated remote. The condition throughout appears great; the paint shines well, the wheels are uncurbed, and the interior still looks fresh. The seller provides detailed photos underneath too, as well as recent maintenance. Under the hood, the M62/TU cranked out 290 horsepower and equipped with the M-Sport bits, the execution is close to a budget M5. The seller does disclose a minor accident, but the positives here outweigh the negatives on this carefully owned and well presented example. Bidding sits at just over $8,000 with the reserve still on as of writing. Asking prices of lower mile examples usually come in at double this amount, rivaling higher-mile M5 prices. If the reserve is broken here, this one looks like a good prospect. How about the E34?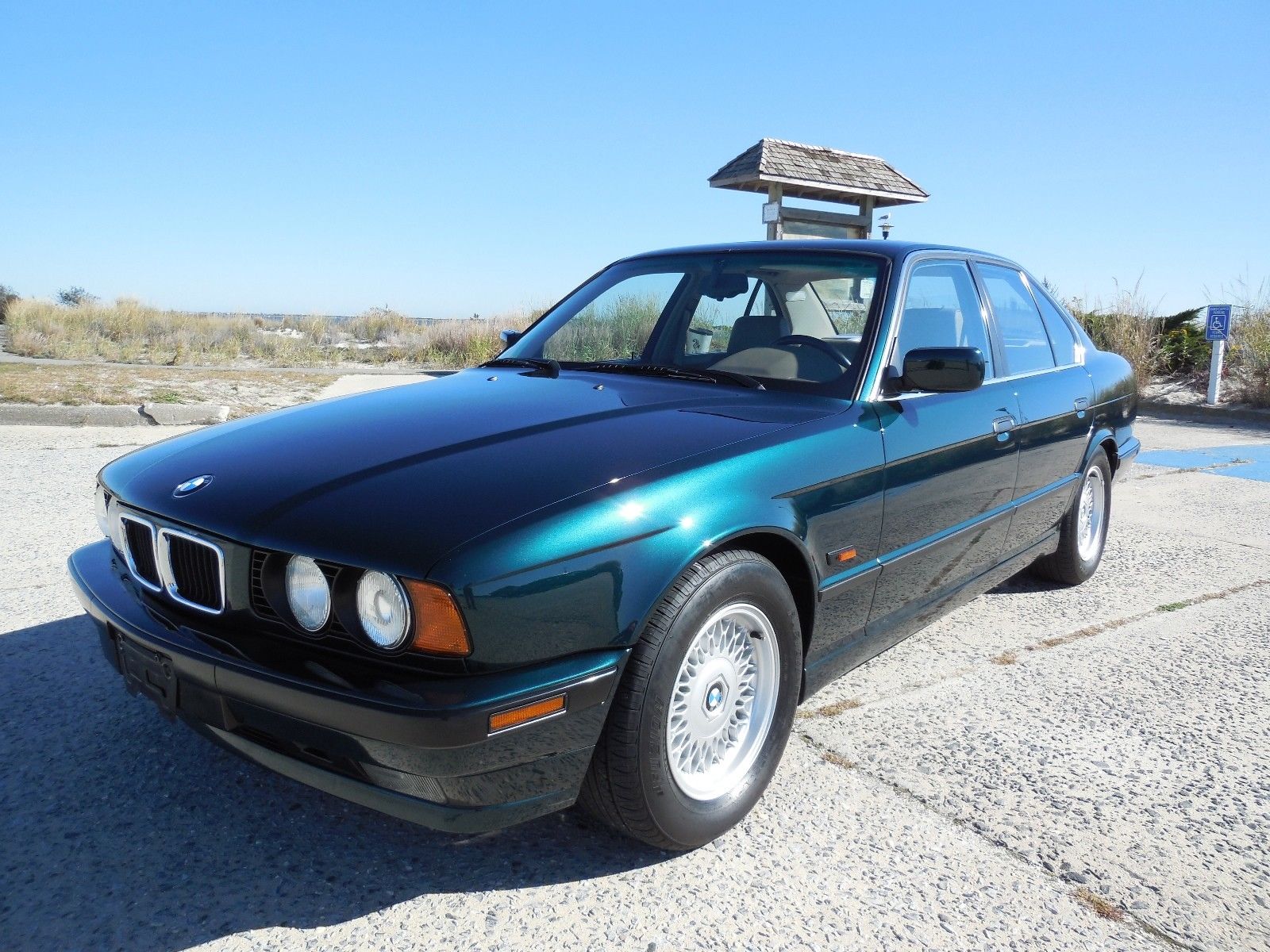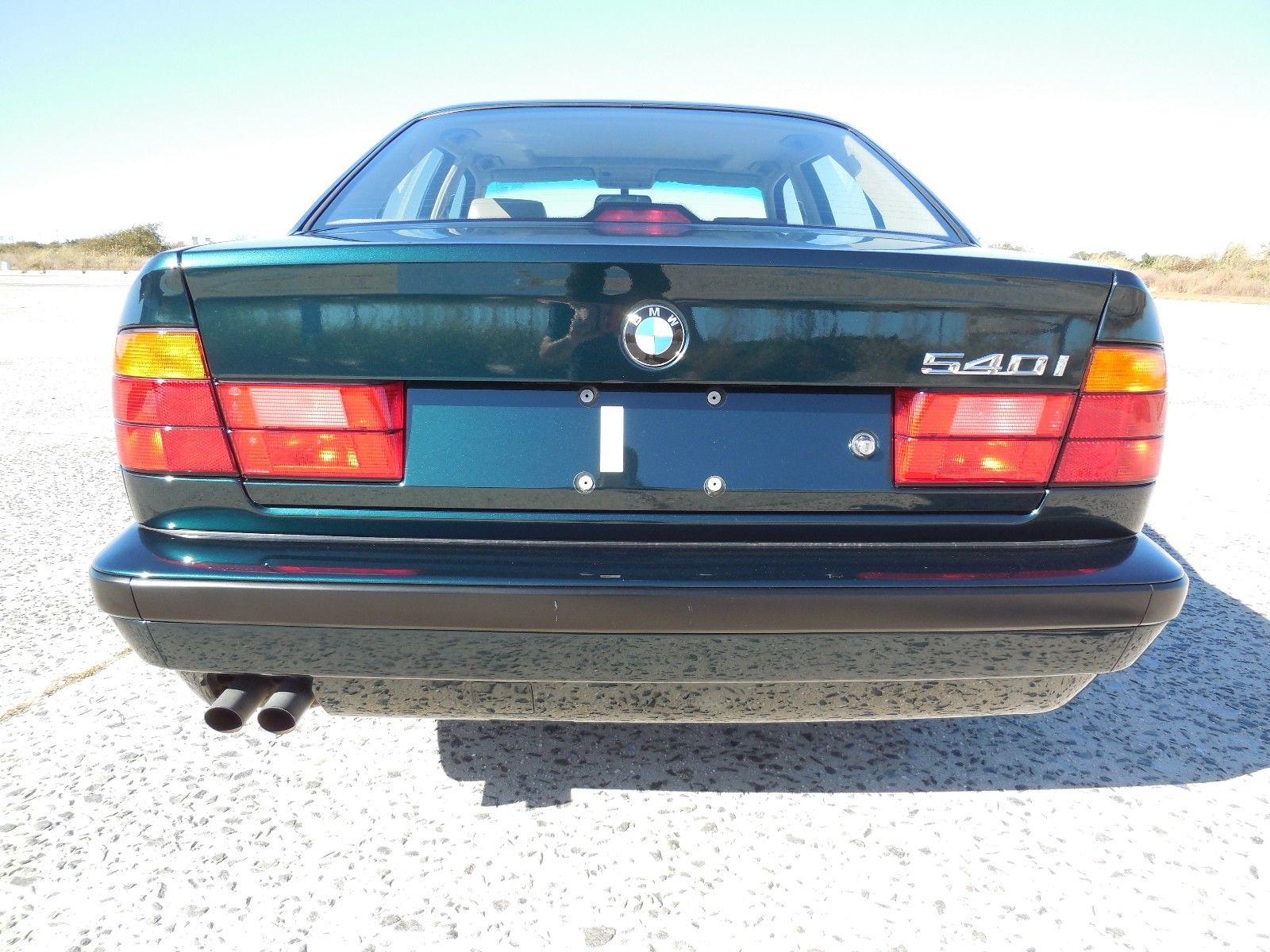 Year: 1995
Model: 540i Sport
Engine: 4.0 liter V8
Transmission: 6-speed manual
Mileage: 67,802 mi
Price: $15,250 Buy It Now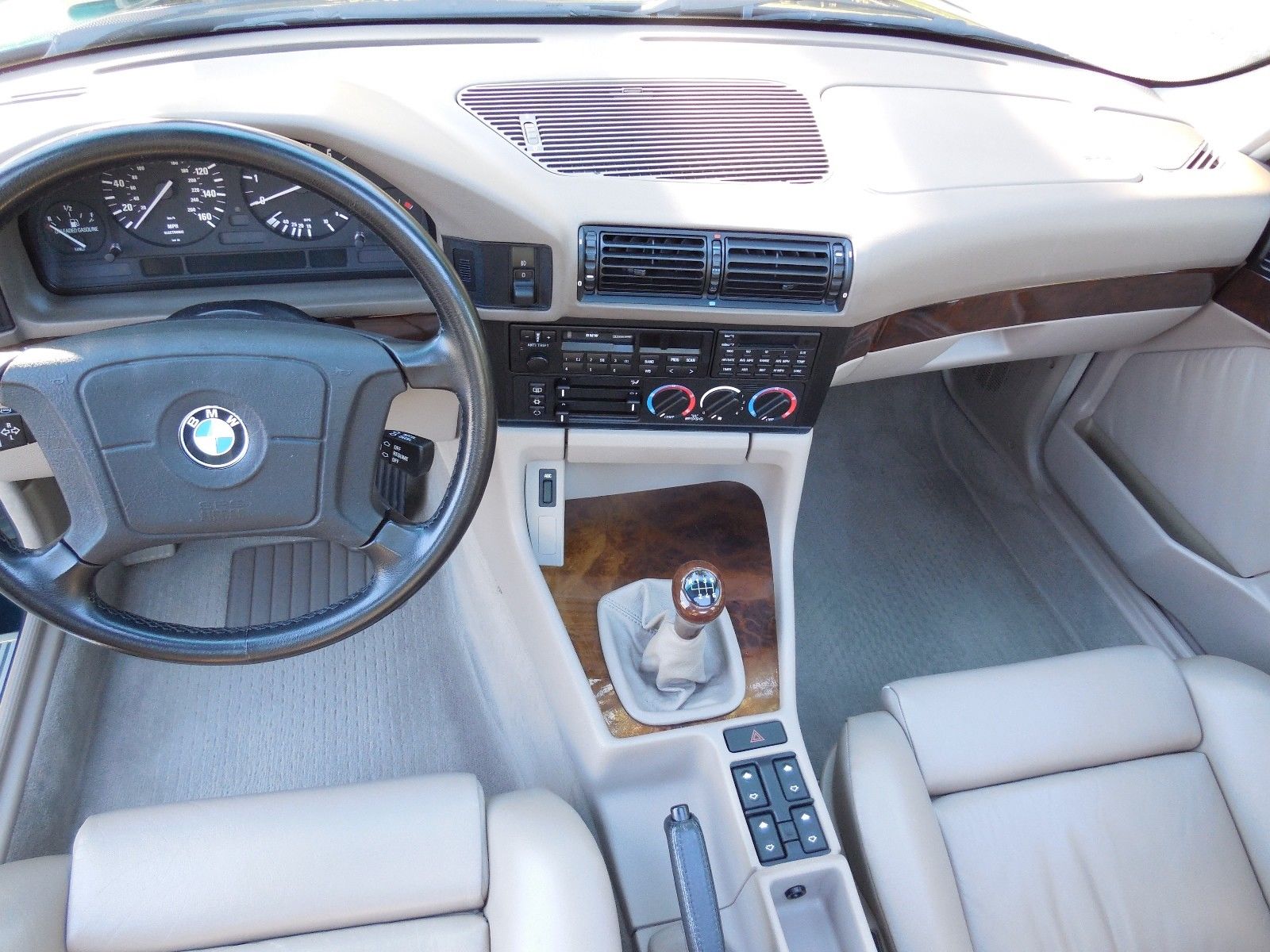 1995 BMW E34 540i 6 speed
One of 1357 manuals built
Extremely rare
Low miles (67k)
Absolutely stunning condition
Thousands in recent service history!!

Please scroll down to view the 160 + pictures in detail

Exterior:

The exterior of this car is simply stunning. The paint has incredible depth, clarity and gloss. The body is extremely straight and the panel gaps are perfect. This car was never in an accident and retains oem paint. Every door, hood and trunk have their original vin sticker in place. All of the exterior rubber is soft and supple with a nice deep black appearance. The brite work is in excellent condition. The paint just received a $900.00 paint correction. For those that are unaware paint correction is not your ordinary detail. This process took 2 full days to complete leaving the paint with a finish that is mind blowing. This process also requires the paint to be in excellent condition from the start. This was a four step process using the finest german products available. Looking into this paint is like looking into a mirror! The rims on the car are near flawless, even the inside of them are completely clean and brake dust free.

Interior:

I highly doubt you will find an e34 6 speed with a better interior than this one. Everything from the headliner down to the carpets are in fantastic condition. The 2 front M5 sport seats show as if the car had half the miles . The rest of the leather is soft and supple. The dashboard shows as new. The carpets are perfect! This car was never smoked in and the ashtray and cigarette lighter tell the story. The passenger side rear door panel has a little space from where the leather tucks under the upper panel. Absolutely nothing earth shattering nor does it take away from this amazing interior. The rest of the door panels are in excellent shape. All of the wood has a rich deep color.

Mechanical:

This car runs, drives, and shifts perfectly!!. The ac is cold and the heat is hot. All of the windows and sunroof operate as they should. The steering is tight and accurate. The brakes stop well with no pulsation at highway speeds! The engine holds a smooth idle and is extremely powerfull throughout its rpms. All of the pixels are bright and perfect!This car has option code (0214) ASC+T , (0704) low-slung m sports suspension, (0694) BMW 6 cd changer, (0494) heated drivers and passenger seats. I have a print out from BMW showing additional codes as well, most importantly are the ones i stated. From 12/18/2014 to 8/16/17 the car has received over $8,000 in service and repairs.

12/18/2014 Manfred's Automotive,Inc. D/B/A F1 Imports and Exotics
Mileage, 58,100
New clutch , flywheel and rear main seal
New front strut cartridges and bump stops
complete flush and refill of clutch hydraulic fluid, brake fluid
the sum of this repair was $4,449.14

1/28/2016 Sparks Mobile Auto Repair &Tune

Mileage: 63,000
New Behr Radiator
Antifreeze
New AC idler pulley
New idler tensioner
$415.67

8/16/2017 German Auto Repairs
Mileage 66,792
Genuine Bmw valley pan (updated version)
4 new bosch knock sensors
All new fuel injector O rings top and bottom
8 spark plugs
Intake manifold gasket
Pcv crankcase/oil separator
Complete removal & replacement of throttle body gaskets
Complete valve cover gaskets (inner-outer ) +grommets for bolts
Coolant temp sensor
Fuel filter
Upgraded german water pump & housing gasket
Thermostat & gasket
Coolant pipe O rings
New gaskets for coolant diverter in back of heads
Rear differential fluid replacement
Oil Change
refinish valve covers
OEM style coolant clamps
Genuine BMW radiator clips
Drain and fill with genuine BMW antifreeze
Perform compression and leak down test

The tires on this car are close to new!

The car had a small leak coming from the valley pan gasket. This is an expected problem from every M60/M62 V8 engine. I went overboard with the rest of the servicing as the car didn't need the rest. Greg over at German Auto Repairs informed me that this type of job requires the removal of the intake manifold and other various parts exposing many original components. He informed me that long term it was cheaper to bite the bullet now and change everything that was original before putting everything back. Greg noted to me that when he removed the valve covers he was completely impressed how spotless the inside of the engine was. He was also taken back by the condition of this car as he said "it was the best one he has ever seen".

Short Story:

Finding a clean e34 is a hard task, Finding a clean low mileage e34 6 speed is even a harder one. According to internet sources, there was only 1367 6 speeds brought into the US. This makes it a difficult task finding a car such as this. Several years back i owned a 98 E39 540i 6speed, i can truly say that i am more pleased with the looks, drive feel and build quality of this E34. It took me over 2 years to find a car of this caliber. I had always lusted for an M5 but after speaking to other enthusiasts and owners they advised me to looking in this direction. To some people this car is the next step down from an M5, but for me its the next step up. With a simple chip and exhaust this car can produce more horsepower than an M5 while still being reliable. I am more of a purist and like cars stock but its nice to have an option.

As i mentioned above, this car received a concours paint correction. I would like to clarify for any confusion, but this was a multi step polishing process using compounds and polishes. The car didn't need this ,but warranted it because the paint was so nice to start. You can literally see all the metallics come to life. The engine bay on this car is spectacular. It is ready to be shown or daily driven. Thats a choice for its new owner.

I have a close friend who is in the shipping business, i would be happy to extend a discounted rate to its new buyer.
If you have a question don't assume , I'm happy to answer any questions you may have about the car. Please feel free to contact me at 516-468-3079. I can also put you in touch with Greg over at German Auto Repairs. Please view the pictures in detail to see how amazing this car is!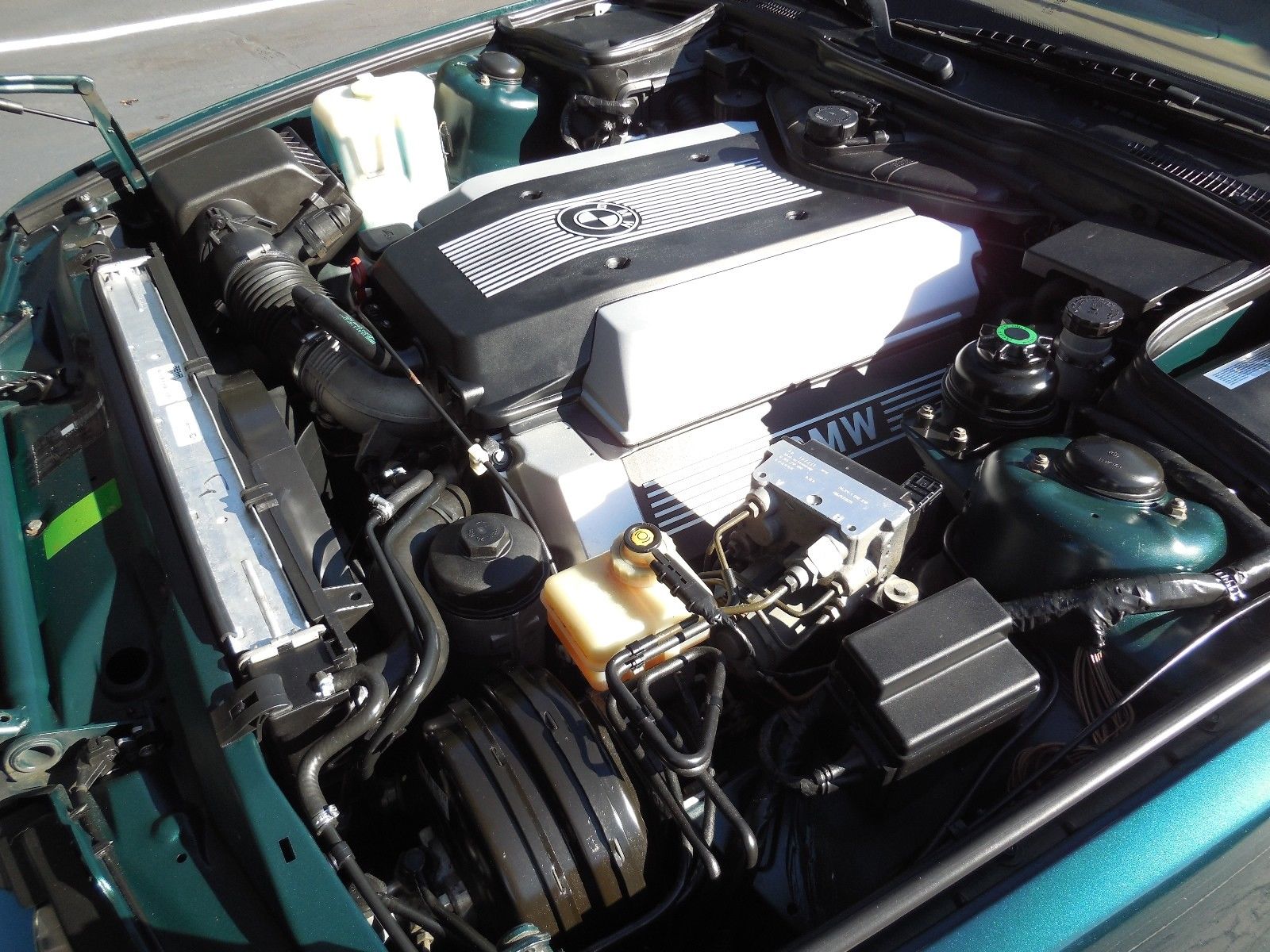 Hands down, this car is impressive to look at. If the E39 appears very well presented, this 540i Sport looks damn close to brand new. Produced in late 1994, this Oxford Green Metallic (324) over Parchment leather (0453) had ASC, leather steering wheel with electric adjust, electric and heated sports seats and M-Sport suspension. The Style 7s are a neat look on these too, though they look tiny compared to the M-Parallels. It appears to be lovingly cared for with a solid mechanical history and only around half the miles of the E39. Finding a clean E34 like this one is, as the seller notes, much harder than the later models as far fewer were produced and imported. Although the M62 had more punch, the M60/2 in this car is no slouch with 282 horsepower again mated to the rare 6-speed manual.
Despite that, the appeal in the E39 and E34 markets are slightly different to me. The E34 is more luxury-oriented, more sedate and less shouty than the E39 M-Sport. Condition of both cars is outstanding, but in different ways. The E39 impresses by hiding its miles, while the E34 is exceptional but also very period. Which is the winner likely depends on your priorities. It's possible (as I showed the other day) to get more exotic M or Alpina examples for these prices, but not in equal condition. I find each really compelling but for different reasons. In each case these cars seem like money well spent, but the E34 is aimed at a collector and the E39 a driver.
-Carter