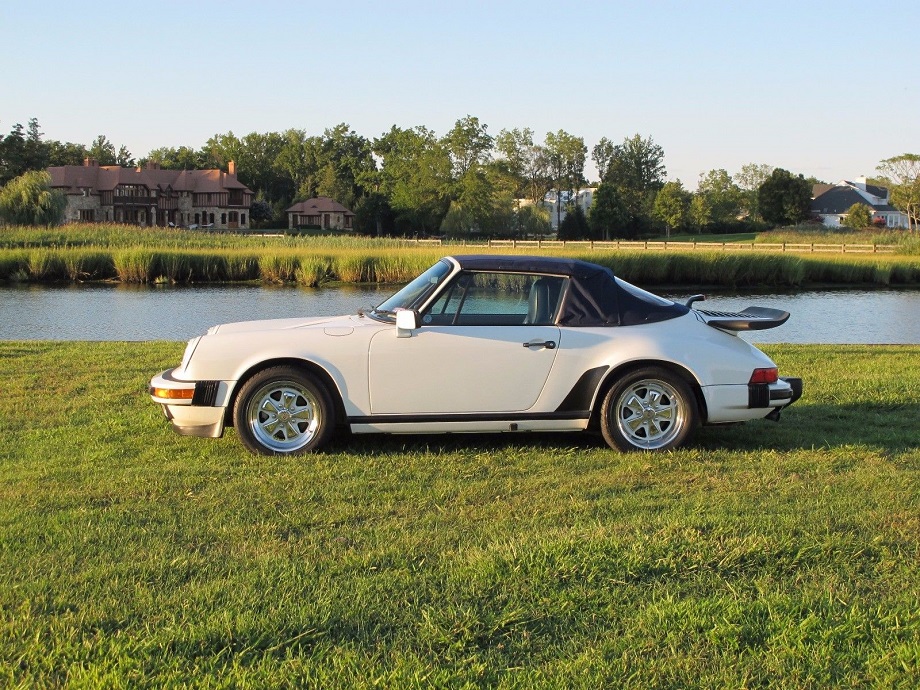 I'm forcing the issue a little bit here as I will freely admit there aren't great reasons for lumping these two 911s together. So why? Basically because I think each is worth consideration for those in the market for a 3.2 Carrera, but neither is really distinguished enough that I think one is obviously superior to the other, nor are they distinguished enough to write up separately. So why not look at them both?
These two 911s each present as similar examples of a late classic 911 and since neither is a Coupe they also present the choices for those who prefer a bit of open-top enjoyment. Each comes from the final three model years after Porsche fitted the G50 5-speed manual transmission and I think their condition is pretty comparable. While the mileage of each is a bit different neither is crazy high nor crazy low. Lastly, I think their selling prices should be pretty close. So if you're in the market for a G50 Carrera and want a little wind in your hair these both should be worth further investigation.
I'll go chronologically and begin with this Grand Prix White 1987 Porsche 911 Carrera Cabriolet, located in New Jersey, with Dark Blue leather interior and 68,050 miles on it.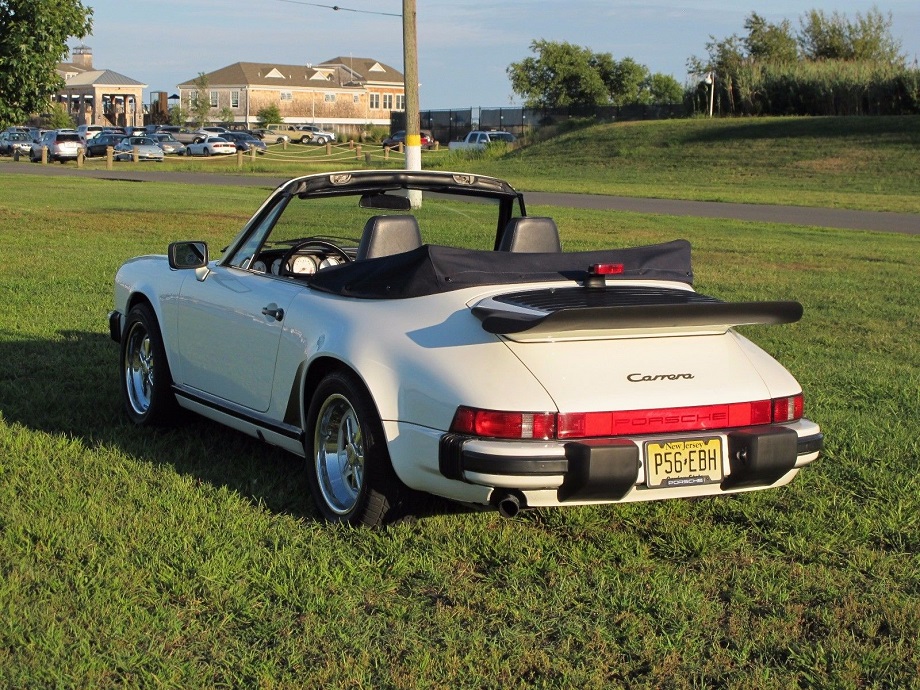 Year: 1987
Model: 911 Carrera Cabriolet
Engine: 3.2 liter flat-6
Transmission: 5-speed manual
Mileage: 68,050 mi
Price: $44,000 Buy It Now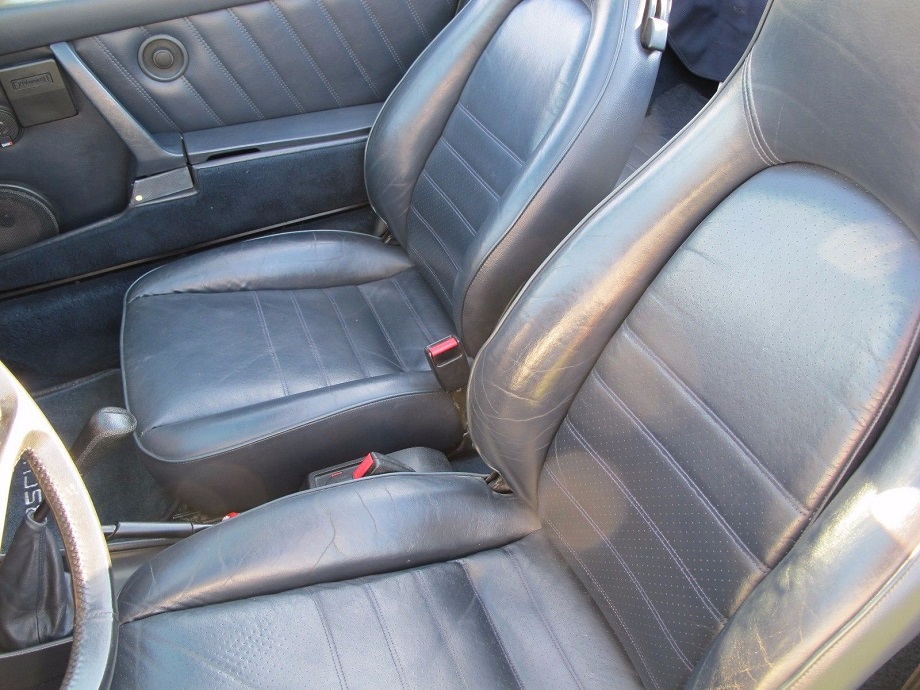 Available for sale is this clean, unmolested 1987 Porsche 911 Carrera Cabriolet in Grand Prix White over blue leather with a blue canvas top. The clean, accident-free Carfax report indicates the first 60,000 miles of this car's current 68,050-mile odometer reading were garnered in Southern California.

Mechnically sound and exceptionally cared for, this car benefits from the slick shifting G50 5-speed manual transmission that was offered for the first time that model year. Recent service includes replacement of the electric seat adjustment switches and new cables for the electric soft top. Modifications are limited to an aftermarket stereo and alarm, door mounted cup holders, aluminum pedals, a K&N air filter and a front strut brace. Per the VIN sticker under the front hood, options from the factory include sport steering wheel with elevated hub, central locking, light metal wheels (forged), comfort seats, driver's seat lumbar support, cruise control, California specification, and electric cabriolet top.

This beautiful, classic air-cooled Porsche is ready to deliver many more miles of smiles to a new owner.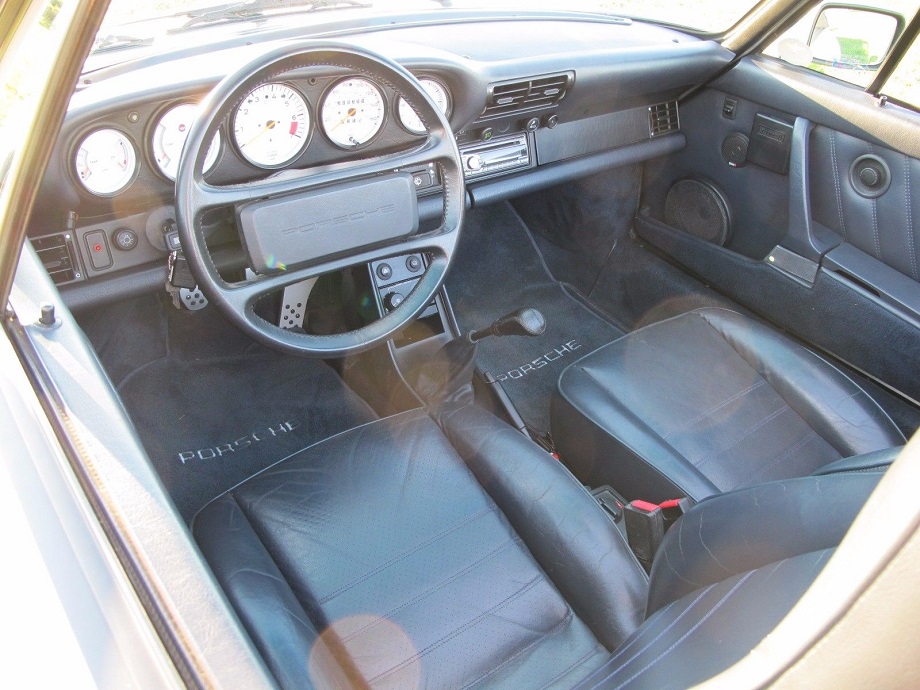 Of the two 911s we're going to look at, my natural inclinations don't really draw me to this one, but outside of my personal preferences I do think this is a nice looking Carrera Cabriolet. The paint looks nice and bright, an especially important feature of white paint, and it looks clean and well taken care of. The interior presents nicely as well showing little apparent wear. I like the subtle variation dark blue provides over a more standard black interior and it works well with the white exterior. It makes everything just a little more interesting. Outside of a few interior items it appears to be wholly original as well. We don't hear much about its service history so that's where the questions likely begin. All in all this looks like a solid Carrera and the asking price of $44K isn't too bad given its mileage and apparent condition.
Next will move forward one year and add back some of the top with this Guards Red 1988 Porsche 911 Carrera Targa, located in California, with Black leather interior and 116,000 miles on it.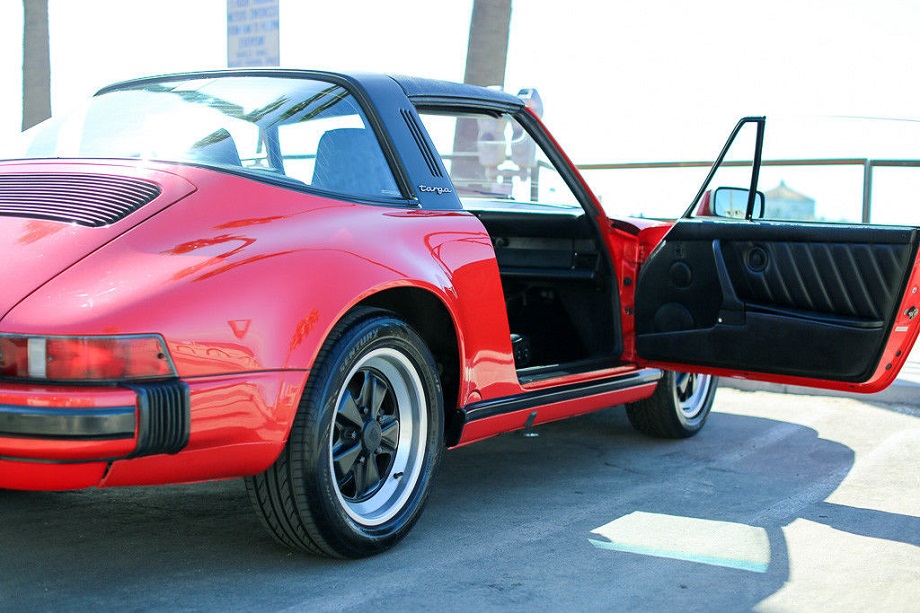 Year: 1988
Model: 911 Carrera Targa
Engine: 3.2 liter flat-6
Transmission: 5-speed manual
Mileage: 116,000 mi
Price: Reserve Auction ($49,500 Buy It Now)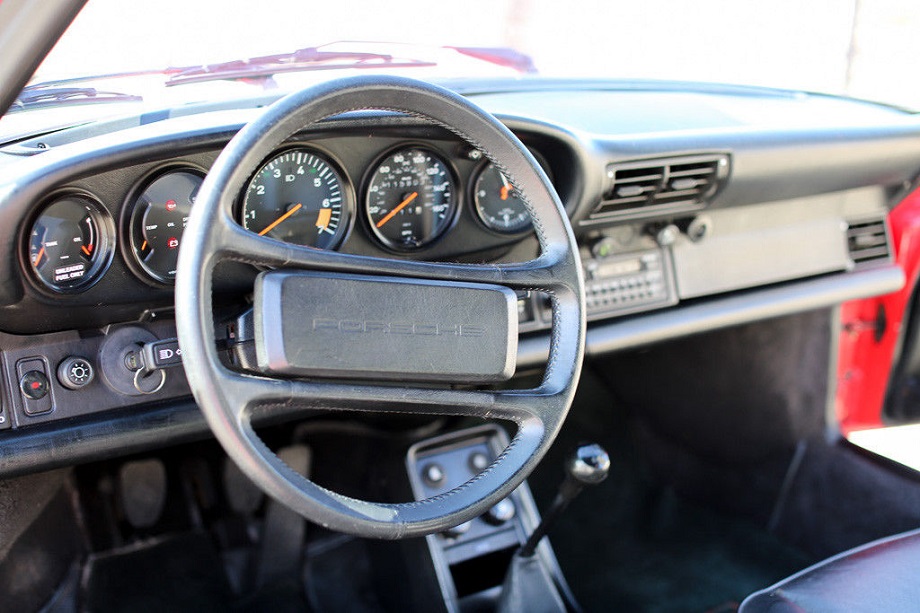 1988 Porsche 911 Carrera Targa (G50)

Exterior: Guards Red
Interior: Black Leather
Engine: 6-cylinder 3.2L

Unmolested classic 911 G50! ALL original, no modifications. All keys and books. Extensive service history and records.

-CLEAN Carfax
-116K miles
-5th owner
-Always garaged and serviced on-time
-AC blows cool
-Interior in very good shape, no cracks on dash
-Engine fires up right away, no smoke
-G50 transmission is flawless – shifts smooth in all gears
-Targa top in great shape – no leaks or tears
-Just checked out by Auto Werkstatt in Manhattan Beach – Brakes are good, clutch is good.
-Shocks will need to be replaced in near future (front squeaks over bumps)
-Very minor paint chips on front bumper, gas cap and targa roll bar and car no longer has toolkit

Bid with confidence on this classic 911!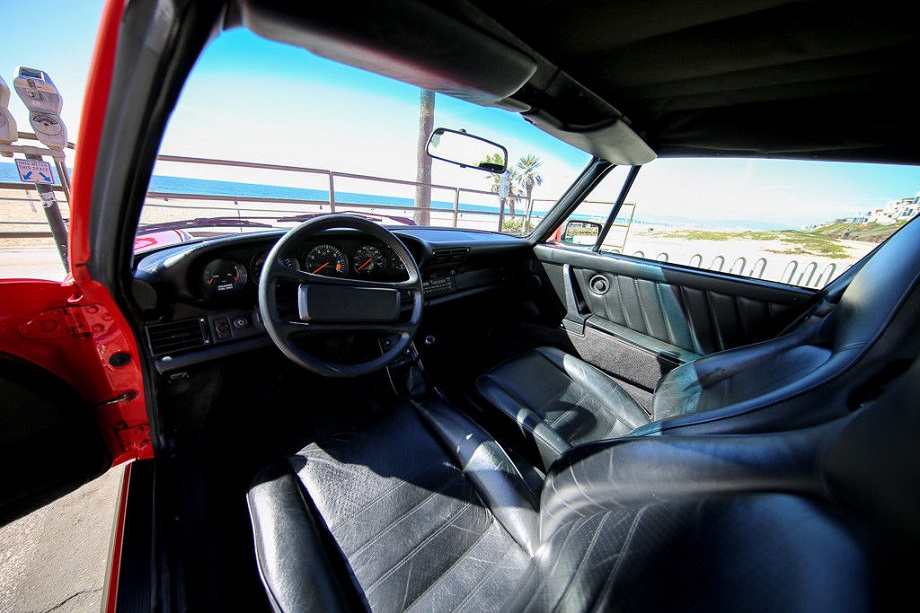 Frequent readers likely will not be surprised to find that I prefer a Guards Red Targa over a Grand Prix White Cabriolet. This one looks in very nice shape and even though it has almost 50K additional miles its condition looks just as good as that of the Cabriolet. Again we don't see too much wear, but I also don't think the interior pictures are quite as useful. It's hard to tell, and may just be glare from the sun, but some of the dash and top of the passenger door looks like it may be a little worn. The rest looks pretty good though and it also looks mostly original. The service history is said to be extensive and up to date.
As I noted above I think the selling price for each of these likely will be similar. While it might just be my bias at work the Targa strikes me as in slightly better condition and we have some knowledge of its service history (though nothing to back that statement up). Both, I think, look like honest 911s that should provide plenty of additional enjoyment without too significant a financial outlay.
-Rob