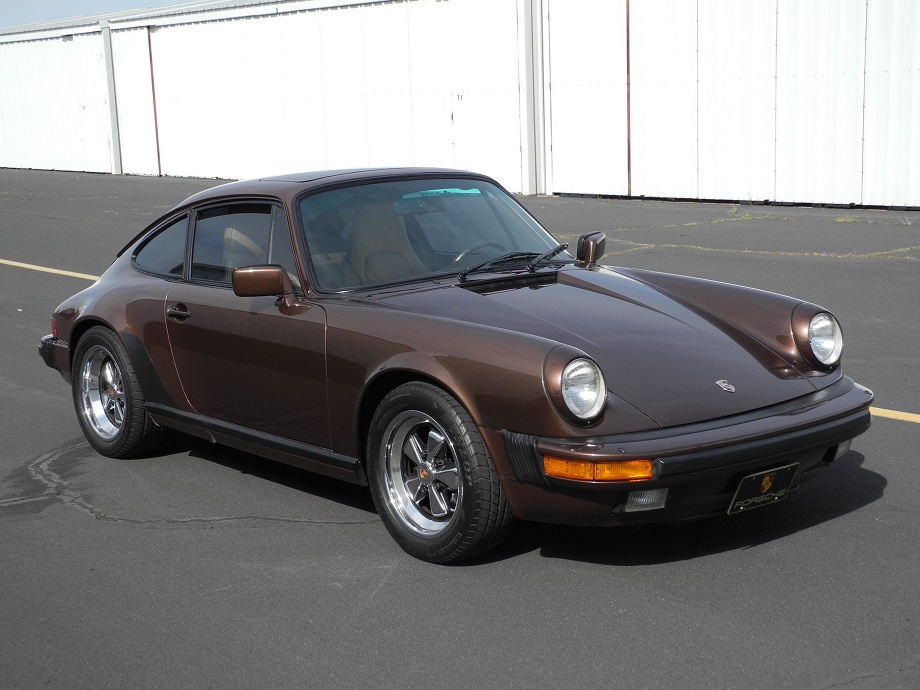 I will admit here I am really stretching the boundaries of what makes sense for a double take. I had already come across this Nutmeg Brown Metallic 1985 Porsche 911 Carrera Coupe and wanted to write it up because of its fairly rare and unusual exterior color. I like darker metallic browns a lot and we almost never see them outside of a few years in the 70s and 80s. I'll admit that brown isn't the most appealing car color for many, but in the right circumstances it can work quite well.
Then I came across a much newer 911 in a very similar color and thought, why not? So if you are a fan of these dark brown exteriors this might give you a sense of your options and, what for me is perhaps the most interesting aspect of this, the relative cost and performance that's available to you. Let's look at the Nutmeg Brown Carrera first:
Year: 1985
Model: 911 Carrera
Engine: 3.2 liter flat-6
Transmission: 5-speed manual
Mileage: 123,890 mi
Price: $47,900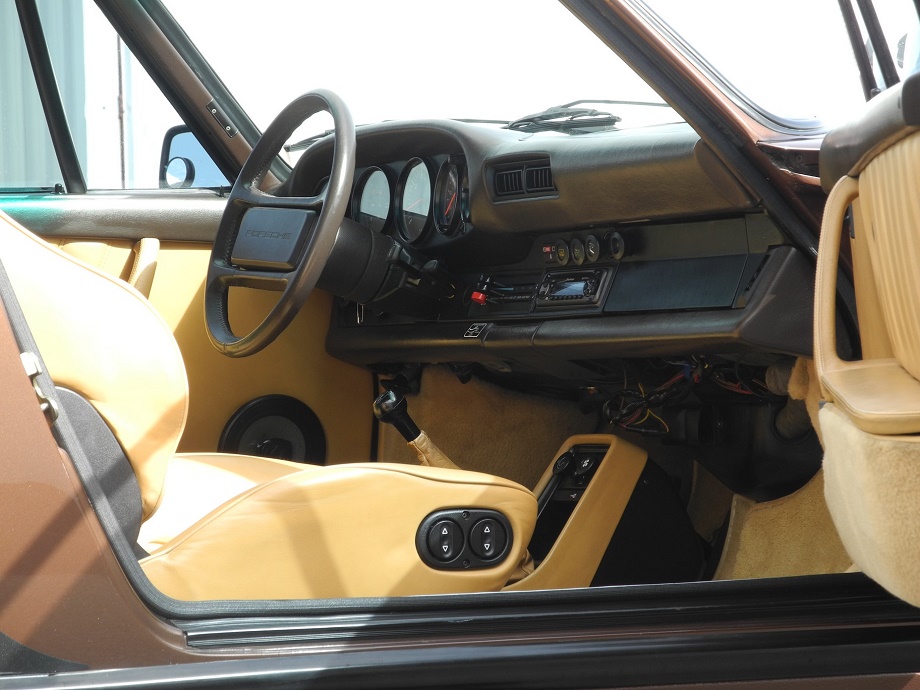 We are pleased to offer on behalf of one of our clients this fantastic Porsche 911 Carrera Sunroof Coupe.
Once again, another outstanding Porsche 911 in highly original condition from sunny California.
As the collector car market shifts up and down, the one thing that continues to be valued by enthusiasts and collectors alike is originality and quality Porsche 911s.

This 1985 Carrera sunroof Coupe is a 3 owner, always California car in excellent, original running condition. The car is not a trailer queen and has been driven by all 3 owners as it is supposed to. At 123,890 miles, this Porsche is visually and mechanically in excellent shape and looks like a 3 year old car!

Finished in truly stunning and rare nutmeg metallic over beige leather interior, this color combination has to be one of the most elegant combinations Porsche ever made. One high quality repaint to original specifications about 10 years ago.
All original and laser straight and dent-free body panels with factory gaps and shut lines all around.

The interior is all original and truly in unbelievably good condition. Perfect dash with no cracks or warping, perfect door panels and literally like new carpets are proof of the painstaking care this car enjoyed over the years.
The instruments all work including the clock and AC system.

The mileage has been recorded by all 3 owners with receipts for service and maintenance in a thick folder.

The car is one of the best running 3.2l 911s we have had. No oil leaks, very strong oil pressure, smooth shifting tranny with perfect synchro's. A truly delightful Carrera in a period correct and most elegant color combination. Fuchs wheels have been polished and show some light pitting.

Original tool roll, spare, jack and full cover included.

Please study all the photos closely to evaluate the condition of this car!

Located in Auburn, CA.

Worldwide shipping gladly arranged!

Price: $ 47,900.00

Please contact us for further information!

Office US: 1-530-268-4737
Office Germany: 49-(0)5691-912460
jr@2shores.com
www.2shores.com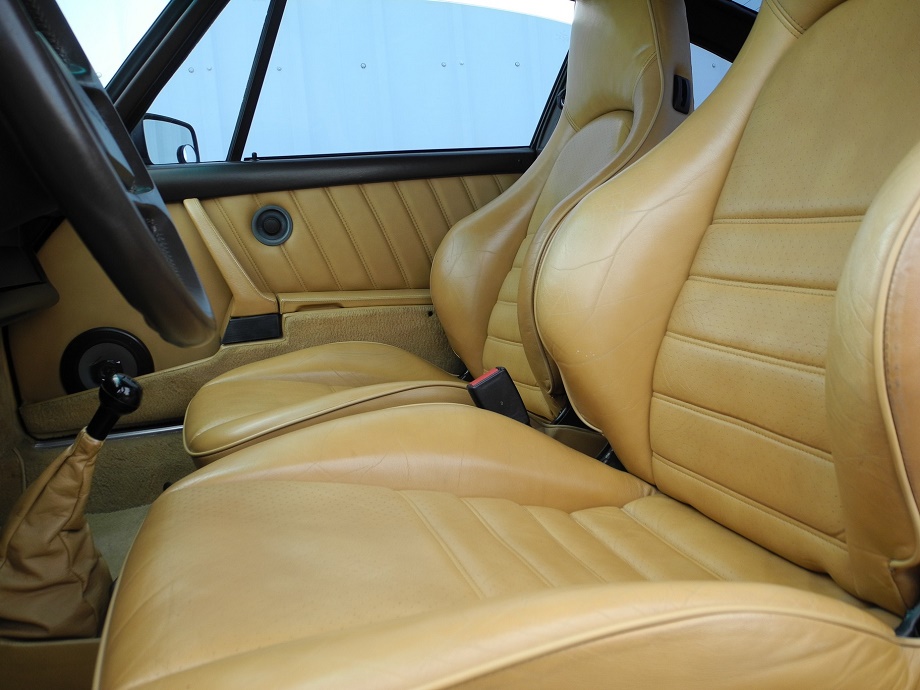 This is an instance where chrome wheels really are working to great effect. While they certainly can detract from the appearance of a lot of 911s that's not the case here. Within those dark brown curves the chrome stands out brightly and provides nice contrast. Nutmeg Metallic in general looks really good and this 911 shows it very well. It's a very dark brown and outside of direct lighting I'm not sure you'd be able to appreciate the way the color changes and how the metallic flakes pick up the sun, but in the sun it looks great. The interior – said to be entirely original – looks in very nice shape and its lighter color goes well with the dark exterior. The sport seats are a great bonus.
The mileage is definitely higher on this 911, but given its age we can't really call it high. Let's call it reasonable. It's said to come with a full maintenance history. We've discussed on these pages many times the inherent value of a well cared for 911. Concerns over mileage easily can be swept away if we know it's been taken care of. Hopefully that will prove to be the case here because this is a really nice looking Carrera.
Now let's move forward into the current century to take a look at this Macadamia Metallic 2008 Porsche 911 Turbo Coupe: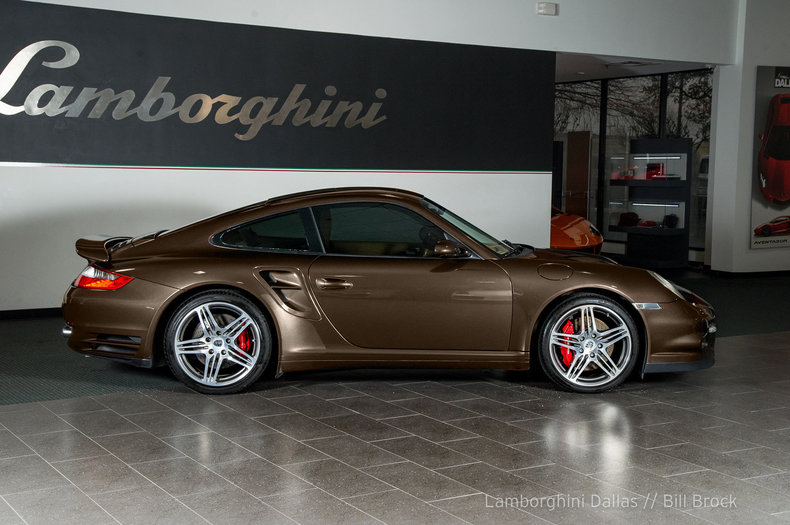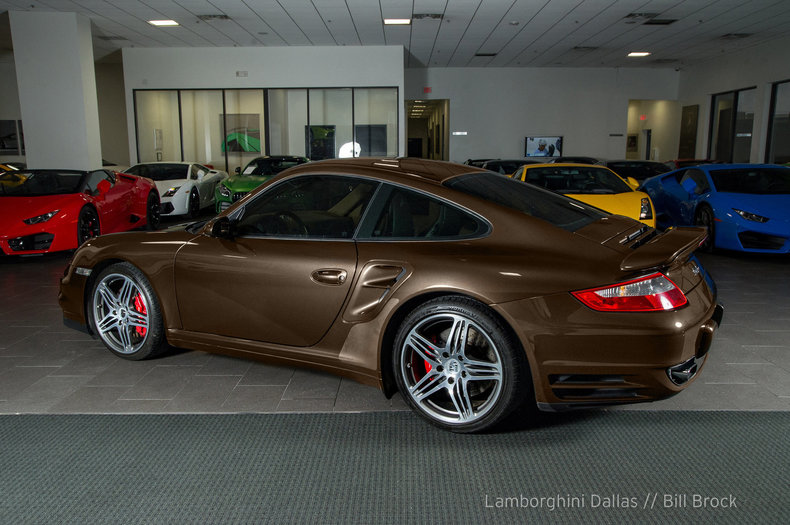 Year: 2008
Model: 911 Turbo
Engine: 3.6 liter twin-turbocharged flat-6
Transmission: 6-speed manual
Mileage: 72,296 mi
Price: $64,999 Buy It Now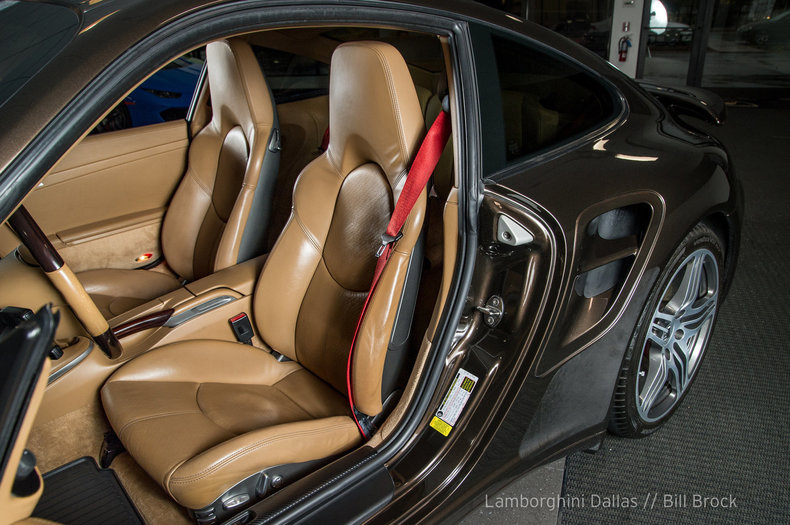 This is a Carfax certified 2008 Porsche 911 Turbo Coupe equipped with a 480hp 3.6L H6 Twin Turbo engine and a 6-speed manual transmission. This is a beautiful Macadamia Metallic exterior paint color and finished in a Sand Beige full leather interior.

// For an interactive view of this Porsche, experience the video here:

+ Walk around / Hear the engine / Sit inside //

This car is clean inside and out. This car has an original MSRP of 136K including:

+Navigation

+Sport chrono package

+Park assist system

+Makassar steering wheel multfunction

+Makassar package

+Adaptive sport seats

+Remote CD Changer

+Floor mats in interior color

……and much much more!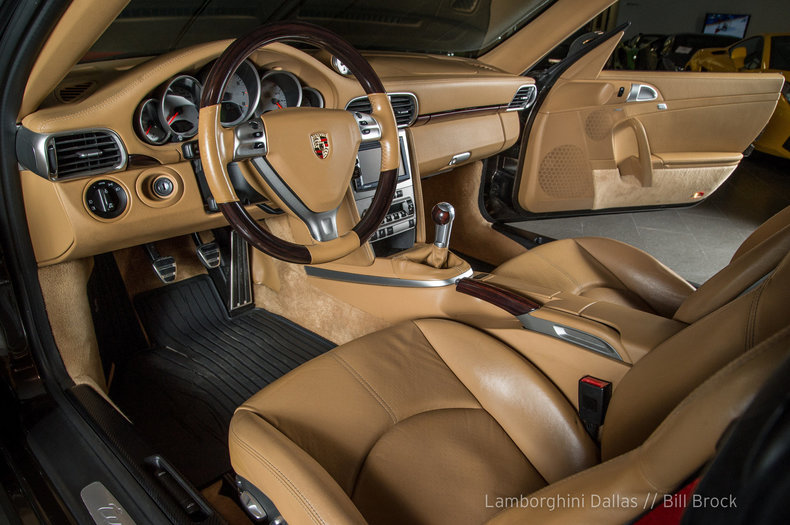 Macadmaia Metallic and Nutmeg Metallic look very similar to me. I'm not sure how much difference there is between them – perhaps Macadamia is slightly darker? – and I imagine outside of a close side-by-side comparison most won't be able to tell the difference. I think this sort of color works a little better on the Carrera than on the refined lines of the 997, but that's splitting hairs. If you like the color, then you'll probably like it on either car.
The first thing that should be obvious is that we've really taken a step up in performance and luxury with this Turbo. While the exterior may be pretty similar, the interior trim of the 997 is quite an upgrade in refinement and this particular Turbo has added a few touches of wood to enhance that effect even more. As for performance…well…I think we know how that comparison goes. A 3.2 Carrera can provide plenty of enjoyable driving, but it can't match the sheer ferocity of a 480 hp twin turbo. That's the part of this comparison that doesn't make the most sense. Yet, outside of that (not insignificant difference) there are some similarities: the exterior and interior provide similar levels of contrast, both come with sport seats and a manual transmission, the prices are in the same general realm, and while the raw mileage is pretty different, neither of these 911s would be considered low mileage so the concern there really comes down to servicing.
I'm not sure there's a buyer that truly would be deciding between these two 911s, but I suppose it does provide some perspective for lovers of a brown exterior. Modern luxury and performance versus the more raw pared down nature of an '80s Carrera. Perhaps there's someone out there who might desire both? One 911 for everyday driving and the other for enjoying some weekend back roads. I'll let you decide which is which.
-Rob