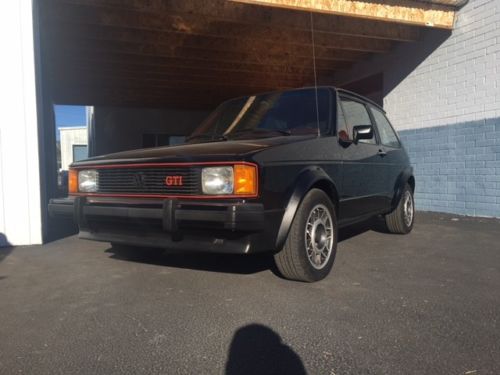 We've had plenty of Volkswagen A1 chassis to look at recently, from the neat Jetta Turbo Diesel we'll be seeing again soon through the string of very awesome Sciroccos from both the first and second generation. I've also looked at quite a few GTIs, from the second, third and fourth generation. But for all that love, I've somehow managed to avoid combining the two and covering what is arguably the most famous modern Volkswagen – the original GTI.
Today I hope to rectify that with today's last-year example of what many consider to be the original 'hot hatch'. While the U.S. example was somewhat watered-down and had chunkier styling than the truly Spartan 1976 design, it was still a revelation in performance and universally heralded as the benchmark by which all other sporty economy cars would be based moving forward. At a time when there were few do-it-all type cars, the GTI managed to be nearly all things to all people; it got good fuel economy thanks to a relatively miserly 1.8 liter inline-4 with efficient fuel injection. It looked neat, thanks to 14″ alloy wheels, wide fender flared and blacked-out detail work with red accent stripes. It was functional and flexible, with fold-down seats and a (for its size) spacious hatch area to transport goods. It was usable year-round, with front-wheel drive allowing for decent snow traction. And the sport suspension, heavily bolstered seats and close-ratio transmission made the whole package an athletic alternative to the norm, allowing practical-minded men and women to fling their family car through corners with aplomb. Near universal was its appeal, and infectious were the ad campaigns, which in the Volkswagen tradition used short phrases to capture attention like "They're going fast" and "Serious Fun" – even the oft-used "It's a wolf in sheep's clothing".
"So what do Germans do for fun? They love to drive. Preferably in a Volkswagen GTI. Because the GTI is designed to be fun. Not fun in the sense of a dashboard cluttered with all sorts of doodads. But fun in the sense of a precision machine that respects and answers its driver's every wish.
Hyperbole? Certain, this is advertising after all. But it pointed towards the beautiful simplicity of the design, the functionality of the package, the elegance of the execution. The GTI didn't pretend to be a Corvette like the Opel GT, or a luxury car like the Passat. It wasn't competing with Mercedes-Benz, or even really Porsche, on any level. And that allowed the characteristically unfun Germans to let their hair down and have a bit of a ball:
1 Comment