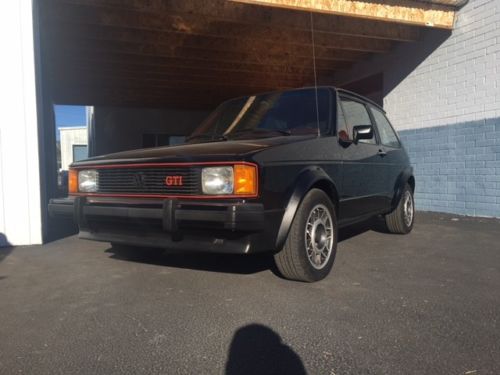 We've had plenty of Volkswagen A1 chassis to look at recently, from the neat Jetta Turbo Diesel we'll be seeing again soon through the string of very awesome Sciroccos from both the first and second generation. I've also looked at quite a few GTIs, from the second, third and fourth generation. But for all that love, I've somehow managed to avoid combining the two and covering what is arguably the most famous modern Volkswagen – the original GTI.
Today I hope to rectify that with today's last-year example of what many consider to be the original 'hot hatch'. While the U.S. example was somewhat watered-down and had chunkier styling than the truly Spartan 1976 design, it was still a revelation in performance and universally heralded as the benchmark by which all other sporty economy cars would be based moving forward. At a time when there were few do-it-all type cars, the GTI managed to be nearly all things to all people; it got good fuel economy thanks to a relatively miserly 1.8 liter inline-4 with efficient fuel injection. It looked neat, thanks to 14″ alloy wheels, wide fender flared and blacked-out detail work with red accent stripes. It was functional and flexible, with fold-down seats and a (for its size) spacious hatch area to transport goods. It was usable year-round, with front-wheel drive allowing for decent snow traction. And the sport suspension, heavily bolstered seats and close-ratio transmission made the whole package an athletic alternative to the norm, allowing practical-minded men and women to fling their family car through corners with aplomb. Near universal was its appeal, and infectious were the ad campaigns, which in the Volkswagen tradition used short phrases to capture attention like "They're going fast" and "Serious Fun" – even the oft-used "It's a wolf in sheep's clothing".
"So what do Germans do for fun? They love to drive. Preferably in a Volkswagen GTI. Because the GTI is designed to be fun. Not fun in the sense of a dashboard cluttered with all sorts of doodads. But fun in the sense of a precision machine that respects and answers its driver's every wish.
Hyperbole? Certain, this is advertising after all. But it pointed towards the beautiful simplicity of the design, the functionality of the package, the elegance of the execution. The GTI didn't pretend to be a Corvette like the Opel GT, or a luxury car like the Passat. It wasn't competing with Mercedes-Benz, or even really Porsche, on any level. And that allowed the characteristically unfun Germans to let their hair down and have a bit of a ball: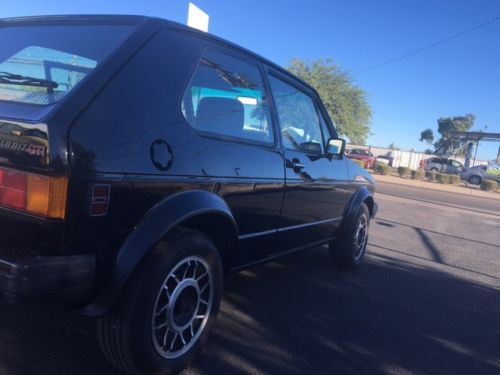 Year: 1984
Model: GTI
Engine: 1.8 liter inline-4
Transmission: 5-speed manual
Mileage: 120,627 mi
Price: Reserve Auction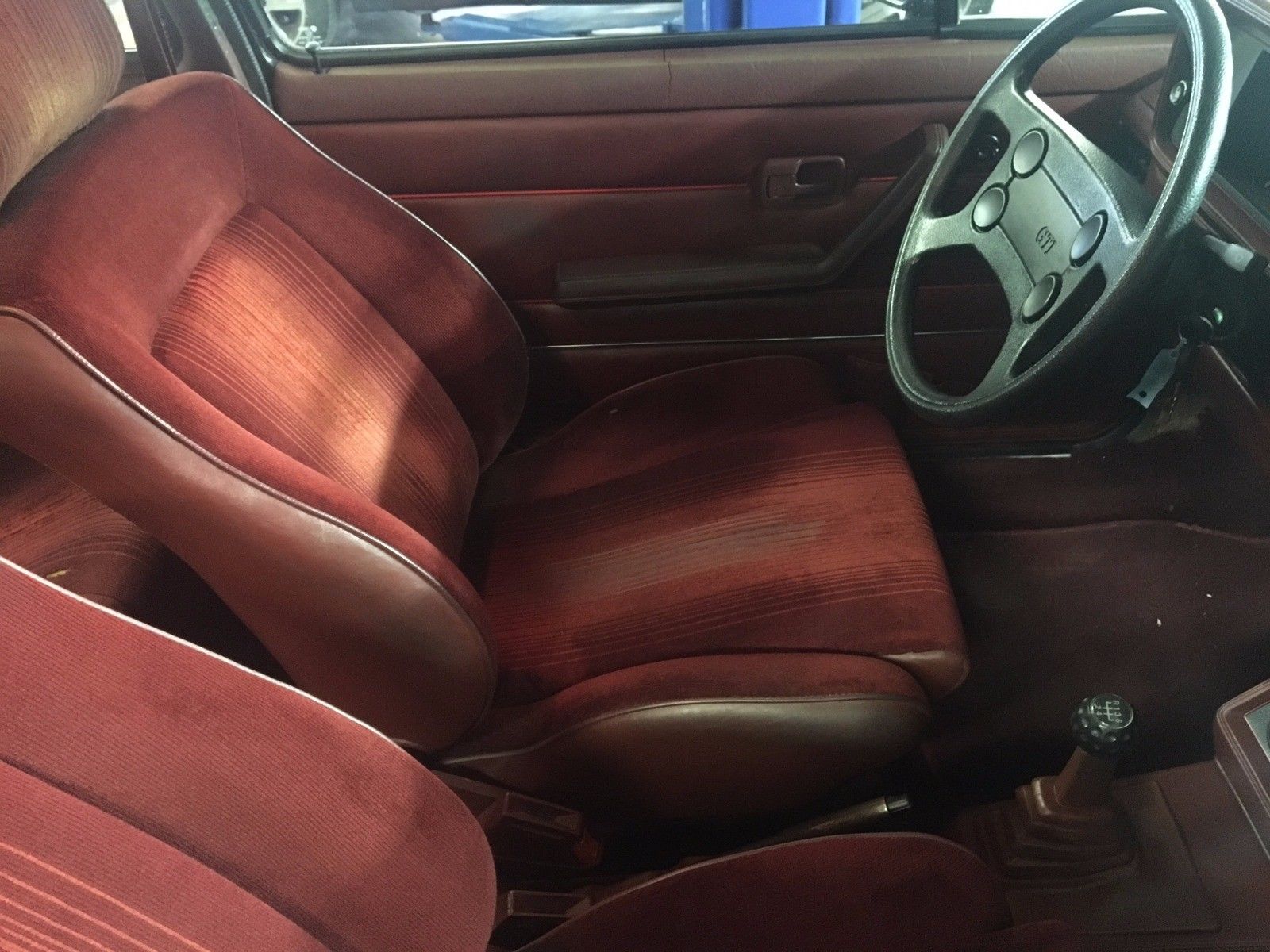 UP FOR SALE IS THE NEWEST 1984 GTI YOU WILL FIND
IN 1984 VW HAD A CONTEST TO WIN A NEW GTI, THIS CAR WAS WON AT GRANT RD VW IN TUCSON AZ IN JULY 1984. THE WINNER OF THE CAR OWNED UNTIL HIS PASSING A COUPLE OF YEARS AGO. I OWN A VW SERVICE CENTER IN TUCSON AND I WAS CONTACTED BY THE PEOPLE HANDLING THE ESTATE TO SEE IF I WOULD BE INTERESTED IN SOME OLD VW RABBIT. I IMMEDIATLY WENT TO SEE WHAT IT WAS AND WHAT KIND OF CONDITION IT WAS IN NOT EXPECTING MUCH. I PULLED UP TO THE HOUSE AND SPOTTED IT. A 1984 VW GTI COMPLETLY ORIGINAL. I COULDNT BELIVE HOW STRAIGHT IT WAS. IT WAS COMPLETLY UNMOLESTED AND EVEN THE FRONT SPOILER WAS ORIGINAL AND HAD NEVER BEEN BROKEN. THE SPARE TIRE IS THE ORIGINAL AND NEVER USED, JACK AND TOOLS STILL FASTENED WITH THE ORIGINAL RUBBER STRAPS TO SPARE TIRE WHEEL. THE PAINT HAD SUFFERED FROM THE DESERT SUN BUT THE BODY WAS UNBELIVABLY STRAIGHT.THIS CAR WAS THE PERFECT CANDIDATE FOR COMPLETE RESTORATION. SO I DID IT. I COMPLETLY DISSASSEMBLED THIS CAR AND STARTED FROM THE GROUND UP. A SIDE NOTE IS THAT WHEN I REMOVED THE PASSENGER FRONT SEAT I FOUND A LAMINATED ARTICLE FROM THE TUCSON CITIZEN DATED 7/18/1984 ABOUT THE WINNING OF THIS CAR. AFTER STRIPPING THIS CAR, REMOVING WINDOWS AND CARPET ETC, THERE WAS ABSOLUTLY NO RUST THANKS TO THE AZ DESERT. I SENT CAR TO VANDERPOOLS AUTO BODY AND WAYNE VANDERPOOL LAID DOWN A BLACK PIANT JOB THAT IS SPECTACULAR. WHEN I GOT THE CAR THE EXHAUST MANIFOLD HAD BEEN REMOVED DUE TO BROKEN EXHAUST STUDS IN CYLINDER HEAD. I REMOVED ENGINE AND TRANSMISSION FROM VEHICLE. CLEANED AND POLISHED ENGINE BAY WHILE ENGINE REMOVED. HERE IS A LIST OF REPAIRS AND PARTS REPLACED DURING RESTORATION.
NOTE::ALL THE PARTS USED WERE TOP QUALITY, NO CHEAP LOW QUALITY PARTS USED
REMOVED CILYNDER HEAD AND SENT TO MACHINE SHOP TO EXTRACT STUDS
REPLACED ALL INTAKE AND EXHAUST VALVES, GROUND SEAT AND REPLACED VALVE GUIDE SEALS, (there was nothing wrong with the valves but the head was off and I really enjoyed the restoration) SO WHY NOT DO IT RIGHT! REPLACED ALL GASKETS AND SEALS IN THE ENTIRE MOTOR. REPLACED ALL ENGINE AND TRANSMISSION MOUNTS.
COOLING SYSTEM::INSTALLED ALL NEW COOLANT HOSES, REPLACED TEMP SENSOR SWITCH, REPLACED WATER PUMP AND THERMOSTAT, INSTALLED NEW RADIATOR AND FAN THERMOSWITCH, REPLACED HEATER HOSES, REPLACED COOLANT EXPANSION TANK,
NOTE::ENGINE WAS SUPER CLEAN INSIDE, NO SLUDGE IN ENGINE, CAR HAD BEEN SERVICED REGULARLY
BRAKES:: NEW MASTER CYLINDER, NEW WHEEL CYLINDER, NEW BRAKE SHOES, NEW GERMAN BRAKE DRUMS, ALL NEW INNER AND OUTER WHEEL BEARINGS AND GREASE SEALS. NEW CERAMIC FRONT BRAKE PADS AND ROTORS, NEW FRONT HUB/WHEEL BEARINGS, NEW BRAIDED STEEL BRAKE LINES FRONT AND REAR.
SUSPENSION & STEERING::KONI FROT AND REAR ADJSUTABLE STRUTS, NEW EUROTHANE BUSHINGS FOR CONTROL ARMS AND REAR AXLE ASSEMBLY, NEW UPPER STUT MOUNTS FOR FRONT AND REAR STRUTS, SUSPENSION AND STEERING SUPER TIGHT, NEW STEERING RACK BOOTS AND NEW RIGHT AND LEFT SIDE TIE ROD ASSEMBLIES. ORIGINAL SNOW FLAKE WHEELS ARE ALL IN REALLY GOOD SHAPE AND TIRES BRAND NEW
TRANSMISSION AND CLUTCH::NEW SACHS CLUTCH KIT, PRESSURE PLATE AND THRUST CENTER PLATE, CLUTCH DISC, TRANSMISSION INPUT SHAFT BUSHING AND SEAL FOR CLUTCH PUSH ROD, NEW FLYWHEEL, NEW PRESSURE PLATE AND FLYWHEEL BOLTS. REPLACED BOTH DRIVE FLANGE SEALS, CHANGED TRANSMISSION GEAR OIL WITH PROPER GL5 GEAR OIL. REPLACED ALL SHIFT BUSHINGS AND INSTALLED SHORT SHIFT KIT, SHIFTING FEELS GREAT AND TRANSMISSION SMOOTH
FUEL SYSTEM::REMOVED FUEL TANK AND SENT OUT FOR DIPPING/CLEANING. NEW BOSCH FUEL PUMP AND INJECTORS, FLUSHED ALL FUEL SYSTEM LINES, NEW BOSCH FUEL FILTER
BODY::NEW WINDSHIELD AND GASKET/SEAL, ALL NEW DOOR SEALS AND DOOR OPENING GASKETS INCLUDING REAR HATCH, DRIVER AND PASSENGER WINDOW GASKETS AND SCRAPERS, REAR QUARTER AND REAR HATCH WINDOW GASKETS (WINDOWS WERE ALL REMOVED FOR PAINTING) BUMPERS PAINTED TO MATCH CAR, CLEANED ORIGINAL GRILL AND FRONT SPOILER, BOTH ARE IN PRISTINE CONDITION, ALL FOUR FENDER FLARES IN GREAT SHAPE AND PAINTED MATT BLACK. REPLACED BOTH TAIL LIGHT ASSEMBLIES WITH BRAND NEW OLD STOCK UNITS,
INTERIOR::DRIVERS SEAT HAD A SMALL WORN SPOT ON BACKREST BOLSTER, HAD UPHOLSTERY SHOP INSERT SMALL PATCH, ORIGNAL SEATS MATERIAL STILL LOOKS REALLY GOOD AND SINCE YOU CANT BUY THAT MATERIAL I WANTED TO SAVE IT, THE DASHBOARD HAS NO CRACKS, IT IS SLIGHTLY WARPER ABOVE GLOVE BOX DOOR, ORIGINAL DOOR PANELS IMMACULATE, UPPER PLASTIC TRIM SLIGHTLY WARPED AND CRACKE BELOW WINDOWS IN QUARTER PANELS AND DOORS, REPLACED CARPET WITH A REPRODUCTION ONE PIECE MOLDED CARPET. HEADLINER MATERIAL WAS REPLACED AT UPHOLSTERY SHOP AND COLOR IS A LITTLE OFF BUT LOOKS GOOD.
A/C & HEATER::THESE CARS CAME WITH A BIG YORK STYLE A/C COMPRESSOR, THE YORK COMPRESSOR TOOK A LOT OF POWER FROM THE ENGINE, I REPLACED THE A/C WITH A UNIT OFF OF A 1990 CABRIOLET WITH A SNADEN ROTARY COMPRESSOR, IT IS ALL FACTORY FROM A LATER CAR AND BOLTS DIRRECTLY SO IT IS STILL ALL GENUINE VW BRACKETS ETC. A/C WORKS GREAT, FOUND THE HEATER CORE HAD A LEAK AFTER GETTING CAR RUNNING, REPLACED HEATER CORE
FEEL FREE TO CALL ME WITH ANY QUESTIONS, I WAS WRENCHING ON THESE CARS AT THE DEALER WHEN THE GTI'S FIRST CAME OUT, I HAVE ALWAYS LOVED THESE CARS SO I TOOK THIS ON AS A PERSONAL PROJECT, MOST OF THESE ARE GONE OR ARE IN SUCH BAD SHAPE THEY WOULD TAKE TOO MUCH TO RESTORE. THIS WAS A GEM BEFORE I STARTED. NOW ITS AWESOME!!!!!
GARY 520-405-5229
THANKS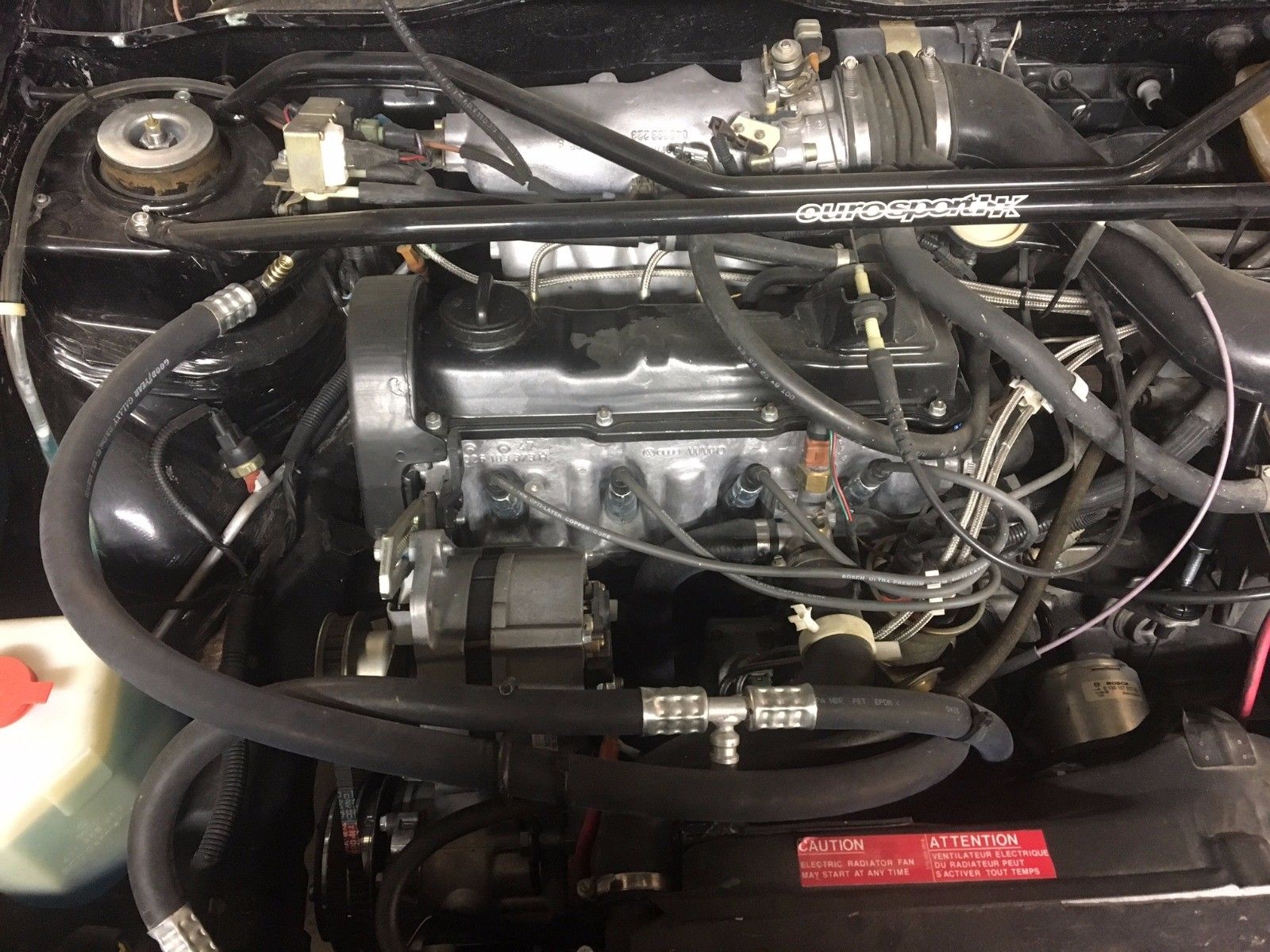 If I'm honest, my eyes hurt a bit from the all-caps description and the poor spelling. Usually that's made up with great photos, except in this case; we get little overall sense of what this car looks like in the light of day. That's unfortunate, because there are hints of greatness here. The car has a really interesting back story (point 1!) in that it was a contest car and one-family owned for most of its life. While that alone would be neat, that the family apparently took pretty good care of the car for the best part of 30+ years is even better (point 2!). It's from the Southwest, so there's little worry of the typical A1 nemesis – rust (point 3!). The seller then apparently undertook what appears to be a pretty thorough restoration, including a trim/windows-out respray of the LO41 Black and rebuilt the motor, which includes functional and updated A1 air-conditioning (point 4!). The original parts that remain, including the red interior, looks quite good (point 5!) though there does appear to be a tear in the rear seat and the driver bolster is never shown. The original Avus (popularly, Snowflake) wheels look in nice shape and the car also had a suspension refresh along the way. It appears to be a recipe for success.
But ultimately it's the detail work that will help to determine the value of this car, and unfortunately there isn't a great display of how well the work was performed. Though it looks quite tidy, a poor-quality paint job or hasty rebuilt motor could really spoil the fun down the road, so a thorough PPI is in order to pay top dollar for this example. With two days remaining, bidding is pretty active and sits at nearly $6,700. We've seen fully original examples trade for below that amount, but pristine ones hit far more. If all checks out and the bids stay low, this could be a very attractive way to own what is practically a (practical) legend.
-Carter