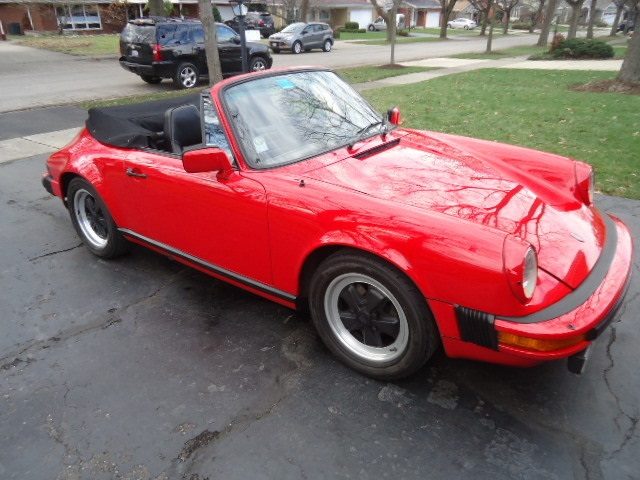 I don't know what exactly has lead to my decision to feature Porsche's various air-cooled Cabriolets. I suppose it was a confluence of circumstances. During one unseasonably warm February weekend, I found myself sitting outside enjoying a beverage and the warm sunshine. As one does. A very pretty 3.2 Carrera Cabriolet drove by. The condition looked very good and it was one of those subtle but interesting color combinations. The exterior was some shade of metallic grey and it had a nicely contrasting green interior. Perhaps the exterior was Granite Green Metallic; I'm not really sure, but it was nice looking. It was a perfect afternoon for enjoying such a car.
Then I started coming across some interesting 911 Cabriolets for sale. After a couple of them I wondered if I could find one from each air-cooled model. I was successful and a post was born. I'll say from the outset these aren't from the value part of the 911 spectrum; interesting enough they are all priced within a few thousand dollars of one another. None is inexpensive, but all look in very good shape and promise enjoyable drop-top motoring. We'll look at them chronologically starting with the first 911 Cabriolet Porsche produced: this Guards Red 1983 Porsche 911SC Cabriolet, located in Illinois, with just 19,016 miles on it.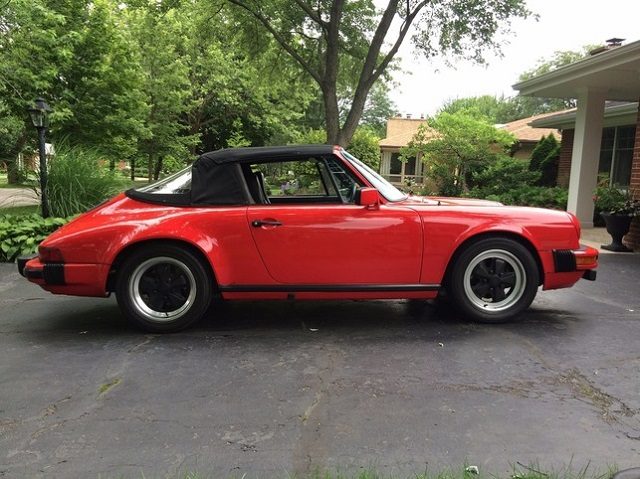 Year: 1983
Model: 911SC Cabriolet
Engine: 3.0 liter flat-6
Transmission: 5-speed manual
Mileage: 19,016 mi
Price: $69,000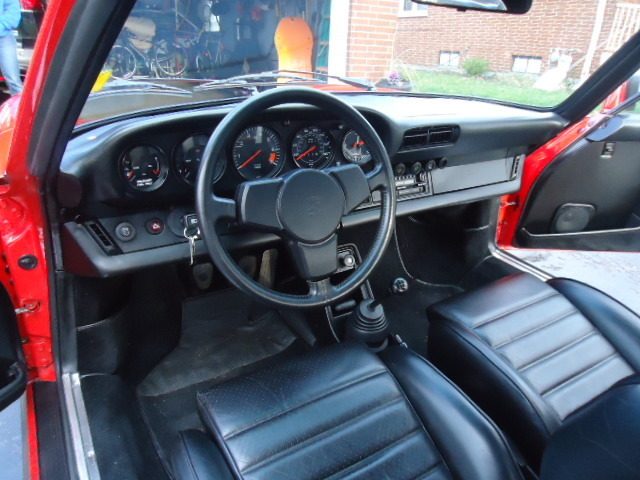 19,016 miles; 1 family ownership; Last year of the 911 SC; First year of the 911 Cabriolet (only 5337 made); Numbers-matching collector car; Guards Red original paint; Meter confirms factory specifications; Full black leather interior; Black leather sport seats; Heated & tinted windshield; Blaupunkt Monterey AM/FM/Cassette radio; Factory alarm
Black top – excellent; rear window – perfect; 16" Fuchs alloys – excellent; Yokohama tires; 3.0 liter engine; 180 hp, 5-speed 915 trans; All tools, air pump, jack, etc.; All books, manuals, touch-up paint, etc.; Window sticker & original dealer paperwork; No winters, no rain, no bad roads; 19,016 mile time capsule; No modifications since new.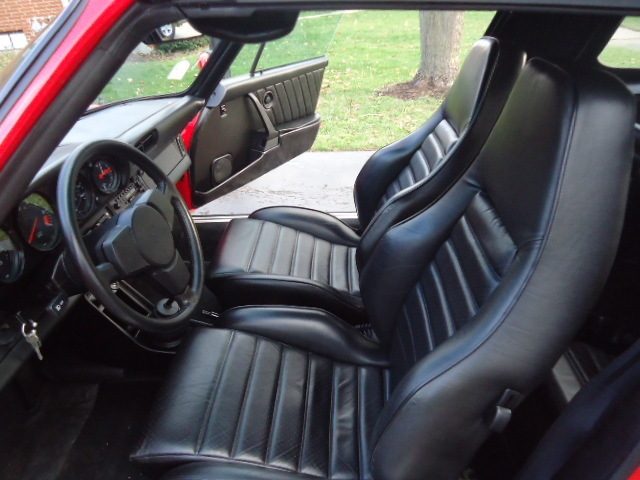 Typically I wouldn't think a 911SC would have much chance of selling at this asking price. This is very nearly the highest asking price of the four cars we'll see here. But the 911SC Cabriolet is a different animal. As both a first year and one-year-only model there is extra appeal over and above most other SCs we come across. Add to that the very low mileage, original paint and sport seats and we have a very appealing 911. It's a fairly standard color combination and I think that's the only thing that will hold the price down some, but everything looks great. Obviously, this wouldn't be the best option for actually enjoying some top-down miles, but as an excellent example of the first 911 Cabriolet it's a nice option.
Let's now step forward a few years to the last of the classic 911 Cabriolets with this Linen Grey Metallic 1989 Porsche 911 Carrera Cabriolet, located in New York, with Burgundy interior and a low 31,249 miles on it.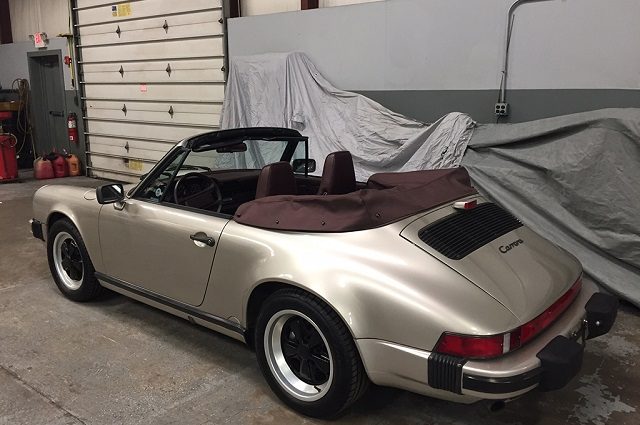 Year: 1989
Model: 911 Carrera Cabriolet
Engine: 3.2 liter flat-6
Transmission: 5-speed manual
Mileage: 31,249 mi
Price: $64,995 Buy It Now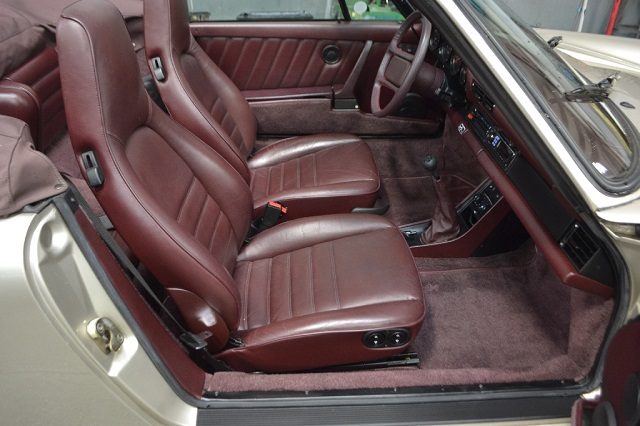 This is a 1989 Porsche 911 Cabriolet with 31249 original miles.This car is in exceptional condition and has been well serviced. Car was recently serviced at well known Porsche specialist Rennwerke LTD. in September of 2015 ( 31090), new oil, filters, battery, 4 new tires, all new brakes front and back. Car had a new clutch installed at 27000 miles. Car comes with original owners manual and service booklet and service records. Car runs exceptionally well and is one of the best G50 examples we have seen. For more details call 631-283-8819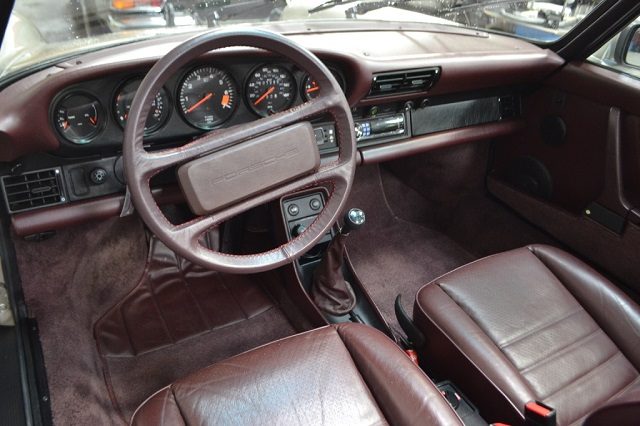 You might not believe, but this is the lowest priced of the four. Again we have a pretty low mileage Cabriolet that presents very well. While a much less traditional color combination this Linen Metallic over Burgundy combo works quite well and reminds me a lot of the Cabriolet that passed me on that sunny day. There's always debate among buyers of the 911SC and 3.2 Carrera about which to get; the differences between the models are minimal though with this final-year model you're at least getting the most refined of the bunch: a bit more power than with the SC and with the more stout – though heavier – G50 5-speed manual. Both models are great and both of these look to be fine examples, though both come with pretty high prices.
From here we'll see quite a few more changes with the final two models. The 964 was a near full redesign of the classic 911 and the 993 itself move on quite significantly from the 964. Changes came quick and fast. For the 964 we have another Guards Red example, though this time with a Tan interior and a few more miles at 54,186.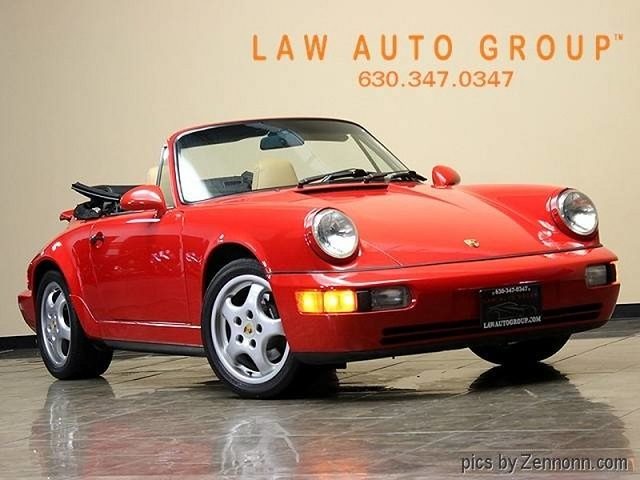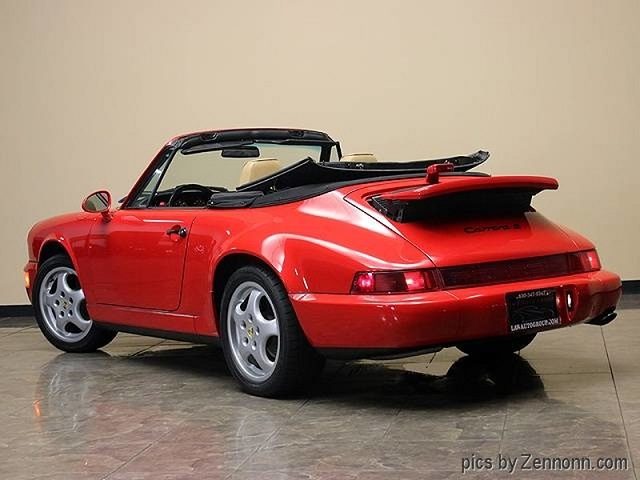 Year: 1994
Model: 911 Carrera Cabriolet
Engine: 3.6 liter flat-6
Transmission: 5-speed manual
Mileage: 54,186 mi
Price: $69,684 Buy It Now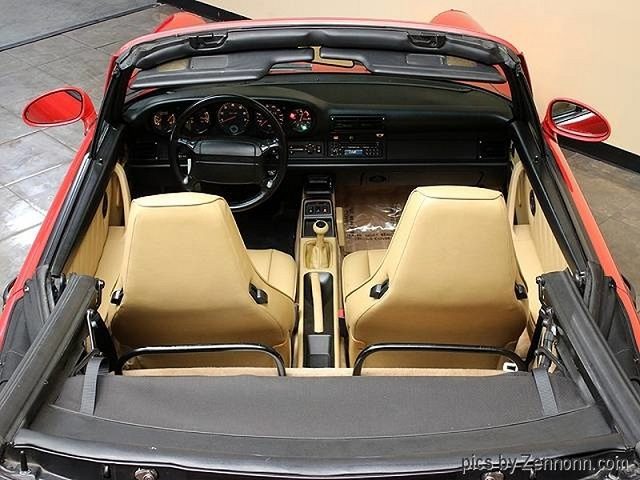 1994 Porsche 911 Cabriolet

Red Metallic Exterior over Tan Interior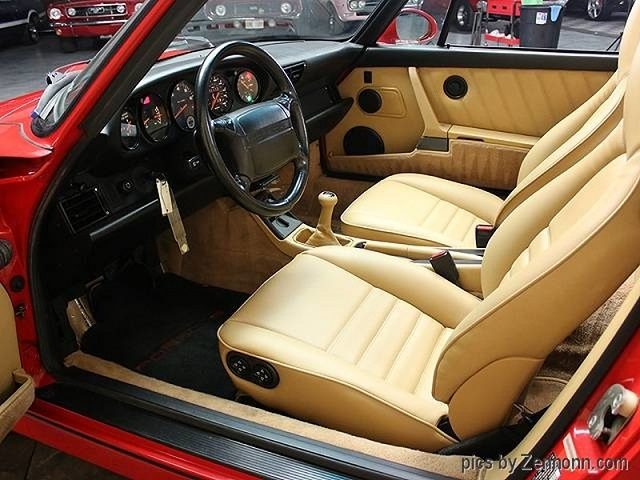 I'm usually indifferent to the 964 Cabriolet, but this one really grabbed me and I found it very striking. That's the good part! The bad: of the four cars here this one is the most obviously over priced, especially given that we are offered no description to provide even a modicum of detail to understand its history or condition. It does look very good and as another final-year model there's certainly appeal, but for this price it needs to be about perfect and documented. Perhaps the documents exist. I don't know, but I'm going to move on to the 993.
For me this one is the most interesting of the bunch. I think it's easily the most sensibly priced and the most interesting color combination. I wouldn't normally go after this sort of color, but here I think it works: a Grand Prix White 1996 Porsche 911 Carrera Cabriolet, located in New York, with Chestnut Brown interior and a low 29,164 miles on it.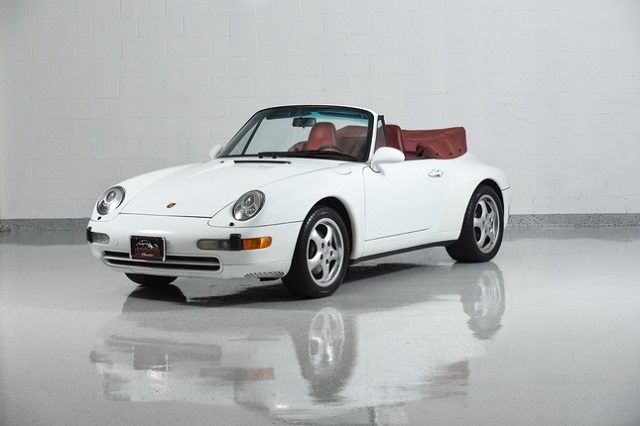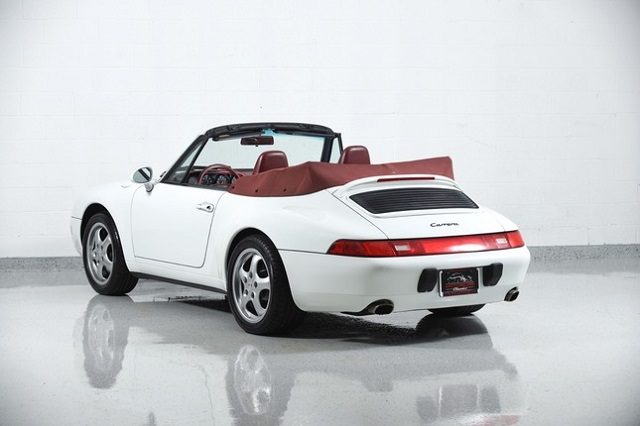 Year: 1996
Model: 911 Carrera Cabriolet
Engine: 3.6 liter flat-6
Transmission: 6-speed manual
Mileage: 29,164 mi
Price: $67,900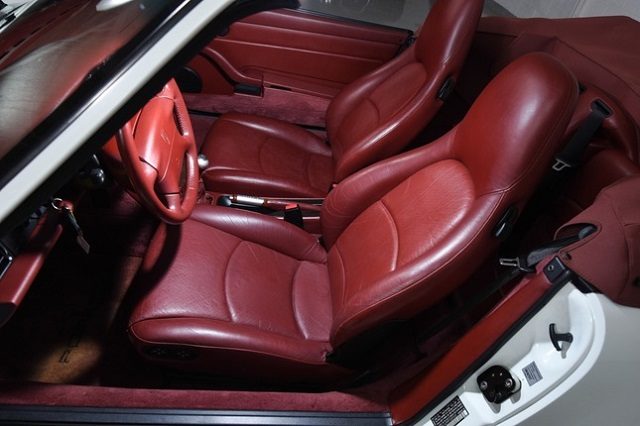 1996 PORSCHE CARRERA CABRIOLET for sale.

Motorcar Classics is proud to present this beautifully original 1996 Porsche Carrera Cabriolet featured in L908 Grand Prix White with BM Chestnut Brown leather interior and matching Chestnut Brown convertible top and boot cover. This Porsche has been cherished by its local second owner since 1999 and has covered only 29,464 miles. This superb Carrera has the 6-speed manual gearbox and it has never been damaged, modified or restored. The original porsche AM/FM/CD stereo is still in place.

The 993 is Porsches internal designation for the version of the Porsche 911 model manufactured and sold in model years 1995-1998. The 993 is not just the last air-cooled 911, but also the last of the hand built 911s. The 993 is often called the best and most desirable of the 911 series, not only because of its beauty, but also because its performance is very good, even by modern standards. The book "Porsche 993 – Essential Companion" refers to these cars as the "King of Porsche," and it is widely acknowledged as "The purists' Holy Grail."

This is a wonderful opportunity to purchase an investment-grade example of the last air-cooled Porsche model in arguably one of the prettiest color combinations.

Questions or concerns please call or text Reid 516-655-0940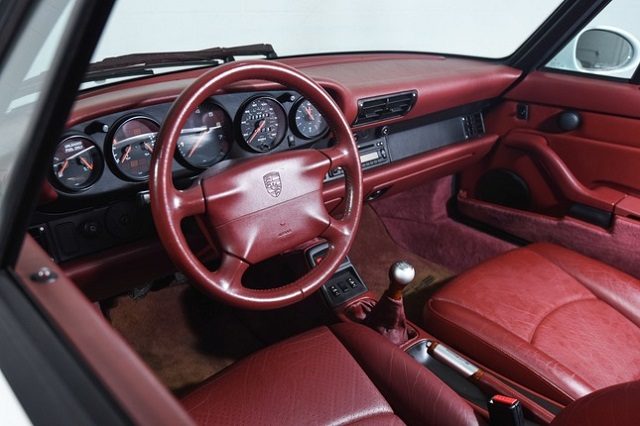 My biggest quibble with this 993 is that it looks like it might have gotten caught in the rain with the top down as the passenger seat looks at bit mottled. This can happen with a Cabriolet, but in this case the leather doesn't appear to have come away unscathed. Perhaps there's something going on with the lighting. Otherwise, this Cabriolet looks great and I do think the more elegant shape of the 993 in general provides a nice canvas for a refined top-down sports coupe. As the very last of the air-cooled models there's obvious appeal and I think this one is priced such that buyers will still feel comfortable putting additional mileage on it. It's current owner has had it for a while so hopefully it will even come well documented. If that's the case, then this looks like the winner.
I don't know if I'd necessarily consider myself a convertible guy. I do own one, but I bought it because I wanted something light weight, rear drive, and with a manual transmission. That the roof came down just happened to be part of the package. I do enjoy those top-down drives though. The senses are fully stimulated and while sacrifices to rigidity certainly can make it a little less sporting the overall experience definitely doesn't lack for purity. The 911 will be no different. It may not be your track machine, but there are plenty of other drives to be taken.
-Rob