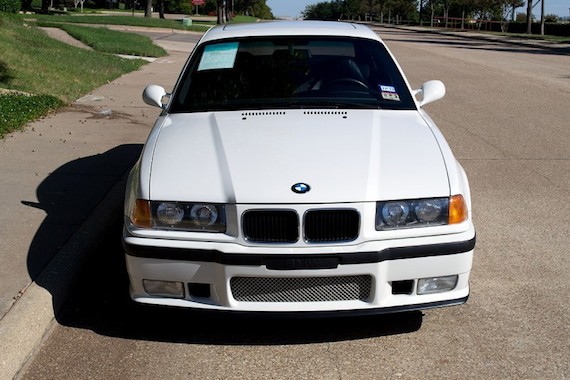 The 15k mile M3 that Jeff posted at the beginning of this month is back up for sale, with the price lowered by $2,000. Worth it, or still ahead of the second generation M3 market?
-NR
The below post originally appeared on our site November 3, 2013:
This has been a rough week for yours truly on the blog. First, I bear witness to a 1987 325is, a preserved, one-owner example that makes my car – identical save for the paint color – look like it's a long way from home, and many thousands of dollars away from completion. Than, this comes along, an almost identical (down to the color) M3 coupe to my daily driver. Fortunately, that car survived the years relatively unscathed, but it's still amazing to see a preserved original like this S50-equipped car with only 15,000 miles!
Lately, E36 M3s have joined the parade of clean E30s that have emerged from hiding, usually commanding higher prices than ever thought possible. The second-generation M3s have suddenly gone from yesterday's throwaway to today's future classic, with low-mileage cars like this one seeing daylight for the first time in years fetching lofty pricetags that were previously unheard of for the E36 chassis. This one is equipped with the competition package and very-near stock condition (for the record, I can't see anything that isn't OEM, but can't speak for what's not visible.) Let the insanity begin!
Year: 1995
Model: M3
Engine: 3.0 liter inline-6
Transmission: 5-speed manual
Mileage: 15,173 mi
Price: $33,900 Buy It Now
RAC Performance presents this LOW MILEAGE, ONE-OWNER 1995 BMW E36 M3!

This M3 was purchased new in the Dallas area! With ONLY 15K miles, this M3 has VERY LOW MILEAGE!!

This E36 M3 is serviced annually with NO expense spared!

Factory Options on this M3 include:

-Electric Sunroof

-Cruise Control

-On Board Computer

-Comfort Package

Do not miss out on owning this soon to be classic E36 M3!

RAC Performance DOES offer FINANCING!
Fortunately, the only major regret I have with my car compared to this one is a dingier valve cover and droopy glovebox door. It will be interesting to watch and see if E36 M3s are still commanding big money a year from now, or if this is just a blip on the radar.
-Jeff