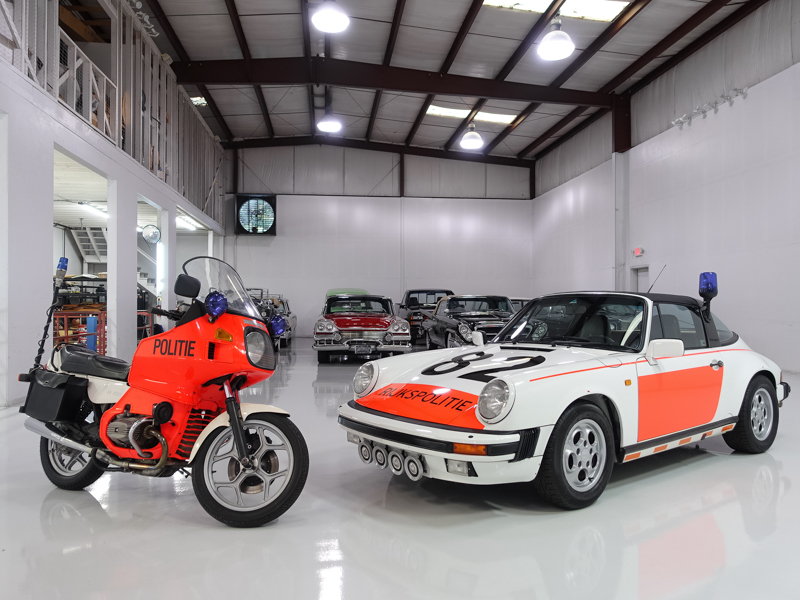 From a purchasing perspective this car really will only be of interest to serious collectors, but that doesn't mean we can't just enjoy what it is. We've seen police versions of Porsches before. It's kind of cool to consider such cars being used for patrol work. They're certainly better than the ubiquitous Crown Vic in the US. Of course, US police roll in a few interesting coupes as well. I know I've seen Mustangs and Camaros pulling people, but those aren't quite a 911. Given the typically higher speed limits of many European highways I can understand the need for better performing patrol cars.
This one went into duty for the Dutch Rijkspolitie. Based off of a 3.2 Carrera Targa it's fitted with the standard police lights and sirens and even came with a set of the phone dial wheels, which we rarely see on 911s from this period. This one has a good number of miles on it and we always might wonder about the maintenance and severity of those miles given the sort of usage a police car is likely to see, but I don't think most buyers would be expecting to use this as a daily driver. It'll be tucked away and preserved. It's current condition looks quite good though.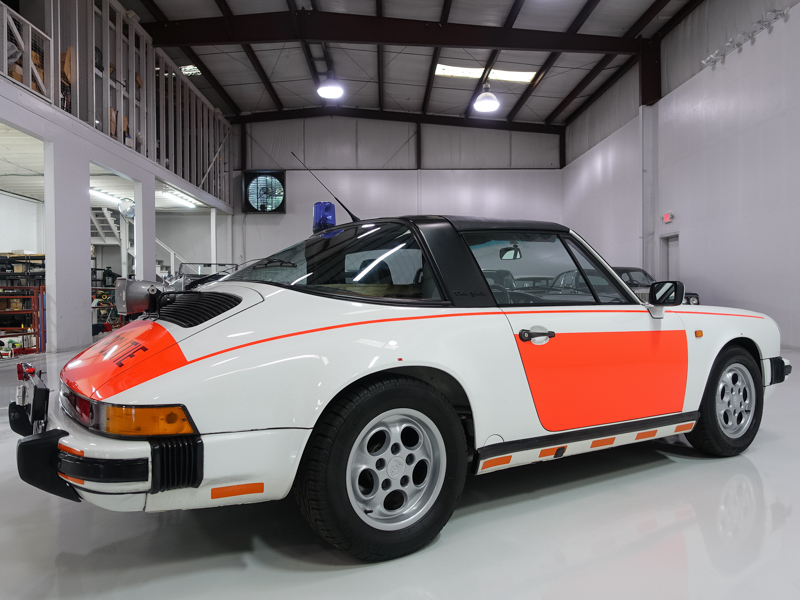 Year: 1988
Model: 911 Carrera Targa
Engine: 3.2 liter flat-6
Transmission: 5-speed manual
Mileage: 156,540 mi
Price: Reserve Auction ($174,900 Buy It Now)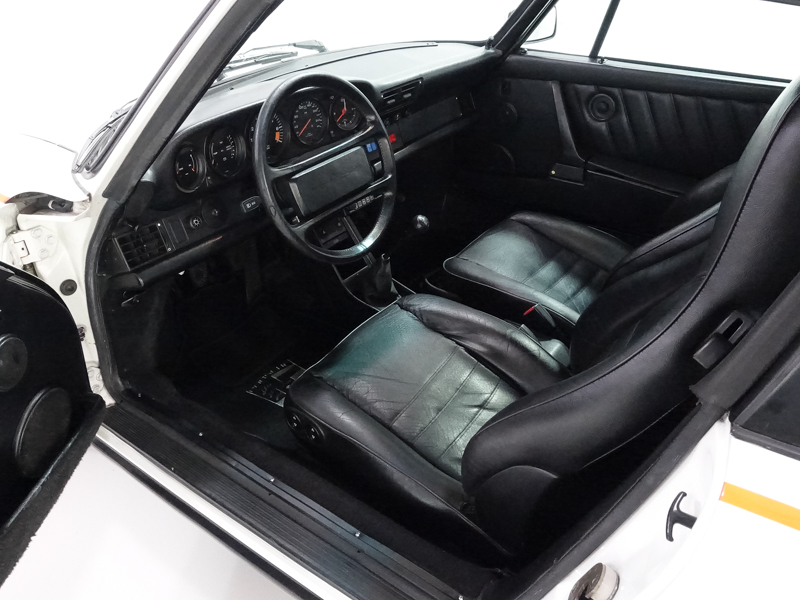 HIGHLIGHTS
JUST RELEASED FROM A PRIVATE COLLECTION
RARE EURO SPEC. 911 CARRERA TARGA
ONE OF ONLY 1,354 BUILT
RARE POLICE SPEC. 911
DELIVERED NEW TO THE POLICE CORPS HIGHWAY SURVEILLANCE DEPARTMENT IN THE NETHERLANDS
ONE OF ONLY A HANDFUL OF 911 RIJKSPOLITIE PORSHES IN THE U.S.
WORKING POLICE LIGHTS AND SIREN
4-WHEEL DISC BRAKES
PERFORMS WONDERFULLY!
A UNIQUE PIECE OF PORSCHE HISTORY
A COLLECTOR'S DREAM!
OPTIONS INCLUDE:
POLICE EQUIPMENT
FRONT & REAR SIRENS
POLICE LIGHT
POLICE RADIO
FLASHING STOP SIGN
EXTRA FOG & REVERSE LIGHTS
15" PHONE DIAL WHEELS
REAR WIPER
The Netherland's Police Corps for highway surveillance, the Rijkspolitie, was an active traffic unit from 1945 until 1996. The Rijkspolite primarily enforced traffic laws on major roadways in Holland and required automobiles that were up to top specification. The unit utilized a variety of vehicles including Alfa Romeo's, Citroen's, and beginning in 1962, Porsche. The Rijkspolitie Porsche relationship began with the use of twelve 356 Cabriolets, but they soon quickly transferred to the 911 Targa after its debut in 1967. The open design was preferred by officers because of the increased visibility with the Targa removed which was also useful in crash situations where an officer could be standing through the car to direct traffic. From simple traffic stops to high speed pursuits the Rijkspolitie found the 911 Targa to be a perfect platform for their policing needs. Despite this, very few remain in full Police livery today and are often only seen in European museums, with privately owned examples rarely coming to market.

The 1988 Porsche 911 Carrera Targa Police Car featured here is finished in classic Grand Prix White with Safety Orange trim and an impeccably kept black interior. This magnificent motorcar is one of very few that ever come on the market and we are proud to offer it to the most sophisticated investor, collector or museum that appreciates the importance of this great marque. Classic cars have proven to be among the most resilient and rewarding investments in recent years with the Historic Automobile Group Index (HAGI) jumping 39% in 2013, 16% in 2014 and 17% in 2015 while posting gains of 467% over the last 10 years. Ready to make an investment you can actually enjoy? Please contact one of our expert sales consultants for more information. They will be happy to give you a complete walk-around, supply you with a more detailed description, and answer any questions you may have. Bid with confidence; this might be one of the best finds on the market.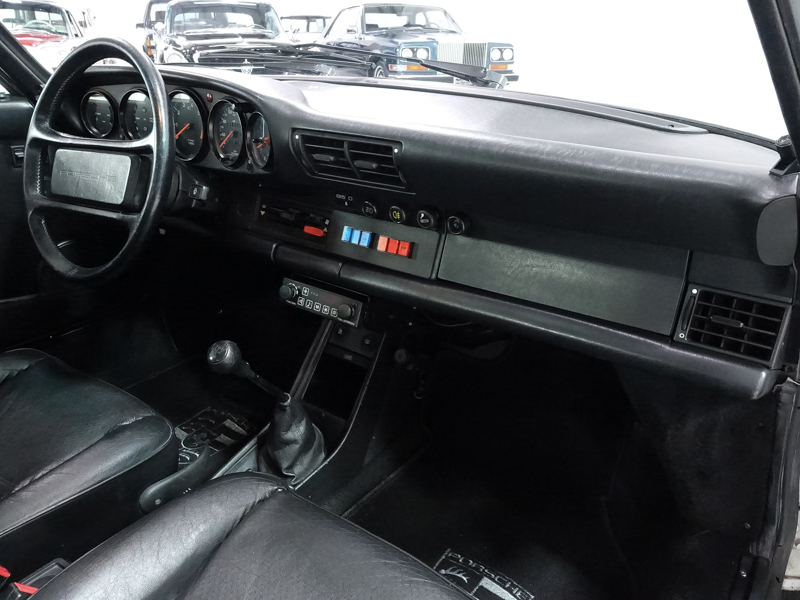 I'm curious though: why a Targa? The other police 911 we featured also was a Targa. Were those the model Porsche was struggling to sell so they sold a few leftovers to police departments? Or is there some James Bond like utility to the removable Targa roof for police work? I hope it's the latter, because that's much more interesting.
The market for a 911 like this obviously is limited and the price quite high. To a collector that enjoys these types of vehicles the high price may even make sense, but I'll admit I really have no idea what's an appropriate selling price for a car like this. Interesed buyers should also note that there's a Rijkspolitie motorcycle available as well. It's a 1986 BMW R65 and given the relative asking prices of these two I'd think you should definitely get both! How often might such an opportunity present itself?
-Rob