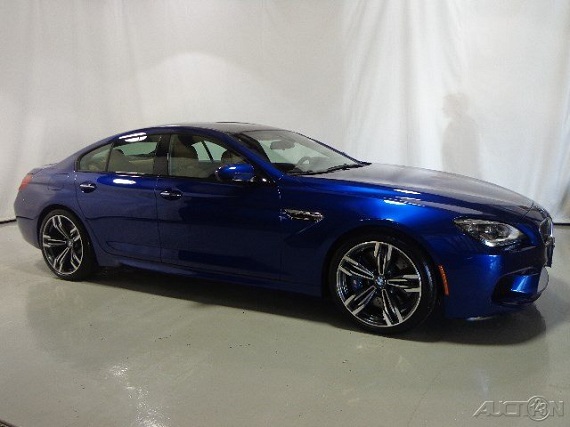 If I'm brutally honest, I'm not a huge fan of most of the newer BMW designs. As my wife says, I'd be happy if Journey was still on the radio and everyone was walking around with a mullet (that's only half true…). But that's not it; as I was saying to her just yesterday, I just don't get excited about most of the new designs that come out. It wasn't always this way – I remember eagerly awaiting the next issue of the multiple car magazines I subscribed to so that I could immediately flip to the section I found most exciting – the upcoming cars feature. But that enthusiasm has waned as cars have grown more complex, isolating and expensive. Sure, they're faster – and even basic models do everything much better than even some "supercars" from the 1980s. But I don't look at them and get excited like I did when the S4 first launched, for example. But, a thought occurred to me – while I'm not the biggest fan of these cars, proportionate to what you used to receive they're simply a better value and better cars. We can pontificate about the virtues of the E30 M3 to no end, but the reality is that even around a track, the bone-stock 328i all-wheel drive wagon below would give it a run for its money without much difficulty – and in every other aspect, it's a better car. We're really still in the midst of a horsepower revolution, but that power is translated to the ground better than before with more sophisticated transmissions and computer aids along with all-wheel drive available in most packages. But it's not just speed – not only can these fast cars get you to the Alps, they are like the luxury resorts when you get there, with fine materials and fit and finish that are really top quality. In a word, they're spectacular at being cars that are much more functional in multiple facets than anything previously. So, here's a lineup of some neat newer BMWs; while I'm not the biggest fan of all the packages or designs, one thing that I do love is their blues – so here's a round up of most of them: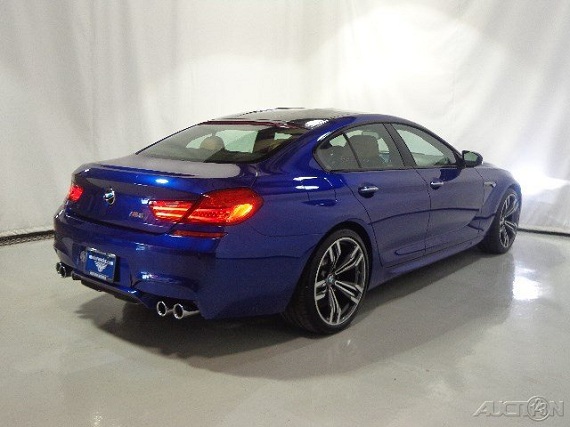 Year: 2014
Model: M6 Gran Coupe
Engine: 4.4 liter twin-turbo V8
Transmission: 7-speed dual-clutch semi-automatic
Mileage: 601 mi
Price: $99,980 Buy It Now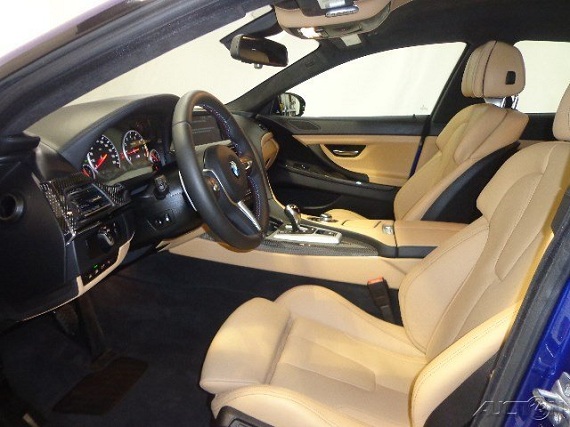 CONDITION REPORT | ABOUT US | SHIPPING INFO | TRADE-INS | CONTACT INFO

PLEASE CONTACT BRIAN LOUIS WITH ANY QUESTIONS AT 888-634-1470 OR 847-269-0224

Up for sale is a 2014 BMW M6 with only 600 miles on it. 1 owner. Clean carfax. Call Brian Louis with any questions at 1-888-634-1470 or 1-847-269-0224. Here is the build for this car: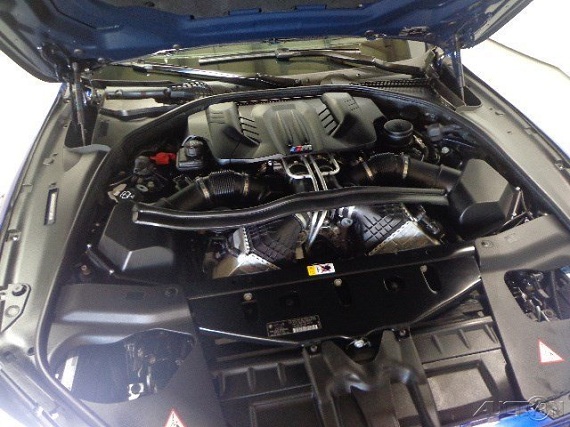 I'll start out with this M6 Gran Coupe. I don't think it's the prettiest or cleanest design – it looks very heavy, which it is. But, it must be said that I think overall it's better than the previous 6 series. The 4-door aspect of the 6 also isn't my favorite, but follows what Audi is doing with every permutation of every platform – micro-specialization, if you would. Is the M6 Gran Coupe a better car than the M5? It's a bit odd that they offer both alongside each other, but of course there's a market for each – like the RS5 cabriolet . What is spectacular is the San Marino Blue that this car is offered in, and the race track reference is certainly made good by the 560 horsepower with matching torque from the twin-turbocharged V8 on tap. Also like the RS5, this particular example has only covered 600 miles and is offered at a discount over the MSRP.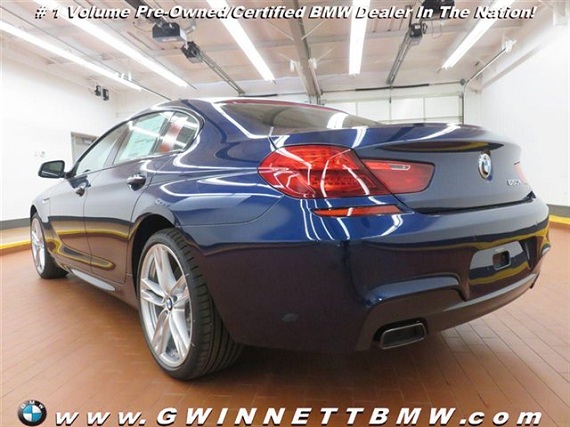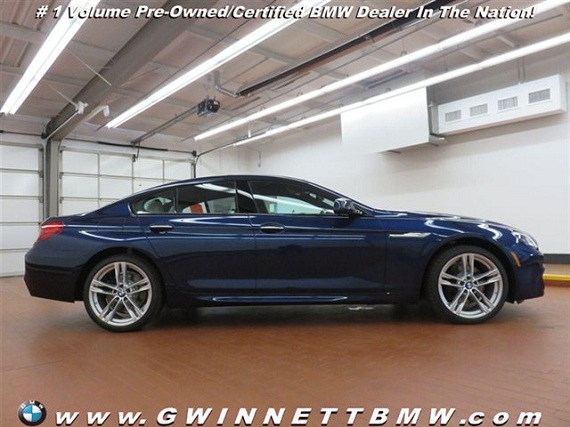 Year: 2015
Model: 650i Gran Coupe
Engine: 4.4 liter twin-turbocharged V8
Transmission: 8-speed automatic
Mileage: 0 mi
Price: $90,444 Buy It Now
As the most aggressive New Car dealer in the Southeast our prices won't be beat! This 2015 BMW 650i Gran Coupe has a Deep Sea Blue Metallic exterior and Ivory White interior! Options Include a Steptronic Automatic Transmission, Lighting Package, Executive Package, Active Driving Assistant, Speed Limit Info Display, M Sport Package that includes an M Steering Wheel, M Sport Seats, M Aero Package, M Wheels & M Badging, Driver Assistance Plus Package, Rear, Side and Top View Cameras, Front Ventilated Seats, 4-Zone Climate Control, Active Blind Spot Detection, Soft Close Automatic Doors, Ceramic Controls, 20″ Wheels, Rear Sunshades, and a Moonroof. Have a dealer quote already? Perfect! Bring in your dealer quote and let us beat the competition. This BMW also qualifies for exclusive USAA Member & BMW College Graduate Programs! Please see dealer for important details and eligibility.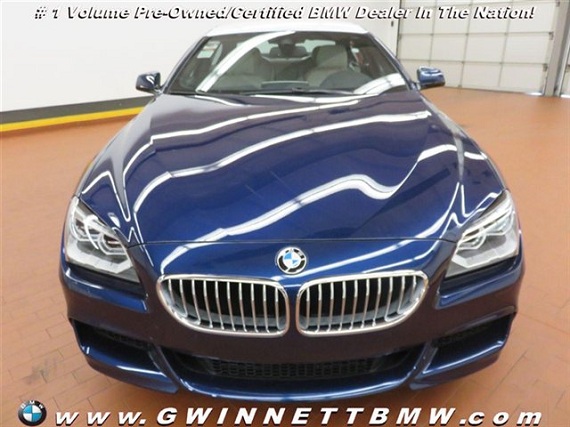 Of course, do you need the M6 when the 650i Gran Coupe comes with a staggering 440 horsepower? You get a big discount stepping down to "only" 440 horses and there are some other minor differences, but overall the experience should be pretty similar. Presented in Deep Sea Blue, this car is very pretty and a little more understated than the full M version – though it should be noted that this car has the M Sport package. I sat in a Gran Coupe a few months ago and, though I'm not overly tall, I was pretty shocked by the driving position and lack of headroom in the front. In my normal driving position, my forehead was disturbingly close to the sun visor, limiting my vision and making me wonder about safety – I was certainly not very comfortable. Apparently the driving position for these cars is near-laying down. I'll take the 5 series over these, personally.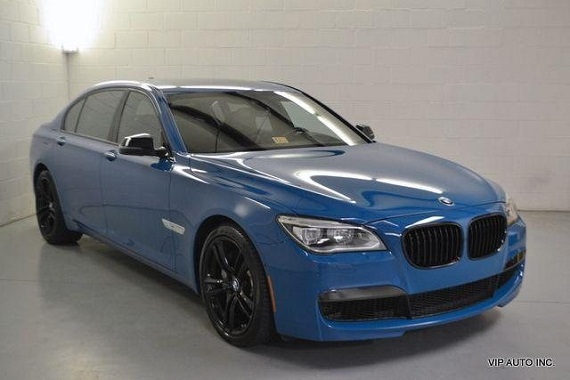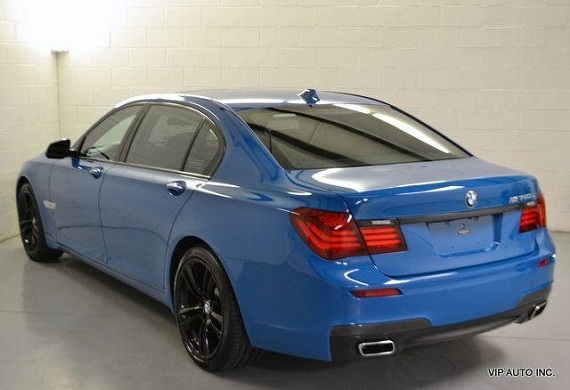 Year: 2013
Model: 750Li
Engine: 4.4 liter twin-turbocharged V8
Transmission: 8-speed automatic
Mileage: 16,947 mi
Price: $72,700 Buy It Now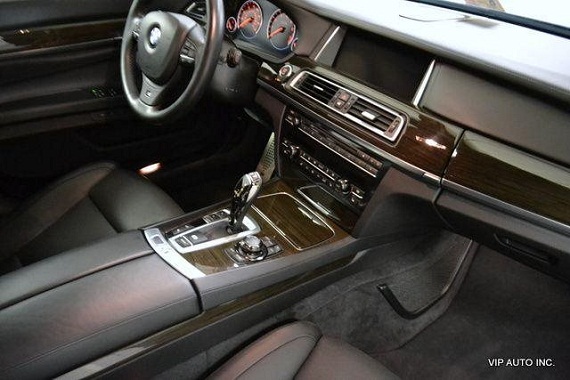 You are viewing a one owner Carfax Certified 2013 BMW 750Li M Sport / 16947 MILES / STEPTRONIC TRANSMISSION / EXECUTIVE PACKAGE / M SPORT PACKAGE / M AERODYNAMIC KIT / 20″ V SPOKE M WHEELS / LED LIGHTING / ACTIVE ROLL STABILIZATION / VOICE COMMAND / SATELLITE RADIO / BANG AND OLUFSEN SOUND / M STEERING WHEEL WITH PADDLES / NAVIGATION / REAL TIME TRAFFIC INFO / SOFT CLOSE DOORS / REAR VIEW CAMERA / PARKING ASSITANT / FRONT VIEW CAMERA / ALCANTARA HEADLINER / HEATED FRONT SEATS / ACTIVE CRUISE CONTROL WITH ACTIVE DRIVING ASSISTANT / AMBIENCE LIGHTING / BMW APPS / ACTIVE FRONT LUXURY SEATS / SMART PHONE INTEGRATION / REAR SUNSHADE / HEADS UP DISPLAY / I-POD & USB ADAPTOR / TIRE PRESSURE MONITOR. MSRP $114395. BMW factory bumper to bumper warranty and maintenance coverage until 04/02/2017 or 55000 miles. The color combination on this vehicle is: Interior-Black Nappa Leather. Exterior-Special order paint 490 Blue Lacquer Finish. With over 25 years in highline automobile sales and service you are assured integrity.
As a fully licensed dealer, I will gladly provide the buyer with a set of temporary tags and registration. Located just outside of Washington D.C, I will be glad to provide transportation to any of our local airports. I also can provide door to door vehicle delivery services.
Processing Fee – $495
Options & Packages
OEM Code
Description
MSRP
ADDITIONAL EQUIPMENT
ZCW
COLD WEATHER PKG
$800.00
heated steering wheel
ski bag
heated rear seats

ZDA
DRIVER ASSISTANCE PKG
$1,900.00
active blind spot detection
active cruise control stop & go w/active driving assistant
side & top view cameras
speed limit info

ZEC
EXECUTIVE PKG
$4,600.00
pwr rear sunshade w/manual rear side window shades
front ventilated seats
instrument panel w/leather finish
ceramic controls
head-up display
smartphone integration
BMW Apps

ZLP
LIGHTING PKG
$1,900.00
full LED lights
automatic high beams

ZMP
M SPORT PKG
$3,300.00
19″ V-spoke light alloy M wheels (style 302M) w/run-flat performance tires
M sports leather-wrapped steering wheel w/paddle shifters
aerodynamic kit
shadowline exterior trim
anthracite headliner
sport pkg
increased top speed limiter

2NX
20″ X 8.5″ FRONT & 20″ X 10.0″ REAR DOUBLE-SPOKE LIGHT ALLOY M WHEELS (STYLE 303M)
$1,300.00
P245/40R20 front & P275/35R20 rear run-flat performance tires

6F2
BANG & OLUFSEN 16-SPEAKER SURROUND SOUND SYSTEM
$3,700.00
6NR
BMW APPS
$250.00
smartphone integration

455
ACTIVE FRONT SEATS
$1,000.00
XD5
ALCANTARA HEADLINER IN UPHOLSTERY COLOR
$1,100.00
229
ACTIVE ROLL STABILIZATION
$2,500.00
5DP
PARKING ASSISTANT
$500.00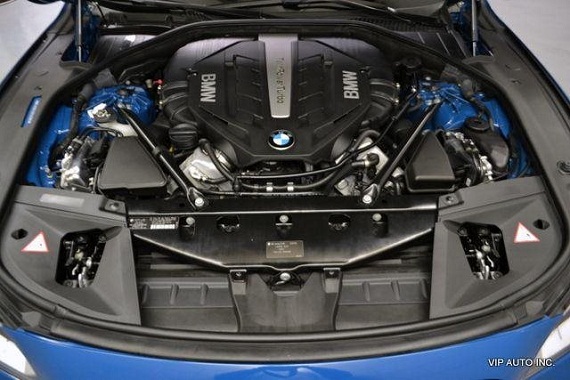 Like the 6, the 7 series also isn't my favorite BMW design, but again I think it must be said that it's better than the previous generation or two. This 750Li is impressive in what appears to be Laguna Seca Blue, but I'm not exactly sure what the specific color name is. It was specially ordered and heavily optioned, including the M Sport package. It's impressive, no doubt, and one of the prettier 7s I've seen recently. Like the others, going lightly used will give you a heavy discount over MSRP for what is effectively a new car. I could do without the black wheels, but otherwise this is one neat big executive sedan with shocking performance thanks to the N63 twin-turbo V8 found in the other cars too.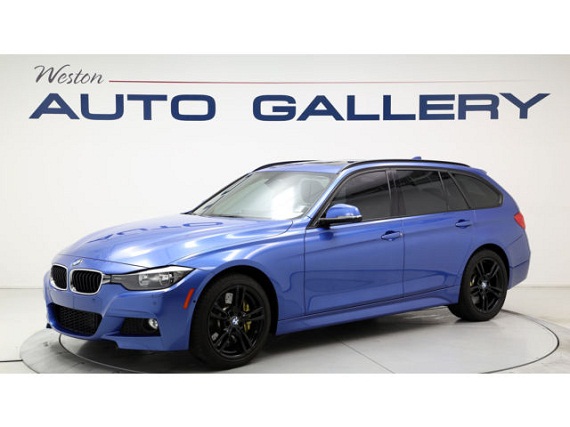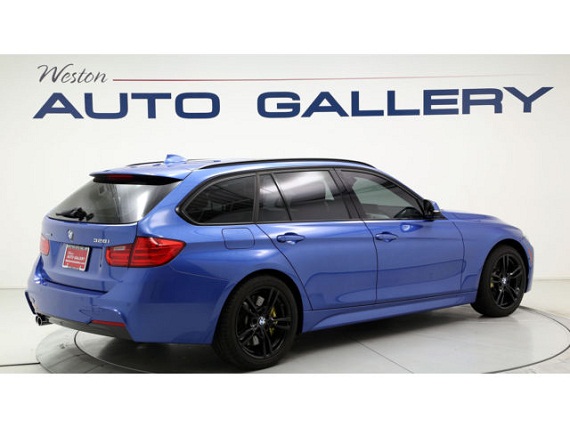 Year: 2014
Model: 328i xDrive M-Sport Touring
Engine: 2.0 liter turbocharged inline-4
Transmission: 7-speed automatic
Mileage: 13,691 mi
Price: $44,980 Buy It Now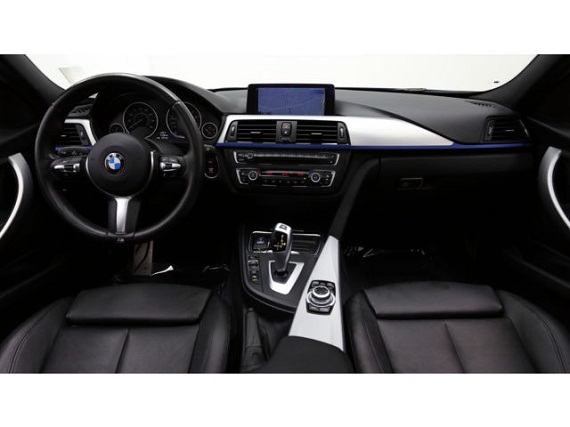 Weston Auto Gallery is excited to offer this very rare 2014 BMW 328i XDrive Sports Wagon. Painted in Estoril Blue with Black Dakota Leather and the hard to find M Sport package. The M Sport gives your 328 wagon 18 wheels, sport seats, M steering wheel, an aerodynamic body kit, and more. This like new BMW also has factory options including the Cold Weather Package, Driver Assistance package, Premium package, and Technology package. This is as loaded as they come, no cost was spared on this car with a new MSRP of over $55k! Save $10k off new! Weston Auto Gallery has many great financing options for your good or not so good credit. Call, email, text, or come on in today for more information. 970-682-4403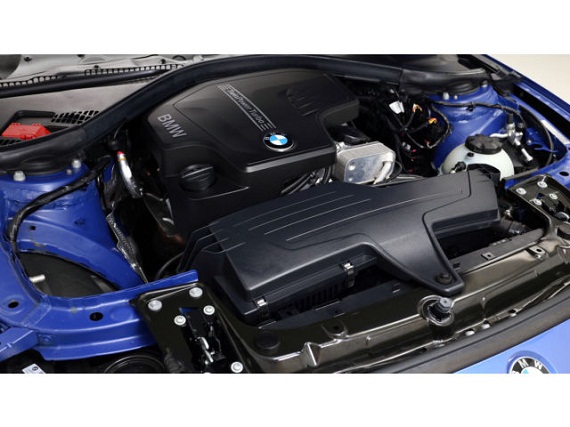 One of the few designs that has really grown on me is the new 3 series; in my mind, a substantial improvement over the previous design. Equipped like this 328i xDrive Touring in M-Sport with special Estoril Blue paint, it's a great reminder of what we've lost with Audi's departure from the market realm. It's well proportioned, gorgeous inside, and plenty powerful thanks to the new N20 turbocharged 4-cylinder with 240 horsepower and 260 lb.ft of torque. These are actually pretty striking in person in this color combination, but boy will you pay for it; top spec 3s are well into the $50,000 range. It's as if the entire model range has been lifted artificially. Still, if I had to chose one of these cars to live with day to day, I think this would be the one (minus the black wheels).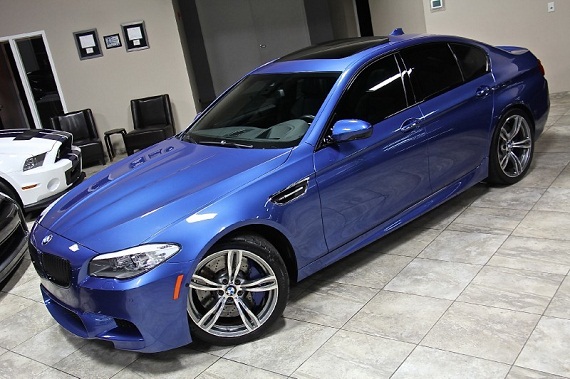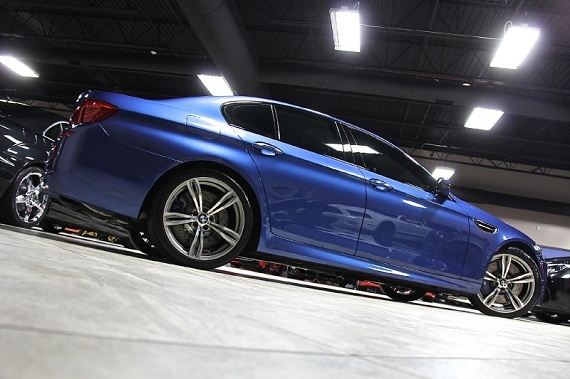 Year: 2013
Model: M5
Engine: 4.4 liter twin-turbocharged V8
Transmission: 7-speed dual clutch semi-automatic
Mileage: 20,641 mi
Price: $74,800 Buy It Now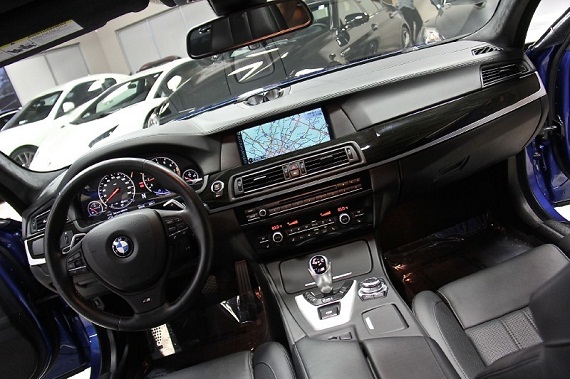 Description
2013 BMW M5 4dr Sedan

2013 BMW M5 Sedan

Monte Carlo Blue Metallic Exterior over Black Full Merino Leather

DRIVER ASSISTANCE! EXECUTIVE PACKAGE!
ORIGINAL WINDOW STICKER LIST: $107,995

FACTORY OPTIONS INCLUDE:
Executive Package (Originally $5,500)
Rear Electric Blind
Side Manual Blinds
Front Seat Ventilation
Active and Massaging Front Seats
Four-Zone Climate Control
Comfort Access System
Power Trunk Lid
Head-Up Display
Satellite Radio
BMW Apps

Driver Assistance Package (Originally $1,900)
Blind Spot Detection
Blind Junction View
Parking Distance Sensors
360 Degree Parking Cameras
Lane Departure Warning

20″ Style 343M Wheels (Originally $1,300)

Bang & Olufsen Premium Sound (Originally $3,700)

Full Merino Leather (Originally $3,500)

Rear View Camera

VEHICLE HIGHLIGHTS:
4.4 Liter Twin-Turbo 8 Cylinder Engine
-560 Horsepower-
-502 lb/ft of Torque-
7-Speed Double Clutch Transmission
Rear Wheel Drive
Automatic Xenon Headlights
Power Glass Sunroof
Electric Tailgate
360 Degree Cameras
Parking Sensors
Keyless Entry and Drive
Blind Spot Detection
Lane Departure Warning
Power Adjustable Front Seats
Four-Zone Climate Control
Heated Front/Rear Seats
Navigation System
Premium Sound
6-Disc CD Changer
Bluetooth Connectivity
USB Input

VEHICLE HISTORY:

Exceptionally Well Optioned!

Carries the Balance of
BMW's 4 Year/50,000 Mile Factory Warranty

INCLUDES:
*One Master Remote Key*
*Floor Mats*
*Original Owners Manuals*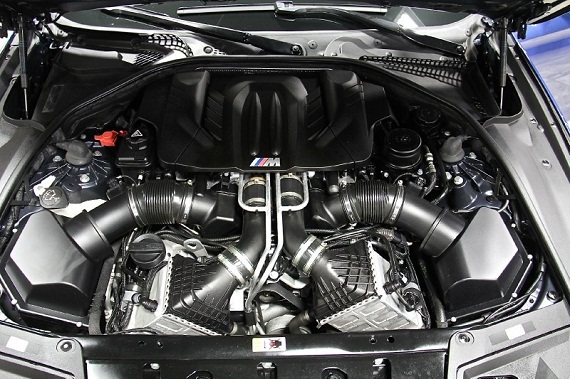 The new F10 M5 has grown on me; it's conservative compared to the previous generation, but that's what the 5 has always been about. In Monte Carlo Blue it certainly looks impressive and is matched by the performance from the S63 twin-turbo V8. As always, the bar has been raised with the introduction of the new M5; dynamically, the reports are that this car is simply otherworldly in terms of performance. But boy is it heavy! This car has the most miles in the group, but again looks basically new and offers you a big discount over MSRP. I'm sure the new M5 is impressive in every way, but if I'm honest I think this new level of complexity and performance is a little over the top.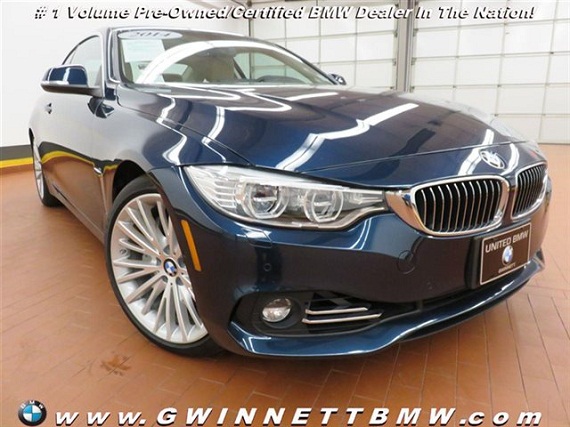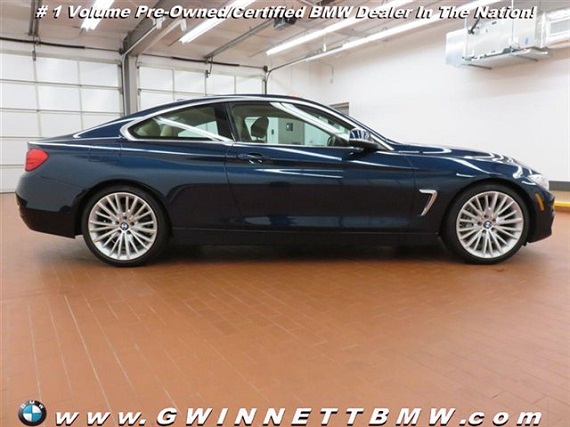 Year: 2014
Model: 435i
Engine: 3.0 liter turbocharged inline-6
Transmission: 6-speed manual
Mileage: 5,640 mi
Price: $49,588 Buy It Now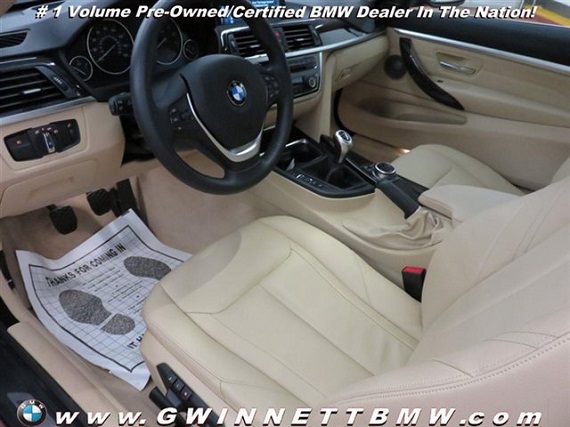 Save thousands on this Demo Special! This is BMW Certified w/ a 5 year/75,000 mile warranty and qualifies for rates low as 1.9% through the BMW Select Financing Program! This BMW came with an original MSRP of $60,650! This 2014 BMW 435i Coupe Luxury Line has a Midnight Blue Metallic exterior and Venetian Beige interior! Options include a 6-Speed Manual Transmission, Premium Package, Technology Package w/ Navigation, Lighting Package, Driver Assistance Package, Cold Weather Package w/ Heated Seats, Rear, Side and Top View Cameras, Head-Up Display, Comfort Access, Park Distance Control, BMW Assist, Satellite Radio, Rear View Camera, Harman Kardon Sound System, BMW Apps, and a Moonroof.ONLY 5,640 Miles!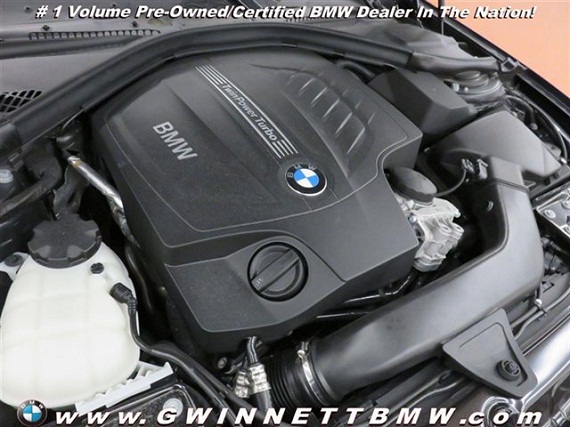 So here's the answer; a manual transmission and inline-6 – hallmarks of the BMW sports sedan and coupe until recently. This 435i in Midnight Blue Metallic is both a pretty design and well specified in this example; I think the non-M version looks pretty in this case. You'll get a great drivetrain in the development of the N54, the twin-scroll N55 motor with 300 horsepower and matching torque. Okay, maybe it's not enough for everyone, but this car strikes me as the closest to the 1980s, 1990s, and 2000s era BMWs, and while I value the versatility of the sport wagon, I think this design is really pretty nice. Which would you like?
-Carter