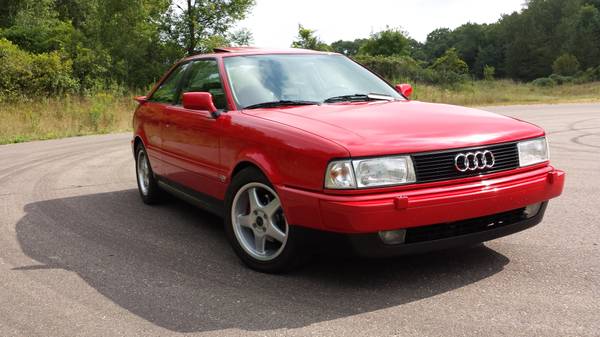 Audi fans are an interesting bunch. To be fair, I think that most devoted followers of a specific brand in any circumstance are an interesting bunch, but knowing the Audi folks a bit I'm closer to the understanding. What I find interesting is that there's such a schism between the model fans and who they attract. Each has a devoted following, and each of those groups is a microcosm in and of itself. Take my model group, for example – the Type 85. In that model group, there are the three major notables: the 4000 quattro, the Coupe GT, and of course the Quattro. Then within each of those subsets, there are further fan specializations; 84 4000S quattro versus the 85-87; early GT versus 85-87 and then the "87.5" crew; and of course each one of the model years of the Quattro has its followers. As with the GT, Audi fans have come to naming half model years to differentiate the upgrades; 87.5 GTs received a revised engine and brakes along with some other minor details, but then there are "95.5" S6s and "2001.5" S4s; heck, there are even "2005.5" S4s. Fans become semi-obsessed with differentiating each of the subset models and what makes them special. Today, though, seeing any of these cars in great shape is special to me – and these three each have their special fan base. Thanks to our reader John, here's a roundup of three fan favorites that are sure to make some smile: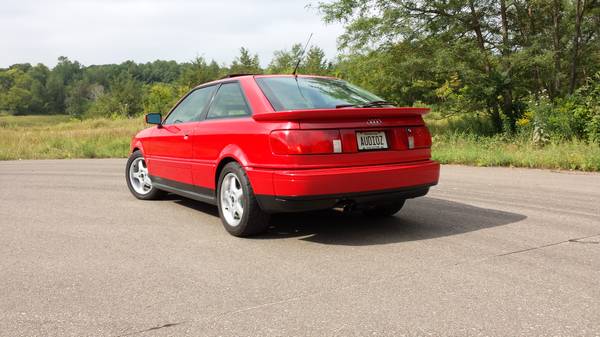 Year: 1990
Model: Coupe Quattro
Engine: 2.3 liter inline-5
Transmission: 5-speed manual
Mileage: 174,000 mi
Price: $5,000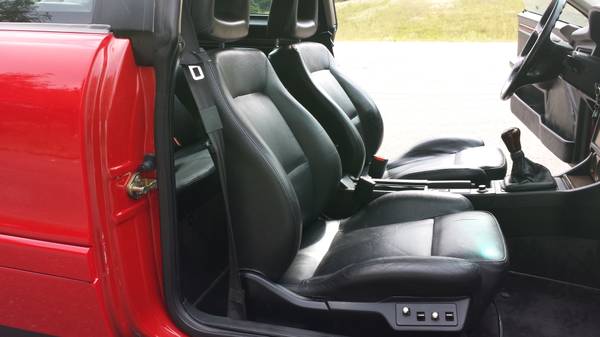 Year:1990
Make: Audi
Body Type:Coupe
Model: Coupe Quattro
Transmission:5 speed manual
Trim: Coupe 2-Door
MPG: 18 City / 25 HWY
Engine: 2.3L FSI 5 cyl
For Sale By: Private Owner
Drive Type: AWD
Mileage: 174,000
Number of Doors: 2
Drive train: All Wheel Drive (Quattro) with locking rear diff <15mph ABS, Cruise Control, power remote locks, alarm, heated front seats/mirrors/windshield washer jets, power sunroofull leather upholstery, front & rear fog lights, automatic climate control, headlight washers, Exterior/Interior: Tornado Red/Black Upgrades: 3M Chip gaurd on hood & fenders 16-inch Borbett alloy wheels Tires, Dunlop Direzza Z1 Cross drilled brake rotors, SS brake lines, Porterfield pads 034 short shifter Upgraded Bosch fuel injectors Rear sway bar added H&R springs Bilstien struts Alpine AM/FM/CD/Sirius sat radio, CD Changer and auxiliary input jack. ADS Speakers Alpine 200w Amplifier, Pioneer subwoofer Euro E-code headlights, height adjustable w/city lights 2 3/4"Stebro Stainless steal exhaust from the header back Cross drilled brake rotors/Porterfield brake pads This is a rare car. Only 1000 were imported into the US. Of that thousand cars this is one of the first. I have owned this car since 2001. I purchased it in Northern California and brought it back to MN. It is always stored indoors and covered and has NEVER seen salt. It has been a reliable fun car to own. Every option works like new. The engine was professionally rebuilt at 120k miles. I have all receipts for work performed. Included are many extra items, Custom cover, 2 spare rims, Factory repair manual, Schroth harness, Original radio, original sales brochure and many magazine articles. Many misc. parts.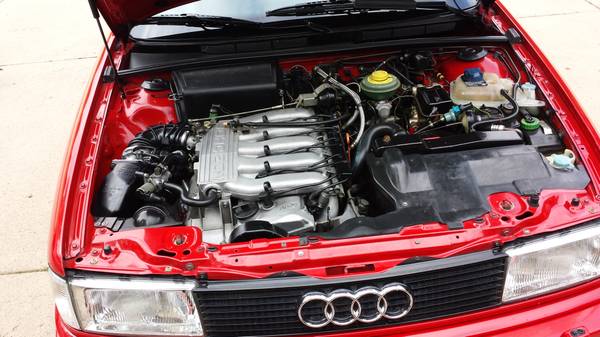 Indeed, the Coupe Quattros are pretty rare – especially in clean, mostly unmolested form. This car has some desirable upgrades, though, including the great sounding Stebro exhaust, upgraded suspension and Euro-spec lights. I'm not as big of a fan of the Borbet wheels, but they're not offensive and are an easy change for the next owner. Though not much of a performance machine, these robustly built Coupes have gained a serious following as a great platform for upgrades and modifications. There are many who specifically seek out clean examples of these cars as a good base, and this one seems to be one of the better ones at a reasonable price. I do hope that the next owner keeps it simple, though – as with the GTi 16V and a few others, it's become so rare to find mostly original examples that this one has a special draw. The 7A motor is a gem and sounds great channeled through that exhaust. An early build car, this should also have the "bag-o-snakes" tubular header, though these motors don't typically need rebuilds at such low mileage so I'd want to dive into that if I was seriously considering it.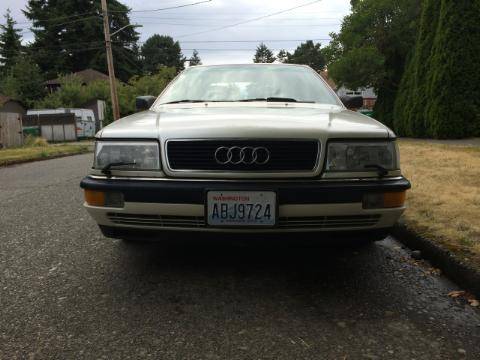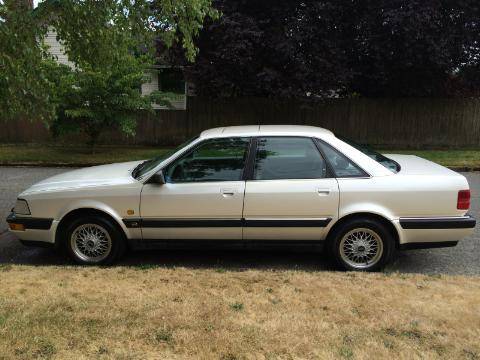 Year: 1991
Model: V8 quattro
Engine: 3.6 liter V8
Transmission: 5-speed manual
Mileage: 151,000 mi
Price: $3,000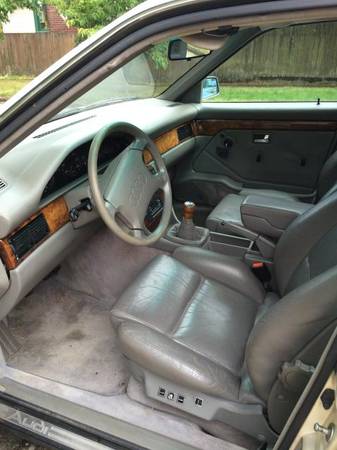 1991 Audi Quattro V8 Sedan (All Wheel Drive)
Clean Title
5 SPEED (1 of 72 made)
Pearlescent White Exterior
Grey Leather Interior
151k
Optional OEM BBS Mesh Wheels W/Newer Tires
All Stock 3.6 V8
Air Conditioning
Sunroof
Power Windows
Power Locks
Power Mirrors
Power Steering
Power Front Seats W/ 4-position Driver Memory
Heated Front & Rear Seats
Cruise Control
OEM Mud Flaps
OEM Audi Floor Mats
Automatic Climate Control System
Electronic Cruise Control
Dual Power Side Mirrors W/Defrosters
Audi/Bose Eight-Speaker Music System
GSM Cellular Telephone W/ Hands-Free Feature
Walnut Wood Trim
Woven Wool Carpets
Front & Rear Fog Lights

Car originally sold in 1991 for over 70k. This car was TOP OF THE LINE WITH EVERYTHING! Most luxury cars these days aren't even equipped with all of the things this car has. It was 1 of 72 made in manual; that's right one of SEVENTY-TWO, TOTAL. Not just for this production year.

The car was my daily driver up until a few months ago when the starter failed. (More specifically the starter arm doesn't engage the flywheel.) I do still drive the car around every few days (It runs awesome if compression started) to keep the tires in good form and the motor as well. Since sitting the battery has died as well, setting off a few other dash lights although not affecting performance at all and it may still be able to be put on a charger. A few simple fixes and I wouldn't hesitate to drive this beauty across the country.

I'm in absolutely no rush to get rid of the car as it is a true collectors item..(really though find me another 5 speed, let alone one for sale.) As time passes the car will simply become more and more valuable. I'm positive that there is an Audi enthusiast out there who has been in search of this exact car for years and I'd like to give them the chance to own it.

In the cars current state I'd like 3,000 which I see as more than fair since upon repair the car will be worth around 5-6k in the current market. Although if I do decide to fix it I will not be selling it 🙂

I would also be willing to trade for a stock commuter car. Preferably a Honda/Acura but I may be open to other trades as well.

I can be reached at show contact info via text or call with questions or offers.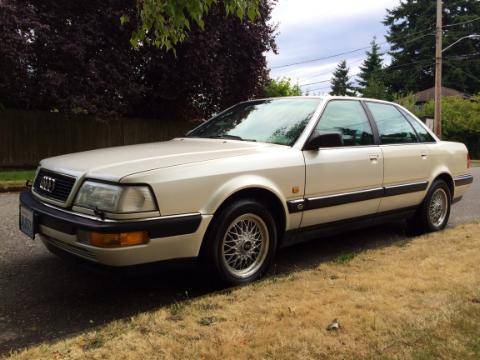 While I very much appreciate the zeal of the seller, U.S. fans seem to have a problem differentiating total number produced versus total number imported. Of course, there were far more than 72 Audi V8 5-speeds made; there just weren't any more imported to the U.S.. That does make it one of the most rare Audi models on this side of the pond; despite that, the V8 has a very limited but very devoted fan base. They're great cars, and while this one isn't perfect it's well presented and priced to reflect that it's not a pristine example. John was joking with me that these cars seem to come up in waves; despite only 72 being imported, no less than 3 Pearlesant White 5-speed examples have surfaced for sale in the past few weeks. Yet we'll go months without seeing another for sale, so as I do smile that we get to see another. My wife is smiling, as well, since this car is located 3,000 miles away from me. If it was closer, you wouldn't be seeing this advertisement – instead, there would be a "What am I doing?!?!" post detailing my recent purchase.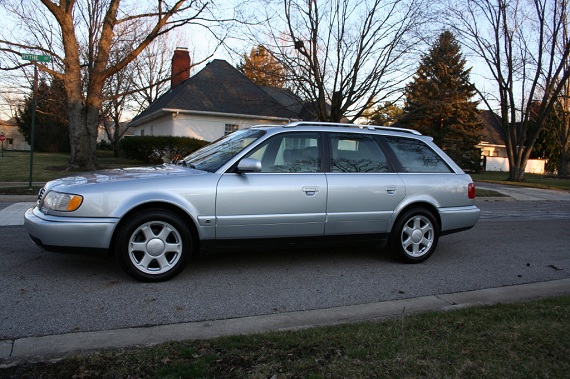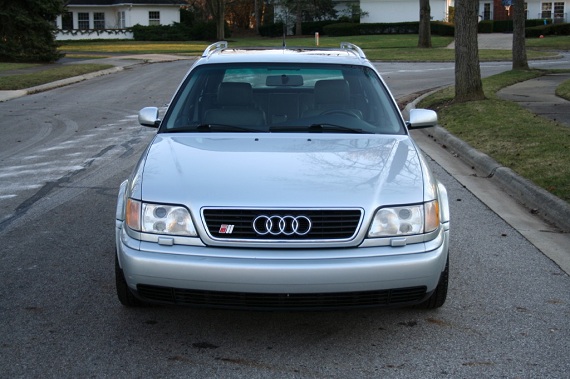 Year: 1995
Model: S6 Avant
Engine: 2.2 liter turbocharged inline-5
Transmission: 5-speed manual
Mileage: 132,000 mi
Price: $9,500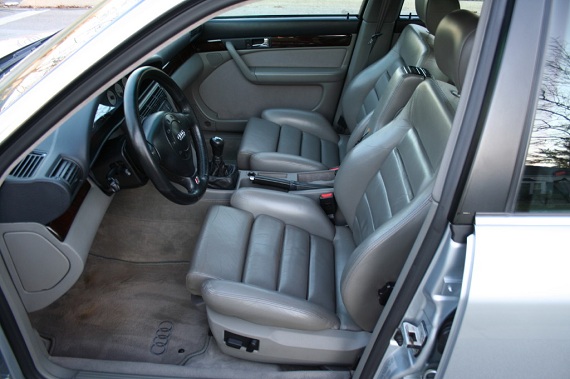 Thought I'd be upfront about it! I know several people on the forum will be severely offended at the audacity to ask nearly ten large for a 20 yr. old car w/132K mi. Being 52 years older than the car, having impaired hearing and a bum left knee I've been seduced by a much younger ride, an '06 A6 Avant w/182, now 192K mi. It's much quieter, somewhat smoother and has better brakes & handling in stock form not to mention the bells & whistles! In a quest to rid myself of my wife's oil leaking, ctrl arm eating and plastic bit shedding '99 A6 Avant I stumbled across the '06, the 7th or 8th AUDI owned by a delightful guy who bought most of them around 50K and ran them to 180-200K. The exception being his '95 S6 which he bought at 50K and still won't part with at 300K! I fully expected to dislike the bulbous A6 immensely but it kind of grows on you. My wife's not crazy about the '06 as she prefers a more simplistic lifestyle! I've been toying with the idea of selling it for awhile as it should be in the hands of another Urs nut but haven't moved on it until an idle conversation on an AUDI Facebook page about an overpriced S6 Sedan($12.950) started. Someone said they'd sell their car for a third of that price. I laughingly replied that I had an Avant I'd sell for 75%. Someone asked for detail so I started putting some info together. I posted it on FB and thought I should at least give you guys a laugh as well. The car spent it's 1st 9 yrs. & 50 K being a rich guy's vacation/ski car I believe, Santa Fe & Boulder, always dealer serviced. It was traded in St Louis and purchased by another forum member, Aging Fleet, who had an S8 itch that needed scratching! . He's the best guy I've ever bought a car from. (tipped off by Eurotuned85, who had unfortunately just bought an Avant from Weldo!) I flew out to Columbus Jan '12 & picked up the car w/80K. The only fault I found with the car was a broken retaining strap on the WS washer reservoir! Oh, the rear hatch sunscreen (HATCH WIRING A-OK!) is slightly torn at the hooks. I did a fair amount to upgrade & personalize it. Becker Grand Prix HU w/BT & iPod, Eurolights w/HID 4300K VVME's, and lots of other little stuff. After 50K of my use it had some issues which were just addressed, Boxster Brakes, new Zimmerman rotors in rear & Hawk HPS pads all around, EFI 2.0T Coil Conv w/latest rev. VW coils. All maintenance up to date and just had checkup at specialist as to overall condition. It's Silver/Plat never any bodywork, trailer hitch, cross bars yada yada Just thought I'd let you guys know so you could laugh or tell a crazy friend w/more money than brains. Lots of details on the Dropbox page. Photos from time of purchase, minor wear & tear since but nothing najor.

Silver Bucket Dbox Link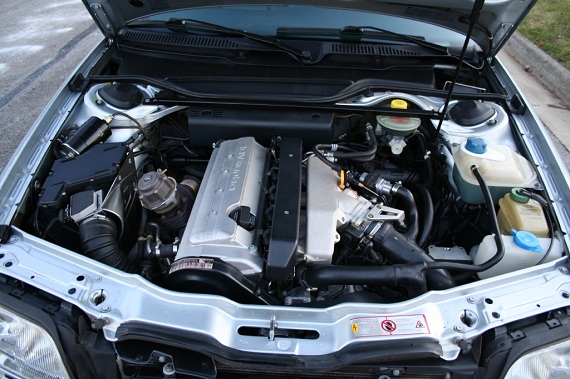 It would seem that the high-priced S6 from the other day has prompted a wave of sell-offs, or at least the prospect of "I'd sell it if…"s. I have to admit, I've gone through the same feeling as some Coupe GTs have come to market for big dollars. This seller is a bit wishy-washy regarding specific details, but it would appear that this car is a well cared for, desirable and quite rare "95.5" S6 Avant. There are very few, perhaps only a few hundred, of these last-run S6 wagons around, and this appears to certainly be one of the better out there. Miles aren't outrageous, it's a nice color combination and mostly original with upgrades where it counts. These cars were certainly under-braked from the factory, so the addition of Porsche brakes is a sensible upgrade, as are the coil upgrades to make it a more reasonable driver. Drive it the seller has, piling 50,000 miles on in the past two and change years; an impressive testament to the stout nature of these cars. Pricing is pretty high, but as with the other two there just aren't a glut of examples out there, so if you want a S6 Avant in good shape this is one of the few options out there.
All in all, these are three pretty good examples of some fan favorites, but each with its own unique following. Which is your favorite and why?
-Carter