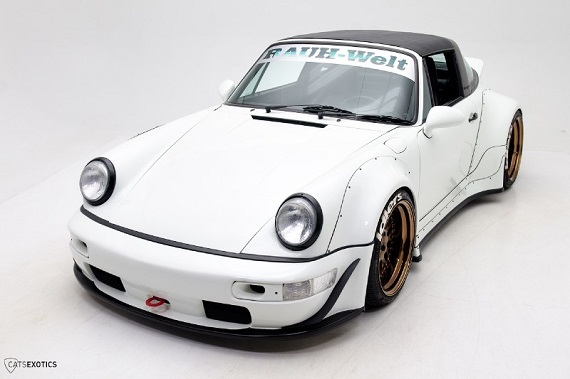 As Rob said in his recent 964 Carrera 4 Widebody post, the flared variants of the middle generation 911 can be polarizing. Even more polarizing are the extra-widebody Nakai-san Rauh-Welt Begriff creations. That Akira Nakai is an artist is unquestioned, but whether his creations are genius or blasphemous depend on your definition of art I would suppose. Nakai takes the stock 911 and turns it up to 11, with custom molded, hand crafted flares and widening the lines of the 911 to outrageous proportions. Fitted with giant wheels, lowered suspensions and custom front and rear bumpers, they are the embodiment of the Japanese tuning scene but with a decidedly European feel. Indeed, you don't need to look far into Porsche's own developments to find the inspiration for these models from Stuttgart's own work. Indeed, many of Nakai's works look a lot like the 964 Turbo S Le Mans racer and later 993 GT2 race car, with their giant gold BBS wheels, huge spoiler, vents and wide flares. Personally, I think that Nakai does an exceptional job mimicking the best of the 911 race car design whilst simultaneously introducing his own style. That becomes more obvious when you see a non-Coupe RWB such as today's Targa model – I believe the first open-air RWB I've seen: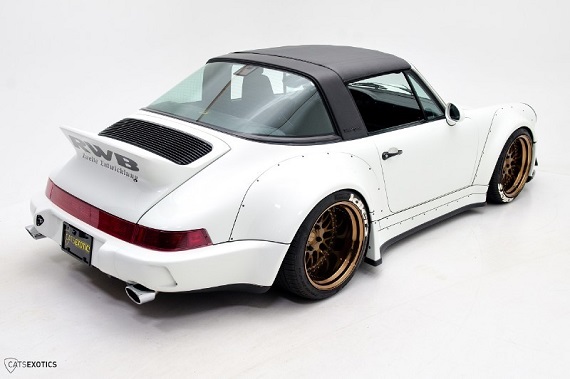 Year: 1991
Model: 911 Targa RWB
Engine: 3.6 liter flat-6
Transmission: 5-speed manual
Mileage: 141,000 mi
Price: $149,888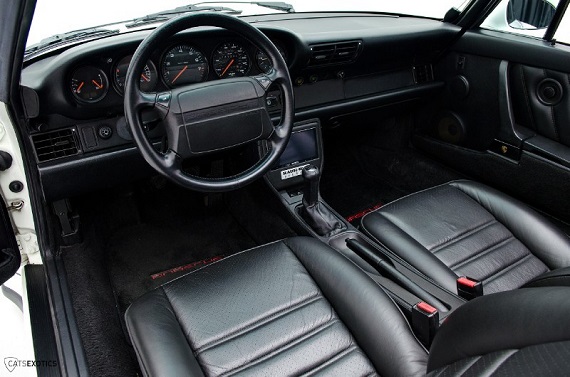 1991 Porsche 911 964 Targa RWB finished in Grand Prix White over Black leather interior. Cats Exotics is excited to present this extremely special & rare car. One of the very first RWB Porsches offered to the public! RWB (Rauh-Welt Begriff) combines both European & Japanese tuning to create a very unique style of Porsche. This particular example is REAL & authentic. Hand built by the RWB founder himself Akira Nakai in Los Angeles and is the #2 RWB car. Featuring the Stage 2 Hakama RWB kit, this is the ONLY RWB featuring this kit in the USA and is also the ONLY RWB 964 Targa in the country. After installation of the custom equipment the car was repainted in the OEM color Grand Prix White.

Not only were the aesthetics of this car put together with the highest of standards, the mechanics are also in fantastic shape. Featuring the 3.6L 6 cylinder engine and 5-speed manual transmission, KW V3 coilover suspension, custom built bronze/brushed 18″ wheels finished by Floss Designs wrapped in Pirelli P Zero tires (315/30 Rear – 235/35 Front), dual exit exhaust system, newer interior pieces such as seats/rear door panels/rear deck, black removable hard top, custom $8K+ sound and alarm system (JL Audio 900 Watt 5 channel amplifier, two 10″ JL Audio subwoofers mounted behind seats, Alpine Appleplay touch screen head unit, Focal speakers), Coumputech Drone alarm system with fob and GPS/phone app to track car's location/open doors, color rearview camera, power windows, power seats, air-conditioning, and Porsche floor mats.

Meticulously serviced and maintained, it recently received a new clutch master cylinder/slave and shift bushings less than 300 miles ago and new brake rotors and pads 2,200 miles ago. New air conditioning hoses/belt/recharge as well as valve adjustment/gasket 10k miles ago. Receipts and documentation of the build included with the sale along with the owner's manual/maintenance schedule and ORIGINAL window sticker.

We are open to trades of all makes and models! Please inquire if you are interested in trading your vehicle or have any questions.

This car has gone through our Cats Exotics 75 point used vehicle inspection and is available upon request.

Cats Exotics offers a wide variety of Lease and Purchase options! Call for more details!

All available documents for this car can be found here – http://ebay.com/b/Cars-Trucks/6001?Make=Audi%7CBMW%7CMercedes%252DBenz%7CVolvo%7CVolkswagen%7CPorsche&Model%2520Year=2010%7C2009%7C2008%7C2007%7C2006%7C2005%7C2004%7C2003%7C2002%7C2001%7C2000%7C1999%7C1998%7C1997%7C1996%7C1995%7C1994%7C1993%7C1992%7C1991%7C1990%7C1989%7C1988%7C1987%7C1986%7C1985%7C1984%7C1983%7C1982%7C1981%7C1980%7C1979%7C1978%7C1977%7C1976%7C1975%7C1974%7C1973%7C1972%7C1971%7C1970%7C1969%7C1968%7C1967&Vehicle%2520Mileage=Less%2520than%2520100%252C000%2520miles&rt=nc&_dmd=1&_fsrp=0&_sacat=6001&_sop=16&_stpos=97330&mkcid=1&mkrid=711-53200-19255-0&siteid=0&campid=5336332035&toolid=20008&mkevt=1&MBDACmisc=1L2WxFZ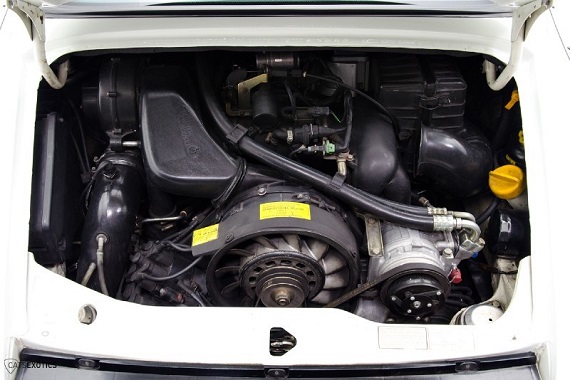 In terms of desirability, I'd have to rank the 911 Targa overall the lowest of the 964 variants I'd be interested in, but Nakai's work certainly makes the aesthetics of the model much more appealing. The wide arches are complimented not by an outrageous racing wing, but an exaggerated duck tail spoiler nods to both the 70s RS and the recent Sport Classic specials. Normally bronze-colored wheels would be off-putting, but again they fit the design well while channeling the 964 Turbo S LM design. Inside and underneath, RWB generally leaves things stock, and that's the case here – a Spartan interior in great condition without the typical tuner flamboyancy is paired with a stock drive train. To me, that's perfect; no billion-horsepower touchy tuned turbo mill means that this is a car which can be driven and enjoyed on a more reasonable budget. The stock 3.6 is still pretty potent after all, and plenty fast to get you in trouble with the law. But this car is not about speed; it's about a look, a culture, and a form of art. Granted, not everyone accepts or understands that art style – and looking at the price, many will balk at $150,000 price tag. However, I think you can look back at other tuned legendary cars; look at one-off Vignale bodied Ferraris, for example, or in the German sphere the AHG M1. They're artistic creations that make the underlying car more special to some, and justify in some regards a higher entry price.
Thanks to our reader Alex for this submission!
-Carter