Zender is one of those names that I really identify with the 1980s. While they continued on after, the real height of Zender's popularity seemed to be in the 1980s. Body kits, wheels and even steering wheels ultimately resulted in a tuning firm that was able to produce a few of their own show cars; remember the Zender Fact 4 and Vision? Today there are a host of real and copy Zender pieces floating around – here's a sampling of what I was able to find on Ebay. While the styling may be a bit polarizing, it's hard to deny that Zender offered customers something unique and having period detail pieces like these can really set your car apart if done properly: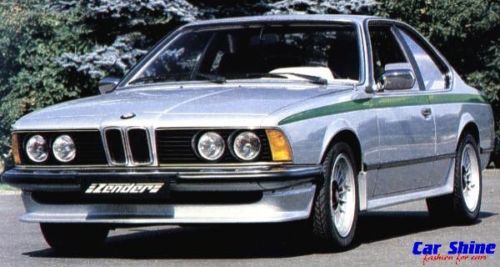 Price: $ 274.98 Buy It Now
ZENDER FRONT SPOILER (under bumper) for BMW E24 6 Series GENUINE ZENDER #1206021
This is a GENUINE ZENDER part for BMW E24 6 Series.

The original ZENDER Part number is: 1.206.02.1

SUITS EURO BUMPERS AS SHOWN BUT MAY STILL WORK ON THE LARGER U.S. BUMPERS (BUYERS RISK)

Grab this bargain before its gone forever!

BOXED MEASUREMENTS ARE APPROX: 175CM X 60CM X 30CM AND WEIGHS 5-6KG.

SHIPPING:
Please contact us for a quote to your area before bidding (or use above dimensions to quote for yourself) as I can't input all of the correct details into ebay..
International buyers welcome!
Price: $ 116.52 Buy It Now
ITEM NAME:
GENUINE ZENDER REAR 1/4 PANEL EXTENSIONS up to 88

ITEM PART NUMBER:
Z5488 013

MATERIAL:
PURim

FITS MODELS:
Mercedes W201. Up to 1988.

REMARKS:
These are NEW old stock, GENUINE ZENDER items.
Made in Germany.

These Rear 1/4 Panel Extensions make the early (pre 1988) look like the late model 1989on model!

Very unique and rare item.
LAST PAIR LEFT!!
ORIGINAL RRP was $295.00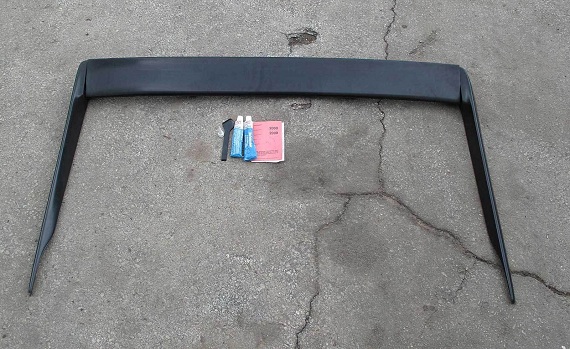 Price: $ 300 Buy It Now
BMW E30 3-piece Zender Foam Rear Trunk Boot Spoiler Black 1984-1991 USED 1238033
________________________________________
Stock # 5132
OEM Part # 1945710
ITEM: 3-piece rear spoiler
CONDITION:
This is a 3-piece trunk spoiler from Zender. The finish is in great condition, with no visible damage. The mounting hardware is NOT included, but the kit with adhesives, instruction manual (in German), and installation tool IS included. Guaranteed good working condition. This is a used original Zender part. The printed Zender part # is 1.238.03.3
FITS:

3 Series E30
1984-1985 318i Coupe (E30/M10)
1985-1985 318i Sedan (E30/M10)
1991-1991 318i Sedan (E30/M42)
1991-1991 318is Coupe (E30/M42)
1984-1987 325e Coupe (E30/M20)
1985-1987 325e Sedan (E30/M20)
1987-1991 325i Sedan (E30/M20)
1987-1991 325i Coupe (E30/M20)
1988-1991 325ix Coupe (E30/M20)
1989-1991 325ix Sedan (E30/M20)
The pictures below are photos of the actual part you will receive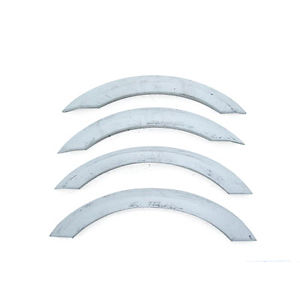 http://ebay.com/b/Cars-Trucks/6001?Make=Audi%7CBMW%7CMercedes%252DBenz%7CVolvo%7CVolkswagen%7CPorsche&Model%2520Year=2010%7C2009%7C2008%7C2007%7C2006%7C2005%7C2004%7C2003%7C2002%7C2001%7C2000%7C1999%7C1998%7C1997%7C1996%7C1995%7C1994%7C1993%7C1992%7C1991%7C1990%7C1989%7C1988%7C1987%7C1986%7C1985%7C1984%7C1983%7C1982%7C1981%7C1980%7C1979%7C1978%7C1977%7C1976%7C1975%7C1974%7C1973%7C1972%7C1971%7C1970%7C1969%7C1968%7C1967&Vehicle%2520Mileage=Less%2520than%2520100%252C000%2520miles&rt=nc&_dmd=1&_fsrp=0&_sacat=6001&_sop=16&_stpos=97330&mkcid=1&mkrid=711-53200-19255-0&siteid=0&campid=5336332035&toolid=20008&mkevt=1&MBDACmisc=YvsEfY
Price: $ 172.95 Buy It Now
Condition: New Other Part Number: 10-802-4-529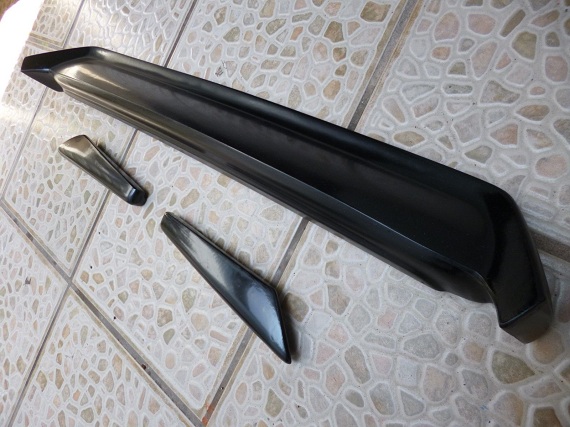 Price: $ 149 Buy It Now
YOU ARE BUYING A BRAND NEW REAR ZENDER SPOILER AFTERMARKET MEDIUM QUALITY MADE IN MEXICO.
FITS RABBIT (GOLF) MK1 1976-1984
ECONOMY SHIPPING COST TO USA AND CANADA $41.90 USD WILL TAKE 1 TO 3 WEEKS TO ARRIVE
WE DO SHIP WORLWIDE JUST ASK FOR THE SHIPPING COST
"WE ALSO HAVE MORE VW PARTS TO REBUILD YOUR VAG, CHECK MY OTHER ITEMS"
INTERNATIONAL SHIPPING TIME 1 TO 6 WEEKS
You get what you see feel free to ask anything about the product.

Price: $645 Buy It Now
Zender kit pulled from a 1984 190e. I've been holding onto it thinking I would use it one day but really need to get my 16V going so have decided t sell it.

The front and rear units are solid with no cracks or tears. Needless to say, the paint is bad but structurally they are good (the front black spot next to the Zender logo is just chipped paint).

I DO NOT have the side skirts or the little front cover – just what you see in the pictures.

I believe the picture of the red car is the same kit as these but not positive.

Local pickup is preferred but I will ship. Please contact me for cost as they are large and it may be best to ship GreyHound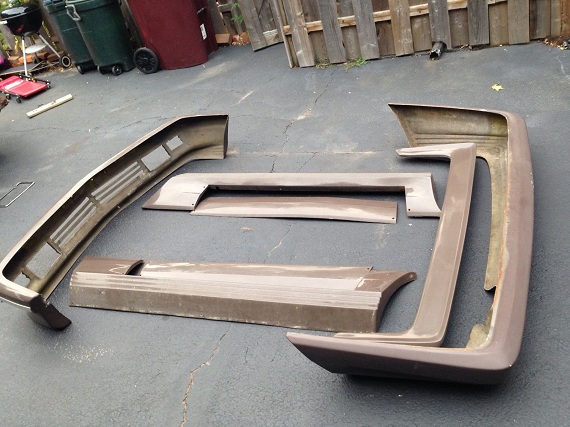 Price: $500 Buy It Now
I removed this kit without damaging it. It attaches with screws. It does not have all the screw covers, but I assume that anyone using this would paint the subject car, and either find replacement filler caps for the screw holes, or just fill them with body filler. The most significant damage is the crack on the front lip, but that part is still very sturdy. See picture.

This setup comes with the euro bumper parts shown in the pictures, minus two chrome pieces from them that I plan to keep: the rear bumper chrome cap, and the front bumper chrome joint cover. (Neither of these are needed for the body kit, and I am restoring a few sets of euro bumpers, and the parts may come in handy for me.). The front bumpers include the custom mounts that were made to align the fog lights and turn signals (not included) that can be taken from any Large US bumper set. (I would be willing to consider trades for a pair of any Mercedes SL / SLC bumpers.)

I will even consider a including/trading the trunk lid that already has the holes for the spoiler.

Everything needed to mount this on your car, other than the sheet metal screws (and tools) are included.

Please contact me with any interest.

Mknmike at live com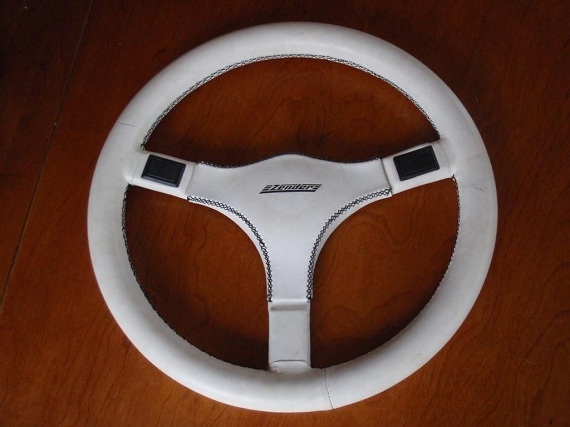 Price: $ 499 Buy It Now
Small cracks at "10 & 2" but never used. Was a display wheel.

Manufactured 3-11-81.
-Carter