Back in February, I took a look at very hot item in the marketplace – a clean, European-spec BMW E30 modified by Alpina.
Or, at least that was what was claimed.
Further research pointed out some problems. I found it to be a car I looked at two years ago in 2015, then listed as a 1986 C2 2.5. The VIN was transposed incorrectly, but the stranger item was that the year was wrong. Stranger still was that a tremendous amount of the car didn't seem to work. Yet it was a lot of Alpina for the money even as an automatic, as it was relatively clean and priced well below other similar E30 Alpina asks.
Well, here we are some ten months later and it's popped up in a new listing with a new seller. We've seen that before, so no big surprise there. As I started to look through the listing, though, I was struck by just how lazy it was. Okay, there were new photos, but none of them were detailed. The VIN is filled in with "1"s. Then I got to the text, which is a near-carbon copy of the last listing. I say near for two reasons – one, the current listing cut and paste the prior listing….twice. So, halfway through the details, you start all over again!
But perhaps that was done to distract you from the one detail which was added to this listing. Cleverly stuck in after the copying of the prior listing, just before all the fees you'll need to pay, was a second change and the line which finally answers the questions about this car:
Note this is an Alpina clone with correct Alpina numbered engine.
That's a pretty frustrating statement to bury in the end of the listing. The ad listing has, for the last several years, maintained how rare this car is and they're just now getting around to admitting it's not a real example? That'd be understandable if the owner just figured this out, yet they've continued to list the car as a legitimate example outside of that one line stuck in there. Despite this it still looks like a nice example and appears to wear a lot of expensive Alpina items, but this is certainly a case of caveat emptor.
The below post originally appeared on our site February 28, 2017:
Alpina values might be as hard to follow as those in the 911 world. As with all proper marque-specific tuners in the German world, there's a fair amount of attention being levied upon the Buchloe firm, and some models are demanding outrageous premiums; for example, recently one of the ultra-rare B6 3.5S models sold for a simply staggering 200,000 Euros.
Does it follow, then, that all E30 Alpinas are outrageous money? Some asking prices would seem to equate that, but the asking prices have often failed to be recognized. Take, for example, the 1984 C1 2.3/1 current for sale on eBay. I looked at this car the best part of a year ago when the asking price was an eye-watering $99,000. I suggested that if you were willing to pay that amount for that example, men in white coats may be locking you up. It seems that most agreed with me, as the car has moved to a new dealer and is still languishing, now with a more reasonable still insane $67,500 asking price.
So, when a more potent version of the Alpina C series pops up with an actually realistic price, we should take note. But should we click the Buy It Now immediately?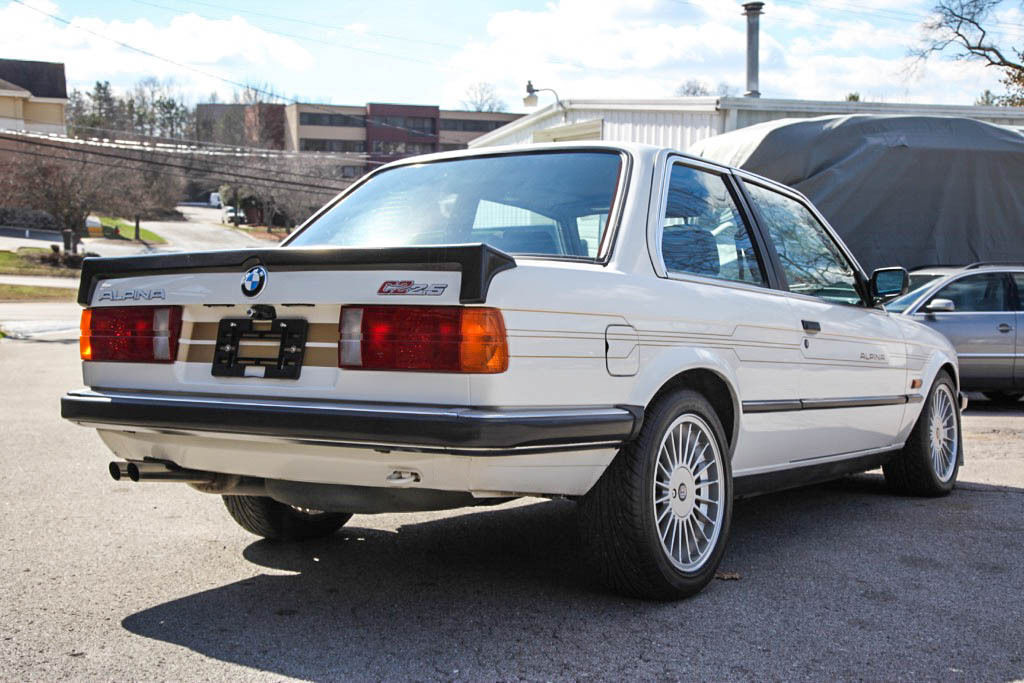 Year: 1987
Model: C2 2.5 Replica
Engine: 2.5 liter inline-6
Transmission: 4-speed automatic
Mileage: 150,098 km (93,200 mi)
Price: $22,800 Buy It Now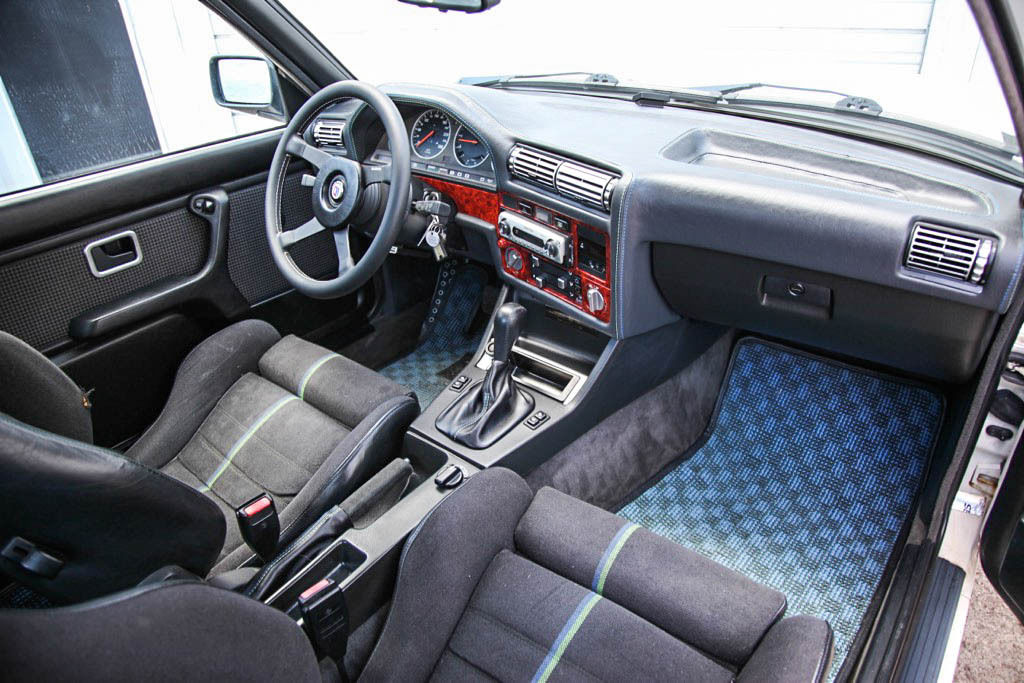 Up for sale is this very rare 1987 E30 BMW Alpina C2 2.5. This Alpina is a JDM car that was imported to the US a couple years ago. 1 of only 74 cars made, this is car number 36. It is fitted with an automatic transmission, as many were, but fortunately a 5-speed swap is incredibly easy on this E30's. This car has a number of upgrades done by a previous owner including the leather wrapped dash with Alpina color stitching, e-code headlights with HID kit, and a few other Alpina touches. This C2 runs and drives very well, and has been well maintained although there isn't much paperwork that came with the car when it was brought over. The stickers for the timing belt services are are the passenger front strut tower which is nice. The current owner is a local collector and is thinning out his garage (Be sure to keep an eye out for his 89′ Alpina B10 3.5) There are a few items that aren't currently working on the car. They include the gas gauge, temp gauge, and the sound system. The radio power open, but won't pick up a station. The following DO work as they should…power windows, sunroof, AC, tach, speedometer, odometer, all exterior lights, wipers, etc. Extremely clean car with no signs of any accident damage in it's past. Please call or e-mail with any questions. ——————————————————— Disclaimer: *** Mandatory Doc Fee of $250 must be collected and is not included in the sale price.***We do our very best to represent the vehicles we sell both cosmetically and mechanically. Our best advice to potential buyers is that if you aren't sure of something or have a question, PLEASE CALL. Our stellar eBay reputation over the last 15-years should put anyone at ease, but please do your research, ask questions, and buy all means feel free to have any of our vehicles inspected prior to purchase. All the vehicles we sell have been serviced and inspected to some degree (please refer to description for details) BUT, with all that being said, all our vehicles are being sold AS-IS and WHERE-IS unless otherwise stated in the description. These are used vehicles so please expect there to be small blemishes, imperfections, and some repairs needed. If you need help making inspection or transportation arrangements, please contact us and we will gladly help! We are not like other car dealers! We are 'Car Guys' just like you and aim to please all of our customers to the best of our ability! Please call with any questions or concerns today!

Car is listed for sale locally and the auction can be ended at anytime ***Mandatory Processing Fee of $250 Must Be Collected and is not included in the sales price*** Please inquire about transportation quotes!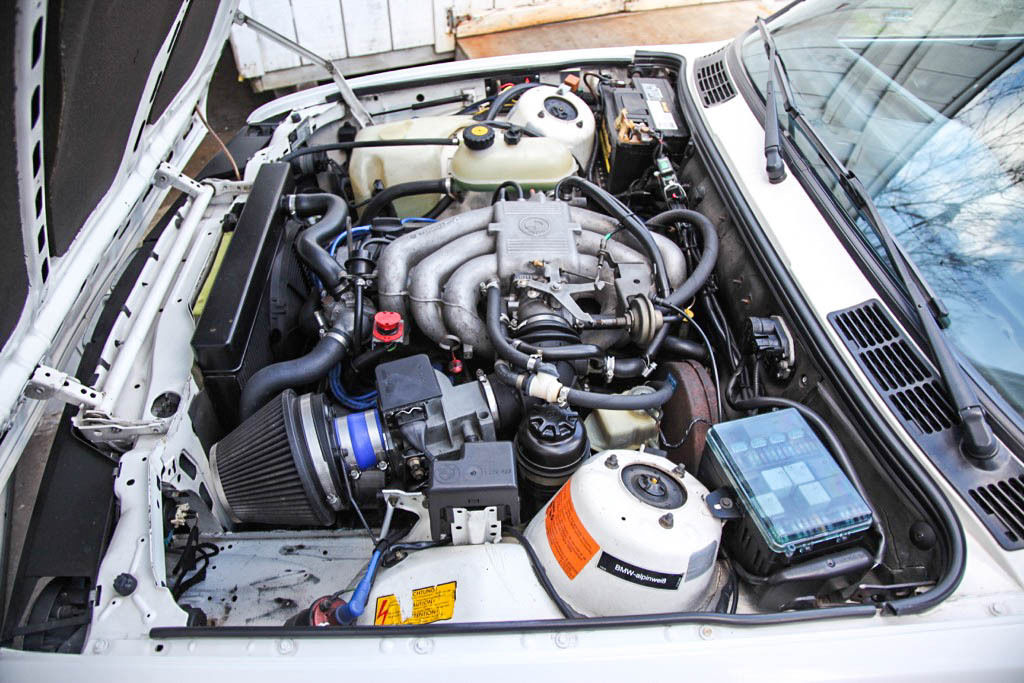 First things first, the C2 2.5 is a Japan-only model. As the Japanese are more accepting of automatic transmissions, it's not unusual to see the Japanese imports come over with those still intact. The two pedal configuration certainly hurts value and appeal to most. Problem two comes in the claimed chassis number. It is claimed this car is number 36 of 74, and indeed the Alpina Archive lists that general number correctly. However, number 36 is listed as a Diamond Black car, replete with pictures.. Could a mistake have been made? Certainly. Does it raise some questions about the authenticity? Yes. However, an even larger question mark is raised by a car I looked at two years ago. It was listed as a 1986 C2 2.5.
Immediately, one can see it looks an awful lot like the one we're looking at today. Outside of the floor mat color (and they're located in the trunk if you flip through the photos), everything lined up – the color combination, the automatic, the model; everything except the VIN and the year. But a close inspection of the disclosed photos seems to indicate this was a transposition error in the listing; the VIN ends in 3859, matching the 1986. That car ultimately sold for $24,990 two years ago. With the E30 market even hotter today, that makes the decreased $23,900 asking price a bit of a head-scratcher in some ways. Why did this car get less expensive over the past two years when nearly every other E30 is going bonkers?
Perhaps some of that lies in the number of issues the car has, with some non-original items and plenty of non-functional electronics, it would seem. The driver's seat also needs a serious cleaning. Those certainly weren't disclosed in the 2015 listing, so it's hard to tell if they're new or have been there all along. We amazingly have some comps for this car: last year, a very nice Lapis Blue example sold with half the mileage and a manual for $39,500, so apparently the market is there for the car. However, an equally rare and similarly toned C2 2.7 manual swap from Japan sold for $24,900 before importation fees. Where does that leave this car?
Ultimately, that's a great question. The manual-swapped 2.7 looked better, had fewer miles and was more potent and effectively equally as rare. While you had to go through a few thousand dollars and the headache of importation, it would seem that car was a better proposition overall. Still, the asking price below where this car was placed (and reportedly sold) a few years ago has me wondering just what the deal is here. The take away remains, though, that while asks for the Alpinas are all over the map, most of the less exotic models seem to be bidding into the mid-20s – right where this car is priced.
-Carter