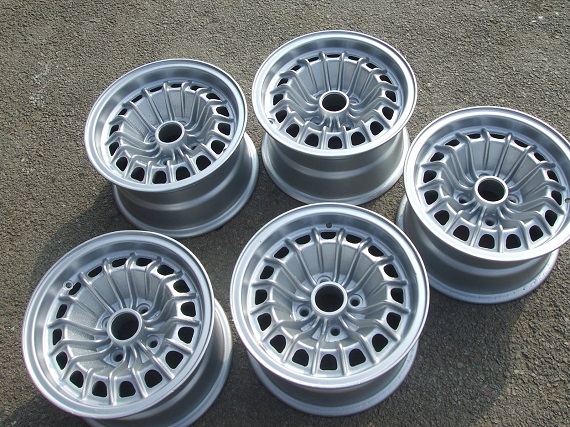 Yesterday, Adam at Fast In Fast Out posted an article covering some of the best vintage racing wheels. I love wheels, and it was fun to see Adam's article – plus, it also got me thinking about another wheel roundup. Adam asked in his article what was missing – so I found a few that I thought where absent from the lineup but are always fun to see. There's a set of mega-rare and mega-expensive Campagnolo racing wheels for early BMWs; boy, do they look impressive though! Then there were some great Audi S6 Speedline-made "Avus" wheels. Later models were made by Ronal, but the originals came from the Italian manufacturer. Speaking of, there are a set of the infamous and often-sought Pirelli P-slots for Volkswagens below. Then there is a wild set of Gotti wheels – in some cases, these were raced on factory Porsches as an alternative to BBSs. Check out the width on those rear tires!!! Rota has made some replica wheels recently of some great designs; these both copy the BBS race wheels but also mimic some MSW and OZ designs as well – and boy, are they affordable! Then there are a great set of Ronal R9s that mimic the ATS-made "Penta" AMG wheels; the ATSs are usually more valuable but harder to find. And finally, another set of Speedlines – this time a Techart set for Porsches that just look incredible (and, oddly tasteful for Techart designs). Which is your favorite?
Price: $3,981.92 Buy It Now
You weren't going to buy them anyway, but enjoy looking at them!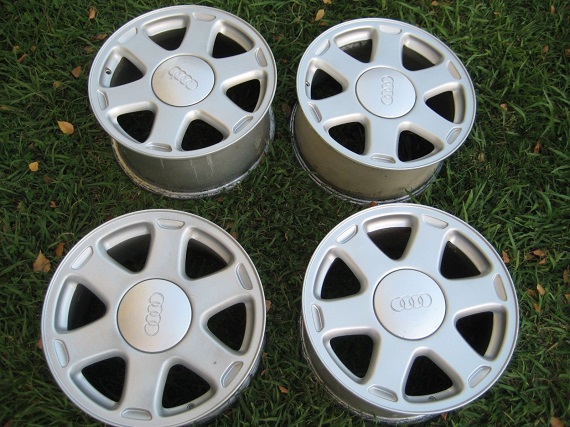 Price: $460 Buy It Now
Audi S6 16″
You are looking a a nice set of Audi S6 wheels that came off a 1996 AUdi Ur-s6, wheels measure 16×7.5 with a +37 offset, wheels appear to have been refinished by a previous owner, one wheel appears to have had issues with the clear coat, please refer to pictures for more details. Wheels do have scratches, pitting and paint flaking maybe be present. Wheels do not appear to be bent or out of round in any way. Wheels could use a cleaning. These will be shipped in 2 boxes. Please feel free to message me for more details. Please do not hesitate to make an offer.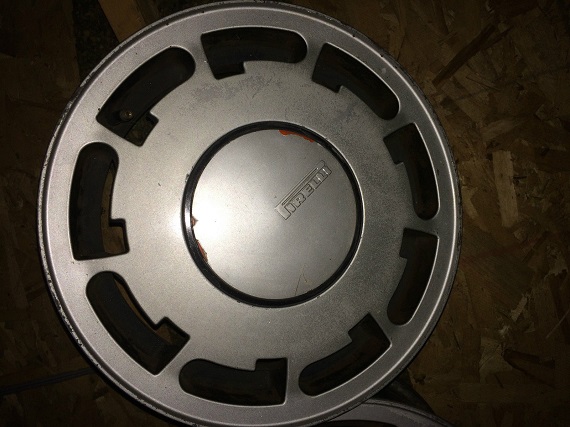 Price: $600 Buy It Now
Good condition not cracked or bent as far as I know.
I bought these to put on a vw truck but never found one so never mounted these or put tires on them.

I think the center caps are rarer then the wheels so if you buy the center caps the wheels come with it for free 🙂 same price.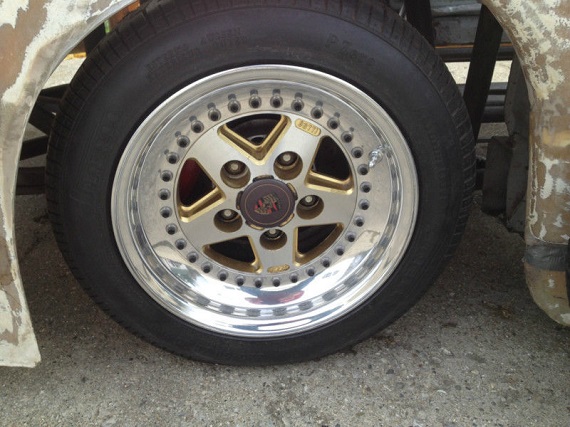 Price: $2,475 Buy It Now
GOTTI WHEELS AND PIRELLI PZERO ASIMMETRICO TIRES SET OF FOUR

Cast Number on Center – J55A

Overall Grade A – inner bell needs polishing

Tire Diameter – 15″

Wheel Width – 12″

Tire Size – Front 225/50 ZR15

Tire Size – Rear 345/35ZR15

Brand – Pirelli PZero Asimmetrico 91W

Wheel Offset – Front 1/2″ – Rear 2″

Bolt Pattern 5x130mm Porsche

Wheels commonly used on Porsche 930 and other 911 based platforms

CAR NOT INCLUDED!!!

LOCAL PICK UP ONLY!!!

THANK YOU FOR LOOKING!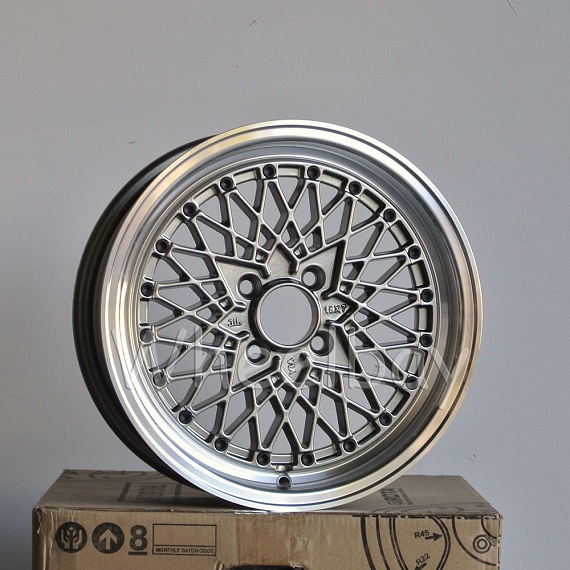 Price: $593.75 Buy It Now
Item: 4 pcs

Model: ROTA OS MESH WHEELS

Size: 15X7 & 15X8

Bolt pattern: 4X100

Offset: +35 (15X7 ) & 20 (15X8)

Hub bore: 67.1

Color: STILL GREY WITH POLISH LIP

Condition: NEW in factory boxes

4 Caps included.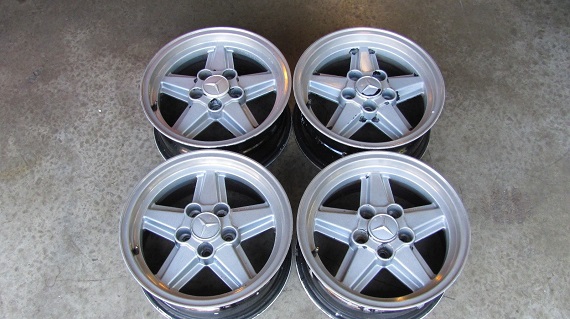 Price: $850 Buy It Now
Set of Old School Ronal R9's. These were all made in 1984 in West Germany per stamping on each wheel.

Fitment is 5×112 Mercedes, 16×7 with et 23. All four wheel have the same specs.

I had tires removed and each wheel held air just fine. They appear to have been originally black with the aluminum lips. They have a light coat of silver on the center spoke sections and center caps now. Should be easy to strip the paint off, its not real thick. One wheel has a knick in the lip, see pic 7. Another has a minor flat spot on the backside, still held air fine…see pic 10 ( I didn't even notice it until I had the tires removed.) Other than those 2 areas the wheel are in pretty good shape for being 30 years old!!

Some of the newer silver paint is chipping in areas. The lips are still aluminum finish just need a good polishing…and maybe a quick sanding on the lips in areas if you want them perfect.

3 of the 4 center caps are plastic and 1 is original metal with the 3 pc clips on the back. All snap in tight.

**Please see all pics and let me know if you have any questions. These were on a w126 chasis.

Ships same day as payment received. Will go fed ex, no po boxes thanks!!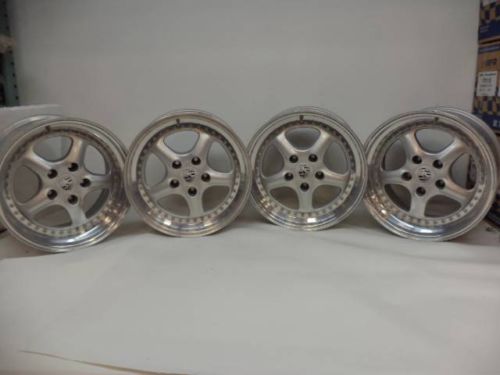 Price: $2,299.95 Buy It Now
Description

First, thank you for looking at another one of our great auctions. Please realize that we try to make every transaction with us and excellent one.

Occasionally we make a mistake. If you ever experience a less than satisfactory situation with us, please let us know immediately so that we can find a method to rectify your concerns.

FOR SALE IS ONE SET OF TECHART BY SPEEDLINE PORSCHE 3 PIECE WHEELS. THEY ARE STRUCTURALLY PERFECT. YOU CAN EASILY REFINSH THE OUTER EDGE AND HAVE A GREAT LOOKING AND PERFECTLY FUNCTIONAL WHEEL FOR A FRACTION OF NEW COSTS. THESE WHEELS ARE VERY NICE.

THESE WHEELS WOULD MOST LIKELY NEED TO FIT A WIDE BODY LATER MODEL CAR. THE WIDTH WOULD MAKE THEM UNUSEABLE FOR NARROW BODY CARS IN THE REAR. EARLY MODELS CARS WOULD ALMOST CERTAINLY NEED SPACERS.

BACK SPACING ON THE FRONT 8X18″ WHEELS IS 6.375″ INCHES ON THE FRONT AND 8.0625″ INCHES ON THE REAR 11X18″ WHEEL.

CENTER CAPS NOT INCLUDED
-Carter