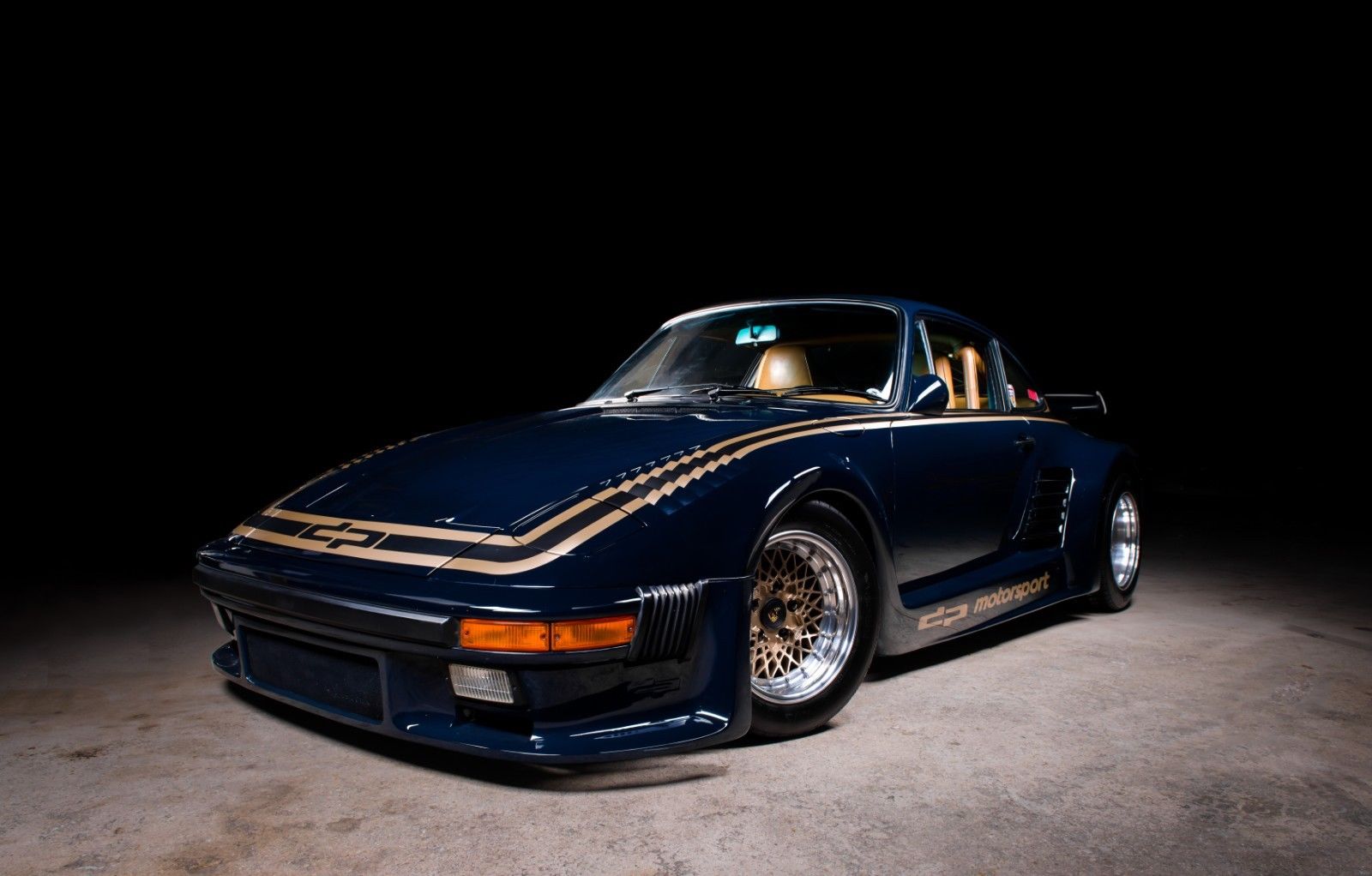 Our run of crazy modified cars continues with one of the many outrageous Porsche Turbo creations. This one comes straight from some of the biggest names in the hallowed halls of Porsche racing; Kremer, DP and Andretti. The Andrettis might as well be the Kennedys of motor racing, such is the success and tragedy they've seen. At the head of the family is Mario, who managed to not only be 1978 Formula One World Champion, but a class winner (and 2nd overall) at Le Mans and raced in NASCAR, PPG IndyCars, sprint cars and IROC. Quite simply, he's one of the most diversely accomplished drivers in history. And in the mid 1980s, Andretti partnered with Porsche to race first 956s and then 962s later (with his son Michael co-driver both times) at Le Mans. Neither campaign was successful; they finished 3rd in 1983 and 6th in 1988. But in the meantime, Andretti apparently commissioned a very special road-going Porsche to go along with his racing exploits.
That car was built by none other than Kremer, who carried the torch in development of the 935 as Porsche moved first to the 936 and then to the 956 models. It was Kremer's K3 development of the 935 that outright won Le Mans in 1979, and its extreme bodywork was developed in conjunction with DP Motorsports. The legend was born, and the DP-bodied, Kremer-modified 'DP935's took to the 1980s as one of the fastest street-legal cars you could get into. Kremer's street "K2" spec featured a K27 turbo attached to an upgraded 3.3 flat-6, reportedly good for 460 plus horsepower with adjustable boost. A claimed twelve of these K2-modded DP935s made there way to the the United States, and what is reported to be Mario's personal example is for sale now: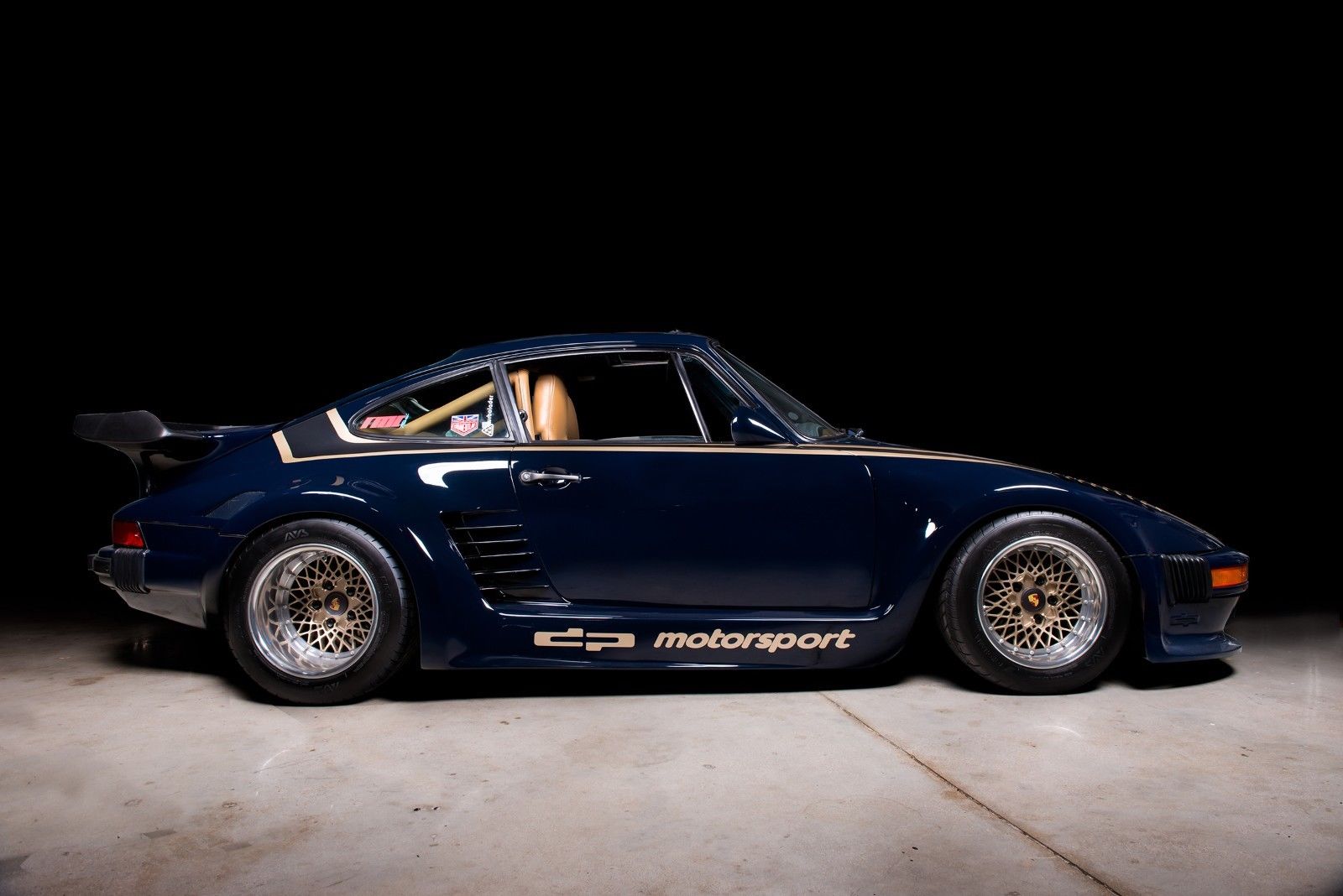 Year: 1985
Model: 930/DP935/Kremer K2
VIN: WP0ZZZ93ZES000338
Engine: 3.3 liter turbocharged flat-6
Transmission: 4-speed manual
Mileage: 36,800 mi
Price: $325,000 Buy It Now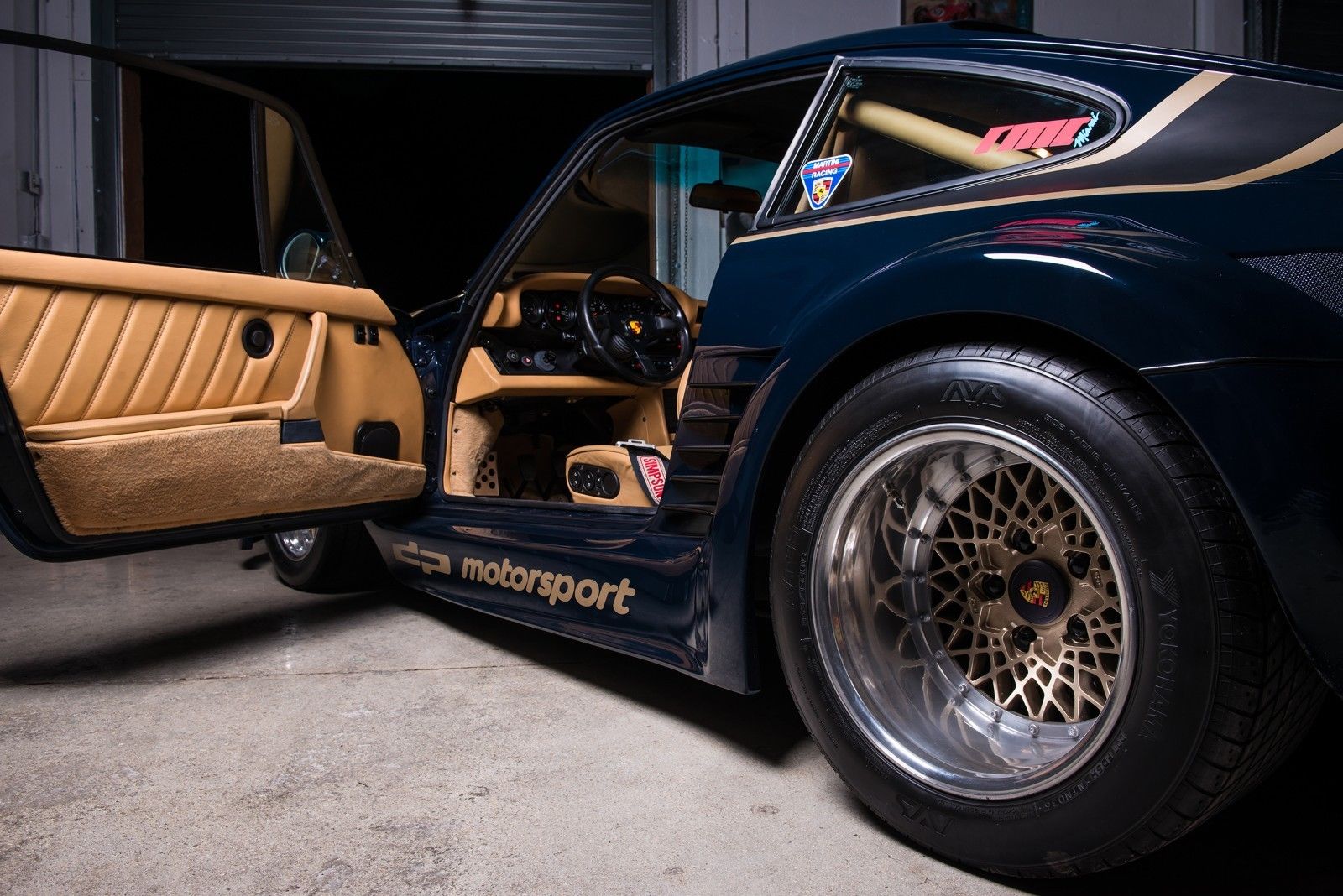 1985 PORSCHE 935 DP MOTORSPORT Image result for dp motorsports LOGO

Reportedly Built for racing legend MARIO ANDRETTI, This outrageous 1985 Porsche 935 is the creation of two highly respected icons of Porsche racing history; The Kremer brothers and DP motorsport.
The Kremer brothers- Manfred and Irwin were German performance tuners of competition Porsche's back in the 1970's and 80's who earned a 1st overall victory at lemans in 1979 with their 935 based K3. Ekkehard Zimmerman operated DP Motorsports who built and made highly successful 935 K3.

This car started life as a 930 turbo and was first sent to the Kremer brothers for performance upgrades like group B cams,custom k27 turbo and custom made Dp intercooler then to DP for fitment of lightweight body panels consisting of a slant nose front end with lower oil cooler scoop, brake scoops, horizontal shaped driving lights,shaved front fenders with air extraction vents.

Further adjustments were made resulting in extensively widened rear fenders with inter-cooler air inlets clad with horizontal strakes, flush fitting side mirrors, extended rocker panel sills, resculpted lower rear valence and large rear tray spoiler. The Contact patch was also increased to harness the 500 HP emanating from the Kremer engine with ultra wide BBS modular wheels mounted on low aspect ratio tires. Upon Completion this car was imported into the unites states in March of 85.

These bespoke DP-Kremer Porsche cars were held in high regard. Former owners of these special 935 inspired street cars include Mario Andretti, Roger Penske,and Pete Rose.
This car shows beautifully with its dark blue exterior and contrasting gold DP graphics. The tan leather interior features leather stitched roll bar and factory sport seats,adjustable boost knob on the center console and short shifter ……. A DP motorsports tag in the door jam states built for Mario Andretti………..
This car was recently featured on two videos

We may be the only ones in the world currently with a K1 K2 And K3 Dp 935

VIN IS wp0zzz93zes000338

FOR MORE INFO CALL/ TEXT / WHATS APP

EDDIE 305-527-6867 OR BERNARD 305-443-7626

Follow us on Instagram for live updates! @rmcmiami
Can Ship (Insured) Anywhere Worldwide if Needed.
Located in Miami, Florida 33126
Financing Available with Approved Credit
Trades Always Welcomed (UP or DOWN)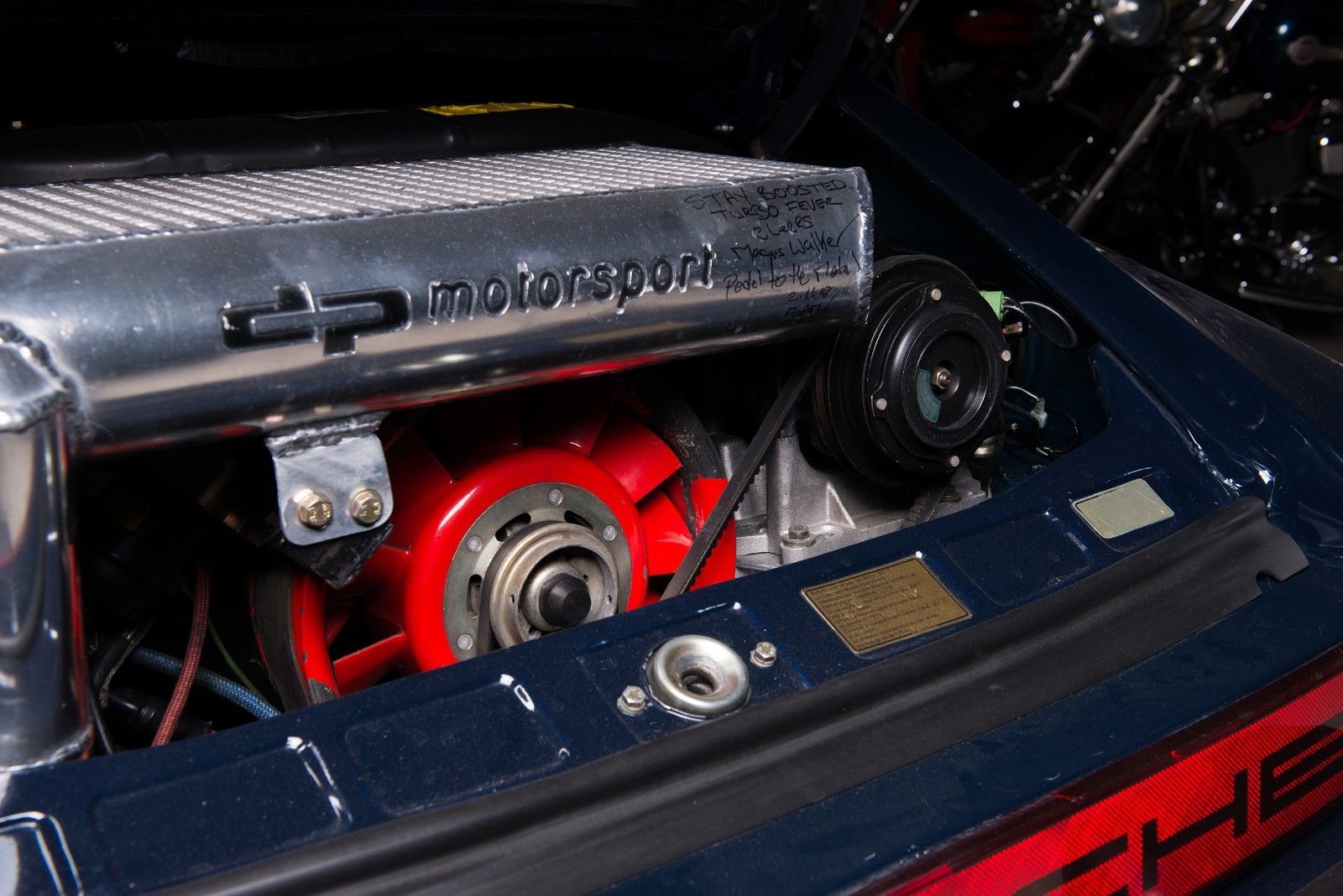 Why did I say it was claimed to be Mario's car? Because there's another 1986 Kremer K2 DP935 that is a near twin of this car and also claimed to be Andretti's car. Which is the true Andretti car? It would seem that at the price level these cars are asking, a phone call to the right person could probably sort this pretty quickly unless Mario owned two identical DP935s. Now, this particular example looks to be in great shape. The seller, Real Muscle Classic and Exotics, is no stranger to these pages. Rob recently looked at their Tahoe Blue 1991 911 Carrera 2, while I recently referenced a '91 911 Turbo they have listed. Both cars, it should be noted, had crash damage, though that's not an indication that this DP935 is the same. They also own both the '88 Alpina Tribute and the modified 2800CS.
Amazingly, they also have another DP935, though this one is listed as being Ruf modified rather than by Kremer. In that listing, they link a video which has a walk-around of a few of their Turbos:
Note, they show a DP935 in dark blue with gold BBSs, but sans the graphics package that is shown today. That matches the Dobson Motorsport listed '86. Another site claims they cleaned Andretti's DP935 way back in 2011, and there are no decals sans one gold DP Motorsport badge on the rear window, which matches the Dobson car. Another article from 1994 links a DP935 with Andretti, and it's a 1986 example. Bring a Trailer linked a '81 with Andretti. We also had another Andretti-linked car, this time a '82, back in 2008. And this '85 came up previously with a giant "ANDRETTI" sticker across the windshield which is now missing. So are the graphics a recent addition? Since the chassis numbers between the two are different – WP0ZZZ93ZES000338 for the '85, WPOZZZ93ZFS000958 for the '86 – and the seller's sometimes gaps in vehicle history (as well as their lofty asking prices), I'd want to do a bit more research to confirm any link with Andretti and this chassis before plunking down $375,000. They claim an Andretti sticker confirms ownership, but then never manage to show it. And then there's that ask – do we have any comps? Sure we do. The amazing Ice Green Metallic Kremer-modded 930 Rob looked at in December just sold for $173,600:
Granted, it wasn't a famous owner like Andretti, nor was it a DP935 – and 80s kitsch is in more than ever right now. Another super-low mileage Kremer K2 sold in 2015 but I can't find the actual sale number, and it appears the '76 Carrera that was modded to DP935 spec I wrote up a bit over a year ago sold for a claimed $275,000, far short of the $400,000 ask. It would also appear that there's a serious gap in between perceived value and actual market here. Still, this is a very rare, period correct and outrageous Porsche 930 that, if nothing else, it's just a lot of fun to look at!
-Carter